Quick Links
Blockchain has taken the world by storm over the last few years, and it just keeps getting better. It's a great time to feature in the latest blockchain revolution by participating in Loop Ventures, which runs on the Terra chain. As a crypto investor, this is a major avenue to generate income. The platform is easy to use and offers trustworthy information on innovative projects.
Loop Ventures is the world's first unified investment portal on Terra, built by leading blockchain experts. They provide investors with early access to the most innovative, exciting blockchain projects which have been comprehensively vetted for quality and validated for market demand. Titan, the private investment portal, offers exciting projects to accredited investors, while the public investor portal, Atlas, features early notification of IDOs and ICOs.
Loop Ventures also features a project incubator, Nova, which accelerates the creation and growth of projects that solve real-world problems, allowing ideas to become long-lasting blockchain organisations. All of their projects are thoroughly verified for quality with curated tokenomics, allowing projects to move quickly to IDO and providing exclusive opportunities for discerning investors.
Loop Ventures uses a unique methodology to connect entrepreneurs with traditional and blockchain investors, allowing them to create a sustainable, marketable, and adaptive blockchain ecosystem. Loop Ventures provides VCs and entrepreneurs with excellent chances through unique and rigorously handpicked and vetted initiatives.
What are the ways investors can benefit from Loop Ventures?
As a public investor, by using Atlas you have the privilege to learn, before anyone, about IDOs and public token sales for Terra's top projects, and you can check out the forthcoming ICOs and the current token sales. Moreover, being a public member gives you the right to receive notifications when new projects are released.
For the private investors, the privileges of using Titan are even greater. Titan allows project owners and accredited investors to connect seamlessly, making educated and informed investment decisions. You can be exposed to several early-stage investment opportunities for Terra blockchain-based startups. To be approved to use Titan, you must apply and meet the following criteria:
You must be an Accredited Investors member with a valid email address.
Generally, a minimum investment of $25,000 is required.
The Mission of Loop Ventures Explained – The Three I's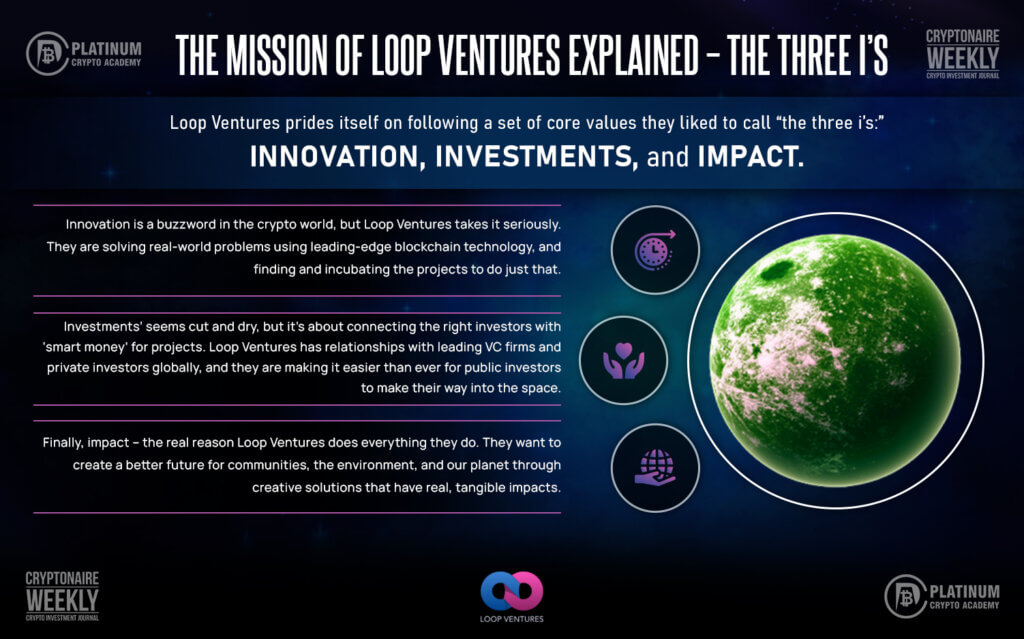 Loop Ventures prides itself on following a set of core values they liked to call "the three i's:" innovation, investments, and impact.
Innovation is a buzzword in the crypto world, but Loop Ventures takes it seriously. They are solving real-world problems using leading-edge blockchain technology, and finding and incubating the projects to do just that.
'Investments' seems cut and dry, but it's about connecting the right investors with 'smart money' for projects. Loop Ventures has relationships with leading VC firms and private investors globally, and they are making it easier than ever for public investors to make their way into the space.
Finally, impact – the real reason Loop Ventures does everything they do. They want to create a better future for communities, the environment, and our planet through creative solutions that have real, tangible impacts.
Conclusion
Loop Ventures is an innovative, game-changing company offering products for everyone from accredited investors, to those brand new to Terra, to great projects looking for an incubator that can take them to the next level.
Hopefully, you have enjoyed today's article. Thanks for reading! Have a fantastic day! Live from the Platinum Crypto Trading Floor.
Earnings Disclaimer: The information you'll find in this article is for educational purpose only. We make no promise or guarantee of income or earnings. You have to do some work, use your best judgement and perform due diligence before using the information in this article. Your success is still up to you. Nothing in this article is intended to be professional, legal, financial and/or accounting advice. Always seek competent advice from professionals in these matters. If you break the city or other local laws, we will not be held liable for any damages you incur.