16TH FEBRUARY LATEST CRYPTO NEWS DIGITAL MAGAZINE
In this one of the latest blockchain magazine, you will get to know all the weekly updates regarding the market. While institutional investors are largely buying Bitcoin, retail traders have been actively trading altcoins. The crypto markets corrected on February 15 and that resulted in the liquidation of about $1.89 billion worth of futures positions, according to Bybt. One of the reasons for the fall could have been the sharp rise in funding rates on the Binance futures platform, which shows aggressive use of leverage by novice traders.
One of the reasons for the strong bullish sentiment could be that institutional investors are making a beeline to buy Bitcoin. Morgan Stanley's $150 billion investment arm Counterpoint Global is exploring the feasibility of investing in cryptocurrencies. Similarly, JPMorgan, BNY Mellon, and BlackRock also seem to be warming up to Bitcoin. With institutional inflow likely to increase, the cryptocurrencies seem to be in a sweet spot and the bull run may continue for a few more days. However, the rise in select altcoins has been vertical, hence traders should exercise caution.
OUR BLOG ARTICLES FOR THIS SPECIAL ISSUE ARE:
A GUIDE TO CRYPTO COPY TRADING
&
CEX.IO REVIEW 2021
Bitcoin has been sustaining above the £30,936 breakout level for the past few days, but the momentum has not picked up. This shows hesitation among traders to buy at higher levels.
But the bears have not even been able to pull the price down to £30,936, which suggests that traders are holding their long positions and are not closing them as they expect the uptrend to continue.
The upsloping moving averages and the RSI in the overbought territory suggest the path of least resistance is to the upside. If the bulls can propel the price above £36,000, the next leg of the up-move may begin. The next target on the upside is £40,872 and then £44,424.35.
Contrary to this assumption, if the bulls fail to push and sustain the price above £36,000, the short-term traders may book profits and that may pull the price down to the breakout level at £30,936. This is the critical level to watch out for. Also, check out more blockchain magazine of us here.
If the BTC/GBP pair rebounds off £30,936, the bulls will try to resume the uptrend. On the other hand, if the bears sink the price below the support, the pair may drop to the 50-day SMA and then to £21,000.
Lastly please check out the advancement's happening in the cryptocurrency world. Subscribe our latest blockchain magazine for the latest updates about profit and loss in cryptocurrency.
LATEST BLOCKCHAIN MAGAZINE FOR
CRYPTO
NEWS HIGHLIGHTS
FEATURING IN THIS WEEKS EDITION
-Bityard
-QuiverX
-Atromg8
-Wisetoken
CRYPTO TRADE OPPORTUNITIES
BITCOIN – BTC/GBP
Bitcoin has been sustaining above the £30,936 breakout level for the past few days, but the momentum has not picked up. This shows hesitation among traders to buy at higher levels. But the bears have not even been able to pull the price down to £30,936, which suggests that traders are holding their long positions and are not closing them as they expect the uptrend to continue. Read more
ETHEREUM – ETH/GBP
Ether hit our target objective of £1,352 on February 13 and that could have allowed traders to book profits. The price corrected to the 20-day EMA on February 15, but the sharp rebound off this level suggests the bulls are buying on dips. The upsloping moving averages and the RSI in the positive territory suggest the bulls are in command. If the bulls can drive the price above £1,354.01, the uptrend may resume and rally to the next target objective at £1,500. Read more
RIPPLE – XRP/GBP
XRP rallied above £0.355 on February 10 and that triggered the long trade suggested in the previous analysis. The target objective of this trade at £0.45 was achieved on February 13, a quick 26% profit within four days. The XRP/GBP pair witnessed profit-booking near the overhead resistance at £0.48718 and that pulled the price down to the 20-day EMA. The long tail on the February 15 candlestick suggests that the bulls purchased the dip to the 20-day EMA. Read more
LITECOIN – LTC/GBP
We had recommended buying Litecoin on a pullback to £115, but the price did not drop below £123.75. When the trend is strong, instead of a retest, the price consolidates in a range and then resumes its uptrend. That is what was seen in the LTC/GBP pair. It formed a Doji candlestick pattern on February 10 and then made an inside day candlestick pattern on February 11. Both these candlestick patterns suggest indecision among the bulls and the bears. Read more
BINANCE – BNB/GBP
Binance Coin is currently consolidating between £85 and £102.60 for the past few days. When the price does not correct in a strong uptrend, it shows that traders expect the rally to continue further. If the bulls can push the price above £102.60, a retest of the all-time high at £107.728 is possible. A breakout of this level will resume the uptrend. The immediate target objective is £120.2 and if that level is crossed, the uptrend could reach £150. Read more
BITCOIN SETS NEW ALL-TIME HIGH OF $49.7K, PUTTING $50K WITHIN STRIKING DISTANCE
The price of bitcoin (BTC) rose Sunday morning to a new all-time high of $49,716 after a week of positive developments regarding increased Wall Street acceptance of the leading cryptocurrency. Bitcoin hit a new high-water mark of $49,716.44, topping the previous mark of just over $49,000 set this past Thursday. At press time, BTC (+3.53%) had pulled back, changing hands at $49,539, up 6.2%
over 24 hours and 69% year-to-date. Read more
MORGAN STANLEY'S $150,000,000,000 INVESTMENT ARM CONSIDERING BUYING BITCOIN: REPORT
Counterpoint Global, Morgan Stanley's $150 billion investing arm, is reportedly considering adding Bitcoin to its portfolio of high-growth assets. According to a Bloomberg report, sources familiar with the matter reveal that the investment behemoth is exploring whether the leading crypto asset is the right fit for its investors. Read more
CARDANO MARKET CAP HAS DOUBLED TO $28 BILLION IN 2 WEEKS
When one thinks of large-cap cryptocurrencies, their minds likely go to Bitcoin, Ethereum, Tether, and…Cardano?
If Cardano keeps rising like this, they just might. ADA, the token of the Cardano blockchain is the fourth-largest cryptocurrency by market cap, according to data from Nomics. After a 31% increase in the last week, the price of a single ADA token is now slightly higher than $0.88. The market cap for Cardano was $28.2 billion as of 6:30 p.m. Pacific time on Monday, a smidge higher than Polkadot's $27.6 billion and Ripple's $25.8 billion. Read more
A GUIDE TO CRYPTO COPY TRADING
Copy trading is one of the most commonly used trading techniques in the global trading market. In essence, copy trading is all about learning from your success and ensuring that you do not repeat past mistakes to achieve desired results. However, it can be highly complex for newbies who have little to no idea about the functioning of copy trading systems. Read on to find a comprehensive guide to crypto copy trading. Read more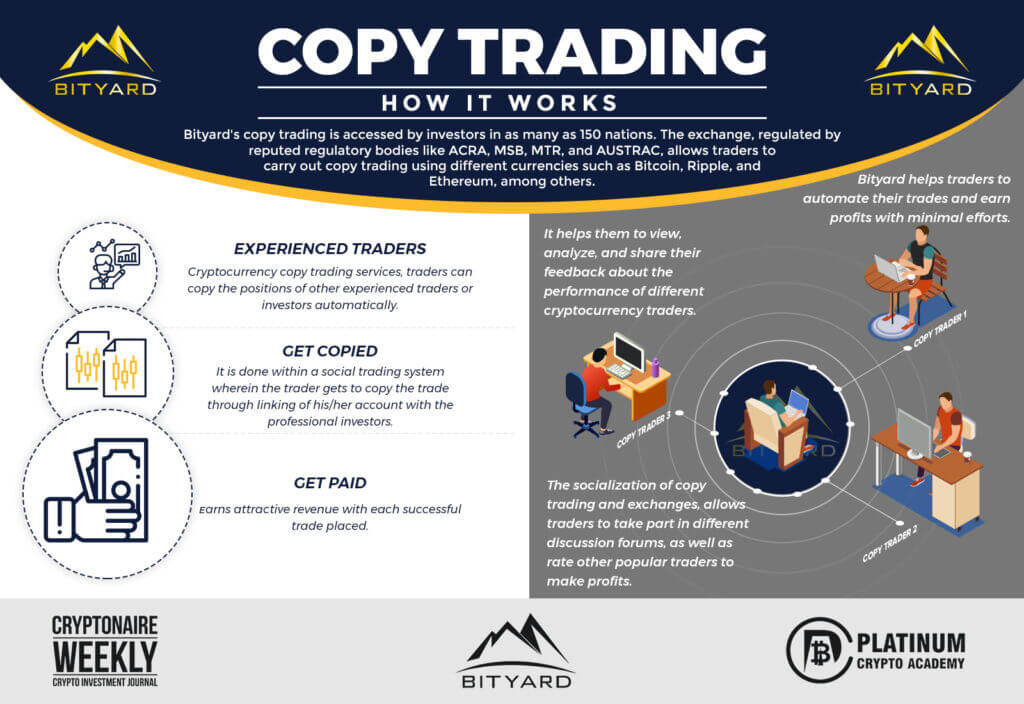 CEX.IO REVIEW 2021
Established in 2013, London-based CEX.io is a Bitcoin exchange as well as a cloud mining providing company. There was a point when CEX.io's mining pool, also referred to as Ghash.io held almost 42% of the entire mining power. However, in January 2015, the company shut down its cloud mining business, and thus today CEX.io functions only as a crypto exchange. The exchange which has registered with the FINCEN applies the usual KYC (Know Your Customer) as well as AML (anti-money laundering) policies. Read more