23RD FEBRUARY LATEST CRYPTO NEWS DIGITAL MAGAZINE
In this one of the latest crypto magazine digital subscription, you will get to know all the weekly updates regarding the market. Bitcoin topped the $1 trillion market capitalisation on February 19, which is a significant milestone. Another important event was the launch of the Bitcoin ETF in Canada. The assets under management of the Purpose Investment's ETF hit $421.8 million within two days, indicating strong demand for the product.
Now, the focus will shift to the US Securities and Exchange Commission, which has previously rejected several ETF proposals citing manipulation and lack of liquidity. However, the entry of institutional investors and Bitcoin's market cap near $1 trillion may force the SEC to take a more favorable view towards a Bitcoin ETF. The launch of an ETF could be the next trigger that may start the next leg of the uptrend.
OUR BLOG ARTICLES FOR THIS SPECIAL ISSUE ARE:
A GUIDE TO CRYPTO COPY TRADING
&
TOP 5 CRYPTOCURRENCY EXCHANGES 2021
As we had mentioned in our previous analysis, Bitcoin hit our first target objective at £40,872 on February 21. However, after this technical level was reached, profit-booking set in on February 22, which pulled the price down to the 20-day EMA.
The long tail on the day's candlestick shows that the bulls purchased the dip aggressively. The buyers will now have to drive the price above £41,795 to resume the uptrend.
However, the bears are unlikely to give up without a fight. They are currently again trying to sink the price below the 20-day EMA. If they succeed, then it could lead to long liquidation as the aggressive bulls who purchased on February 22 may be forced to cover their positions.
The next support on the downside is £30,936 and then the 50-day SMA. The bulls may try to arrest the decline in this zone. If they are able to do that, the BTC/GBP pair may remain range-bound for a few days.
On the other hand, if the bears sink the price below the 50-day SMA, the pair could enter a deeper correction and decline to £21,000. As the bottom is still not in place, we are not proposing a trade in it. Checkout our crypto magazine digital subscription for the latest updates about profit and loss in cryptocurrency.
Lastly please check out the advancement's happening in the cryptocurrency world.
CRYPTO MAGAZINE DIGITAL SUBSCRIPTION FOR
CRYPTO
NEWS HIGHLIGHTS
FEATURING IN THIS WEEKS EDITION
-Bityard
-QuiverX
-Atromg8
-Wisetoken
CRYPTO TRADE OPPORTUNITIES
BITCOIN – BTC/GBP
Bitcoin price GBP as we had mentioned in our previous analysis, Bitcoin hit our first target objective at £40,872 on February 21. However, after this technical level was reached, profit-booking set in on February 22, which pulled the price down to the 20-day EMA. Read more
ETHEREUM – ETH/GBP
The Ethereum price GBP rallied to a new all-time high at £1,456.18 on February 20, which was just short of our target objective at £1,500. Momentum traders who had purchased as suggested in our previous analysis could have made a small profit or may have closed the position at breakeven. Read more
RIPPLE – XRP/GBP
XRP price GBP continues to be range-bound between £0.3550 and £0.48718. The altcoin outperformed and rallied on February 22 when most major altcoins were deep in the red.&nbspRead more
LITECOIN – LTC/GBP
Litecoin price GBP rallied to £176.37 on February 20, just below our target objective at £179 as mentioned in the previous analysis. This technical level seems to have attracted profit-booking from traders as the Litecoin price GBP plunged to an intraday low at £127.22 on February 22. Read more
BINANCE – BNB/GBP
Traders who purchased Binance Coin on our recommendation in the previous analysis could have made a huge profit. Though the all-time high at £249 on February 19 exceeded our expectations, we are not complaining. Read more
>
BINANCE COIN BECOMES THE THIRD-LARGEST CRYPTO FOLLOWING PARABOLIC RALLY
Binance Coin overtakes Tether to become the third-largest cryptocurrency by market capitalization after Bitcoin and Ether. Binance Coin (BNB), a cryptocurrency issued by the world's largest crypto exchange Binance, has hit a major historical milestone, becoming the third-largest coin by market capitalization for the first time in history. Read more
SQUARE'S $50M BITCOIN BUY IS NOW WORTH $253M
The value of Square's bitcoin investment from October 2020 has increased five-fold. Square's Cash App deals in bitcoin operationally but a $50 million investment from the publicly traded firm's cash reserves has grown significantly since being announced last fall. Read more
BINANCE COIN (BNB) ERUPTS ABOVE $300 AS THE WHOLE SMART CHAIN ECOSYSTEM SOARS
Tokens from the Binance Chain ecosystem are surging today, led by Binance Coin's (BNB) own example—which broke above $300 today, according to CryptoSlate's Binance Smart Chain sector data. The level of $300 is yet another major milestone BNB is storming in just over a week. On February 9, the coin's price spiked above $100—an impressive achievement by itself, but one that was overshadowed as BNB more than doubled it just nine days later. Read more
A GUIDE TO CRYPTO COPY TRADING
Copy trading is one of the most commonly used trading techniques in the global trading market. In essence, copy trading is all about learning from your success and ensuring that you do not repeat past mistakes to achieve desired results. However, it can be highly complex for newbies who have little to no idea about the functioning of copy trading systems. Read on to find a comprehensive guide to crypto copy trading. Read more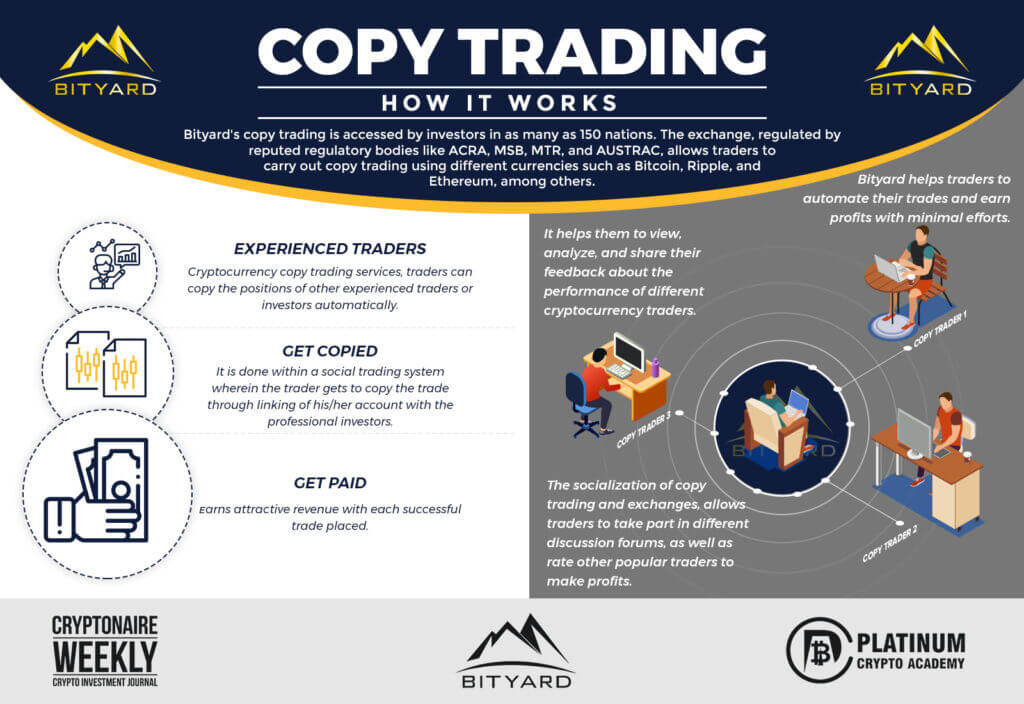 TOP 5 CRYPTOCURRENCY EXCHANGES 2021
In this article, we will take a closer look at the Top 5 Crypto Exchanges in 2021. The last decade has been great for Bitcoin and other cryptocurrencies. Aside from witnessing the launch of 8539 new cryptocurrencies, we have also seen an unprecedented increase in the value of these cryptocurrencies. The launch of cryptocurrencies has led to the development of various technology, service apps and companies. Read more