Quick Links
According to the Bureau of Alcohol, Tobacco, Firearms and Explosives in the US, a total of 11 million guns were manufactured in the US in 2016. This was driven primarily by increased demand, especially in rifles and pistols. Compare this with the late '80s to the millennium, where an average of 3 million guns were manufactured in the USA. This average has tripled over time and shows a rising interest in gun ownership. It is estimated that in the US alone, there were over 5 million new firearms owners in 2020. In the US, the cost of a hand firearm usually ranges from between $400-800. This is dependent on the different firearm categories. Some firearms can go for as high as $10,000. The ammunition for these firearms costs between $20-150. Accessories like optical sights, holsters and detachable lights usually cost from between $200-3,000. Over 40% of American households have access to or know someone who has a firearm. On average, over 70 million Americans own a firearm. In the US, over 2 million firearms are sold on a monthly basis. This is according to Small Arms Analytics and forecasting. In Australia, there are over 3.5 million registered firearms owners. Registered firearms owners in Australia own an average of 4 firearms for each licensed owner.
In the US alone, the hunting industry is estimated to generate over $80 billion annually. As of 2016, it is estimated that over 11 million adults who are above the age of 16 took part in hunting. According to the US census, hunting expeditions in the US generated over $26 billion. Ammunition and firearms used in these hunting expeditions generated over $60 billion. Hunting costs range from between $200 to over $3,000 on a daily basis. Observer rates for non-hunting expeditions cost from between $150-400 on a daily basis. On the other hand, guided safari hunts may be as high as $20,000.
The global gaming market is estimated to be worth over $170 billion. In the next ten years, it is estimated that the gaming market will be worth over $400 billion. In Australia alone, the gaming market was estimated to be worth over $3 billion in 2019. Globally, it is expected that by 2025, the number of gamers around the world will surpass 3 billion people. Over 90% of gamers have never tried playing blockchain games. It is envisaged that as blockchain gains traction, we will see increased interest in blockchain-based games across the world.
75% of gaming revenue is generated from micro transactions within games. These are transactions that take place within these games. In 2020, the market for micro transactions was worth over $100 billion. This market includes things like purchasing accessories and weapons that can be used within games.
In 2020, loot boxes earned the gaming industry over $15 billion. By 2025, loot boxes are envisaged to earn the gaming industry about $20 billion annually. Dmarket, a skin trading platform, states that skins earn the gaming market an average of $40 billion annually. Over 43% of gamers use skins for changing weapons, avatars and vehicles. On average, top spenders will spend over $15 every month on skins. Skin prices vary and may range from $10 to as high as $5,000, depending on the type. These skins can also be used in wagering. According to a research report by Elias and Krejcik gaming firms, in 2015, over 3 million people wagered skins worth over $2 billion.
What is Digital Arms?
Digital Arms is a platform that is anchored on blockchain technology and targets the virgin territory of digital armoury. There are no serious players that are currently targeting this space and this presents a first mover advantage for Digital Arms. Leveraging blockchain technology ensures that all transactions within the ecosystem will be transparent, secure and immutable. NFTs will be used within this platform to create Digital Arms. NFTs stands for Non fungible tokens. These are assets/ tokens that cannot be replicated – only one unique piece exists on the internet. The gaming and firearm industries have an existing opportunity where there are no marketplaces where people can actively trade in digital firearms. Digital Arms intends to take advantage of this void and create an ecosystem where fans can actively purchase, own and sell digital firearms. The platform will release NFTs for digital firearms that have multiple capabilities. Players will be able to add certain accessories such as optical sights and grips onto their firearms. The firearms will also have reskinning capabilities. Players can reskin their firearms into different colours and designs. The NFTs created by the platform will be used across multiple video games, as well as the metaverse. The platform will also work closely with actual gun manufacturers and create unique NFTs inspired by actual Computer-Aided Designs from these gun manufacturers. The manufacturers that will be targeted include military firearm manufacturers, as well as hunting and shooting firearm manufacturers.
The platform relies on the explosive growth witnessed in the growth of NFTs and the global gaming markets. As blockchain continues to grow, boundaries between the physical and online worlds will get blurred. As a result, there will be increased interest in NFTs and digital marketplaces. Digital Arms will provide the right arena for firearm enthusiasts to come and trade on digital firearms and accessories. The Digital Arms ecosystem is made up of the following key features: A digital marketplace where users can buy and sell digital armoury and accessories in the form of NFTs, an ecommerce marketplace where users can sell physical firearms and where merchants can list some of their products and services.
The mission of this platform is to create an arena where firearm enthusiasts can meet and trade in their digital weaponry and access products and services related to the firearms industry. All these will be anchored on blockchain technology. The platform hopes that by providing an avenue for users to access and trade in digital armoury, they will increase the value of these collectibles. NFTs that will be purchased on this platform will be scarce and can be used on other games and areas within the metaverse.
How Digital Arms will disrupt the gaming industry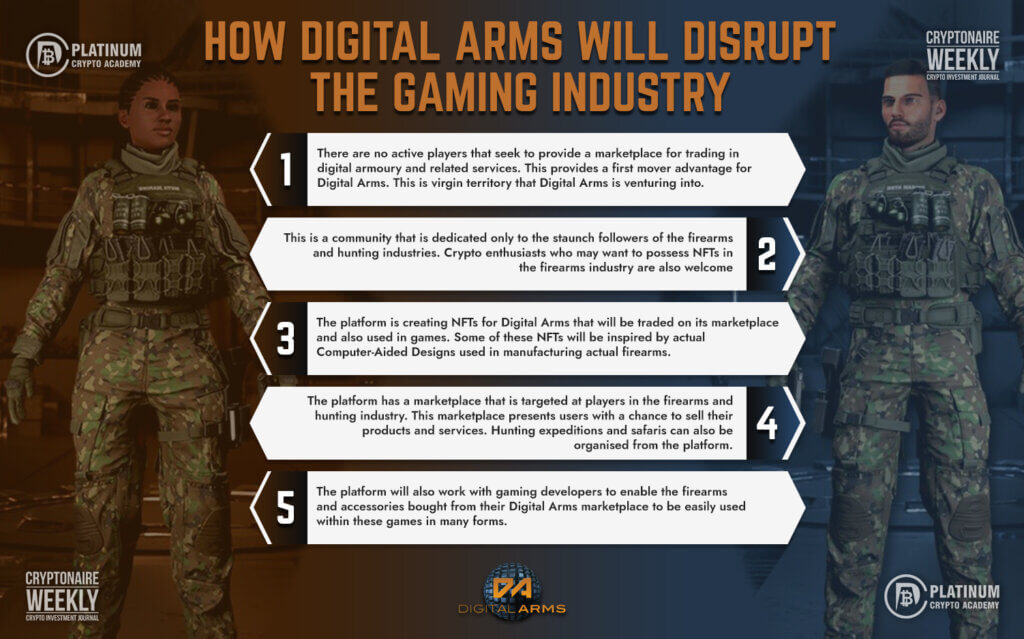 There are no active players that seek to provide a marketplace for trading in digital armoury and related services. This provides a first mover advantage for Digital Arms. This is virgin territory that Digital Arms is venturing into.
This is a community that is dedicated only to the staunch followers of the firearms and hunting industries. Crypto enthusiasts who may want to possess NFTs in the firearms industry are also welcome.
The platform is creating NFTs for Digital Arms that will be traded on its marketplace and also used in games. Some of these NFTs will be inspired by actual Computer-Aided Designs used in manufacturing actual firearms. These will be unique NFTs that will be limited and increase in value as some of these firearms are actually limited.
The platform has a marketplace that is targeted at players in the firearms and hunting industry. This marketplace presents users with a chance to sell their products and services. Hunting expeditions and safaris can also be organised from the platform.
The platform will also work with gaming developers to enable the firearms and accessories bought from their Digital Arms marketplace to be easily used within these games in many forms. This presents utility and increases value of these NFTS
Digital Arms ecosystem
This platform is generally targeted at crypto enthusiasts who may want to have NFT collectibles, gamers who may want to access the armoury on the platform, and hunting and firearm enthusiasts.
The Digital Arms ecosystem consists of a digital armoury where digital arms will be listed in the form of NFTs. Users can purchase these arms in the form of NFTs and trade them or also use them across games and the wider metaverse. The armoury will also consist of firearm accessories that can be bought. Some of the accessories that can be bought include suppressors, grips, magazines and optical sights. Skins can also be combined with these NFTs to change their appearance and designs, thereby increasing their values and utility. Users can also put their NFTs for sale on the digital armoury.
These NFTS will have rarity tiers. This will make the higher tiered ones scarce and expensive as compared to low tiered NGTs.
This platform will also have a marketplace where users can come and trade on physical firearms This marketplace will also allow for merchants to come and offer their products and services for sale. It will act as a database for players in the firearms industry to come and check on products and services on offer. Merchants can also organise hunting safaris and sell them on the platform.
This platform is easy to use and created with an easy to navigate interface for persons who may not be knowledgeable on crypto. New users can create their own hot wallets on the website app. This will have the ability to host their tokens, NFTs and a host of other coins. Crypto enthusiasts can easily integrate their wallets and exchange tokens with ease on this app.
It is created on Binance Smart Chain, which is compatible with Ethereum Virtual Machine. This means that it can support tokens on the Ethereum network. Binance Smart Chain is fast, scalable and affordable in gas fees, as compared to the Ethereum network.
Digital Arms will also work closely with other partners and players in the gaming industry. These partners may want to offer rewards in the marketplace, or offer advertisements to users on the network. These adverts will be presented to users in a subtle but targeted manner.
Tokenomics
Hunter token (symbol: $HNTR) is a utility token that will be used on the platform. It is a BEP 20 token developed on Binance Smart Chain. A total of 1 billion tokens were generated. Binance Smart Chain was opted for as it has lower gas fees, it is EVM compatible, and it is also gaining in popularity among developers and crypto enthusiasts. HUNTR holders will also have a chance to stake their tokens on this ecosystem and earn yields. In every transaction that will take place in the ecosystem, there will be a percentage of HUNTR tokens that will be burnt. This will increase the scarcity of the token and also increase its value. There will also be tokens set aside on every transaction. These tokens will be used for providing liquidity and will also be given as rewards to users of this platform.
Uses of the HUNTR token:
To purchase NFTS on the digital armoury
Purchase NFT accessories
Facilitate sale of their NFTS on the marketplace
Auctions and sales of physical armoury will be facilitated by HUNTR tokens
Merchants will also accept HUNTR tokens as they sell their goods and services
Merchants will use HUNTR tokens to purchase advertisement services on the platform
Users can book for hunting safaris on the platform using HUNTR tokens
Game developers can pay using HUNTR tokens as they make orders for forearms NFTs to be created for their games
Conclusion
Digital Arms is set to disrupt the gaming, hunting and firearms industry. Being a first mover presents them with a unique opportunity to tap into virgin territory. Plans are at an advanced stage to list the token in a central exchange. This will help provide liquidity for token holders. Providing digital firearm NFTs that can be used across multiple games gives utility to these NFTs as opposed to just holding them with no intrinsic value.
Hopefully, you have enjoyed today's article. Thanks for reading! Have a fantastic day! Live from the Platinum Crypto Trading Floor.
Earnings Disclaimer: The information you'll find in this article is for educational purpose only. We make no promise or guarantee of income or earnings. You have to do some work, use your best judgement and perform due diligence before using the information in this article. Your success is still up to you. Nothing in this article is intended to be professional, legal, financial and/or accounting advice. Always seek competent advice from professionals in these matters. If you break the city or other local laws, we will not be held liable for any damages you incur.