Quick Links
Introduction
Financial technology or FinTech is integration and application of technologies for the development of products and services in the financial services industry. FinTech essentially focuses on improving and automating the use and delivery of financial services.
Rising demand for online financing and swift growth in advanced technologies such as Web 3.0 and artificial intelligence are spurring growth in FinTech. The global FinTech market is expected to grow significantly due to increasing investments by FinTech companies.
The Covid-19 pandemic has had a major impact on the global FinTech market, due to the surge in adoption of digitized and online financial product lines by consumers. Access to financial services is essential for economic growth and overall development of the society.
However, there are several issues that customers of traditional banking have been facing and that led to the revolution in FinTech. Some of the issues that they face are higher charges, inadequate customer support, slow transactions, complex interface, low levels of transparency and absence of collaboration with various business sectors, to name a few.
FinTech companies are addressing the current deficiencies in financial services and are striving to level the playing field for all customer profiles. They operate outside the bounds of traditional finance and dramatically improve accessibility to financial services.
Moreover, since FinTech primarily runs on data, solving some of the existing problems in financial services also opens new possibilities by cultivating rich data on consumers' spending habits, requirements and desires. FinTech is disrupting the financial services by taking a new approach to old problems.
FinTech companies gain influential insights to help customers succeed and this drives innovation that can deliver efficient, highly personalised services beyond banking, thereby facilitating a total lifestyle revamp for customers.
One such company in the FinTech space that aims to revolutionize banking, invoicing and international remittance is DM Global. DM Global is a decentralised digital wallet and cryptocurrency platform. It is building a revolutionary ecosystem that will open new opportunities featuring crypto transactions, banking and invoicing, international remittance, an internal exchange between fiat currencies and cryptocurrencies and much more.
In other words, it aims to create an ecosystem that allows users to become free in the management of their money, to have their own decentralised portfolio in which they can bridge fiat currencies and cryptocurrencies and from which they can make any desired financial transactions.
All the above features and benefits are available for anyone in the world without constraints, complications, unnecessary expenses or intermediaries. The mission is to give all cryptocurrency holders the possibility to use them in their daily life.
DMG Vision and Mission
The vision of DM Global is to create an ecosystem that allows users to be able to manage their money freely again and have their own decentralized and unassailable portfolio in which they can bridge fiat currencies and crypto currencies. More importantly, it is for anyone in the world to make any desired financial transaction without any constraints, complications, unnecessary expenses, or intermediaries.
DM Global's mission is to give all crypto currency holders the possibility to use them in their daily lives. This can be done using DM Global's simple and practical payment system using their Point of Sale (PoS) terminals and ATMs.
DM Global makes it easy to purchase the desired crypto coins with just a few touches of a button and enable users to own a multi-currency wallet that contains fiat as well as crypto coins through one single and tightly integrated decentralized platform.
The Team
DM Global is managed by an executive team comprising eight distinguished individuals with dedicated responsibilities and spearheaded by Michael Haerens as the founder and CEO. The COO of DM Global is Raphael M. Dos Santos while Francesco Zangarini is the chief marketing officer of the organization.
The social media strategies and web marketing for DM Global is managed by Veronica De Andreis and Ada Cecilia Valbuena is in charge of communications for Spain and Latin America. In addition, Sean Prescott and Alex Fancelli are the technical and financial advisors respectively, while Mario Guerrero is the network manager.
DMG ICO
The success of a project such as DM Global depends largely on the community that it builds and DM Global plans to redistribute a large part of the earnings to the community. In the process, it introduces a form a cooperation between companies, partners, and clients where people committed to promoting the project and its technologies will get to earn money perpetually.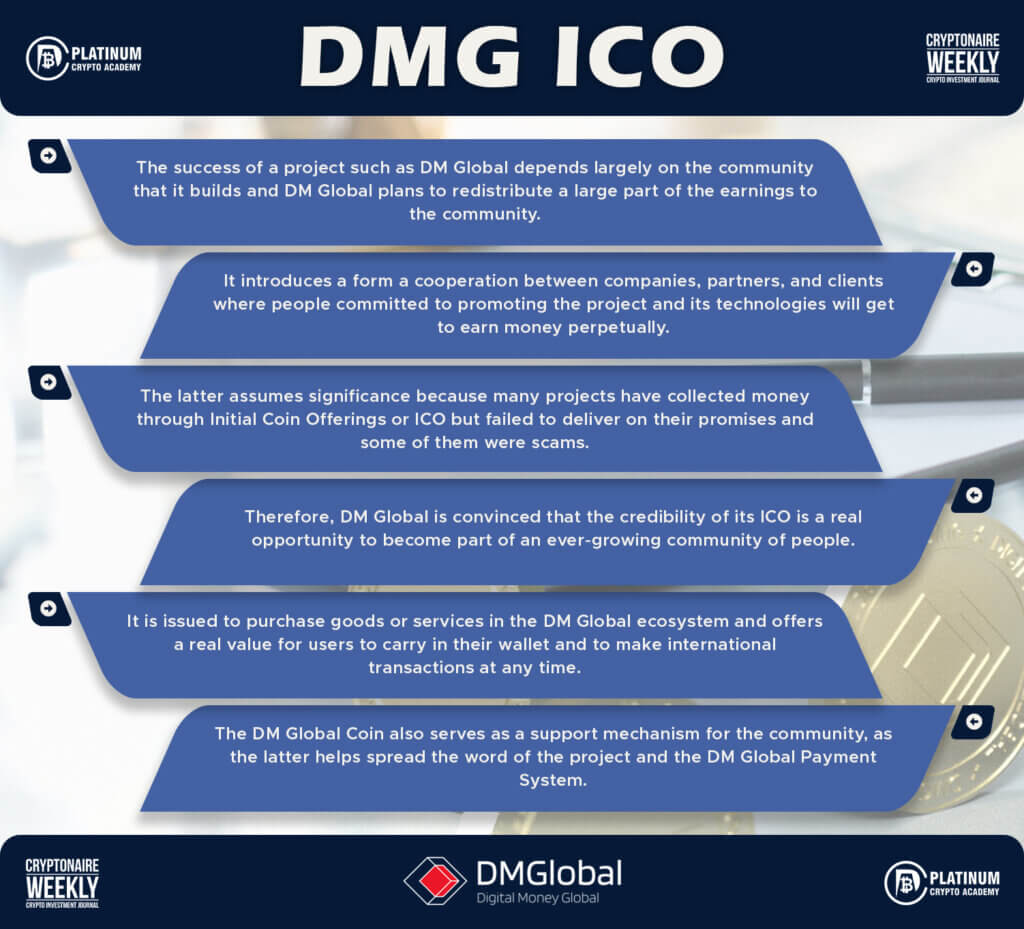 The latter assumes significance because many projects have collected money through Initial Coin Offerings or ICO but failed to deliver on their promises and some of them were scams. In contrast, DM Global has already developed 70 per cent of what it has promised to achieve.
Therefore, DM Global is convinced that the credibility of its ICO is a real opportunity to become part of an ever-growing community of people who have understood or wish to understand what this technology-driven money offers. It offers a transparent solution that helps in the welfare of the users without any expensive ties with traditional institutions.
As DM Global aims to be updated not only in terms of technology but also in financial terms, the community will support the project in its various phases from the very beginning and can remain its reference business partner.
The DM Global Coin is a payment and utility hybrid coin with a fixed value, thereby limiting the chances of fluctuation. It is issued to purchase goods or services in the DM Global ecosystem and offers a real value for users to carry in their wallet and to make international transactions at any time. The DM Global Coin also serves as a support mechanism for the community, as the latter helps spread the word of the project and the DM Global Payment System.
Roadmap
As mentioned earlier, DM Global has already completed more than 70 per cent of what is has promised to do as part of the overall project. The DM Global project started way back in July 2020 with the first phase, when the DM Global platform was launched and enabled networkers to participate. The token price at that time was 0.45 Euro.
The first Beta transaction system for blockchain-based Point of Sale and crypto payments was launched in October 2020. Thereafter, the DM Global project evolved over multiple phases and the token price also increased commensurately to reach 1.25 Euro in October 2021, before it was paired with USD in February this year for easier usage.
In the meantime, it also launched and tested its Point of Sale and crypto payments platforms. The 12th and the last phase comes up in December with the culmination of the XCO and DMG will be on the market. This was preceded by the launch of DMG Pay in South America in September.
Conclusion
Blockchain technology, which powers the DM Global platform, is a decentralized ledger technology that offers a safe and secure platform for verifying data and information. The technology is a perfect fit for the financial markets where data security is of paramount importance.
Blockchain provides a safe and secure environment for clients, as every transaction is verified and validated with almost zero chances of tampering. This technology has the scope to transform the way economies and societies operate.
The practical uses of blockchain technology in financial services has so far been limited to payments and exchange but it has the potential to find use in many other applications. It promises to revolutionise operations in diverse industries including banking and financial services.
The technology is still in its infancy and so is FinTech. So, there is a long way to go before it takes over traditional banking, if at all, but offering solutions to issues faced by customers of traditional banking could eventually pave the way for the meteoric rise of the FinTech industry. Not surprisingly, FinTech companies are firming up their funding and capital from lenders and investors.
The combination of blockchain and FinTech can yield impressive outcomes once is secures a foothold. According to some industry estimates, the global market for FinTech blockchain is expected to clock a compounded annual growth rate of 43.8 per cent to reach US $8.7 billion by 2030. In 2021, the same market was estimated to be worth US $1.1 billion.
The global cryptocurrency market and the community have expanded so much and so fast within a very short period of time that it would be a waste of time to convert their funds into fiat currencies before making any transactions – big or small. Besides, the available data also point to the enormous potential that still remains untapped.
DM Global focuses primarily on the people who are not fortunate enough to have expensive mobile devices in their pockets to even install the app. It ensures that anyone and everyone can have access to their funds and be in complete control of them through specially designed cards
DM Global presents solutions that are aligned with the future of digital payments through complete digital transactions, digital infrastructures and a decentralised ecosystem that guarantees security and stability. A combination of hard work, financial discipline and continued focus on growth by the DM Global team will start to pay off.
Hopefully, you have enjoyed today's article. Thanks for reading! Have a fantastic day! Live from the Platinum Crypto Trading Floor.
Earnings Disclaimer: The information you'll find in this article is for educational purpose only. We make no promise or guarantee of income or earnings. You have to do some work, use your best judgement and perform due diligence before using the information in this article. Your success is still up to you. Nothing in this article is intended to be professional, legal, financial and/or accounting advice. Always seek competent advice from professionals in these matters. If you break the city or other local laws, we will not be held liable for any damages you incur.