Quick Links
Introduction
Bitcoin has grown enormously in the past decade, and cryptocurrency mining remains highly popular. Bitcoin mining is the process of verifying Bitcoin transactions and generating new Bitcoins. Mining is a competitive activity in which miners solve cryptographically encoded hash puzzles to verify blocks containing transactions. Bitcoin mining involves investing energy, the electricity used by Ecudor for the extraction of Bitcoins is only from renewable energy sources and as far as possible from surplus green energy.
Mining Bitcoin is open to anyone, but finding and submitting new transactions isn't as straightforward as it sounds. The chances of winning Bitcoin rewards are pretty low unless you have access to powerful computers known as ASICs. As a solution to simplify Bitcoin mining without requiring expensive machines and knowledge, SB BLOCK launched a platform called Ecudor. The purpose of this article is to explain everything about Ecudor ecosystem.
What is Ecudor?
Ecudor is an emerging cryptocurrency platform on Polygon created by SB BLOCK. It is an automated participatory mining system that enables everyone to participate in mining for the first time at a very low investment cost. The platform combines the features of token rewards, governance, and transparency. These features are crucial for building trust and ensuring the platform is sustainable in the long term. Ecudor is a DAO dedicated to securing and decentralizing Bitcoin.
Core Features of Ecudor Ecosystem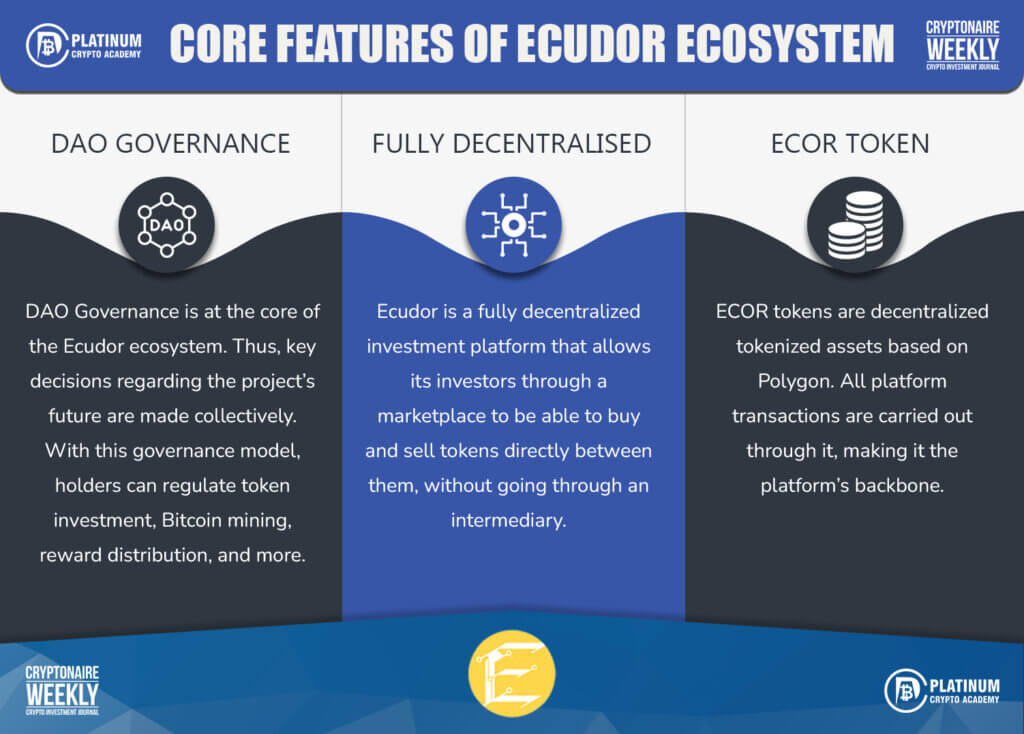 DAO Governance
DAO Governance is at the core of the Ecudor ecosystem. Thus, key decisions regarding the project's future are made collectively. With this governance model, holders can regulate token investment, Bitcoin mining, reward distribution, and more.
Fully Decentralised
Ecudor is a fully decentralized investment platform that allows its investors through a marketplace to be able to buy and sell tokens directly between them, without going through an intermediary. One of the advantages of the marketplace is to be able to sell its tokenized assets (which generate interest) at a free price, while the platform sells a limited quantity of tokens at a fixed price.
ECOR Token
ECOR tokens are decentralized tokenized assets based on Polygon. All platform transactions are carried out through it, making it the platform's backbone. The tokenisation of Bitcoin mining machines will allow token holders to indirectly control the machines. The token is built on the mainnet using Polygon technology to ensure speed, security, and low transaction costs.
What makes Ecudor best for investors?
Bitcoin mining is one of the most lucrative ways to invest in cryptocurrency. However, Bitcoin mining does have several disadvantages, such as knowledge, high setup costs, and price volatility. Since this is a new technology, getting enough people familiar with relevant machines and mining techniques is difficult. The operation cost of mining Bitcoins is high, and high-end supercomputers are required. Miners cannot earn a profit without such robust equipment.
Moreover, one of the primary disadvantages of cryptocurrency is price volatility. Although the price was near $60k in January 2022, it has dropped drastically since then. Investing in mining without an expensive setup and skill is the best way to overcome all these challenges and become a successful investor. This is what Ecudor does!
Ecudor was built with one aim in mind: to give everyone access to Bitcoin mining. This way, investors can invest without worrying about mining-related constraints, only having to have Ecudor (ECOR) tokens in their wallets. The following are some of the key features of the Ecudor platform:
Environmentally Friendly
The term Bitcoin is often used to refer to digital currency and to compare it to fiat currency controlled by central banks. It is the world's most important cryptocurrency. Therefore, everyone wants to acquire it through trading or mining. Mining Bitcoins isn't easy since it requires a supercomputer, an internet connection, and a lot of energy. Using energy means the process is environmentally unfriendly. Nevertheless, you don't have to worry about energy, supercomputer skills, or anything else with the Ecudor ecosystem. Ecudor makes Bitcoin mining easy by utilising surplus renewable energy to mine Bitcoin in the most environmentally friendly way.
Trust & Transparency
The Ecudor platform does not have hidden fees or other advantages for anyone. In the Ecudor ecosystem, all supply is locked in smart contracts. To obtain ECOR, you must buy it, and each ECOR purchased is used to purchase ASICs. As a result, the interests are protected from dilution. A tracking system for ASICs purchases will be included in the application. The smart contracts will be public, therefore auditable and auditable, therefore everyone will also be able to ensure the transparency of the developments.
Safe & Secure
The security of the Ecudor platform is constantly improved by our technical staff, who audit the platform regularly. An external audit is also planned, so end users will benefit from high overall security.
Non-Custodial Platform
Ecudor is a non-custodial platform. As a result, you will have complete control of your tokens, your keys and, therefore, your funds.
Easy Wealth Creation
Ecudor believes that everyone should have equal access to wealth creation, regardless of background or demographics. Although not everyone can invest a lot of money in Bitcoin mining, Ecudor allows everyone to participate for "less than the price of a coffee".
An overview of the ECOR Token
Ecudor's governance cryptocurrency is the ECOR token, based on the ERC20 standard. Ecudor (ECOR) tokens represent ownership of a percentage of mining machines and, thereby, the ownership of the same percentage of the rewards associated with those machines. Mining rewards are transferred proportionately to Ecudor (ECOR) token owners transparently.
There will be 210,000,000 ECOR tokens in total supply. It is anticipated that there will be ten batches of ECOR token sales, with the first batch available during the presale. Afterwards, it will be mandatory for the governance to vote on the release of other batches. There will be 21,000,000 ECOR tokens available in each batch.
Investors will receive 80% of the mining earnings as rewards for holding ECOR tokens. 10% of the money will go to purchase new ASICs, and 10% for fees. There will also be the possibility of participating in an airdrop worth €21,000 (21,000 ECOR), to find out more, visit the "Presale" page of the website.
What is the goal of Ecudor?
With the Ecudor ecosystem, the possibility of diversifying one's investments becomes accessible to everyone, restoring people's control over their finances. This state-of-the-art ecosystem secures money, authority, and autonomy for investors, while encouraging them to invest in tokenized assets. The Ecudor platform allows users to earn interest from the investment made in mining Bitcoin using tokenized ASICs. A key goal of the platform is to strengthen economic freedom worldwide.
Conclusion
More than a decade ago, mining Bitcoin with your personal computer was not a big deal. However, as Bitcoin's value has grown, so has the competition for rewards, resulting in a race for faster and more powerful mining equipment. Investing in Bitcoin mining requires a great deal of equipment with high computational power and reliable Internet and electricity. Ecudor, however, eliminates all these requirements.
With Ecudor, investors can participate in Bitcoin mining with very low investment since the system tokenises Bitcoin mining machines. The ease of use of Ecudor makes it more valuable. All you need is a polygon blockchain wallet and an internet connection. A complete and ready-to-use platform is available. As an investor, Ecudor is your best choice if you're looking for a project that generates good returns (even in bear market). Take advantage of the platform and invest in Bitcoin mining now!
Hopefully, you have enjoyed today's article. Thanks for reading! Have a fantastic day! Live from the Platinum Crypto Trading Floor.
Earnings Disclaimer: The information you'll find in this article is for educational purpose only. We make no promise or guarantee of income or earnings. You have to do some work, use your best judgement and perform due diligence before using the information in this article. Your success is still up to you. Nothing in this article is intended to be professional, legal, financial and/or accounting advice. Always seek competent advice from professionals in these matters. If you break the city or other local laws, we will not be held liable for any damages you incur.