Aspiring designers from different walks of life often struggle to make their mark in the fashion industry. Even though the sector generates a massive economic revenue of $3 trillion, independent designers with the finest skills, experience and talent find themselves trapped within a never-ending battle of building their reputation in the industry.
And, as the fashion industry moves into the gaming environment, metaverse and Web3, are independent designers getting their fair chance?
To help you understand better, this article highlights the importance of the fashion industry, common problems that designers, influencers and mid-sized brands have to face, and how Faith Tribe's inclusive ecosystem stands to be the true game-changer. 
Intro to Fashion Industry
The fashion sector has a huge impact on the global economy, with many companies earning multi-billion dollars from the industry. The major aspects of this industry are:
Design and production, where remarkable imaginary designers are transformed into reality, and later produced using a wide range of fabrics such as cotton, linen, silk, wool and so on.
Manufacturing; now many designers often work anonymously for the manufacturer as a part of a brand-oriented team that creates marketable garments for the consumers.
Retailing and marketing is an integral process where the fashion assets are promoted to targeted consumers. This often occurs at two levels, (a) retail and (b) digital. Companies often make use of catalogues, fashion shows, and boutiques for reaching potential buyers.
The industry has witnessed tremendous growth, which in turn has accelerated competitive trends to a significant extent, while the sector consists of all size fashion companies, but independent creators, influencers or small brands often struggle to carve out a place of their own.
Problems Designer Face Within the Fashion Industry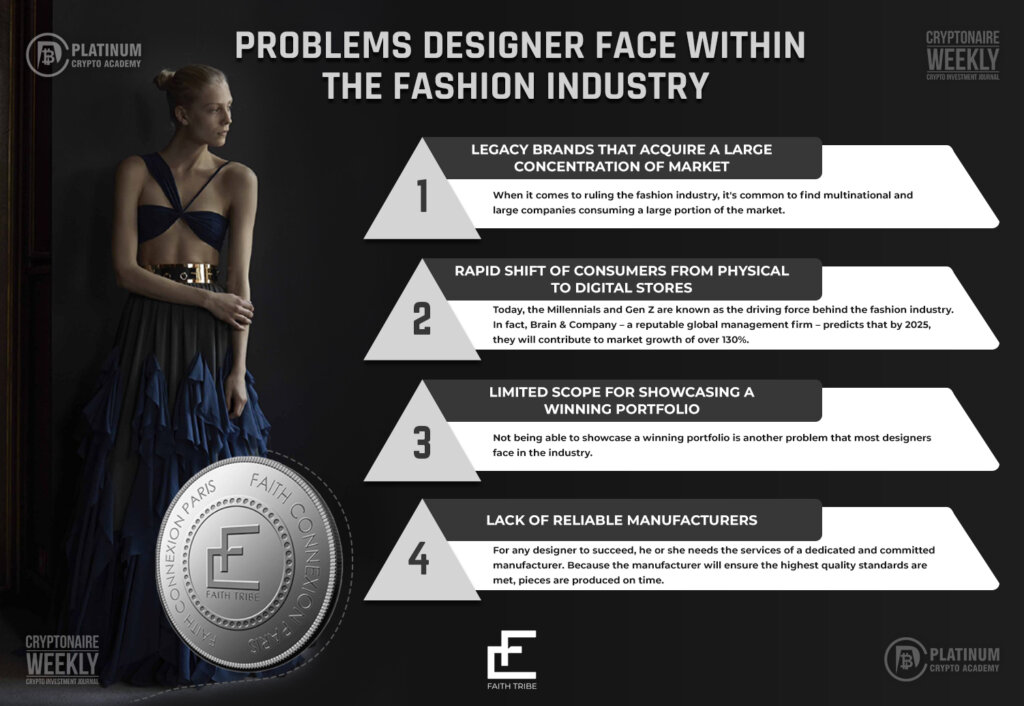 Despite being an integral part of the worldwide economy, several critical issues haunt the fashion industry. The number one being: "emerging designers failing to make their mark in the industry." It often happens due to:
1. Legacy brands that acquire a large concentration of market
When it comes to ruling the fashion industry, it's common to find multinational and large companies consuming a large portion of the market. In this way, it becomes difficult for mid-sized enterprises or even fashion enthusiasts to compete with the all-powerful brands of the industry. As for meeting the evolving demands and digital challenges, designers ought to make capital investments for carrying out strategic plans, and this is often a far-fetched dream for beginners or solopreneurs.
2. Rapid shift of consumers from physical to digital stores
Today, the Millennials and Gen Z are known as the driving force behind the fashion industry. In fact, Brain & Company – a reputable global management firm – predicts that by 2025, they will contribute to market growth of over 130%. Now, if current trends are to be believed, Millennials and Gen Z prioritise the digital world for everything, including which accessory to shop, from where to shop, the right price, and more. Consumers want to be aware of the fabrics, styles, their authenticity and value transparency – something that designers often find difficult to offer.
Only if designers can adapt to the changing requirements of consumers can they acquire a competitive edge from the rest.
3. Limited Scope for Showcasing a Winning Portfolio
Not being able to showcase a winning portfolio is another problem that most designers face in the industry. Designers might have the talent, expertise and a collection of stunning designs, however, they still fail to make their mark because of:
No access to modern and advanced technology that would ignite life into their creative pieces.
No access to a community that will support, promote and provide feedback for growth and development.
No access to mentors or coaches that will train and prepare designers for commercial success
4. Lack of Reliable Manufacturers
For any designer to succeed, he or she needs the services of a dedicated and committed manufacturer. Because the manufacturer will ensure the highest quality standards are met, pieces are produced on time, and the work flows consistently at a reasonable value. Not being able to find a good manufacturer is probably the worst nightmare that every designer ends up facing at some point or the other.
What is Faith Tribe?
Built on the concept of empowering independent creators and designers by democratising fashion, Faith Tribe is a revolutionary ecosystem that bridges the gap between a talented pool of independent fashion designers, the metaverse and cryptocurrencies. Born as an open-source platform, it envisions a collaborative, rewarding and fulfilling future for independent creators.
Now, independent designers constitute a large part of the fashion industry, who thanks to their diverse background, astounding skills and expertise add unique and valuable creations to the industry, most of which go unheard of or unnoticed. Faith Tribe wants to bring a positive change, by helping independent designers, fashion enthusiasts and more get their fair share in the market.
With the rise of the new Web3 fashion and metaverse realm, there comes a risk of these platforms being occupied by premier luxury brands. However, to navigate competition in both physical and Web3 fashion, Faith Tribe offers access to essential tools, guidance and practices, allowing every individual creator to harness the maximum brand-building and economic potential of digital stores, gaming, metaverse and NFTs. 
Since independent designers may lack the network for creating a strong customer base, Faith Tribe, through its official digital marketplace, allows designers to distribute designers at a global scale. In addition to this, to unlock never-seen-before opportunities, the company's native brand Faith Connexion (founded in 2002) offers an amazing archive of designs, recognition among influencers and celebrities, and creative leadership that every designer can be proud of.
At the heart of the company is the Faith Tribe DAO, which governs transactions of its cash token, named as $FTRB, allocates funds to treasury, monitors the community, and most importantly, votes on improvement and proposed modification of the creators' ecosystem. Similar to Solana, it is an Ethereum-based blockchain cash token with 1 and 2 chain layers to enhance utility and access among the members of the community.
The community cash token – $FTRB – is the economic backbone of the platform that:
Provides complete access to the Designer Studio, where communities get every aspect of a digital and physical business under one roof, such as creation, collaboration, manufacture, distribution, NFT minting and tracking.
Make the necessary contributions of liquidation of the pool, i.e. supporting creators via crowdfunding of the design or whether a particular design should be selected for physical production.
Empowers the mass-crowd vote mechanism of the platform, where supporters get to vote for their favorite collections or garments.
Gives optimal discounts on the purchase of both digital and physical assets that can be availed on the brand store and NFT marketplace as well.
Holders of the cash token also directly earn platform-associated benefits and programs that are invaluable for independent creators.
What does Faith Tribe do to protect your design work?
Faith Tribe, with its 100% community-owned ecosystem, offers a wealth of opportunities to creators of the fashion world. It allows a global pool of talent to participate in an incentive-aligned environment, while keeping their design work secured and protected in the ecosystem.
Designs by independent creators, artists, bloggers or collaborations created in the Designer Studio that project innovations achieve utility patents that protect the functional and non-functional features of the digital and physical fashion asset.
The Designer Studio is known as the core of the ecosystem that caters to the end-to-end experience of the creators, allowing creators to protect designs. In the studio:
Designers get the opportunity of creating design work using modern tools and technologies.
Designers can either collaborate, work independently or make use of pre-existing templates too.
Designers can take advantage of public contributions to either crowdsource or co-own a single piece of garment or an entire collection.
Next, in the NFT marketplace, the designers get to connect their digital fashion assets with the Web3 buyers. The marketplace:
Aids in the sale of physical and digital products that are minted with NFTs.
Features community-driven airdrops of NFTs, where the participants of the ecosystem select a design that will be manufactured into a physical product.
Creates open-ended, limited production, and ad-hoc drops that allows designers to run sales using their distribution levels.
To help creators achieve a long-term value from their fashion asset and protect designs, Faith Tribe underlies a Design Protocol that consists of:
Effective integration with Decentralised Finance (DeFi) that optimises the value of the fashion asset in the ecosystem. For instance, NFT marketplaces and AAVE are the common DeFi protocols integrated for the security of design works.
Transaction standards and metadata can be used to sell digital and physical assets at other platforms.
The NFTs that are minted to digital and physical fashion assets contain verifiable data, such as information of the contributor, ownership spilt, the design asset for both physical and digital version, along with associated media assets like photography, pricing, sketches, royalty curve, patron and copyrights. Now, designers can use them on their individual design work or bundle it into collections, as a result of which the metadata gets automatically applied to every design work that is created by them. Faith Tribe also supports a Studio Liquidity Pool, where designers get to pair their present or future digital and physical assets with liquidity that will offer funding for the physical creation of the asset.
Furthermore, to protect designs, creators can even mint NFTs on templates, i.e. for digital and physical design available for remix, reuse or customisation. Also, creators can add exclusive perks of access to virtual fashion shows, physical fashion shows, invite-only previews, social and community events, clearance sales and special merchandise to their design work.
When members of the community exchange assets in the ecosystem, it occurs through a smart contract that powers the redemption, sale and trade of NFTs. Thanks to the exchange, the community gets a new airdrop of assets and determines which design works would be featured. Moreover, it also combines the conventional eCommerce channels for tracking and measuring the performance of the digital and physical asset, while offering a broader distribution integration, so that participants of the community, supporters and buyers adhere to the terms and conditions of the contract.
Learn About Faith Tribe's Global Creator Ecosystem
Established with an aim to empower independent designers, influencers, fashion-savvy professionals and bloggers, Faith Tribe's global creator system is the unbiased and unfiltered voice of professionals who want their digital and physical masterpieces noticed and rewarded. It is a truly open design platform that gives every individual equal opportunity, irrespective of their geography, as individuals are solely evaluated on the quality of contributions made to the creators' ecosystem.
It's not only an all-inclusive ecosystem for everyone, but there are zero restrictions as well, allowing designers to work on anything or everything that inspires them to create phenomenal digital and physical fashion.
The essence of the platform lies in creating a creative and collaborative design process for Faith Connexion that will allow designers to uncover better and incredible opportunities
Conclusion
From building brand awareness, launching products at a credible platform (NFT marketplace and Faith Tribe eCommerce store) to integrating and scaling the designs, Faith Tribe structures a strategic and result-oriented plan that would act as a lifeline for independent creators across the globe.
Taking the evolving demands of virtual clothing and Web3 fashion, Faith Tribe has also made a decentralised governance protocol part of the creators' ecosystem, which would support continuous growth in alignment with the needs and requirements of artists, designers, bloggers, developers, creators and more. Thanks to this, the ecosystem will actively attract talent from all walks of life, get fair scope for distribution in the physical and digital realm, and every aspect of the ecosystem will operate strictly in compliance with the regulation of accredited authorities. Faith Tribe, with its innovative approach, powerful ecosystem for global creators and promising partners, holds the ability to reshape the fashion industry, where every talent will get an equal and fair scope to showcase their work to the entire world and even get the privilege to collaborate with international leaders of the sector.
Hopefully, you have enjoyed today's article. Thanks for reading! Have a fantastic day! Live from the Platinum Crypto Trading Floor.
Earnings Disclaimer: The information you'll find in this article is for educational purpose only. We make no promise or guarantee of income or earnings. You have to do some work, use your best judgement and perform due diligence before using the information in this article. Your success is still up to you. Nothing in this article is intended to be professional, legal, financial and/or accounting advice. Always seek competent advice from professionals in these matters. If you break the city or other local laws, we will not be held liable for any damages you incur.