Quick Links
Introduction
Gold is and will always be one of the most valuable and sought-after metals in the world. Since ancient times, gold has been a symbol of wealth and status. In our modern era, gold has more widespread application in the industrial, technology and medical fields which makes it even more valuable. Unlike fiat currencies, gold has limited supply and so it's value will always keep on increasing.
These factors make gold a safe haven for investment that can be liquidated easily. 
fuse.gold
fuse.gold is an exciting gold-backed token and claims to be one of the most technologically advanced gold-backed tokens in the world. It also has a world-class single layer referral system, where anyone who completes the KYC will automatically be a part of their VIP Royalty Program (no purchase necessary) and be able to earn their GOLDX token. GOLDX is rewarded from a selection of different transactions using the main FUSEG token. The VIP Royalty Rewards Program is to promote their highly ethical approach to a fair launch. 
The key mission of fuse.gold is to digitise global assets and its future vision is to enable seamless global movement of those assets within the economy. fuse.gold considers gold to be an integral part of their vision, since the general demand for the precious metal is eternal. 

Despite being a physically challenging and expensive asset to retain, move as well as store, the market value of gold is more than US $11 trillion. fuse.gold is a platform that allows users to buy and sell tokenised gold (FUSEG) and exchange it for any token on the decentralised exchange or DEX, provided there is sufficient liquidity available. 
It gives the token holders tangible gold ownership in some of the most secure vaults in London, along with the cross-platform flexibility of digital wallets and Gold Liquidity smart contracts. The fuse.gold ecosystem aims to eventually become the gold standard in crypto currency. This objective will also help fuse.gold become a household name in crypto currency. 
In order to facilitate this long-term objective, fuse.gold has made the platform more accessible, quicker and more secure to transform users' investments into a lucrative portfolio. It will provide round-the-clock information and support to answer any queries of the investors.
In terms of safety and security of the platform, the underlying gold is stored in highly reputable vaults across the United Kingdom. fuse.gold, as an organisation, is legally and legislatively compliant from all sides. Besides, it has undergone extensive legal due diligence to ensure it has the capacity, capability, and the Proof of Reserve (PoR) to function as a legitimate and ethically performing company.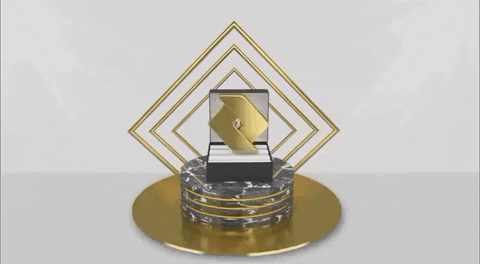 FUSEG Token
FUSEG is the native token of the fuse.gold ecosystem and the strength of FUSEG will ensure stability and security of the investment. It is a digitised form of highest quality of physical gold, i.e. London Bullion Market Association-accredited London Good Delivery Gold bars held in the most secure vaults in London.
These gold bars are investment-grade and each weigh about 400 fine troy ounces. Such large quantities are usually available to the large institutions. Now, fuse.gold makes it possible for everyone to own portions of this extremely profitable and reliable form of gold by tokenising this gold and placing it on a blockchain network. This essentially widens the accessibility for all.
Each FUSEG token is directly assigned to one fine troy gram of physical gold from a physical gold bar. In fact, token holders can exchange their tokens for a bar of gold, if they hold enough FUSEG tokens to encompass an entire gold bar. 
Alternatively, ownership can be divided into units of up to 18 decimal points, thereby making it possible to own even the smallest amounts of investment-grade gold for the first time. FUSEG is an ERC-20/BEP-20/GX-20 token built on the Ethereum blockchain and Binance Smart Chain.
All transactions are completed in compliance with the rules of the smart contract on the blockchains. Hence, the transactions negate any human error, and the system operates completely as programmed. 
A great opportunity in the current Crypto Bear Market!
Gold-backed tokens are always the safest investment choice, be it a bear or bull market. Hence, FUSEG is a very reliable investment for investors looking to park their funds in the current bear market scenario without being worried. Being a gold-backed token, FUSEG is safe & secure and is never going to be affected by the market ups and downs. Based on historical data, bear markets are usually the most potent times for gold-backed investments as people invest at a much higher number than normal and thus drive the prices higher. FUSEG gives the investors a higher incentive to transact and make money on their platform in comparison to other Gold-backed tokens by giving the users benefits through their GOLDX VIP Royalty Rewards Program and lower transaction fees.
The fuse.gold ecosystem explained: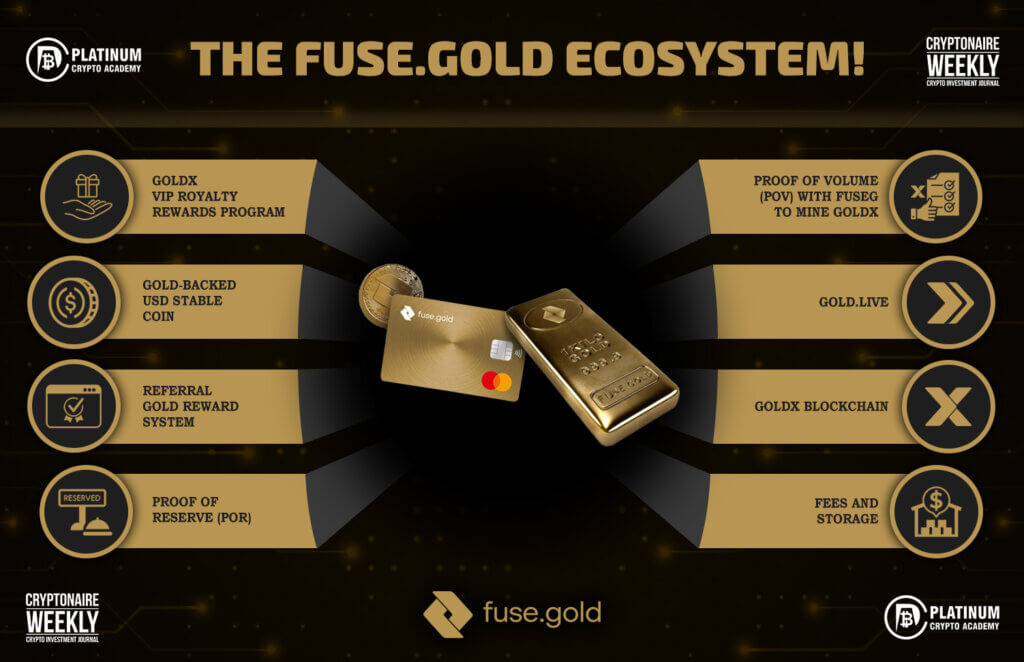 GOLDX VIP Royalty Rewards Program
The GOLDX is the VIP Royalty Rewards program of the fuse.gold ecosystem. Users can register and get rewarded with GOLDX tokens, which will also enable them to earn gold after the launch of the platform. This opportunity is limited in numbers and more than 9,000 users have already registered and have become part of this reward program pre-launch. So don't miss this opportunity and register today!
Gold-backed USD Stable Coin
The USDX is the flagship Stable coin which backs the fuse.gold platform. It is the supporting USD Stable token to FUSEG and entirely backed by gold and exchangeable for fiat currency. This gives users more flexibility as they can not only redeem actual Physical Gold directly from The London Bullion Market (LBMA) but they can also redeem on any DEX & CEX platform for other Stablecoins like USDC, USDT & BUSD as well. 
Referral Gold Reward System
fuse.gold has a single-level referral program with FUSEG token, where anyone can refer new customers and earn gold tokens as a reward. What is alluring is that there is no limit to how much gold token rewards can be earned, and the percentage of the referral amount can be adjusted to suit market conditions. 
Besides, GOLDX is the single layer referral system where anyone who refers new customers can earn 10 per cent more GOLDX during the sign-up phase. Both the referrer and the referee earn 10 per cent more GOLDX.
The GOLDX referral system also pays the referrer a percentage of future GOLDX transactions. These referral GOLDX amounts are accrued from the inbuilt 10 per cent transaction tax, that is applied to each GOLDX transaction. 
Notably, the free claim period of GOLDX automatically transfers any existing referrals over to the FUSEG referral program. This means that any successful sign-ups which convert to FUSEG purchase, benefits the referrer in the form of an allocation of FUSEG as well as GOLDX. Interestingly, one referral link pays in both FUSEG and GOLDX. 
Proof of Reserve (PoR)
Proof of Reserve is a state-of-the-art blockchain verifiable solution, which offers total transparency through a round-the-clock real-time blockchain verifiable audit. This essentially means that anyone can verify the underlying physical gold that is backing the circulating supply of FUSEG tokens at any point in time.

This additional layer of security ensures complete transparency for the users and gives them assurance of the Digital Gold they are buying. Hence, eliminating any fear that the user might have regarding the Gold they want to purchase and its authenticity.
Proof of Volume (PoV) with FUSEG to mine GOLDX
GOLDX has an in-built transaction tax of 10 per cent that pays yields to holders without the need for staking the tokens. This means that GOLDX has the tokenomics to survive as a standalone token, even after the whole token supply has been minted. 
GOLDX uses Proof of Volume (PoV) instead of using masses of power to support the network. Proof of Volume is an environment-friendly way of verifying the actions committed to earn the Rewards token and to mint it into existence.
Besides, one percent of the total token supplies will be burned on all transactions and another one per cent will be transferred to the treasury for future proofing and insurance. An additional seven per cent will be available to the holders. 
gold.live
The gold.live is a supporting information and educational platform that will cater to users who want to understand and learn about gold and other precious metals. This platform will be a mixture of live prices of precious metals and crypto currencies combined along with being packed with influencers and news articles according to relevant categories and criteria. gold.live also has a bespoke advertising feature which will serve as a base for interested parties in and around the space to showcase and feature their products to their relevant users. The gold.live platform becomes an added jewel to the fuse.gold ecosystem bringing useful information to users as well as helping advertisers to target the correct audience in the platform.
GOLDX Blockchain
The GOLDX blockchain has been designed as a platform for the tokenisation of real-world assets and will utilise the Proof of Reserve of Chainlink. The GOLDX chain is a DPOS fork of Ethereum. The main focus will be on the real-world on-chain auditing system for the Proof of Reserve. It will be for multiple assets and commodities.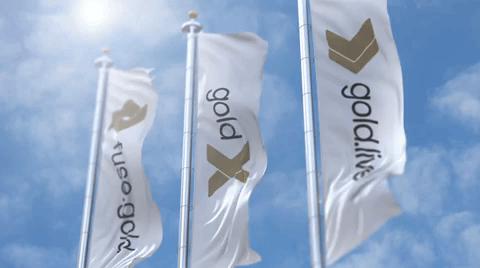 The GOLDX blockchain and DEX platform has been completed and is now Live on the test net. It is designed to facilitate RWA backing and the Proof of Reserve (PoR) solution integrated by Chainlink. The GOLDX chain has also been designed to facilitate the round-the-clock auditing process of all real-world asset backed coins. 
Fees and Storage
Owing to its low fees, fuse.gold is a more attractive investment opportunity in comparison to existing gold investment products. There are no storage fees and the only fees payable originate from the conversion of crypto into fiat currencies and crypto into physical gold.
As fuse.gold's strategy of earning fees is from tokenising physical gold, it allows fuse.gold to offset the fees for the storage of the physical gold. fuse.gold charges only for the tokenisation from its customers and not for the storage of the physical gold. This means that fuse.gold can rival standard storage facilities of solely physical gold while offering new and innovative digital gold investment solutions.  
How is fuse.gold different from other gold-backed tokens
Apart from having a world-class referral system that doubles up for FUSEG and GOLDX, the fact that GOLDX is mined for free with transactional volume from FUSEG, enables fuse.gold to stand on its own merit. This is in addition to the other distinct features of fuse.gold, as compared to other gold-backed tokens. Besides, the fuse.gold platform can boast of having its own DEX and blockchain network, while utilising Chainlink's Proof of Reserve (PoR).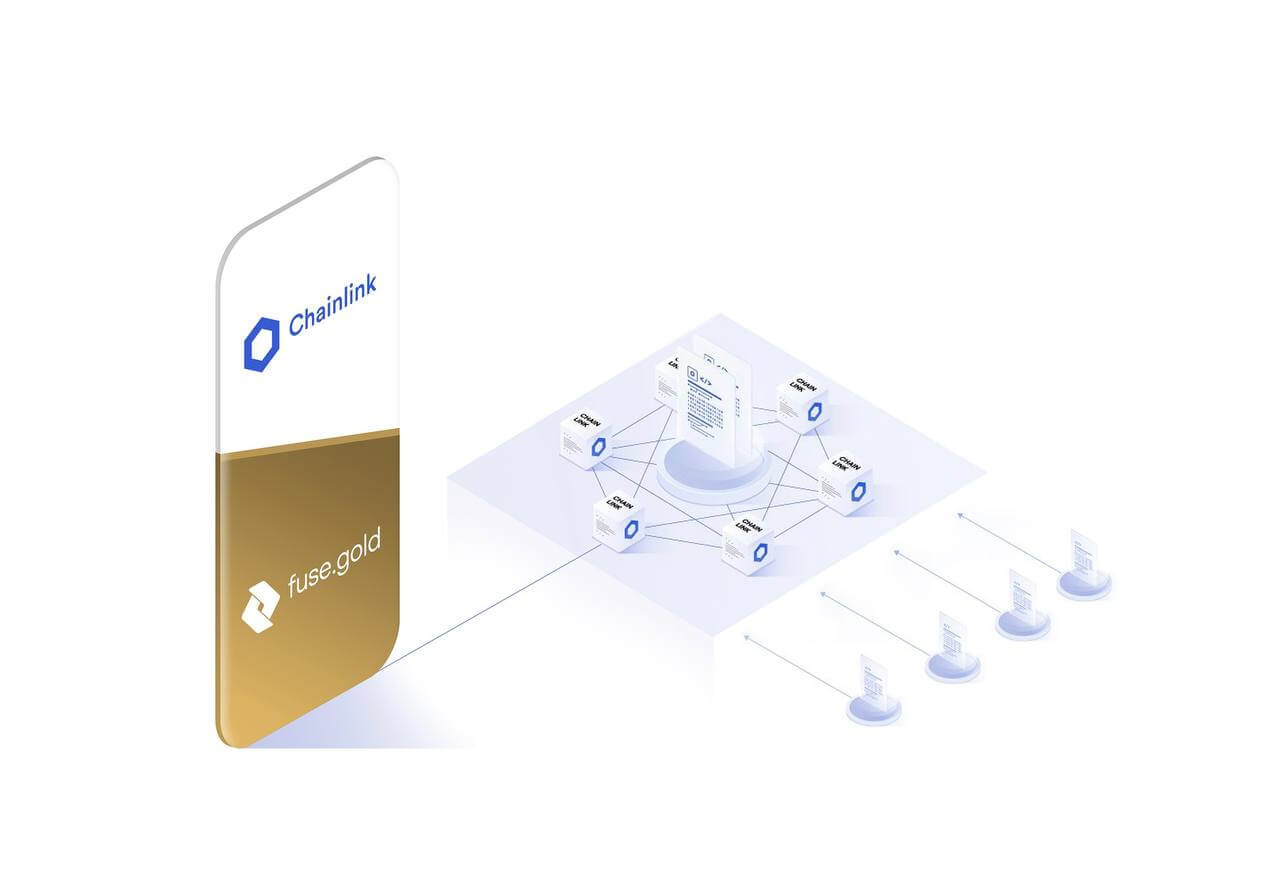 These features are in sharp contrast to previous attempts to digitise gold. Most of these are backed by unknown origins of gold. In addition, the way the storage fees are managed is also disadvantageous. 
fuse.gold, as mentioned earlier, is a digital asset where one token represents one fine gram of a gold bar, that is stored in secure vaults in London. Any holder of fuse.gold owns the physical gold, which is held under the guardianship of fuse.gold Ltd. Moreover, the value of fuse.gold also follows the real-time price in the gold markets. 
Conclusion
There is an eternal love for gold but its physical form comes with its own sets of challenges and inconveniences in the form of storage, security, movement, to name a few. Innovations in the realms of digital technology and Web 3.0 have made digital gold a reality and it eliminated many of the concerns associated with investing in physical gold.
fuse.gold combines the stability of gold with the technical advantages of crypto, thereby creating a new investment avenue in gold. It aims to be a household name and the gold standard of crypto. All its gold is backed and secured by gold stored in vaults across the United Kingdom. The entire fuse.gold ecosystem is constructed around GOLDX, with the ability to mine the GOLDX token with every transaction. As mentioned earlier, this unique opportunity is free and limited in numbers. 
The platform enables users to build an investment portfolio with stability and growth as their key pillars. The strength of gold-backed FUSEG will ensure that your investment is safe and secure, while the VIP Rewards tokens give the portfolios the maximum chance to grow.
Hopefully, you have enjoyed today's article. Thanks for reading! Have a fantastic day! Live from the Platinum Crypto Trading Floor.
Earnings Disclaimer: The information you'll find in this article is for educational purpose only. We make no promise or guarantee of income or earnings. You have to do some work, use your best judgement and perform due diligence before using the information in this article. Your success is still up to you. Nothing in this article is intended to be professional, legal, financial and/or accounting advice. Always seek competent advice from professionals in these matters. If you break the city or other local laws, we will not be held liable for any damages you incur.