Quick Links
Introduction
Globiance is an Inter-operable exchange and platform with payment gateways, crypto trading, banking services, stable coins, and both centralized and decentralized marketplaces. In addition, it also has its GBEX Staking program, which is now live.
Globiance offers various payment options and services to both retail and corporate customers. The Globiance debit-card is a convenient way to access crypto, shop, transact, or pay for things directly, using GBEX tokens, cryptocurrency, or fiat currencies. Globiance is ISO20022 interoperable and also offers forensic tools.
Based on the XDC network (XinFin) Blockchain 4.0 which utilizes military-grade, secure software. Globiances offers ultra-fast transaction speeds with minimal transaction confirmation time, and very low transaction-fees.
GBEX Staking
Globiance has now made its GBEX staking feature live, it's a great opportunity for those who want to make their GBEX work for them. The Staking Program currently works with the GBEX token and other tokens such as XDC will soon be added to the list of tokens that can be staked on Globiance.
GBEX token holders can stake their GBEX with multiple options such as; 1 month with 4% APY, 3 months with 5% APY, 6 months with 6% APY, 9 months with 8% APY and 12 months with 10% APY.
What is staking?
Staking is a popular way to earn rewards from crypto. It offers crypto holders a way to put their digital assets to work without selling them. Similar to putting money in high-yield savings accounts, staking involves locking the crypto coins to earn rewards calculated in percentage yields.
The returns in staking are typically much higher than any rewards offered by banks. Many long-term holders of cryptocurrencies view staking as a way of making their digital assets work for them by generating rewards, instead of sitting idle in their crypto wallets. It is a good option for those who wish to gain rewards and are not bothered by short-term fluctuations in the market price of crypto assets.
Staking is a key feature of many blockchains. The most basic way to earn rewards on your crypto assets is by staking them for a predetermined lock-up period to generate sustainable rewards from it.
Staking crypto tokens refers to token owners locking up their digital assets for a certain period of time and earning rewards in the form of cryptocurrency while doing so. Some NFT collections allow users to deposit their NFT's for an indefinite lock-up period, while others have strict duration limits pertaining to how long the NFT must be staked.
Crypto token or NFT staking can be a beneficial tool for long-term holders to generate rewards from their digital assets. Instead of simply holding them in a cryptocurrency wallet, they can deposit their NFT in a vault to earn rewards on the assets, which would otherwise sit idly in a crypto wallet.
Each project that offers staking, will have its own rate of rewards, which incentivizes the token holders to lock up their digital assets for as long as possible. Although the exact value of reward may vary by project, the common factor among most projects is that they will compensate the users who stake their tokens or NFT, by rewarding them with a utility token.
This token may have additional perks such as voting, or governance, among others. In fact, staking can also be a good hedge against short term price movements in the crypto and NFT markets. One can counterbalance short-term fluctuations in the crypto and volatility in the NFT markets by staking their digital assets.
A higher percentage of staked tokens or NFTs of a particular project is a healthy sign that the holders are committed to holding for the long run. Such situations significantly lower the chance of a sudden mass sell-off and price dump in the market, although there is no guarantee that it would not happen.
Benefits of Staking
Staking is a way to reward its community members for having a long-term mindset and locking up their digital assets, including GBEX tokens. The ultimate goal is to attract a lot of players looking for rewards and to give ownership and participation to the most active members.
GBEX
GBEX is a deflationary token, which means that its total supply is continually shrinking. Making trades on the CEX or transferring between wallets keeps the supply in a constant state of 'burning' GBEX is a utility token and will be used across the GBEX ecosystem for paying fees, and rewards, while using GBEX for transactions. The higher the usage on the various platforms, the greater the amount of GBEX tokens that will be utilized on a daily basis. These are expected to help grow the GBEX trading volume organically.
The deflationary design of GBEX virtually melts away the total supply every day with every transaction. The increased volume on the exchange functions as an "after-burner" – increasing the 'burn and rewards' for each and every trade made on the various platforms around the world.
Some of the other features of the GBEX are as follows: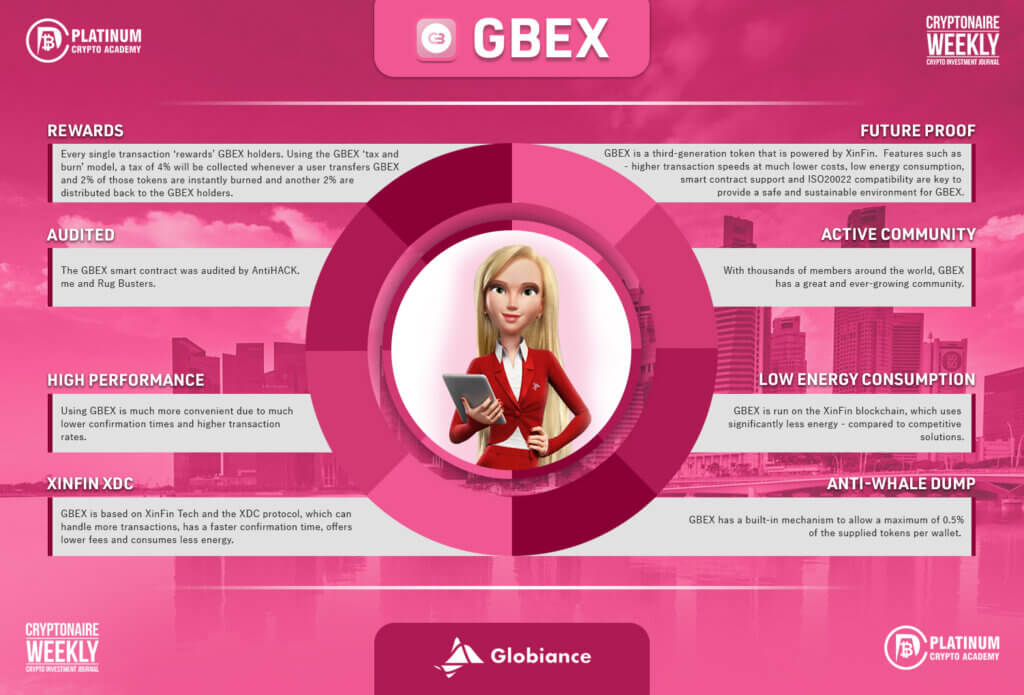 Rewards – Every single transaction 'rewards' GBEX holders. Using the GBEX 'tax and burn' model, a tax of 4% will be collected whenever a user transfers GBEX and 2% of those tokens are instantly burned and another 2% are distributed back to the GBEX holders.
Future Proof – GBEX is a third-generation token that is powered by XinFin. Features such as – higher transaction speeds at much lower costs, low energy consumption, smart contract support and ISO20022 compatibility are key to provide a safe and sustainable environment for GBEX.
Audited – The GBEX smart contract was audited by AntiHACK.me and Rug Busters.
Active Community – With thousands of members around the world, GBEX has a great and ever-growing community.
High Performance – Using GBEX is much more convenient due to much lower confirmation times and higher transaction rates.
Low Energy Consumption – GBEX is run on the XinFin blockchain, which uses significantly less energy – compared to competitive solutions.
XinFin XDC – GBEX is based on XinFin Tech and the XDC protocol, which can handle more transactions, has a faster confirmation time, offers lower fees and consumes less energy.
Anti-Whale Dump – GBEX has a built-in mechanism to allow a maximum of 0.5% of the supplied tokens per wallet.
Globiance Features
The Globiance ecosystem is designed to cater to corporate as well as individual, with decentralisation, transparency and accessibility being its key underlying features. The ecosystem has been adapted to the needs of the clients to ensure its goal of making financial freedom an inclusive option for everyone, a reality. Some of the platform's key features and benefits are the following:
Globiance DEX – Globiance DEX is an eXchange InFinite (XinFin) network-based decentralized exchange, whose hybrid architecture is developer friendly. This interoperable blockchain network for global trade and finance enables digitization, tokenization and instant settlement of trade transactions.
This feature increases efficiency and reduces reliance on complex FX infrastructure, thereby allowing for increased flexibility in liquidity management for financial institutions. It is designed to integrate with traditional or legacy financial operating systems.
Globiance CEX – The Globiance Global Exchange Platforms, being set up worldwide, offer services for all kinds of financial needs on a single platform that are also customized to local markets and local regulations. The platform now offers multi-language and multi-currency wallet accounts and provides several fiat currencies as well as crypto currencies.
Apart from buying and selling crypto currencies, users can also manage their payments within the platform, wherever the platform has the appropriate payments license to execute third-party payments. Each of the platforms has an individual entity operating behind it, which obtains the necessary local licenses and follows the local laws to ensure they are offering only legally compliant services.
In order to expand its offerings, Globiance is currently in the process of obtaining banking licenses in several markets all over the world. Despite the latter initiatives, it plans to continue working with its many banking partners in future as well.
As for the key aspect of liquidity, Globiance has established strong connections to be able to provide almost unlimited liquidity on a daily basis. This results in a business model that ensures lower price for the users such as a transaction fees of 0.1% for the buyer or seller. There are no crypto or fiat deposit fees.
Crypto currency Offering – The crypto currencies offered, can vary according to each country or region. Since all additions of crypto assets need to be checked for regulatory compliance, the current platforms have added only utility tokens and no security tokens.
Wallets – Clients can hold their fiat or crypto assets in Globiance wallets on the platform, in optional integrated bank accounts, external bank accounts, or send them to their personal external wallets. Globiance stores the majority of the assets – using cold wallets – which are kept securely offline and are virtually un-hackable. Globiance holds only a minimal amount of crypto assets online, using what is also known as a hot wallet.
Globiance Payment Gateway – The Globiance Payment Gateway is a payment platform providing clients with multi-currency payment options through a single interface. It is built for scalability, high transaction volumes and instant settlements. Through the crypto processing gateway, clients can pay with multiple crypto currencies instead of their credit cards, a useful feature for many businesses and high-risk industries.
Device Coverage – Globiance will provide cross-platform clients for web-based, Android, iOS as well as API.
How can Globiance transform traditional banking?
The predominant mission of Globiance is to be the bridge between traditional or legacy financial systems and the new emerging world of cryptocurrency. It seeks to address some of the deficits in global trade by creating a fusion between next-generation crypto exchange and regulated online banking platforms.
The vision is to leverage the fast-evolving blockchain financial technology, while developing a complete ecosystem around a proprietary permissioned blockchain – with the participation of banks, regulators and international businesses to help bridge the two worlds of crypto and fiat currency.
One of the goals of Globiance is to bring both business and retail clients to its platform, and to facilitate complete digital business transactions between the parties. With the use of stable-coins, there is no need to withdraw fiat, as the assets can be securely held digitally.
Stable-coins or digital fiat, use blockchain technology to enhance automation and digitization, which enable trade finance or cross-border remittance at the cheapest and most scalable way to move money.
Stable-coins make the process of escrow completely automated through smart contracts that programmatically evaluate escrow conditions, without the need for institutional intermediation. Moreover, as smart contracts using stable-coins are on the blockchain, they are fully and publicly auditable.
The genius of blockchain technology is that it can offer bottom-up solutions, instead of a top-down approach. It dramatically simplifies everything that has historically been done by a middleman or in the back-offices of banks.
Conclusion
Apart from general audiences in the crypto space, the Globiance platform may be of interest to anyone including merchants, who regularly engage in trade and finance and are looking to integrate crypto currency usage with the convenience of online banking capabilities. Staking opportunities can assist crypto owners to a great extent and the GBEX staking program enables participants to earn rewards from their assets.
The massive transformative opportunities and services that Globiance provides – for retail merchant and corporate customers benefits everyone transacting on the Globiance platform. Users will be able to do daily transactions like participating in DeFi offerings, trading between crypto currencies and fiat currencies, making global money transfers at minimal costs while at the same time, holding their savings in their local currency.
All this can be done on one platform, using one login and most importantly, employing a safe, secure and a regulated financial environment. If all these benefits and features could be seamlessly integrated with traditional banking channels, then it would certainly attract more institutions into the world of crypto, thereby paving the way for crypto to become a larger part of mainstream finance.
Hopefully, you have enjoyed today's article. Thanks for reading! Have a fantastic day! Live from the Platinum Crypto Trading Floor.
Earnings Disclaimer: The information you'll find in this article is for educational purpose only. We make no promise or guarantee of income or earnings. You have to do some work, use your best judgement and perform due diligence before using the information in this article. Your success is still up to you. Nothing in this article is intended to be professional, legal, financial and/or accounting advice. Always seek competent advice from professionals in these matters. If you break the city or other local laws, we will not be held liable for any damages you incur.