Quick Links
Introduction
Clothing is a basic human necessity that has been around for centuries, along with food and shelter. As civilizations have evolved, so has clothing – growing into fashion which has become a way for people to express themselves. Fashion is a form of self-expression that is unique to a specific time, place, and context.
Though the terms fashion, clothing, and costume are often used interchangeably, they are different. Fashion refers to the social system that influences dress as a social signifier in a specific time and context. On the other hand, clothing refers to garments' material and technical aspects without any social connection.
Your style and fashion choices say a lot about your personality, even before you speak a word. Fashion has always had a deep connection with the world and its people, but we often overlook its impact on our lives. Fashion is unique, self-fulfilling, and can be a part of one's identity. Like art, fashion is an expression of personal taste; not everyone may appreciate the same choices. Fashion is a way to show your unique style and stand out from others in a socially acceptable manner.
Fashion has changed drastically throughout history, beginning with the Roman Empire and Egypt, where clothing and fashion were status symbols. From an economic perspective, fashion is one of the world's most important industries, driving a significant part of the global economy. According to a McKinsey report, if it were ranked alongside the GDP of individual countries, the global fashion industry would represent the seventh largest economy in the world.
As the world becomes increasingly digital, fashion is also adapting to the changing technological landscape. The trend towards the online or virtual space has been accelerated by the COVID-19 pandemic, as lockdowns forced people to stay indoors for weeks and months. This trend seems irreversible as people have grown accustomed to the convenience of the online space. A major driver behind this trend is the emergence of a new technology called Web 3.0, which uses blockchain networks and allows creators to build their own networks and systems. This has led to the concept of the Metaverse, which is becoming increasingly popular among millennials and brands that want to connect with them.
Fashion and the Metaverse
The Metaverse is a rapidly growing virtual world becoming increasingly popular as more people spend time online. The fashion industry is one of the first to explore this new space, with virtual fashion shows and events like the Metaverse Fashion Week. This event was a success and showed that the fashion trend in the Metaverse is not just a passing fad.
Cryptocurrencies and NFTs make it possible to buy and sell unique physical and virtual items with high security and confidence. The fashion industry is one of the pioneers in exploring fashion in the Metaverse, and the trend towards virtual fashion shows is evident, as evidenced by Metaverse Fashion Week. This virtual platform was home to dozens of high-end brands, artists, and designers showcasing their unique talents and creativity. Visitors were particularly drawn to the Luxury Fashion District, which served as the online debut for many global luxury brands in the digital space.
The Metaverse offers a unique opportunity for the fashion industry to expand and evolve in previously unimaginable ways. In addition to general fashion, digital clothing for video game characters is also becoming popular. As people spend more time in Zoom meetings, in the Metaverse, and playing online games, the demand for virtual fashion is likely to grow. Leading fashion brands are already exploring ways to establish themselves in the virtual world.
The Metaverse also offers benefits for shoppers and businesses, such as the ability to remain open 24/7 with low overhead costs. This allows customers to virtually walk into a clothing store at any time and try on clothes with their own virtual avatar, offering an immersive and realistic shopping experience.
The Metaverse fashion industry is projected to reach $1.5 billion by 2027, according to a report by Global Market Insights. This growth is driven by the increasing adoption of virtual and augmented reality technology in the fashion industry and the growing popularity of NFTs. Furthermore, the market for virtual goods, including clothing and accessories for avatars, is expected to reach $70 billion by 2027, according to a report by DappRadar. This highlights the potential for the virtual fashion industry in the Metaverse to become a significant portion of the overall virtual goods market.
Investors should also consider the potential for cross-promotion and collaboration between the fashion industry and other industries in the Metaverse. For example, fashion brands could partner with gaming companies to create exclusive in-game clothing items and virtual fashion shows or with virtual event companies to host virtual fashion events. Additionally, the use of NFTs can also open up new revenue streams for fashion brands, as they can now sell virtual versions of their physical products.
The global fashion market is expected to be nearly US $2 trillion in 2023, with a growth of 6 to 7 percent yearly, per some estimates. Meanwhile, the global digital fashion market is valued at US $119.52 million in 2021. Furthermore, according to a global' Digital Fashion Market' report, it is expected to grow at a whopping pace of 187.6 percent every year to reach US $6.76 billion by 2027. This growth is driven by the increasing adoption of virtual and augmented reality technology in the fashion industry and the growing popularity of NFTs. This highlights the potential for the virtual fashion industry in the Metaverse to become a significant portion of the overall virtual goods market.
Overall, the Metaverse offers a unique opportunity for the fashion industry to expand and evolve in previously unimaginable ways. The trend of virtual fashion shows and the increasing use of NFTs are just the beginning of what can be expected in the future. As more people spend time in virtual worlds, the demand for virtual fashion will likely grow, providing valuable opportunities for investors and fashion brands.
House of Fashion
As the digital fashion industry continues to evolve and virtual platforms become increasingly popular, investors are presented with a unique opportunity to capitalize on the growth and potential of the Web 3.0 fashion space. House of Fashion, an emerging company that combines art, fashion, and technology, stands out as a promising investment opportunity for those looking for a brand that understands the shifting landscape and can effectively navigate it.
Led by entertainment industry executive Henry Cedeno, House of Fashion positions itself at the forefront of the digital fashion revolution. The company's focus on creating fashion pieces for new digital platforms makes it technology-agnostic and able to reach audiences wherever they are, whether augmented reality filters for social media, virtual meetings, wearables for metaverses, or a combination of physical and digital fashion, House of Fashion aims to surprise and captivate consumers with its unique blend of physical and digital style.
One of the key strengths of House of Fashion is the team behind it. Led by entertainment industry executive Henry Cedeno, the team comprises industry experts with a unique combination of creativity, experience in fashion, and technological knowledge. This allows House of Fashion to take a different approach than most fashion-based NFT projects, which only focus on the digital realm. In addition, with the skills and experience of native fashion designer Lisa Camero on the team, House of Fashion can add value to the digital fashion market.
The company's innovative business model is another significant advantage. By combining physical and digital fashion and including a 10K NFT PFP collection with utility in both physical and digital spaces, House of Fashion is uniquely positioned to capture the growth and potential of the Web 3.0 fashion space. This visionary approach, combined with strong leadership, makes House of Fashion a viable and compelling investment opportunity for anyone looking to invest in the digital fashion market.
The Designer
Lisa, also known as LCamero, is a Puerto Rican who moved to Miami in 2008 to pursue her career in fashion design after receiving a degree in business from 'Universidad Interamericana.'
Four years later, she graduated from Miami International University of Art & Design with a passion for telling the stories of women through art and fashion. Since childhood, Lisa had big dreams in her heart and wanted to manifest her dreams with a paintbrush in her hand. Her art evolved through the years, and she transcended from traditional paintings to digital art and eventually designed a complete fashion collection.
Her paintings have been exhibited at various art events, such as Art Basel in 2018. In the same year, she started a ready-to-wear brand called LCamero Brand. Her clothing line has been showcased in numerous fashion shows and worn by models and music artists, such as Vikina, Domino Saints, and Yahaira Plasencia.
Besides, her physical paintings have been sold to Miami and Puerto Rican art collectors. Interestingly, a recurring theme of femininity can be seen throughout her iconic work, emphasizing the female form, often with elongated features in high fashion appearance.
In March 2021, she minted her first-ever NFT titled "Into the Future," A little over a year later, she founded the House of Fashion. LCamero proves that humble beginnings cannot stop a woman with determination. She has risen from the fields and modest upbringing in Puerto Rico to the bustling and high-paced city of Miami.
House of Fashion stands out in the digital fashion market as a unique collaboration between art, fashion, and technology. Led by LCamero, who draws inspiration from her own experiences in both the traditional art market and designing real-world fashion pieces, the company blends these areas in creative and innovative ways.
The mission of House of Fashion is to celebrate the impact of fashion on all aspects of life, according to LCamero. Through her work in traditional and digital art, viewers will see contemporary themes centered around women, fashion, technology, and modern life, reflecting LCamero's own life experiences.
The Community
The House of Fashion NFT provides a platform for creative individuals within its community to showcase their talents to a broader audience. Community members, including fashion designers, photographers, videographers, stylists, models, and others, can participate in future House of Fashion & LCamero Brand fashion shows and receive support and funding from the House of Fashion.
The project's community goal is to help the next wave of creatives by providing fashion designers who hold the NFT collection with the opportunity to enter and participate in a fashion show, receive coaching throughout the creative process, receive funding for materials, be flown to Miami for the event, and have access to makeup artists and models to showcase their designs.
The House of Fashion team recognized the obstacles faced when launching their ready-to-wear fashion line, LCamero Brand, and created a plan to remove those obstacles for community members, helping them launch and showcase a fashion collection while benefiting from the audience of House of Fashion.
In addition to fashion designers, photographers, videographers, stylists, and makeup artists within the community will also have the opportunity to participate, have their flights and hotel accommodations covered by the House of Fashion, and receive media coverage and exposure on all House of Fashion platforms.
All holders of the House of Fashion NFT will have access to shows and events and will be able to experience the interactive and engaging live events that the House of Fashion is known for. In addition, fashion designs from the community will be showcased on the House of Fashion online store to help bring much-needed awareness and sales to community member fashion brands.
The Earth Genesis Phygital NFT
To demonstrate the brand's ability to blur the lines between the physical and digital fashion space, they released a limited edition phygital NFT drop called Earth Genesis in September 2022. They are giving away the majority of them for free leading up to the project's mint date.
The Earth Genesis phygital NFT is the first limited-edition physical + digital drop from the vault of House of Fashion. It brings the designs from the Armonia Collection by LCamero Brand into the Metaverse and commemorates them as special-edition NFTs.
Owning one of these limited-edition NFTs will allow holders to redeem both the matching physical piece and digital wearable for Decentraland at no added cost. The Earth Genesis collection is limited to 50 NFTs across five clothing designs from LCamero Brand. That means 10 physical + digital NFTs per design are available.
The Earth Genesis physical and digital wearables are available now and are already worn by contest winners. This can be considered a preview of what is expected from the House of Fashion NFT in the coming days and months. However, this limited-edition physical + digital drop is separate from the 10,000 PFP NFT collection from the House of Fashion.
The early preview will help future collectors understand some of the benefits of being a holder, as future project holders will get access to exclusive real-life clothing capsule collections like this. These items will be physically designed fashion pieces with matching digital wearables available exclusively to the holders.
As mentioned above, there will be no more NFTs from Earth Genesis phygital drop, although there will be future physical + digital drops by the House of Fashion since that is very much part of the project's roadmap.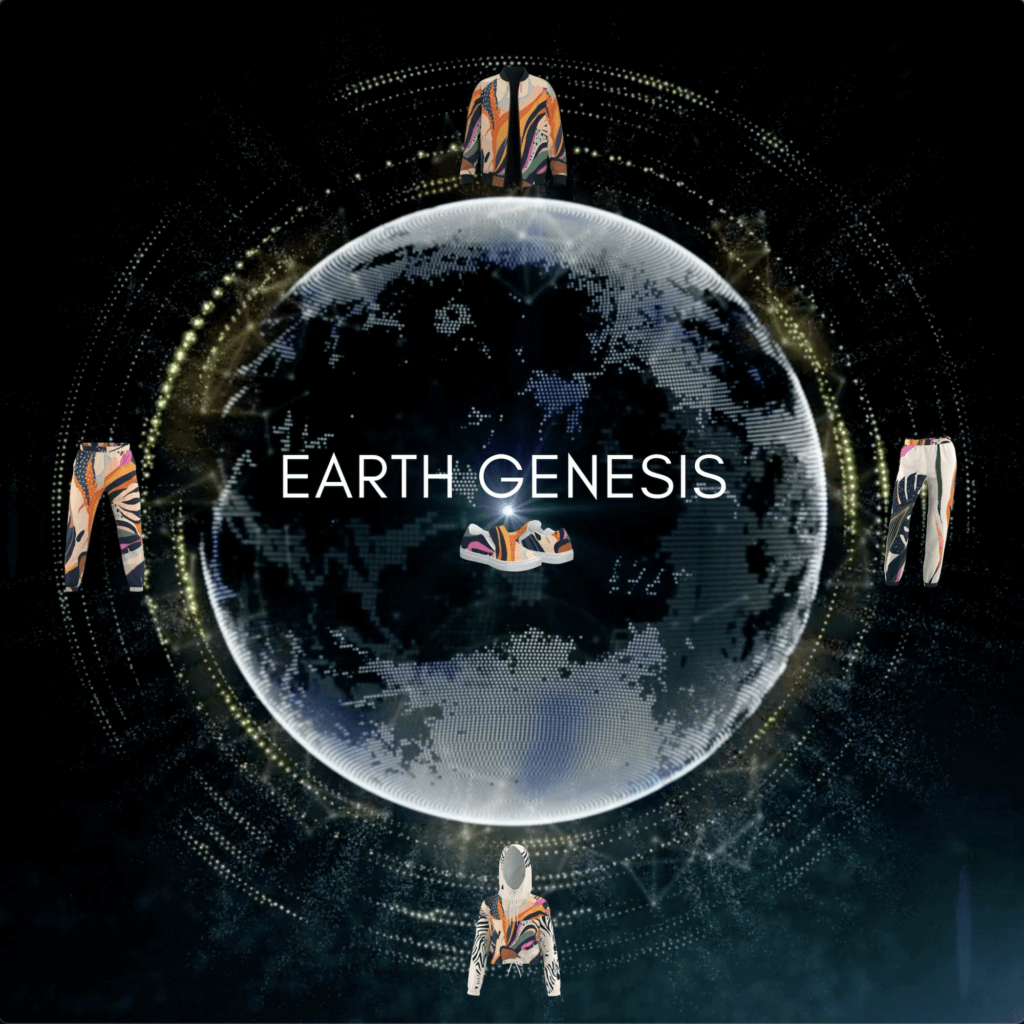 Conclusion
Fashion is more than just clothing; it reflects our behavior, mindset, and circumstances. Whether through communicating our status, wealth, or occupation, fashion has always played a crucial role in our lives. And with the rise of the entertainment industry, fashion has become even more influential, with movies and music shaping our sense of style.
But now, with the advent of video gaming and Web 3.0 technology, fashion is transcending into the virtual world. This opens up a world of possibilities for global fashion brands, designers, and creators to monetize their intellectual properties and make their mark in the Metaverse.
House of Fashion is poised to lead the charge in this new frontier, blurring the lines between fashion and technology with its innovative business model of being a digital fashion brand for the Web 3.0 environment. With the expertise and experience of LCamero in fashion design, they are well-equipped to play a pivotal role in bringing Web 3.0 fashion into the mainstream.
The Earth Genesis physical drop is a proof of concept and a taste of what's coming. It showcases the House of Fashion's capability to create high-quality fashion pieces that exist in both the phygical and virtual worlds. The future of fashion is now, and the House of Fashion is leading the charge.
Hopefully, you have enjoyed today's article. Thanks for reading! Have a fantastic day! Live from the Platinum Crypto Trading Floor.
Earnings Disclaimer: The information you'll find in this article is for educational purpose only. We make no promise or guarantee of income or earnings. You have to do some work, use your best judgement and perform due diligence before using the information in this article. Your success is still up to you. Nothing in this article is intended to be professional, legal, financial and/or accounting advice. Always seek competent advice from professionals in these matters. If you break the city or other local laws, we will not be held liable for any damages you incur.