Quick Links
Introduction
In an age of digital transformation, many people wonder how technology will change how they live and work. Blockchain technology is among these technologies, some of which have the potential to revolutionise business operations like manufacturing. The manufacturing process involves machines, parts, products, and value chain participants, such as machinery providers and logistics companies. Manufacturers today face many challenges, such as finding potential purchasers and suppliers. indu4.0 solves these problems by matching supply and demand through its B2B marketplace.
Thanks to sophisticated platform filtering systems, purchasers and suppliers can find their clients quickly, conveniently and precisely.
How effective will indu4.0 be for the manufacturing industry?
The potential of indu4.0 lies in its ability to empower manufacturing industries to overcome complex challenges. The use of blockchain in indu4.0 technology increases transparency and security across data exchange between stakeholders in the industrial sector and allows smooth demand and supply cycles. With indu4.0, buyers can search and find the right seller for their needs in a new, simplified, and efficient way. Furthermore, it allows sellers to sell their services or products more transparently and securely. The platform works in the following ways for both suppliers and purchasers:
For the Supplier
indu4.0 provides suppliers with a structure for formulating their service portfolios. The platform lets suppliers create a free user account. The company profile allows them to add up to two competencies for free. The supplier will need a subscription if they wish to add more competencies. The platform allows users to view all offers from purchasers, so they can pick the most convenient one.
For the Purchaser
indu4.0 simplifies and streamlines the process of searching for suppliers for the purchaser. The platform can be accessed with only a few clicks and they will be able to utilise all functions of the search engine. The purchaser can also receive detailed information about suppliers, save search queries, and receive automatic notifications about industry news. In addition, the purchaser can request quotes directly from selected suppliers.
What are the core features of indu4.0?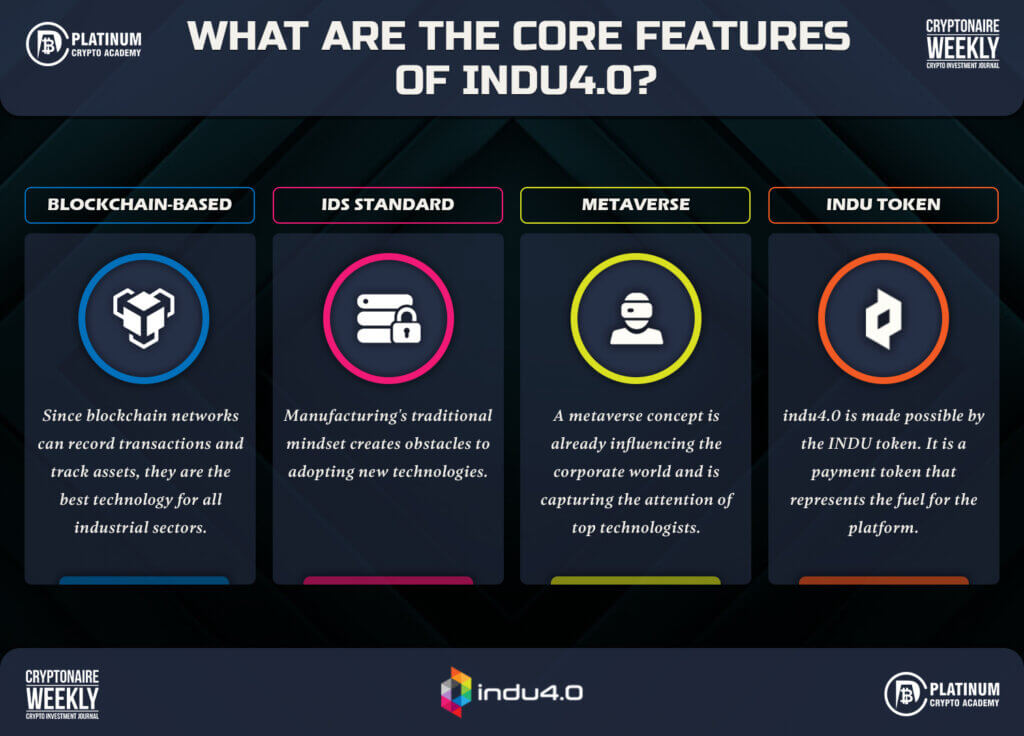 A game-changing initiative, indu4.0 seeks to take manufacturing to a new level by introducing blockchain technology and virtual processes. Below are some of the core features of the indu4.0 platform:
Blockchain-based
Since blockchain networks can record transactions and track assets, they are the best technology for all industrial sectors. With blockchain, tracking and tracing virtually anything of value can be done, reducing costs and risks for all parties. Furthermore, it keeps shared data in an immutable ledger that is only accessible to network users authorised to read it. Therefore, the indu4.0 ecosystem utilises blockchain technology to maximise the potential of blockchain technology for manufacturing.
IDS Standard
Manufacturing's traditional mindset creates obstacles to adopting new technologies. Old technologies lack transparency, which makes it difficult to secure documents. To address document security issues, indu4.0 utilises IDS standards (indu data security). IDS will protect all industry data, including orders, 3D data, technical drawings, and patent data. Thus, with indu data security, manufacturers are not only transmitting documents more securely and safely but also safeguarding intellectual property documents.
Metaverse
A metaverse concept is already influencing the corporate world and is capturing the attention of top technologists. The metaverse is a virtual shared space capable of replicating the physical world. Therefore, business and financial models are evolving. Business leaders around the world have already embraced the concept of a metaverse. The indu4.0 initiative also comes with the metaverse space for the industrial sector, offering many advantages to businesses. An exhaustive search for new customers or suppliers results in high costs, as it requires attending trade fairs, which is neither efficient nor always possible. With indu4.0, clients can participate in virtual trade fairs worldwide because travel and transportation are not required. This improves the efficiency of participants and allows them to reduce their overall emissions of the CO2-intensive industrial sector.
INDU Token
indu4.0 is made possible by the INDU token. It is a payment token that represents the fuel for the platform. In particular, these coins can be used to pay for advertising services and receive exclusive manufacturing industry reports. Furthermore, the INDU token allows you to participate in metaverse events and trade shows.
How can you benefit from the indu4.0 potential?
Inefficiencies and problems plague the manufacturing industry. Among them is the problem of matching supply and demand in this industry. The lack of visibility between suppliers and manufacturers creates inefficiencies and raises costs. In contrast with existing market competitors, the indu4.0 marketplace provides superior search filtering. Therefore, indu4.0 delivers more accurate results while maintaining a high level of information quality than its competitors.
As technological possibilities expand and the need for networking increases in the industrial sector, the indu4.0 marketplace provides new opportunities. As indu4.0 integrates and applies blockchain technology, it has a competitive advantage over competitors since it offers blockchain-based payment options and NFT-based document security. Furthermore, indu4.0 blockchain-powered solutions seamlessly aggregate all possible information from the industrial sector to deliver significant value to both purchasers. indu4.0 assures a sustainable competitive advantage against existing and new market participants through its loyalty program.
The team behind indu4.0 & their future roadmap
The indu4.0 team brings extensive and condensed manufacturing experience to develop the indu4.0 platform and provide customers with a tool to simplify and enhance their everyday lives. As former manufacturing industry professionals, indu4.0's founders have intimate knowledge of market conditions and client needs.
Indu4.0 Team
Christian Dillier and Andreas Ott are the core members of the indu4.0 ecosystem. They have worked in the industrial sector for many years and understand client needs well. The two co-founders have a vast network in the manufacturing industry and are very experienced entrepreneurs. Kay Baur, indu4.0's third co-founder, is an IT expert with a large amount of experience and is responsible for developing the platform. The team includes Max Schaumburg, who specialises in creating and marketing cryptocurrencies, and will ensure INDU token growth. Additionally, Jan Baur supports indu4.0 as an expert in business innovation and a technology consultant. As a financial advisor with extensive banking experience, board member Rui Meireles acts as an advisor to the company. Besides the roles mentioned above, indu4.0 also employs industry leading project managers, UX designers, software developers, and support staff as part of its mission to become a leading tool for the manufacturing industry.
Future Roadmap
The indu4.0 project aims to bring manufacturing into the digital age by bringing it online. This project's team has ambitious goals, which can be seen in their roadmap. The company has a clear roadmap, from building a solid community to launching an aggressive marketing campaign. Their marketing campaign will include social media, magazines, and many more. With this information, the company plans to offer users a better experience than its competitors. Additionally, it plans to offer competitive prices and loyalty programs to keep users coming back.
Conclusion
Blockchain can bring opportunities to the entire industry and ensure a fair marketplace for big-time and small-time manufacturers. Blockchain can be seamlessly integrated into manufacturing ecosystems. However, you need a robust platform to take advantage of this technology's benefits. Here's where indu4.0 comes in! The indu4.0 project is a new initiative that aims to change the global manufacturing industry that employs millions of people. The indu4.0 blockchain platform delivers value in multiple ways for industrial organisations. Increasing manufacturing efficiency and making everyone's life and work simpler is the number one goal of the project.
Hopefully, you have enjoyed today's article. Thanks for reading! Have a fantastic day! Live from the Platinum Crypto Trading Floor.
Earnings Disclaimer: The information you'll find in this article is for educational purpose only. We make no promise or guarantee of income or earnings. You have to do some work, use your best judgement and perform due diligence before using the information in this article. Your success is still up to you. Nothing in this article is intended to be professional, legal, financial and/or accounting advice. Always seek competent advice from professionals in these matters. If you break the city or other local laws, we will not be held liable for any damages you incur.