Quick Links
Introduction
Blockchain technology has grown in popularity over the last decade and is considered one of the next big things in technology. It creates more transparency, fairness, and efficiency while saving businesses time and money. Almost every industry can benefit from blockchain, including healthcare, finance, government, identity, etc. The manufacturing sector is not far behind, with blockchain technology poised to increase transparency and trust. To streamline the manufacturing process, indu4.0 has set up an ecosystem.
Blockchain implementations developed by indu4.0 can help companies streamline their operations, better understand their supply chains and track assets more precisely. indu4.0 uses blockchain technology to change how manufacturers design, engineer, manufacture, and scale their products. The purpose of this article is to explain indu4.0 in detail.
What is indu4.0?
The digital B2B marketplace indu4.0 connects buyers and suppliers of manufacturing products and services quickly, efficiently, and cost-effectively. indu4.0 is an industry-leading platform that integrates complex and diverse industrial products and services into a user-friendly filter system. With indu4.0, manufacturing will be taken to a new level by implementing blockchain technology and virtual processes. The platform enables massive cost savings, secure data exchanges, and virtual trade fairs, opening up new markets.
What are the problems in the manufacturing industry?
Behind the technology
Manufacturing technology has already begun to undergo a revolution with CNC machines, robots, etc. However, the industry, especially the service sector, is still a year behind other industries in digital possibilities, such as data exchange, marketing, social media, networks, and digital product offerings.
Finding specific parts is not easy.
Standard parts can usually be acquired quickly and easily when procured in a standardized manner. On the other hand, more specific parts based on technical drawings can't be searched for as a product. An individual who wants to purchase such a part has to look for suppliers who have the capability of producing it. Ultimately, the supplier needs machines, expertise, certifications, and the necessary capacity.
Identifying potential suppliers is a problem.
Nowadays, you need specialized personnel with appropriate experience to find the right supplier. There is no way for a purchaser to search for a specific and named item. When you search the internet today, there are too many confusing results, making the purchase process tedious and inefficient. Similarly, company directories lack complete information. Not every company can also attend different trade shows, so they cannot find a potential supplier.
Suppliers lack enough business opportunities.
Nowadays, suppliers have to spend a lot of money to find new customers, which makes it difficult to do so. In addition, many small and medium businesses don't have these financial options and rely on existing customers for their income. Trade shows are not accessible to every supplier due to time, cost and capacity issues. Further, suppliers cannot locate companies with corporate websites due to many outdated contact information.
A detailed overview of the indu4.0 ecosystem
The manufacturing industry uses indu4.0 for a self-explaining and efficient B2B marketplace. This tool makes it possible to quickly locate new offers and suppliers suitable for the industrial sector. The indu4.0 simplifies and explains very complex requirements straightforwardly. Here are some key features of indu4.0's ecosystem that make it very promising:
A blockchain-based system
Blockchain technology is the foundation of indu4.0, which offers great potential for blockchain applications in manufacturing. With blockchain technology, there is no need for a trusted intermediary, peer-to-peer transactions are supported, and transactions can be automated and settled near-instantaneously. Manufacturing companies can use blockchain technology to gain greater visibility into their production processes. Thus, it improves the company's decision-making process and capitalizes on all business opportunities on the market.
NFT Security
Manufacturing industries always face the risk of project drawings and important documents being leaked. The NFT is a great solution for the industry to benefit from document and copyright protection for technical drawings. With NFTs, records and data are stored securely, and they are also transparent. The uniqueness of each document allows users to ensure the accuracy and immutability of data in indu4.0.
Metaverse
Often called Web 3.0, the Metaverse is a portmanteau term made up of the words meta and universe. In the coming years, users can expect to begin experiencing virtual reality and augmented reality experiences online in 3D or virtually integrated environments. Manufacturing will have its Metaverse in the future. It's on its way to launch soon, thanks to indu4.0. Through indu4.0, companies can advertise their products and services virtually.
INDU Token
INDU tokens will be issued in 750'000'000 pieces, 37% of which have already been sold during the private sale round. INDU Token aims to become the manufacturing industry's currency and make its value more realistically tradable. Users can use INDU tokens to pay for everything offered by Indu4.0 AG, including advertising and receiving exclusive industry reports.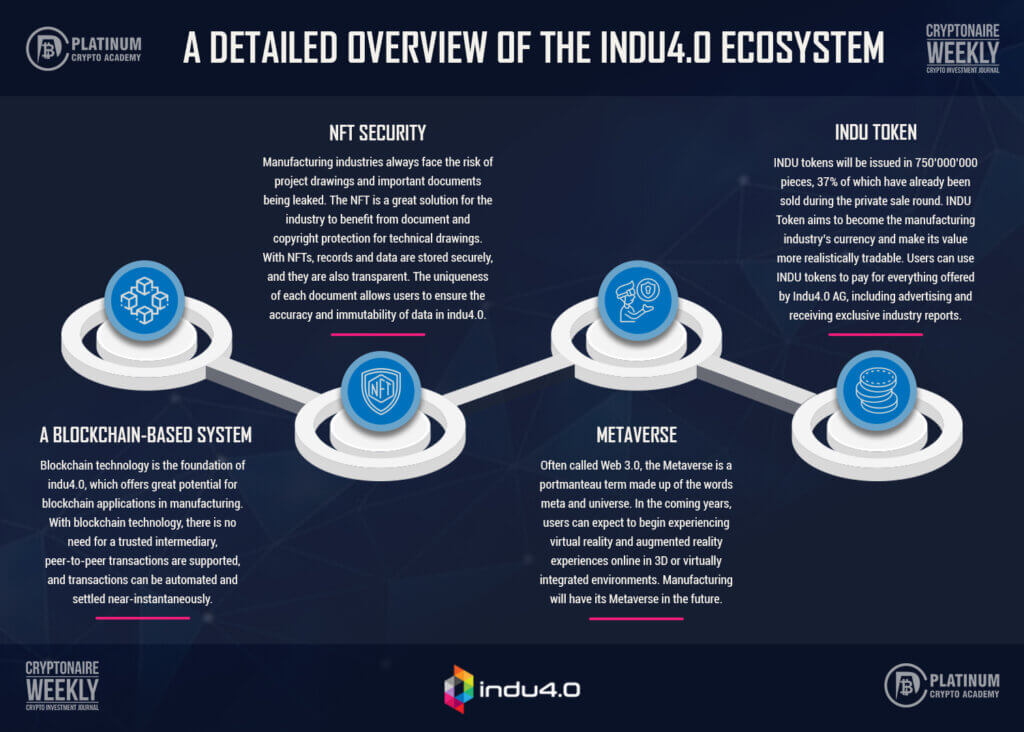 How does indu4.0 transform the manufacturing industry?
The indu4.0 platform ensures a great ecosystem for transforming the manufacturing industry. The system relies on a sophisticated filter system that standardizes inputs and outputs to produce highly accurate results. The indu4.0 interface is simple and understandable; suppliers and modern purchasers can benefit from it in their daily activities. indu4.0 is transforming manufacturing in the following ways.
Transparency & Safety
Through blockchain, indu4.0 creates a safer and more transparent model for customers, making them more valuable. Industrial organizations can gain value from blockchain solutions in several ways. With the INDU token, users can pay for usage and advertising on the indu4.0 platform.
Provide purchasers with quality information
The purchaser can fully utilize the search functions of the indu4.0 platform without logging in. The user must register for a free account to receive detailed information on the potential suppliers in the search results. The purchaser can save search queries and receive automatic news updates with the platform. The purchaser can also choose his favorite suppliers and receive an overview with a subscription. In light of the user's behavior, the platform can suggest optimizing the supplier network of the purchaser.
Provide opportunities to work with the best companies
With indu4.0, suppliers can create free accounts and enter up to two competencies within their company profiles. Subscribing will allow the supplier to enter more competencies and thus appear in the search results more often. A modern design allows input masks to be edited directly in view mode. Using its company profile, suppliers can present their services clearly and concisely. Subscribing to inquiries gives suppliers access to purchasers' offer requests.
Utilization of the Metaverse
Manufacturing will soon have its own Metaverse. Companies can advertise their products and services globally in the Metaverse. As a result, everyone can access world news while, at the same time, significant emissions are reduced. Through a 3D camera, manufacturers can digitize their production hall independently and then link the data to the indu4.0 platform. Everyone can access the entire Metaverse from their browsers without wearing 3D glasses. Suppliers and companies can pay with INDU tokens for trade shows, exhibition spaces, and admissions offered by Indu4.0 AG.
The bonus program
The platform has a bonus program that allows users to earn additional INDU Tokens to increase the number of users on the platform. INDU Tokens are rewarded according to the number of tokens a user holds. In this way, indu4.0 has redefined the classic stake model, and the users earn rewards, thus allowing the platform to expand, given the incentives explained.
Securing data more effectively.
Since most industries rely on big data, they are more vulnerable to cyberattacks or leaks of confidential information, which is essential for manufacturing businesses. A manufacturing business, for example, needs to protect the details of securing intellectual property from data breaches. indu4.0 ensures sensitive data is more secure through the use of efficient NFTs.
Conclusion
Globally, the manufacturing industry generates 21 trillion USD per year. The industry is currently clinging to outdated and inefficient processes in an interconnected digital world. Despite this, indu4.0 has immense potential. The company is ready to lead innovation and set new standards.
The state-of-the-art platform of indu4.0 supports the efficient linking of supply and demand in the manufacturing industry. The platform standardizes skills offered and sought based on the manufacturing expertise. The indu4.0 and its innovative features based on blockchain technology is really worth taking note and exploring further. Please go through the indu4.0 website for more information.
Hopefully, you have enjoyed today's article. Thanks for reading! Have a fantastic day! Live from the Platinum Crypto Trading Floor.
Earnings Disclaimer: The information you'll find in this article is for educational purpose only. We make no promise or guarantee of income or earnings. You have to do some work, use your best judgement and perform due diligence before using the information in this article. Your success is still up to you. Nothing in this article is intended to be professional, legal, financial and/or accounting advice. Always seek competent advice from professionals in these matters. If you break the city or other local laws, we will not be held liable for any damages you incur.