Quick Links
As more and more people get hooked onto the virtual world for their work, entertainment, commerce, shopping and more, the need for the like-minded people among them to foster better social connections are also increasing commensurately.
Lockdown measures imposed during the Covid-19 pandemic gave a huge boost to such social connectivity projects, as remote working policies compelled more people to explore the virtual world for their business and entertainment needs.
The emergence of decentralised technology such as blockchain are enabling entrepreneurs to launch their own virtual universes or metaverses, which, essentially, are virtual societies. In the year 2021, metaverse projects generated US $10 billion in investments, which has doubled in one year. There are more than 160 companies that are operating across metaverse verticals and they are collectively building the metaverse world.
Metaverse is expected to become an accelerator for the gaming industry and has almost doubled its revenues to US $413 billion. It is set to open up economic possibilities, both inside and outside of games. The development of metaverse signals a paradigm shift from games-as-a-service to games-as-a-platform.
The economic and business opportunities in the gaming metaverse include virtual events, NFT and concepts such as play-to-earn and play-to-collect. The metaverse will drive the growth of native ad integrations in games. Companies will be able to integrate their brands into them, attract influencers and promote their own IP using platform games.
Moreover, the revenue from live entertainment business that can become part of the metaverse may exceed US $200 billion in 2024. The event and conference industry's dive into the metaverse have just began, even as face-to-face events return after the pandemic-induced hiatus.
The new generation of virtual event-goers would like to get into their own avatars and be active participants in the immersive experience of the event. Business in the metaverse is already booming and is opening up an abundance of opportunities for brands, advertisers, retailers, and employers. Every industry is likely to have a form of business opportunity in the metaverse.
According to some industry experts, metaverse has the potential to become a multi-trillion-dollar part of the global economy. Market leaders from various industries are either building their own versions of the metaverses or actively participate in them. However, these metaverses are segmented, which can be a potential bottleneck or creating a full-fledged virtual reality.
LunaOne Project
LunaOne is a new generation platform that will be a foundation for the virtual society with almost all aspects of social life built in it. It is the only virtual place that allows earning, studying, shopping, creating and gaming in a seamless Web 3.0 ambience.
The main mission of the LunaOne project is to create not just a gaming universe but to lay the foundation for a global metaverse infrastructure with the ability to earn, study, play and attend events without the need of leaving your home.
Some of the core elements of the LunaOne project are a Decentralised Autonomous Organisation (DAO), integration of education, business and gaming in one place and creating a cross-world interaction such as metaverse to real-world services, finance and knowledge.
Besides, there will also be an internal streaming platform that will reward viewing, internal platform for virtual events, internal decentralised file storage for all metadata and familiarity with AR/VR headsets for better immersive experience.
LunaOne will give an opportunity to connect the virtual activity with tasks from the real world, while receiving virtual benefits that will have value in the real world as well. Personal avatar is a foundation of LunaOne and is the primary tool to create a symbiosis between virtual and real worlds. In the beginning, a person has to create an avatar, whose uniqueness is confirmed by an NFT.
Avatars are based on the Web 3.0 concept through which users get anonymous and secure access to the metaverse. Each avatar is part of the DAO, which means any citizen can influence activities on the LunaOne platform.
XLN Token
The financial foundation of the metaverse will be a decentralised blockchain with its utility token LunaOne (XLN). It is also a high interest-bearing asset, allowing its holders to generate revenues automatically within their wallets. The initial launch of the XLN token will be done on the Binance Smart Chain, as it has sufficient technology base for coin distribution and has low transaction fees.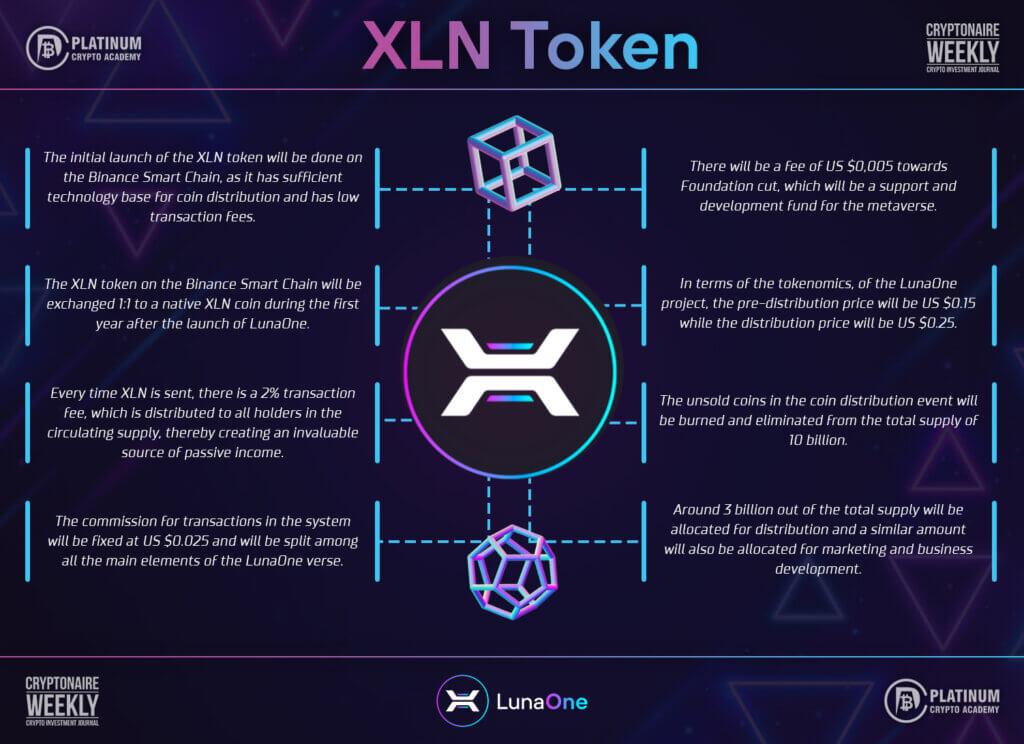 Before launching the metaverse, the LunaOne team will launch its own decentralised blockchain, as the project will need to have full control over transaction fees, block size, transaction speed and other technological aspects required to support the entire metaverse. The XLN token on the Binance Smart Chain will be exchanged 1:1 to a native XLN coin during the first year after the launch of LunaOne.
Every time XLN is sent, there is a 2% transaction fee, which is distributed to all holders in the circulating supply, thereby creating an invaluable source of passive income. Besides, the XLN holders will also have voting rights, based on the amount of XLN they are holding, thereby giving them the power to make decisions regarding how the coin will be used and how LunaOne will develop. Moreover, holding certain benchmark amounts of XLN will give its holders access to VIP areas, features and benefits.
All transactions within the LunaOne metaverse will require XLN. The XLN, launched on the Binance smart chain, will be the main currency of the ecosystem, Avatars can purchase everything, including NFT objects, which will be granted for the rarest items. The commission for transactions in the system will be fixed at US $0.025 and will be split among all the main elements of the LunaOne verse.
There will be a fee of US $0,005 towards Foundation cut, which will be a support and development fund for the metaverse. Similarly, there will be a games developers' cut or a fund for game studios for support and development of the project, a nodes' cut which will be the reward for users' nodes that ensure the decentralisation of the platform. The prize pool is the prize fund for events in the metaverse.
In terms of the tokenomics, of the LunaOne project, the pre-distribution price will be US $0.15 while the distribution price will be US $0.25. The unsold coins in the coin distribution event will be burned and eliminated from the total supply of 10 billion.
Around 3 billion out of the total supply will be allocated for distribution and a similar amount will also be allocated for marketing and business development. The pre-distribution quota of coins is 2 billion while 1 billion will be set aside for governance. The quota for liquidity pool and staking is 0.4 billion and 0.5 billion coins have been earmarked for the team.
The coin distribution event will last until main-net blockchain launch and then the remaining coins will be burned. A bridge will be opened to allow holders to move to the main-net LunaOne blockchain.
The Team
The LunaOne project is backed by a competent team of professionals with Daniel Puzny as its chief executive officer. He has been with blockchain and crypto for over seven years as a leading consultant for mainstream blockchain projects. Daniel is passionate about building real-life business applications, fundraising, go-to-market strategy and marketing.
The chief operating officer of LunaOne is Cory Cozad, who is utilizing his extensive knowledge in digital marketing and MBA degree from St. Ambrose University. Cory has served as associate vice president of digital strategy for Stamats after working in key marketing roles for companies such as The HON Company and Brownells Inc.
The chief technology officer is Craig Wiltshire, who specialises in advanced AR/MR e-commerce systems design. He is a former IPC Europa Cup downhill skier and Royal Marines commando. LunaOne's chief marketing officer is Ash Zheng, who is a Web 3.0 native with experience in GameFi. She has scaled ventures to multi-billion-dollar valuations and has been involved in several sold-out NFT projects. Besides, she is passionate about the intersection of gaming and blockchain.
The other core members of the LunaOne team are Lee Behnke, Ricky Miller, Jorge Sebastio and Mike (Brax) Bracken.
Conclusion
As elucidated above, the LunaOne project plans to incorporate almost all aspects of social life in a seamless virtual gaming environment, while gaining from the advantages of Web 3.0 and decentralised technology such as blockchain.
The entire process of creating such a metaverse is expected to take time. So, in order to engage the community in the project's life, the LunaOne team will gradually launch sub-products that will be available to use soon.
The team will also hold a lottery and distribute rare NFT between all holders, which can later be used in the meatverse. The Foundation will support game studios that will use XLN token in their P2E games.
The effective crystallization of its overall strategy, as described above, is based on the segmentation of areas of responsibility to form an effective approach to project implementation. One of the project's main priorities will be to form partnerships with the best game studios in the world.
The main idea while implementing a game engine of LunaOne is to attract the best teams in their fields to participate in their project. That will facilitate the initial launch and then gradually expand the boundaries of the universe by adding new virtual spaces into it, with its own logic and mechanics.
Hopefully, you have enjoyed today's article. Thanks for reading! Have a fantastic day! Live from the Platinum Crypto Trading Floor.
Earnings Disclaimer: The information you'll find in this article is for educational purpose only. We make no promise or guarantee of income or earnings. You have to do some work, use your best judgement and perform due diligence before using the information in this article. Your success is still up to you. Nothing in this article is intended to be professional, legal, financial and/or accounting advice. Always seek competent advice from professionals in these matters. If you break the city or other local laws, we will not be held liable for any damages you incur.