Nowadays, cryptocurrency trading is very common. The process of trading cryptocurrencies for other assets could be tricky without "cryptocurrency exchanges". They act as a middle man between the buyer and seller, earning money from commissions and transaction fees. If any crypto exchange experiences issues, users may suffer adversely. Hence, each exchange should have a good system for processing all transactions.
The growing population of crypto investors needs to be well informed to maximise profits. The number of crypto exchanges with liquidity issues and high transaction fees is increasing. This is where the Mandala crypto exchange comes to help solve issues such as high transaction fees and liquidity. This article explains how Mandala Exchange can help you improve your trading experience.
Introduction Mandala Exchange
Mandala Exchange is a brand-new platform for cryptocurrency investors. Mandala is committed and centred on being the most trusted and recognised exchange for digital assets. This enables users to trade cryptocurrencies with confidence on a recognisable exchange platform. It ensures access to the world's largest pool of liquidity.
Mandala Exchange is a new innovative digital asset exchange that is Powered by the Binance cloud. The exchange aims to completely dominate the cryptocurrency market. Their core values are centred on simplicity, security and functionality.
Mandala Exchange has other trading features that set them aside as one of the best crypto exchanges. The Mandala Exchange stands out from others because it provides users with many features. These features include:
Support Multiple Chains: The platform supports multiple chains including BSC, Polygon, SOL, FTM and AVAX allowing users to bypass expensive and timely bridge alternatives.
No KYC Required: Mandala Exchange allows users to withdraw up to two Bitcoin a day, without revealing their KYC information.
24/7 Support: Mandala Exchange gives its users an unmatched experience by answering queries in the shortest amount of time. Customers can access support at any time through the platform.
Currently, the Mandala Crypto token is one of the most unique and outstanding digital coins. It uses its multichain for buying, trading, and storing cryptocurrencies.
How does the Mandala Platform Empower Beginners' Investors?
The mindset of every investor and crypto trader is one of making maximum profits. As a beginner investor, you will look for simplicity, security, and sustainability as the most important factors. With Mandala, beginner investors can be immensely profitable by receiving advice and needed support. There is a wide variety of support material in the form of trading advice, bots, guidelines, and information. These materials help investors manage their risk and take profits.
Mandala allows beginners to trade using key technical indicators, community strategies, and automated trading bots. There is no similar method in decentralised markets currently. In addition, MDX tokens will enable users to unlock advanced features and receive discounts on various fees. Some of the amazing features of Mandala Exchange are:
Compliance
The crypto market has gained mainstream traction, increasing compliance. Having these compliances in place is very important for the smooth functioning of a crypto exchange. Therefore, Mandala Exchange operates in compliance with the highest standards of legal and regulatory requirements.
Secure Exchange
Binance's cutting-edge security offers unparalleled protection to Mandala. Trading on the Mandala Exchange is more secure and transparent than on private exchanges. Mandala Exchange uses Binance cloud technology, which makes it safe and secure. Additionally, the funds are insured by SAFU. The Secure Asset Fund for Users is designed to protect users in the event of a hack or security breach. SAFU funds are a portion of users' trading fees and increase as more users use Binance.
Low Transaction Fee
Currently, it has become increasingly difficult to estimate appropriate Ethereum gas fees since its popularity has grown. It costs hundreds of $$ to send tokens from one ETH wallet to another. Further, customers are required to trade on a decentralised exchange like Uniswap. Uniswap requires $60 in gas fees to execute a simple transaction within a reasonable timeframe.
Contrary to this, Mandala Exchange is supported by Binance Cloud. It is a popular crypto exchange platform among traders because of its low fees. Moreover, it also provides a thick order book. Mandala Exchange and Binance share liquidity, so Binance's order book and Mandala's are the same.
Trade Anywhere Using App
Mandala provides its users with a dedicated trading application. With the latest mobile apps for Android and iOS, crypto investors can trade cryptocurrencies at any time. With a simple, user-friendly interface, this app gives you cryptocurrencies at your fingertips.
Liquidity
Exchange liquidity refers to the ease with which traders can trade one asset for another. It is essential on crypto exchanges and in traditional markets to have liquidity. Mandala Exchange has access to Binance's liquidity. This makes it one of the biggest liquidity pools in the world.
Eliminate High Bridge Fees and Transfer Times
Mandala Exchange supports multiple chains to eliminate high bridge fees and transfer times. It supports multiple chains including BSC, Polygon, SOL, FTM, and AVAX, allowing users to bypass expensive and time-consuming bridge alternatives. With Mandala you can exchange tokens quickly and easily without paying a percentage to bridges that charge transaction fees.
Providing support to customers
Mandala's top mission is to ensure the success of its users. The Mandala team also guarantees and provides a secure platform for new investors to benefit from. Users have access to 24/7 support via their support portal. This makes Mandala Exchange a good choice for premium customer service.
Offers of giveaways
From time to time, Mandala offers giveaways to its customers. To participate in certain giveaways and promotions, users must hold certain levels of MDX at the time of the promotion.
Unlocking Trading Rebates with MDX Tokens
Mandala Exchange offers MDX Token as a utility token. MDX token is an ERC20 token. Total supply of the token is 400 million. The MDX token provides a variety of benefits to traders who lock it, including rebates on trading and referral rewards. Initially, they charge you a full transaction fee. After 30 days, you receive your rebate. You need to consider the following points to receive a rebate:
The MDX token should be locked.
Transaction fees must be paid in full at the time of the transaction.
Users will receive rebates on trading fees after an initial 30-day locking period.
There is no limit to how many MDX can be locked at the same time.
High frequency traders can get maximum benefits.
Minimum amount to lock token is 1000 MDX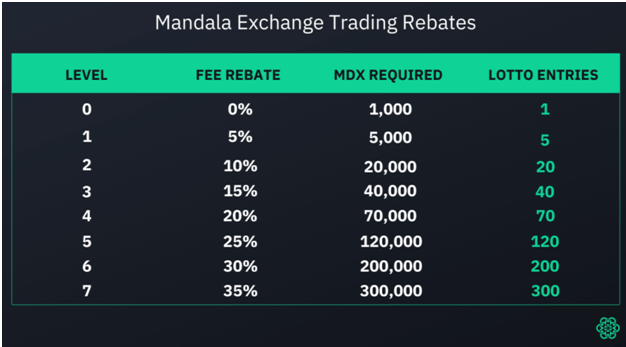 Mandala's new locking levels start with just 1,000 MDX. By locking 1000 MDX, you will receive one Lotto Entry into the monthly Mandala Madness pool. For every 1000 MDX, you will be eligible to get 1 lotto entry. Furthermore, you can now earn trading rebates on as little as 5,000 MDX. The level of rebates at Mandala have also been raised from 5 to 8 to accommodate all sizes of traders. You can find more information about rebates at Mandala Trading's rebate tiers.
Easy Trading with Mandala's CryptoHero Algorithm
Using Algo-trading bots, you can execute trades using predefined software. Traders use automated trading to execute transactions by feeding instructions to a bot that executes the trade after the instructions are met. Trading on Mandala Exchange is made simpler with the CryptoHero Bot. Crypto trades are automatically made for you by the bot 24 hours a day.
Mandala allows users to create bots to trade any currency pair. Users can create trading bots with CryptoHero very easily. Users can program trading bots to respond to various input points, such as price, timing, quantity, or other metrics. Also, users can define Indicator Triggers, select indicators such as Bollinger Bands, moving averages, and relative strength indicators. In Mandala's blog post, investors will find a comprehensive guide on integrating crypto bots.
A brief explanation of the Mandala Madness Program
Mandala has launched the Mandala Madness lottery to emphasize the importance of small traders. Mandala Madness prizes are generated by a percentage of trading fees collected from the exchange each month.
This means that instead of the trading fees being paid to the exchange, the yield will be added to the pot for three lucky Mandalarians to share. Moreover, the prize pool keeps growing as the volume of the exchange increases.
If you want to enter Mandala Madness, you must lock a minimum of 1,000 MDX. With each MDX lock of 1k, you will receive 1 lotto entry and there is no limit to how many you can enter. Upon winning the madness program, the tokens will be automatically transferred to the winner's wallet.
Mandala Referral Program Explained
Referral programs reward existing customers for recommending your products to their friends and family. Many modern referral programs utilize software to track the referrals made by happy customers. Mandala Exchange offers its own referral program.
The program allows users to earn referral rewards instead of trading fees. You can share 50% of your referral earnings with accounts that you invited. The base referral rate is 10%. The investor may choose to share 5% of the referral commission with invitees or can take the full 10% for themselves.
Join Mandala University for your Crypto Trading education!
Mandala has partnered up with The Blockchain Academy to launch its branded educational platform. In partnership with leading universities, Mandala's blockchain education partner The Blockchain Academy's mission is to close the skills gap and spur innovation. The company recently launched two courses: Blockchain Foundations and Cryptocurrency & Bitcoin Trading.
In the Blockchain Foundations course, you will learn about blockchain, bitcoins, and distributed ledgers. The retail value of this course is $695, and the course length is 15 hours. The course teaches users how to use blockchain networks. This course aims to provide solid foundations for those who wish to gain a deeper understanding of and find out how it will affect nearly every business area.
The second is a 10-hour course on Cryptocurrency & Bitcoin Trading that costs $395. With this course, users are provided with a comprehensive understanding of bitcoin and the cryptocurrency marketplace. Users can learn crypto trading tips and tricks by watching videos.
Mandala University offers 1000 spots to Blockchain Foundations and Cryptocurrency & Bitcoin Trading courses as part of this exciting venture. Additionally, Mandala users will have access to all courses through the remainder of the year at a 50% discount. Mandala has taken a great step into educating its users. This means that users will be able to learn new things easily.
Is Investing in MDX Token a Good Investment?
Mandala is a safe and easy-to-use exchange platform, thanks to its association with Binance. With its near-instant transaction time and near-zero fees, the BSC chain is attracting many projects. The Binance cloud interface greatly influences the security features of Mandala. MDX token is among the most secure and profitable crypto investments because of these features.
The current price and value of the MDX token indicates that it is a sustainable investment option. MDX is a reliable crypto-asset due to its reputation as fast and secure. The currency also possesses great flexibility since it can easily be converted into other cryptos. Therefore, it would be wise to say that MDX tokens are worth investing in. Mandala also recently submitted a BSC version of their token for aduit with Certik. This will allow for expanded use case and utility within the MDX ecosystem including staking, yield farming, liquidity pools etc.
If you were an investor, your main goal would be to maximise your profit, whatever your business or trade may be. When considering MDX Token as a good investment option, it is imperative to consider the volatile nature of cryptocurrency. Observers may find that perceived Mandala token prices contain a great deal of potential, which could reflect future results. However, the volatility of each cryptocurrency is enormous. It is therefore recommended to use long timeframes for positive price changes.
How to Maximise Profit While Trading with MDX Token?
There are guidelines and safety rules to follow for every successful trade. New crypto investors should follow these guidelines to ensure maximum efficiency. Listed below are a few rules to keep in mind while trading:
Create Profit Target and Utilize Stop Losses
When it comes to trading, you must know when to start and stop. Therefore, you can stop a trade even if it is making a profit. You can reduce your losses by setting a clearly defined stop loss. Among today's traders, that is an exceptionally rare skill today.
Regulate Your Risk
Profit is a very common and natural instinct for traders. However, wise traders do more than that. Rather than taking an unaccountable risk, they would rather make small and steady profits from trading.
Trade with a Purpose
This is one of the most common mistakes made by new and upcoming crypto traders. They often simply buy a new token because the current value or price is low. For instance, Tron is a better option than Doge for its relatively low price.
Investing in a coin shouldn't be influenced by its affordability. However, its market cap should be a major factor to consider—the higher a coin market cap, such as an MDX token, the more suitable to invest.
Set objectives when placing sell orders.
You should place sell orders in the order books to set your revenue targets. It is impossible to know when you will earn what you require if your order price is met. The fact that sell orders are the ones that make the market attracts fewer transaction fees.
Traders should monitor the market constantly and steadily to guarantee maximum trading success. By systemising the marketing experience, losses will be reduced, and profit rates will improve. The Mandala team also provides its users with very updated charts and market data. This enables them to determine when to launch their products into the market.
Conclusion
Before you begin trading, be confident about getting in and out of a trade. Traders who are emotionally and anxiously involved in trades have lost before; keep calm and wait for the next opportunity. There is always going to be a better one.
Lastly, there are a growing number of cryptocurrency platforms. Thus, it is necessary to identify a good and secure platform through appropriate information. Mandala is one of the best exchanges, providing maximum trading features & a smooth trading experience. Mandala hosts over 1,000 trading pairs, which makes it one of the world's leading cryptocurrency exchanges.
Hopefully, you have enjoyed today's article. Thanks for reading! Have a fantastic day! Live from the Platinum Crypto Trading Floor.
Earnings Disclaimer: The information you'll find in this article is for educational purpose only. We make no promise or guarantee of income or earnings. You have to do some work, use your best judgement and perform due diligence before using the information in this article. Your success is still up to you. Nothing in this article is intended to be professional, legal, financial and/or accounting advice. Always seek competent advice from professionals in these matters. If you break the city or other local laws, we will not be held liable for any damages you incur.