Quick Links
Introduction
Manilla Finance is an innovative and highly scalable CeDeFi project that seeks to bridge traditional fintech solutions from Web 2.0 to Web 3.0 and enable utility bills settlements in cryptocurrencies. It also offers an intuitive peer-to-peer exchange and plans to build utility for top digital currencies as well as for the Manilla native token, the MNLA.
For the uninitiated, CeDeFi or Centralized Decentralized Finance is a hybrid financial system that enables fintech organizations to leverage decentralized technology, thereby resulting in efficient, secure and interoperable solutions.
Manilla Finance started the development of its CeDeFi platform last year and has already put in a lot of work to ensure the whole platform is functional. It has 25 developers spread across West Africa, South Asia and North America.
Manilla Finance provides safe and trustworthy peer-to-peer mechanism, having financial features such as spot lending, staking, ticketing, utility bills payment and airtime or data purchase using cryptocurrency.
It is poised to be the world's most robust multipurpose application, specially designed for all and sundry, regardless of their individual level of trading skills. It affords the luxury to purchase, sell and exchange digital assets on the go and, that too, at the best rates among the peers.
With a sleek and easy-to-use interface, the Manilla Finance application has positioned itself to be a top platform for beginners, who find it difficult to understand the complexities of blockchain technology.
Similar to other conventional P2P trading platforms, the Manilla Finance platform also involves users interacting directly with each other but with the integration of certain protocols inbuilt in decentralized and centralized exchanges.
The Manilla Finance application, meanwhile, has a lot more to offer than any other P2P exchange, as it offers multi-device compatibility, escrow services that lock the funds until both parties agree on the exchange, dedicated servers in place ensuring lightning speed transactions and a guaranteed top-level security audit in check to safeguard against possible loopholes and protect the assets.
It also houses an important section called the Manilla Service Suite, where users can pay for a wide array of bills, namely utility bills like electricity and water, airtime, data, flight, hotel bookings, event tickets, as well as gift cards using cryptocurrencies.
All these, while the user earns 25 percent bonus from the referral program, regardless of whether he/she is trading or not. The bonuses accumulated through referrals can be withdrawn at any time.
Manilla Technologies provide a safe, reliable and stable environment for crypto transactions via web and mobile applications. It adopts a sever load balancing, distributed clusters and are open to accept expert suggestions to improve the user experience.
Partnerships
Manilla Finance is powered by Manilla Technologies, along with other global development partners. It is forging rewarding partnerships with some of the world's top payment solutions providers, who have already built a massive and robust network of service providers across the globe.
The partnerships will enable Manilla Finance to leverage on their network and tap into the value to serve customers who intend to use the Manilla Finance application. Incidentally, one of Manilla Finance's major partners is a US-based company.
Besides, it has already locked hands with two prominent technology companies. Using the latter's technical resources, Manilla Finance claims to be building the first utility bills payment solution within the industry that considers every need of consumers.
Through these solid alliance with its ecosystem partners, Manilla Finance is giving a robust use-case to multiple cryptocurrency assets. The team behind Manilla Finance is leveraging its years of experience in blockchain technology to continuously improve the ecosystem with hopes that, before long, crypto will be used for just about anything in people's everyday payments on the Manilla Finance application.
The tie-ups with various development and ecosystem partners have enabled Manilla Finance to launch its offerings in 44 countries including Canada, Australia and the UK. The Manilla Finance team is committed to partnering with more service providers and add those services to the Manilla Finance application, so that consumers can begin to pay for them using their digital assets.
For the purpose, it will continue to form worthwhile partnerships with other technology companies and also connect with the regulatory authorities with the countries, where it is hoping to launch the application in.
Fundraising plans
As Manilla Finance has almost finished development, it has now embarked on a fund-raising initiative. For the purpose, it has put a soft cap of US $1 million and a hard cap of US $8.4 million. The soft cap of US $1 million is sufficient for Manilla Finance to scale up its ecosystem.
The MNLA Token
The Manilla Finance application is a revenue and profit generating focused solution, in which the revenue growth is directly proportional to the utility given to cryptocurrency within the application. Thus, as the MNLA is the native token of Manilla Finance, the holders of MNLA of more than a year will be eligible for a loyalty program. As per the loyalty program, Manilla Finance will give 40 percent of profit generated within a fiscal year to all those who stake their MNLA tokens in the Manilla vault for a period of one year.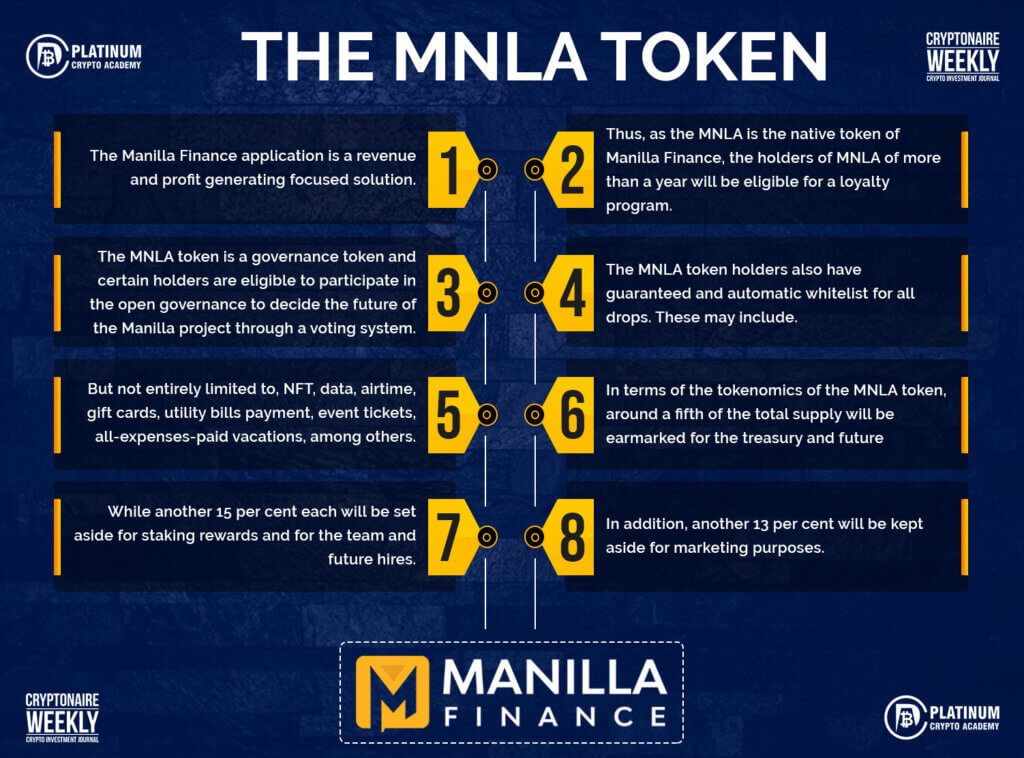 The MNLA token is a governance token and, as such, certain holders are eligible to participate in the open governance to decide the future of the Manilla project through a voting system. The MNLA token holders also have guaranteed and automatic whitelist for all drops. These may include, but not entirely limited to, NFT, data, airtime, gift cards, utility bills payment, event tickets, all-expenses-paid vacations, among others.
In terms of the tokenomics of the MNLA token, around a fifth of the total supply will be earmarked for the treasury and future development, while another 15 per cent each will be set aside for staking rewards and for the team and future hires. In addition, another 13 per cent will be kept aside for marketing purposes.
Incorporation of MNLA in the ecosystem
The MNLA token is expected to play a significant role for investors in the Manilla ecosystem. The token protocol runs a dual token economy. Holders of the tokens, who stake it for a year, automatically become members of a decentralised autonomous organisation or DAO for open governance of the ecosystem. They will determine the future direction of the project, mostly through voting and would be incentivised with MNLA token yield on their stake, when the pool unlocks at the anniversary of when they entered the pool.
Moreover, the token holders who stake it for 365 days automatically stand eligible to share 40 per cent of the profit generated by the Manilla platform every fiscal year, as long as their tokens remain locked in the Manilla vault.
Future plans
One of the quintessential parts of the future plans of Manilla Finance is to continue to port utilities that consumers pay for with fiat currencies into the Manilla Finance application so that they can settle their bills using top cryptocurrencies directly from their Manilla wallet. it will eliminate the need to convert cryptocurrencies to fiat currencies before paying everyday bills.
Manilla Finance adopts blockchain technology to build the next-generation financial ecosystem and will strive to eliminate financial barriers, ultimately paving the way for freedom and flexibility of transactions and make cryptocurrency trading available for everyone. Although the Manilla Finance platform is the first peer-to-peer cryptocurrency exchange, it plans to continue to find impactful use cases for top cryptocurrencies as well as its native token MNLA.
Conclusion
Although fintech is at its nascent stages and there is a long way to go before fintech overtakes traditional banking, if at all, but offering solutions to issues faced by customers of traditional banking could eventually pave the way for the meteoric rise of the fintech industry. There are several issues that customers of traditional banking have been facing and that led to the fintech revolution.
The cryptocurrency and blockchain community have collectively become so large that it would be a waste of time to convert their funds into fiat currencies before paying bills. Manilla Finance is tapping into that opportunity and gives cryptocurrency users a combined marketplace where they can utilize their digital assets to pay for their everyday needs.
Blockchain or distributed ledger technology offers new avenues for incorporation of cryptocurrencies in mainstream finance and potentially disrupt how payments can be made for goods and services. This would pave the way for cryptocurrencies to gain more acceptance in mainstream finance and Manilla Finance aims to be the platform that pioneers this innovation.
Although many people see cryptocurrencies as a speculative investment vehicle, the primary purpose of cryptocurrencies should be their use cases as a medium of exchange. While some people love the idea of capital gains that come with the appreciation of a crypto token, the real use case lies in the ability to do everyday transactions using cryptocurrencies.
The global cryptocurrency market has grown exponentially within a very short period of time and the data from the top cryptocurrency trading markets point to the enormous potential that still remain untapped.
Therefore, one can conclude that there is no better time to give cryptocurrency users a combined marketplace, where they can utilize their assets to pay for their everyday needs. The Manilla Finance application seems to be spearheading and serving that very need at this stage.
Hopefully, you have enjoyed today's article. Thanks for reading! Have a fantastic day! Live from the Platinum Crypto Trading Floor.
Earnings Disclaimer: The information you'll find in this article is for educational purpose only. We make no promise or guarantee of income or earnings. You have to do some work, use your best judgement and perform due diligence before using the information in this article. Your success is still up to you. Nothing in this article is intended to be professional, legal, financial and/or accounting advice. Always seek competent advice from professionals in these matters. If you break the city or other local laws, we will not be held liable for any damages you incur.