The gaming industry has evolved into something that is more than just entertainment. Thanks to blockchain technology, gamers are now able to both entertain themselves and earn revenue through tokenization. As a result of combining games, Decentralised Finance (DeFi) and Non-fungible Tokens (NFTs), GameFi projects have created a boom in not only users but also in token prices. Overall, GameFi is a type of game that launches their own tokens. These tokens serve two main purposes, such as being used to reward players and for trading in-game items between a player and another. Gamers can in turn swap their tokens for other cryptocurrencies or for fiat money in exchanges.
In an attempt to provide a source of long-term investment, gamers may use the tokens to make in-game purchases of NFTs, an example of an NFT may include digital artwork. A more specific example in the gaming field is an in-game item such as characters from which gamers can invest in, and after their value increases, they may choose to sell.
Considered as one of the best GameFi dApps based on hashrate, MINEverse may be relatively new in the market. MINEverse is combining the best of two aspects (gaming and crypto) to ensure that gamers do not fall into the stigma of being considered wasteful, they can now make a living from what they consider fun and entertaining.
Introduction to MINE Network's MINEverse Division
MINE Network's key objective is to provide a solution to liquidity problems for miners by integrating the hashrate economy with DeFi, NFTs as well as GameFi. MINEverse was introduced into the revolutionary metaverse. As such, MINE Network's MINEverse division focuses on serving as a secondary mining liquidity solution in the network. To help meet the above objective, MINEverse has combined the very best of the crypto sphere to bring forth the ideal multi-faceted gaming experience. This division allows NFT collectors and miners to freely interact in a virtual ecosystem that has a constant and massive growth. Although it is new in the market, it comes at a time when more people are embracing gaming as a source of entertainment, as well as a source of income.
MINEverse stands out due to its unique feature that distinguishes the network's value proposition. This is made possible from the synergistic relationship between three important ecosystem assets, which include: MINEverse blockchain utility token, the hashrate rewards token, and the Master Miner PFP NFT collection. Keep in mind that $MNET refers to the utility token. Crypto metaverse generally has an immense social and financial potential. Metaverse seeks to revolutionize digital asset interaction for gamers and miners.
MINEverse holds its foundation on an NFT-driven metaverse game that is based on Play-to-Earn (P2E model), as well as tactical components to ensure that it is self-sustaining. Considering that metaverse uses blockchain infrastructure, it taps into the wider crypto economy with the objective of making virtual items exchangeable for real economic value. The MINEverse ecosystem incentivises two categories of people.
MINE Network's blockchain users as well as NFT holders are able to receive incentives so they can engage in in-game mechanics. It is from the engagement that a majority of the game revolves around strategic mining. Through this, party players can test their calculative mettle and pickaxe mining skills among each other. As a P2E model and NFT-driven game, MINEverse effectively manages the intertwining economies at play with the objective of encouraging incentives for the general platform users, collectors and players.
What are the ways that users can earn money from MINEverse?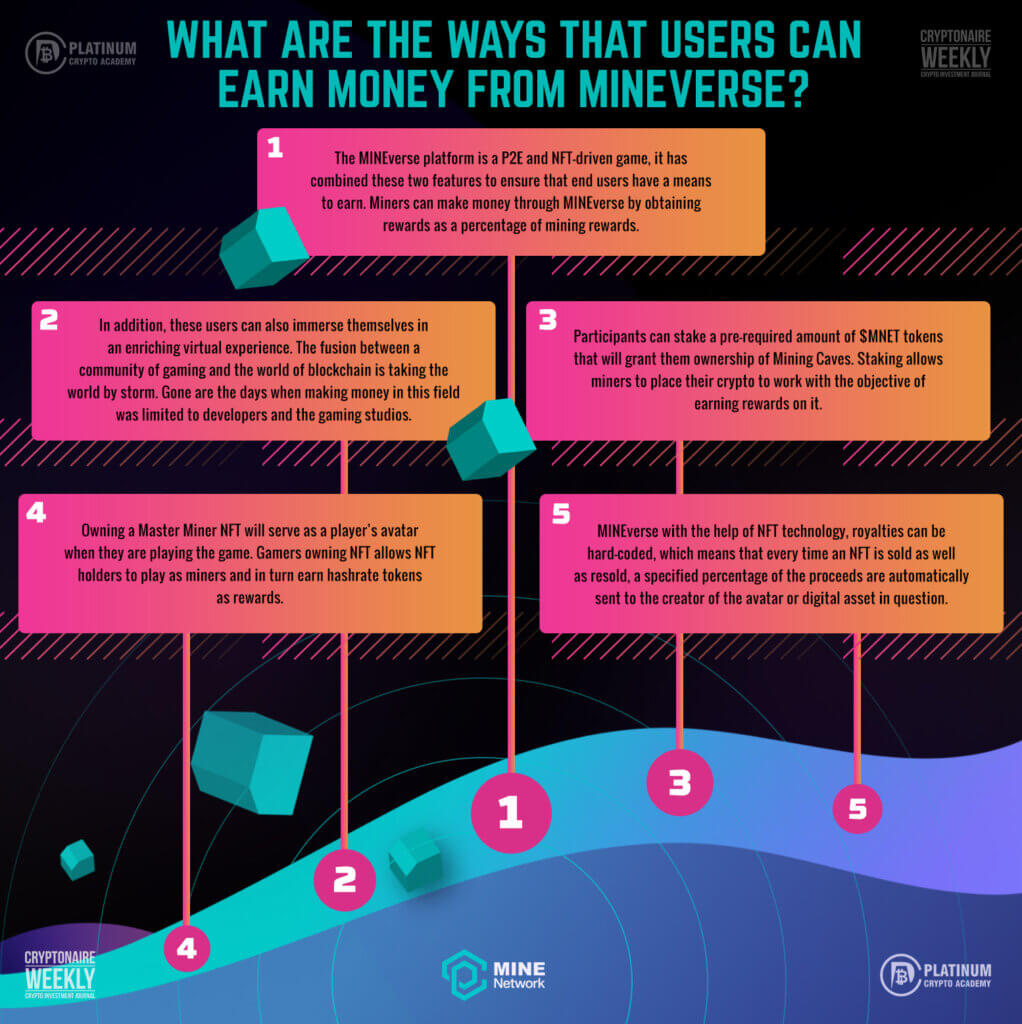 The MINEverse platform is a P2E and NFT-driven game, it has combined these two features to ensure that end users have a means to earn. In addition, these users can also immerse themselves in an enriching virtual experience. The fusion between a community of gaming and the world of blockchain is taking the world by storm. Gone are the days when making money in this field was limited to developers and the gaming studios.
Miners can make money through MINEverse by obtaining rewards as a percentage of mining rewards. Participants can stake a pre-required amount of $MNET tokens that will grant them ownership of Mining Caves. Staking allows miners to place their crypto to work with the objective of earning rewards on it. In this network, the process involves committing their crypto assets to support a blockchain network.
Owning a Master Miner NFT will serve as a player's avatar when they are playing the game. Gamers owning NFT allows NFT holders to play as miners and in turn earn hashrate tokens as rewards. Misha Libman, the co-founder of Snark.art, said, "Blockchain technology does not only offer the ability to establish scarcity for digital content but also has the potential to unlock other exciting social mechanics that artists can experiment with, while reaching new global audiences directly without needing to cross physical borders and other barriers."
That said, for the concept of MINEverse with the help of NFT technology, royalties can be hard-coded, which means that every time an NFT is sold as well as resold, a specified percentage of the proceeds are automatically sent to the creator of the avatar or digital asset in question.
Explanation of the Master Mine NFT
Master Miner NFT holders have attached benefits as they serve as membership keys that play the role of granting players' access to the MINEverse. These gamers will be able to search for an ideal cave in the game. The purpose of trying to identify the right cave allows gamers to start digging as miners. The digging process allows the miners to earn hashrate token (pToken) rewards. This network's hashrate tokens are backed by real mining power, generated by MINE Network's standardized mining pools.
There are different pToken rewards issued, and the reward earned is highly determined by the pre-selected minable blockchain token, as selected by the CaveOperator. A CaveOperator may choose to have the available slots within their cave to be on the Bitcoin (BTC) blockchain. In turn, the hashrate reward token on this blockchain will be issued as pBTCM tokens. Other examples include PLTCM and PETHM.
These rewards are proof of ownership of the standard hashrate. To guide you, the reward tokens are anchored to the standard hashrate unit, thus, the reason they start with the "p", considering that MINE Network tokens are termed pTokens. The reward token indicates the type of blockchain, for example, BTC, ETH, etc., after which it is followed by the "M" initial that represents the network. For example, a reward on the Ethereum blockchain will be pETHM.
What made MINE Network choose the Play 2 Earn model?
The Play-to-Earn (P2E) model is gaining popularity, taking the DeFi gaming industry by storm. Careers in gaming are being encouraged in many countries across the globe, thus the forecast of rapid growth. The Play-to-Earn (P2E) model is a business model where gamers play a game and in turn earn cryptocurrency. Yes, you read it correctly! You can now venture into the gaming field not just for entertainment purposes but also in an effort to make money. With the ongoing global (COVID-19) pandemic, many were rendered jobless and in turn, they became open to earning money online, in which gaming became a much more convenient income avenue.
Choosing to use this business model works because it gives gamers ownership over some in-game assets. They can then allow these assets to increase in value by actively playing the provided game. Defining ownership as well as transferring ownership is made possible through using NFTs. The existence of NFTs as digital properties ventured into the gaming industry, thus the adoption of the P2E model. By participating in the in-game economy, gamers create value for not only the developers but also for other players in the ecosystem.
In reference to MINE tokens, players can be granted ownership of Mining Caves by staking a pre-required amount of $MNET tokens. In turn, CaveOperators earn a percentage of mining rewards that are mined within their caves. Alternatively, gamers can own a Master Miner NFT, which serves as players' avatars when playing. NFT ownership allows its holders to play as miners. Miners can earn rewards in the form of hashrate tokens.
This said, P2E game models rotate their ideology around that which players are rewarded for, putting in more effort and time into the specified game. Whereas, P2E popularity is a relatively new phenomena in the crypto sphere. Players can collect rewards within the game and from which they can convert to real cash. This concept is relatively new in the market, incorporating the P2E model comes with added long-term benefits.
What are the future plans for MINEverse?
MINEverse is looking to better its operations in an attempt to ensure that users not only experience the best of gaming but also make a living by earning crypto. Based on hashrate, MINEverse miners are seeking to solve the liquidity problem as initially experienced by gamers. MINEverse is looking to ensure that miners do not face liquidity problems so they can trade their crypto with ease. However, in the past individuals on exchanges had to wait long-term before they could access cash or other assets. By boosting transparency, the aspect of credibility is unheard of with MINEverse.
Mining crypto is a power-consuming process. However, the initial process of mining tends to produce fumes and unclean energy. The future plans of MINEverse regarding this problem is to prevent global warming and improve climate change, thus promoting climate neutrality. As such, MINEverse is rewarding miners who can identify new sources of energy to ensure that mining becomes climate neutral.
In turn, the network will give the miners a privilege to tokenize their hashrate. The key objective is to create a fully decentralized mining pool powered exclusively from renewable sources of energy.
Conclusion
Entertainment and making money have a common factor in the gaming field. With the ongoing global COVID-19 pandemic, more individuals are looking to make a living from home. The crypto world has provided a solution for gamers and miners with the hope of making the best of both (gaming and earning income) worlds. The metaverse division must revolutionize how individuals interact with digital assets. This game is considered one of the best GameFi dApps, with real world economic value. As a social and investment opportunity and as crypto metaverses, gamers are provided with new ways to play, invest, as well as make a living.
MINEverse, an NFT-driven metaverse game, is based on P2E and provides a self-sustaining ecosystem that incentivises MINE Network's blockchain participants, as well as MINEverse NFT holders. To address the financial aspect of the network, MINEverse provides participants with an ever-evolving economy powered by its three key assets: $MNET, NFTS and pTokens. Gamers experience the best of virtual entertainment and crypto investment. Metaverse is currently one of the best GameFi dApps based on hashrate in the market. MINEverse allows users to make money from the comfort of your home. MINEverse is not limited because every individual can participate. The gaming industry is taking a positive turn for its users. This GameFi dApp solves liquidity problems as well as credibility concerns, while at the same time seeking to address climate change and global warming.
Hopefully, you have enjoyed today's article. Thanks for reading! Have a fantastic day! Live from the Platinum Crypto Trading Floor.
Earnings Disclaimer: The information you'll find in this article is for educational purpose only. We make no promise or guarantee of income or earnings. You have to do some work, use your best judgement and perform due diligence before using the information in this article. Your success is still up to you. Nothing in this article is intended to be professional, legal, financial and/or accounting advice. Always seek competent advice from professionals in these matters. If you break the city or other local laws, we will not be held liable for any damages you incur.