Quick Links
Introduction
Over the past few years, blockchain technology has been adopted exponentially. Cryptocurrencies made it popular, and now it's transforming all types of businesses. According to a Grand View Research Report, the global blockchain market was valued at $10.02B by 2022 and is expected to grow at 87.7% between 2023 and 2030.
However, its increasing popularity has also opened doors for scammers. Crypto scams are constantly happening.
Most Recent Scams in Crypto Space?
The number of crypto frauds and scams is rising yearly, causing people to lose their investments without fault. The DeFi protocol, exchange platforms, and blockchain bridges were the most common targets of cryptocurrency hacks and scams in 2022. The DeFi protocol accounted for roughly 97% of all stolen cryptocurrency in 2022. Similarly, cross-chain bridge breaches are estimated to cause a loss of $1.4 billion.
Based on Solidus Labs Reports, crypto scams increased in 2022, with rug pulls becoming more prevalent. Over 188,000 rug pull incidents occurred on various blockchains, causing investors to lose billions. However, the most significant loss came from a source far more reliable than these crypto scams. According to an investigation conducted after FTX filed for bankruptcy, up to $2 billion of customer funds disappeared. Consequently, this makes it the biggest scam perpetrated in cryptocurrency this year.
With this type of scam going on, some investors remain sceptical about the blockchain market. The lack of regulation of most crypto assets encourages more and more criminals to scam unsuspecting people in the crypto space. However, if you invest in promising projects and take precautions, your investment will pay off. Are you still searching for projects that will give you the most while ensuring your funds are 100% safe? Consider investing in SafeOne Chain-vetted projects.
SafeOne Chain is a fast, cheap POS blockchain solution – not the usual one, but an independently vetted one. They employ state-of-the-art vetting with their blockchain detectives and provide standard assurances with each project in the Chain. As an investor in SafeOne Chain, you are 100% protected from scams/rugs of any kind, and you are guaranteed maximum returns.
How is SafeOne Chain a 100% secure blockchain for investments?
Blockchain's security and privacy become the most critical aspects of its operation because adopting a technology that lacks security is pointless. Blockchain security systems aim to protect essential data from unauthorised access and to maintain network trust. Since blockchain is the backbone of cryptocurrency, all investors who invest in cryptocurrencies want their projects to yield a good return while maintaining a high level of security. As a means of providing users with the highest level of protection, the SafeOne Chain has been developed.
The SafeOne Chain provides a technology infrastructure for developing smart contracts and Dapps that is highly secure and competitive without requiring high energy costs. Smart contracts based on blockchain technology that utilises proof-of-stake validation for transactions have a significant performance advantage over proof-of-work solutions. The SafeOne Chain's smart contract framework is intended to meet the requirements of both application suitability and industry best practices.
The SafeOne Chain provides a variety of crypto insurance packages based on unique utility NFTs to ensure maximum security. The SafeOne Chain will offer a variety of insurance policies to protect against any type of scam/rug that may occur on the Chain. The Chain guarantees a refund of all invested money up to the maximum insurance amount. Moreover, as soon as the policy is settled or the validity of the NFT expires, the NFT will be burned. NFTs that are expired and unused can be exchanged for new NFTs for just 25% of the original purchase price.
For protection against scams and to use crypto in daily life smoothly, try SafeOne Wallet, the official crypto wallet and the main tool of the SafeOne Chain. The SafeOne Wallet allows you to securely send, receive, and store cryptocurrencies. Moreover, it will be the centre of all SafeOne Chain functions, including the SafeOne validator program, the SafeOne stake on the Chain, the SafeOne bridge, the SafeOne bots, and many others.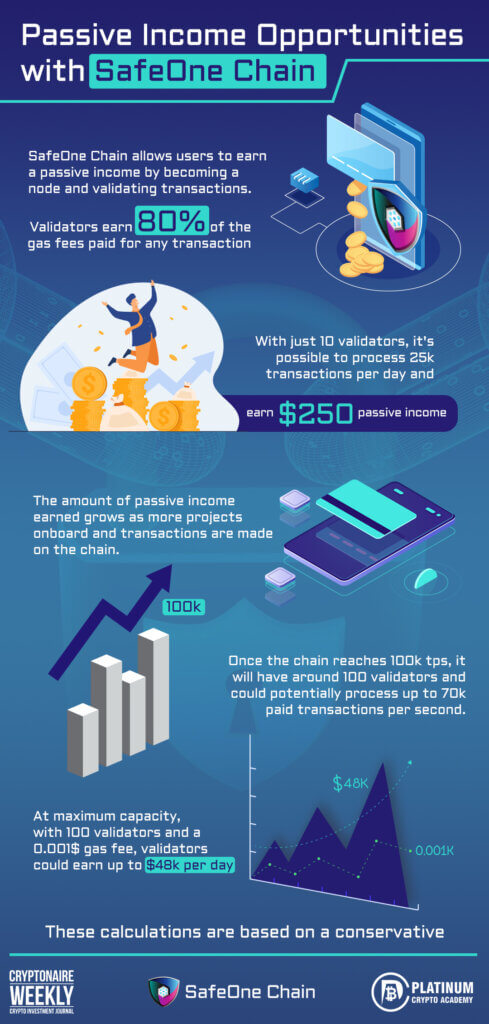 How SafeOne Chain differs from other blockchains
Some blockchain networks rely on Proof of Work (PoW) to validate transactions that have a process that is computationally expensive and energy-intensive. In contrast, SafeOne Chain uses a Proof of Stake (PoS) consensus model, a modern and more economical solution to traditional systems. Their goal is to make a decentralised smart contract system based on UTXO and using a PoS model. Using the PoS model, the creator of the next block is selected randomly based on the amount of cryptocurrency held in their wallet and the maturity of the cryptocurrency. This approach ensures the rotation of addresses and encourages widespread participation in the network.
Instead of mining, SafeOne Chain blocks are built or minted. Builders of these blocks receive block rewards in addition to transaction fees. Consequently, builders will be encouraged to participate actively and ensure network security. Additionally, to participate as an active node for the stake, a Raspberry Pi, laptop, or 64-bit desktop computer is required, which are very basic machines. Consequently, SafeOne Chain will achieve high levels of security without consuming excessive energy, making it a more environmentally friendly alternative to blockchain networks utilising string mining rigs.
How will SafeOne bring cryptocurrency into people's everyday lives?
Cryptocurrency is still a new concept in the real world today. Almost all shops do not accept cryptocurrencies for payment, so they cannot be used to make purchases. Fortunately, that is no longer the case! With SafeOne crypto debit cards, you may purchase products from any store worldwide.
SafeOne's crypto wallet and crypto debit card are much more accessible than other methods of storing and spending money. SafeOne Wallet can be used to purchase gift cards for daily shopping. The SafeOne crypto debit card allows you to make purchases in crypto at the point of sale instead of first converting them to fiat currency. Moreover, you will be able to charge your debit card with crypto using $SAFO or a stable coin and purchase goods and services anonymously.
The SafeOne crypto debit card offers the highest level of security to ensure the safety of your funds. In addition, SafeOne can provide an enhanced level of privacy when it comes to storing and spending money. Banks or financial institutions can track your spending and adjust their policies accordingly. In contrast, SafeOne will provide you with complete control over your crypto finances and the security of your crypto assets.
Overview of Latest Developments in SafeOne Chain
Staking Feature
With a proof-of-stake model, coin owners can stake their coins and set up their own validator nodes. The process of staking involves pledging your coins to be used as a means for verifying transactions. While you stake your coins, they are locked up for a specified period. With SafeOne Chain, users are rewarded for their participation in helping to secure the underlying network. The SafeOne team has developed effective un-stake functionality in smart contracts. Now, users can un-stake a custom amount instead of a default of 100%. Furthermore, if a user's tokens are fully locked and they wish to exit the pool, they will need to pay a 10% exit fee.
Live/Future Pool Selection Tab
There is also a Finished Pool available from SafeOne. The token websites and the pool contracts have been added below the header. Soon, investors will be able to select pools under the Live/Future Pool Selection Tab. They have also added a gas optimisation feature to reduce the cost of project deployment.
Improved UI
SafeOne Chain recognises that a confusing or overly complicated user interface can compromise the user experience. Poor user experience may lead to frustrated users abandoning the platform. SafeOne Chain has improved the user interface and navigation to make it easier for users to operate. The loaders and a processing display have been added to ensure everything operates smoothly.
Take part in the presale
SafeOne Chain appears to be the most promising blockchain, allowing you to exchange your favourite crypto assets from one to another. They offer over 1200+ crypto-assets that have been verified and are available for trading. They guarantee fast transaction times, secure transactions, and low transaction fees. SafeOne's main token is SAFO, which is used for staking, governance, and transaction fees. SAFO can be used for crypto in daily life. SafeOne provides investors a good opportunity to purchase SAFO tokens during the presale. SafeOne's presale will begin very soon, and as an early bird, you can purchase large amounts of tokens at a very affordable price! Why wait? Get ready for the presale today!
Conclusion
Since blockchain technology entered the real world, numerous malicious attacks, security breaches, and network failures have been reported. SafeOne Chain was developed to ensure top-notch security for chain users. The SafeOne Chain team is continuously improving security techniques and vetting only verified blockchain projects. If you are looking for a 100% secure blockchain to invest in, SafeOne Chain is the right choice for you.
Hopefully, you have enjoyed today's article. Thanks for reading! Have a fantastic day! Live from the Platinum Crypto Trading Floor.
Earnings Disclaimer: The information you'll find in this article is for educational purpose only. We make no promise or guarantee of income or earnings. You have to do some work, use your best judgement and perform due diligence before using the information in this article. Your success is still up to you. Nothing in this article is intended to be professional, legal, financial and/or accounting advice. Always seek competent advice from professionals in these matters. If you break the city or other local laws, we will not be held liable for any damages you incur.