Quick Links
What is Solidus Ai Tech Ecosystem?
Solidus AI Tech is a subsidiary of Solidus Technologies. They were developed as the AI subsidiary of the firm. Solidus AI Tech's vision is to create data centers and IaaS infrastructure for the provision of AI services. Solidus AI Tech will provide High Performance Computing (HPC) AI services to the EU but can be utilised by organisations Globally. They have future plans to build additional data centers across Europe and further expand across the globe. Their first HPC Data Center is based in Bucharest, Romania where the electricity costs are low and clock in the fastest Internet speeds in Europe.
Once complete, this will be one of, if not the largest HPC facility in Europe and will target governments, mega corporations, small and medium enterprises and professionals across multiple fields. The company has also developed proprietary technology that efficiently utilises energy consumption and consumes less energy by up to 40% of the industry average. Solidus AI Tech will use AI HPC Servers for computation. These are extremely fast and take minimal time to train AI models.
The company is working closely with the Ministry of Education in Romania. In a tribute to 128-bit GPU cores which are fundamental to the next generation of Artificial Intelligence they will plant 128 trees in close proximity to the data centre. They decided to include the students because they will be the next generation of engineers working for them so are keen to educate them towards green development.
Solidus is a member of the Crypto Climate Accord. Their overall objective is to decarbonize the global crypto industry by prioritizing climate stewardship and supporting the entire crypto industry's transition to net-zero greenhouse gas emissions by 2040. The Accord has two specific interim objectives:
Achieve net-zero emissions from electricity consumption for cca signatories by 2030.
Develop standards, tools, and technologies with cca supporters to accelerate the adoption of and verify progress toward 100% renewably-powered blockchains by the 2025 unfccc cop30 conference
The Crypto Climate Accord will create wins for both the planet and the global economy. For climate advocates, they can eliminate emissions from a fast-growing source of electric load. For the cleantech industry, they can onboard an entirely new class of customers with significant demand for low-carbon solutions. For the crypto industry, they can help support widespread adoption of crypto by making the industry more sustainable.
Solidus' AITECH HPC data centre infrastructure will run highly efficient algorithms. From the initial consultation, they will be able to clarify how they can optimise for maximum effectiveness for each application and how their customised HPC environments would work for their clients' needs. At the core of the business, they ensure reliability and security to their clients and do so in a cost-effective and environmentally friendly manner.
Their secure, sustainable computing environment is the perfect solution for anyone prioritising climate goals and carbon targets –
Air Cooling Technology
The advantages of evaporative cooling are well documented. This energy-efficient, environmentally friendly technology consumes 80% less energy than compressor air conditioning, can lower the air temperature by up to 12 degrees, improves air quality by removing dust, fumes and unpleasant odours and does not require the closing of doors or windows.
HPC is already consuming large portions of the world's available energy, with various air-cooling solutions consuming up to 30%–40% of the total energy deployed. Hence, there is an urgent need to deploy sustainable solutions.
By using a special software algorithm and customised hardware architecture, one high-performance AI HPC Server uses similar power to a household light bulb, and all the materials are renewable. The heat generated by the machines will also be channeled to their production facility to provide warmth during the cold season.
HPC demand is growing exponentially across the globe. In Europe, companies consume over 30% of the global HPC, while only producing 5% of HPC output. Most of the HPC services in Europe are outsourced in the US. This is usually expensive and still not enough. Engineers from the EU say that they depend on America for HPC services by a factor of 10. There are no large HPC facilities in the EU that form part of the top 10 largest HPC facilities in the world.
Solidus will be the largest HPC facility in the EU. It will fill a significant portion of the HPC needs for the consumers in Europe. The AI services that will be provided by this data centre will also be significantly cheaper than those procured from America. This is because the platform uses less energy and is based in Romania, where the cost of energy is significantly lower.
The facility will also have round the clock security. It will have physical guards manning it and all of the employees who access the facility will have to be screened and be background checked. The head of security 'Alexandru Galusca' is a Retired Brigadier General of the Romanian Air Force, squadron leader in Air Force Staff operational units, Chief of Military Intelligence and Deputy Military Representative to NATO and the EU.
A Vulnerability Monitoring Platform will be deployed at the centre that will continuously monitor the network for any vulnerability. This monitoring platform is highly secure and cannot be accessed through the use of IP addresses or MAC addresses.
So far, there are significant developments that have been made. The data centre has been built and they are actively raising funds to purchase and install their AI HPC infrastructure. The total amount of funds that will be needed for the whole project is $45 million. Solidus' partner Soft Galaxy International has been approved for a $3 million grant to go towards the AI infrastructure. The remaining balance of $42 million is being raised via their AITECH token sale.
Solidus Ai Tech will transform lives, but how?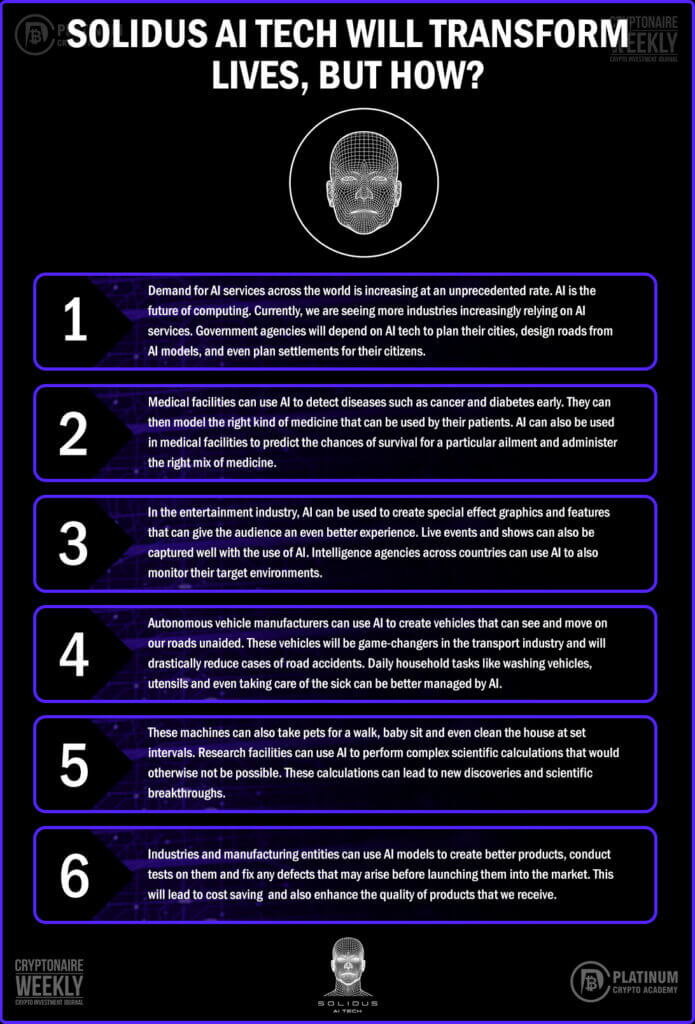 Demand for AI services across the world is increasing at an unprecedented rate. AI is the future of computing. Currently, we are seeing more industries increasingly relying on AI services. Here Solidus AI Tech is working to be the future of AI services! Government agencies will depend on AI tech to plan their cities, design roads from AI models, and even plan settlements for their citizens. Medical facilities can use AI to detect diseases such as cancer and diabetes early. They can then model the right kind of medicine that can be used by their patients. AI can also be used in medical facilities to predict the chances of survival for a particular ailment and administer the right mix of medicine. In the entertainment industry, AI can be used to create special effect graphics and features that can give the audience an even better experience. Live events and shows can also be captured well with the use of AI. Intelligence agencies across countries can use AI to also monitor their target environments. Autonomous vehicle manufacturers can use AI to create vehicles that can see and move on our roads unaided. These vehicles will be game-changers in the transport industry and will drastically reduce cases of road accidents. Daily household tasks like washing vehicles, utensils and even taking care of the sick can be better managed by AI. These machines can also take pets for a walk, baby sit and even clean the house at set intervals. Research facilities can use AI to perform complex scientific calculations that would otherwise not be possible.
These calculations can lead to new discoveries and scientific breakthroughs. Industries and manufacturing entities can use AI models to create better products, conduct tests on them and fix any defects that may arise before launching them into the market. This will lead to cost saving and also enhance the quality of products that we receive. Financial institutions can use AI services to track customer details, detect fraud and also track financial markets across the world in real time.
How does Solidus AI Tech utilise blockchain technology?
Solidus AI Tech has strong relationships with Governmental Authorities and Megacorps who have a high demand for AI HPC services and will also market to attract SMEs and Professionals who have a need for AI services.
Users will be incentivised to use AITECH tokens and a simple fiat to AITECH swap option will be available. These tokens are ERC-20 tokens that can be used for the purchase of AI services. An Infrastructure-as-a-Service (IaaS) portal will be set up where users can access, make payments and choose whichever service they would like.
Use of tokens to make purchases and redeem these tokens later for services on the platform or just as an investment shows that Blockchain technology is used on this platform as the core technology.
What is AITECH TOKEN?
The AITECH token is the World's first AI utility token that will be used on this platform. Users who want to take part in the development of the platform can purchase AITECH tokens through sales that are done in three phases.
Investors who own AITECH tokens will be categorised into groups. The first group are those who will own the token and hold or stake them for growth. The second group of token holders are those who will have the tokens and redeem part of them for AI services offered on the platform, while also holding or staking the rest for growth. The third group of token holders are those that will purchase the tokens specifically so that they can redeem AI services that are offered on the platform.
The tokens can only be utilised once the IaaS platform is up and running. All token holders have the option of staking their tokens and earning rewards from this. A total of 1.5 billion AITECH tokens have been set aside as rewards for token holders who may want to stake their tokens. Yields that come from staking tokens is estimated at around 7.5% annually.
The total number of tokens that will be created are 10 billion tokens. Out of these, 4 billion tokens have been set aside to be sold to investors in three stages: Private Sale, Presale, and Public Sale. Interested investors can purchase these tokens using USDT, BTC or ETH.
How can investors earn rewards with AITECH TOKEN?
Investors can earn rewards by staking their tokens. They will be rewarded with AITECH tokens. Staking yields about 7.5% annually. A total of 1.5 billion AITECH tokens have been set aside as staking rewards. These rewards will be dependent on market forces and will have to be confirmed by the AITECH team.
There will also be quarterly lotteries for stakers where winners will be identified and airdropped additional AITECH tokens.
A quick look at Solidus Ai Tech Vision
The vision of Solidus AI Tech is to create eco-friendly data centres and IaaS infrastructure across Europe. The company is also keen to set up the largest HPC facility in Europe. This facility will target European clients and enable them to access HPC services at an affordable rate. Once the data centre is completed, it should land among the top 10 largest data centres in the World and enable European clients who are in need of HPC services to access these services from Europe, as opposed to the current situation where most of these services are accessed from America.
The team at Solidus is also committed to environmental sustainability and conservation. That is why they are part of the Crypto Climate Accord. Members of this accord subscribe to renewable energy for powering blockchain solutions and giving net zero emissions. The company will also work closely with government agencies to encourage and promote local tech talent and also plant trees.
Conclusion
Solidus AI Tech is set to be the largest eco-friendly HPC facility in Europe. Setting the data centre in Bucharest, Romania, where electricity costs are favourable, will enable the facility to provide AI services at favourable rates, as opposed to the current price. The data centre will also utilise proprietary algorithms and IP that will see it consume 40% less energy – this saving should be transferred to the consumers. who will enjoy favourable pricing on the services.
The platform has made significant progress towards accomplishing its vision of being the largest data centre for HPC service provision. So far, they have already secured funding from the EU for completing the project. In conjunction with their venture partner, Soft Galaxy, they have secured close to $3 million as grant funding from the EU. The remaining balance of $42 million is expected to be raised from investors and users of the platform through token sales. Seeing that demand for AI services is bound to increase and there is a big market for AI services across Europe, we expect that the three stages of the token sales will be oversubscribed.
Upon completion of the three fund raising rounds they will burn AITECH tokens quarterly and will do this until their (IaaS) platform goes live. When the (IaaS) is live they will then burn a percentage of tokens at the end of each quarter that have been used to purchase AI services to further decrease the circulation supply. Via their relationships with Governmental Authorities and Megacorps they anticipate that long-term holders should see significant gains in token value.
Investors stand to gain three-fold by taking part in the token sales. First, they can hold the token, as the value of the tokens will be rising by 5% per week until Public Listing. Secondly, investors will also be given rewards from staking tokens on the platform. There will also be lotteries that will be carried out every quarter for stakers and winners will be airdropped with AITECH tokens, increasing the overall number of tokens they'll have. Thirdly, they can use these tokens as utility tokens where they can access AI services from the platform. Users who purchase AI services by swapping fiat to AITECH, or use AITECH tokens, will be provided with special discounts and faster speeds.
The company has three token sale events that start in November 2021 (private sale) and end in April 2022 (public sale).
The security of the data centre is also a top priority. Care is given towards ensuring the premise is always secure. Manned guards will be stationed on the premises on a 24/7 basis. A vulnerability monitoring platform will also be installed at the centre to track and monitor all operations. This platform cannot be accessed using IP or MAC addresses. A senior ex-military member of staff has also been identified to handle all security operations to NATO standards within the company.
The company is a subsidiary of Solidus Technologies who are an Ethereum (ETH) mining organisation. Their joint venture partner Soft Galaxy International have extensive experience in managing large projects and have a team of dedicated professional with experience in managing blockchain projects.
Hopefully, you have enjoyed today's article. Thanks for reading! Have a fantastic day! Live from the Platinum Crypto Trading Floor.
Earnings Disclaimer: The information you'll find in this article is for educational purpose only. We make no promise or guarantee of income or earnings. You have to do some work, use your best judgement and perform due diligence before using the information in this article. Your success is still up to you. Nothing in this article is intended to be professional, legal, financial and/or accounting advice. Always seek competent advice from professionals in these matters. If you break the city or other local laws, we will not be held liable for any damages you incur.