Quick Links
Introduction
Cryptocurrency payment providers allow business owners to accept cryptocurrencies (such as Bitcoin and Ethereum) as payment methods. Since cryptocurrencies have many benefits, major businesses have naturally begun accepting them. Microsoft, PayPal, and Starbucks are some of the biggest companies adopting crypto-friendly practices to reap the benefits. If you're looking for a payment provider for your business, selecting a highly secure and beneficial platform is wise. The number of crypto payment providers that are emerging these days is growing and XRPayNet is one of the leaders in this space!
XRPayNet provides ultra-fast transactions at low transaction costs through its world-class micropayment interface. The interface is suitable for businesses, individuals, peer-to-peer transactions, and stores that sell products and services internationally. The XRPayNet payment network is one of the most diverse in the world and will allow crypto payment settlements in FIAT currencies and Buy Now Pay Later functionality.
What is the XRPayNet token?
The XRPayNet token is a cryptocurrency issued on the XRP Ledger, which powers this payment platform. This utility token allows users to take advantage of various XRPayNet benefits or services in the future. The transaction speed when paying with XRPayNet tokens for transferring any amount of XRPayNet from one wallet to another is 1-5 seconds, and costs are a fraction of a penny. The ultimate goal of the XRPayNet platform is to have millions of customers transact with XRPayNet tokens for their everyday purchasing needs. To accomplish this, the company works hard and has a solid marketing strategy to gain traction and demonstrate the efficiency of XRPayNet. The XRPayNet token is a booster for the platform, and the company will only sell ten per cent of the total supply during the token sale. This is the equivalent of five billion coins. The token price is very affordable, and they are well prepared to gain the support of forward thinkers and crypto enthusiasts by providing numerous benefits.
What is XRPayNet BNPL?
The concept of Buy Now Pay Later (BNPL) has gained popularity around the world. With lower cash in hand (due to the economic slowdown) during the COVID-19 pandemic, its popularity and importance grew exponentially. Consumers can purchase products using Buy Now Pay Later (BNPL) schemes without paying the full amount upfront. BNPL is an increasingly popular point-of-sale financing solution, particularly among younger generations. By 2024, it is expected that the BNPL lending market will grow very rapidly. Since this concept is so popular, many companies have been providing this service in the financial world, and XRPayNet will introduced it to the crypto world.
XRPayNet is one of the first cryptocurrency companies that will offer BNPL and make it one of the fastest-growing cryptocurrency payment providers. The cost of living crisis is hitting people's cash flow, so XRPayNet will provide a BNPL service that is flexible and interest-free. Gen Z loves BNPL, so XRPayNet will target young crypto enthusiasts, advertising the use of XRPayNet payment method during fashion and lifestyle shopping. There will be several advantages to using XRPayNet BNPL, which is based entirely on cryptocurrency:
Make Online Shopping Easier
The XRPayNet BNPL service will allow you to purchase products online. When you shop online at your favourite stores, you select the merchandise you want, then pay using their app or credit card. It's as simple as that!
Shopping in-store
With XRPayNet, customers will complete checkout in-store, even if they have not yet received their pay cheque for this month. Additionally, they can access credit despite having a less-than-perfect credit score. You will be able to make transactions quickly, easily, and securely with the XRPayNet card.
Shop via the Mobile App
With XRPayNet, you do not have to look for alternative credit options. XRPayNet will offer instant crypto credit at the point of sale through its BNPL mobile app, enabling smooth and frictionless transactions.
100% Interest-Free
The XRPayNet website will offer flexible payment terms for customers who wish to purchase items. This way, they can receive their item without completing a full payment. They will offer 100% interest-free payments, and sign-up is quick compared to credit cards.
What makes XRPayNet a promising project?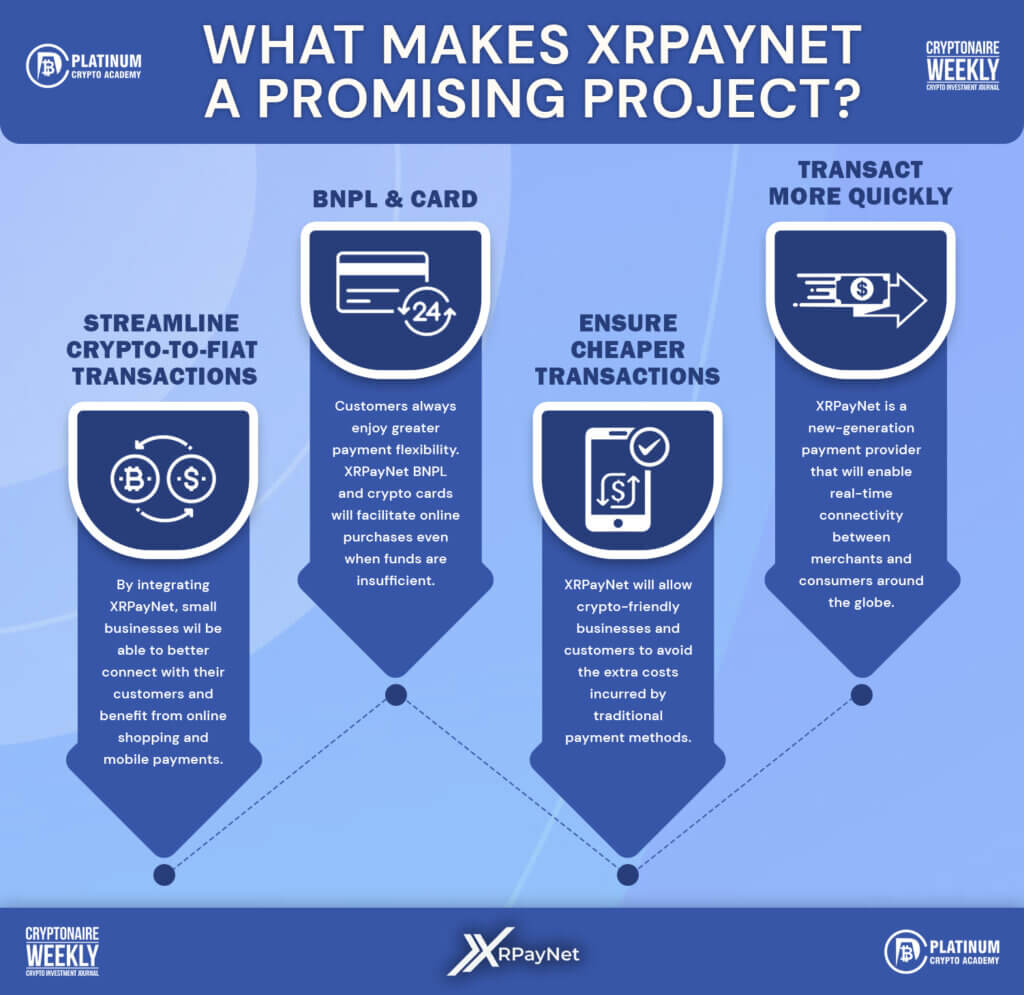 As one of the world's first payments interface and ecosystem that will be globally adopted, XRPayNet has the potential to become the best payment system in the world. This company's vision and future are clear. They expect to become one of the world's biggest payment providers and be an integral part of customers' lives. The following are some of the benefits that make XRPayNet a promising project.
Streamline crypto-to-fiat transactions. By integrating XRPayNet, small businesses wil be able to better connect with their customers and benefit from online shopping and mobile payments. With XRPayNet, merchants can receive cash in whatever fiat currency they accept. This way, customers can spend crypto, and merchants will receive money in fiat.
BNPL & Card. Customers always enjoy greater payment flexibility. XRPayNet BNPL and crypto cards will facilitate online purchases even when funds are insufficient. The card and smartphone application will allow consumers and merchants to easily transition from cryptocurrency to fiat currency.
Ensure Cheaper Transactions. XRPayNet will allow crypto-friendly businesses and customers to avoid the extra costs incurred by traditional payment methods. Since XRP ledger technology reduces the involvement of third parties, expenses, such as administrative and operational costs, can be reduced. As a result, business owners and customers can enjoy a higher profit margin and provide customers with greater value for their money.
Transact More Quickly. XRPayNet is a new-generation payment provider that will enable real-time connectivity between merchants and consumers around the globe. Business owners can expand their reach worldwide by accepting cryptocurrencies thanks to their cross-border payment solutions. The XRPayNet system eliminates the need for middlemen to process transactions, allowing transactions to be completed in a fraction of the time required by traditional transfer methods.
An overview of the XRPayNet roadmap
XRPayNet has a clear roadmap, and its team is working hard to achieve all goals on time or ahead of schedule. They have begun staking XRPayNet as promised for quarter 4, providing great benefits to the customer. During Q1 of 2023, they will expand their payment system into several new territories, where they will do true global adoption in every country, subject to OFAC and RUVIS sanctions. They intend to add the capability to send tokens other than native XRPL tokens (e.g. Bitcoin, Ethereum, Sol, etc.) over XRPL. Consequently, transaction times will be reduced from 15 to 45 minutes to just a few seconds. To ensure the reliability of this platform, they continue to upgrade their payment system, making it one of the most reliable payment providers in the crypto industry.
Conclusion
Cryptocurrencies are changing the way people pay, and more people are starting to accept cryptocurrencies as payment methods. Make sure you are not left out of the digital shift by accepting Bitcoin and other cryptocurrencies as payment. Forward-thinking companies have already begun accepting crypto payments through XRPayNet. The XRPayNet crypto payment gateway is safe and easy to use, allowing you to quickly accept crypto payments and increase your revenue. XRPayNet is set to play a key role in facilitating cryptocurrency payments in the retail sector.
Hopefully, you have enjoyed today's article. Thanks for reading! Have a fantastic day! Live from the Platinum Crypto Trading Floor.
Earnings Disclaimer: The information you'll find in this article is for educational purpose only. We make no promise or guarantee of income or earnings. You have to do some work, use your best judgement and perform due diligence before using the information in this article. Your success is still up to you. Nothing in this article is intended to be professional, legal, financial and/or accounting advice. Always seek competent advice from professionals in these matters. If you break the city or other local laws, we will not be held liable for any damages you incur.