Quick Links
Introduction
With the advent of blockchain technology, the financial sector has been disrupted, resulting in better efficiency and transparency in payment processing. As the popularity of cryptocurrencies increases, crypto payment solutions are gaining popularity. Cryptocurrency payments involve paying for goods and services using cryptocurrency instead of fiat money.
With crypto payment solutions, payments are processed quickly, securely, affordably, and transparently without the involvement of a financial institution. Since cryptocurrencies are digital, payments can only be made online with cryptocurrency payment gateways. Payment gateways are gradually becoming a booming industry, and XRPayNet stands out as one of the safest and most reliable payment methods. The article explains how XRPayNet will redefine cryptocurrency payments with diverse payment methods!
What are the flaws of traditional payment providers?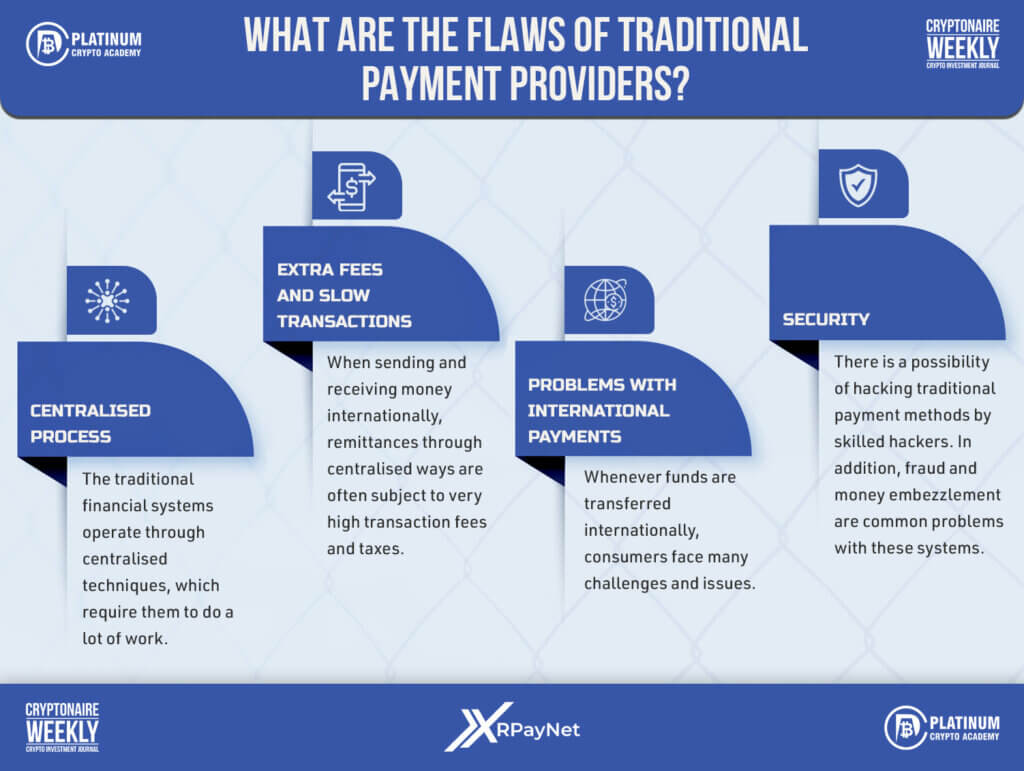 The world's current financial system is based on traditional payment providers. They provide loans, savings, and other financial services. However, they suffer from many drawbacks since they are centralised and subject to bias. Moreover, some loan and transaction interest rates are too high and slower than cryptos. Listed below are some problems and how XRPayNet can solve them:
Centralised Process
The traditional financial systems operate through centralised techniques, which require them to do a lot of work. As opposed to banks, the XRPayNet platform is completely independent. Because they are decentralised, they are free from bias because there is no human interaction. Their transactions are more secure and reliable since they use anonymous ID numbers, making them harder to hack.
Extra Fees and Slow Transactions
The traditional payment method's flaws include extra fees and taxes during transactions. When sending and receiving money internationally, remittances through centralised ways are often subject to very high transaction fees and taxes. The slow protocol also contributes to the slowness of these transactions. Conversely, XRPayNet provides a fast, efficient, and reliable service. XRPayNet's low transaction costs and fast transaction speeds make it a perfect payment processor.
Problems With International Payments
Whenever funds are transferred internationally, consumers face many challenges and issues. Various intermediaries within the financial infrastructure are involved in transferring funds, resulting in multiple days and high fees. With the XRPayNet platform, the individual can directly transfer funds over the blockchain. As a result, this eliminates the need for traditional fees and makes transactions faster and simpler.
Security
There is a possibility of hacking traditional payment methods by skilled hackers. In addition, fraud and money embezzlement are common problems with these systems. As a result of these occurrences, you may lose your hard-earned money. That's where XRPayNet's XRP Ledger comes in. The unique feature of the XRP Ledger is its digitally distributed, decentralised public ledger, making it virtually impossible to alter data. Thus, incorporating the XRP Ledger blockchain eliminates the risk of fraud and hacking.
How is XRPayNet redefining crypto payments?
Over the past year, XRPayNet has made significant progress in the DeFi space. With the launch of their new mobile application, users can now trade anywhere, anytime. This app boasts a wide selection of 90,000 trading pairs. The XRPayNet project makes substantial progress toward its goal of converting crypto payments into conventional currencies using existing processing systems. The company is making the crypto-to-fiat payment process seamless and advancing the global adoption of crypto since fewer businesses currently accept crypto payments.
XRPayNet facilitates the transfer of any amount of XRPayNet from one wallet to another with a fraction of a penny per transfer. The XRPayNet aims to enhance every day and peer-to-peer transactions. XRP Ledger is the source for all information stored on the blockchain, making it possible to trace XRPayNet transactions in the future. Additionally, it has a flashy new crypto card that consumers can use anywhere in the world to spend any cryptocurrency.
Detailed overview of XRPayNet Crypto Card
Until recently, if you wanted to use your crypto, you would need to exchange it for fiat currency at a crypto exchange and then wait for the funds to reach your bank account. Since this was tedious and time-consuming, your crypto couldn't be used for everyday purchases. This is where the XRPayNet Crypto Card comes in. The first crypto card from XRPayNet is changing the standard for financial transactions. With the XRPayNet Card, you can enjoy all the benefits of crypto on a physical card. The app allows you to manage your card seamlessly.
XRPayNet allows customers to spend cryptocurrency in stores and online while the business receives their preferred traditional currency. As a result of XRPayNet's card and app, businesses can continue using their current processing infrastructure while converting crypto into fiat. With this method, you can convert crypto to fiat instantly, allowing you to withdraw cash from ATMs and spend it wherever Visa and Mastercard are accepted.
If you have an XRPayNet card, you can use it in three ways:
With the XRPayNet app, you can make transactions.
You can use your virtual card number to make purchases online.
The physical card can be used both in stores and online.
An overview of the XRPayNet Mobile App
When it comes to the retail world, XRPayNet plays an important role in facilitating cryptocurrency payments. You can manage many coins with the XRPayNet app. Most crypto exchanges allow users to exchange project coins against 2 or 3 other cryptocurrencies, such as Bitcoin, Ethereum, and USDT. The XRPayNet platform supports the exchange of up to 300 coins. As a result, users can diversify their portfolios into as many coins as they like.
The XRPayNet app also allows you to check your card balance. The XRPayNet app contains a section called XRPayNet Card, where you can find your virtual card number. Once approved, you can shop online and use the XRPayNet app to pay, even before you receive your physical card. The XRPayNet app offers fast crypto transactions with ease. Download the app today!
Conclusion
Since cryptocurrency has become mainstream, it has become easier for people to accept it as part of the global economy. In the global market, cryptocurrency is widely accepted by key industry leaders, encouraging small merchants to accept digital payments. However, you must choose the right payment provider to streamline the payment process. XRPayNet is here to help!
No matter what the benefit is, whether it's faster and lower fees or the benefits of decentralisation and the empowerment of global economies, XRPayNet is undoubtedly the best payment system out there. With XRPayNet, you can eliminate different issues related to traditional payment methods in the long run. Businesses struggling with centralised payment systems can benefit from XRPayNet's numerous features. As XRPayNet's technology matures, more companies can use it to speed up transaction processes, reduce payment processing costs, and increase data security.
Hopefully, you have enjoyed today's article. Thanks for reading! Have a fantastic day! Live from the Platinum Crypto Trading Floor.
Earnings Disclaimer: The information you'll find in this article is for educational purpose only. We make no promise or guarantee of income or earnings. You have to do some work, use your best judgement and perform due diligence before using the information in this article. Your success is still up to you. Nothing in this article is intended to be professional, legal, financial and/or accounting advice. Always seek competent advice from professionals in these matters. If you break the city or other local laws, we will not be held liable for any damages you incur.