The Company
Germany's Intelligent Fluids GmbH has come forward to tap into this huge opportunity with its patented technology of smart physical cleaning. Through its patented technology, the company aims to lure global industries to migrate from aggressive and harmful solvents to green chemistry as fast as possible.
It is a project that is set to generate positive changes in our world and the company's existing top clients already include the likes of Philips, Qualcomm, among others. Besides, it has created the basics to give the right answers and intrinsically support at least 10 Sustainable Development Goals (SDG) of the United Nations, with a significant impact on our planet.
Its CSR program also sponsors a selected number of NGOs that represent the same SDGs and the donations will be contingent upon the volumes of Intelligent Fluids sold globally. Based on the company's projected sales, donations in a value of up to 10 million Euros are roughly estimated to be handed over to NGOs within the reward program alone in the period from 2021 to 2031.
The project is headed by Christian Romlein as its CEO, who has over 30 years of experience in top management positions internationally and is an expert in strategy, marketing, sales, branding, entrepreneurship and venture capital.
The company's products are non-flammable, pH neutral, biodegradable and dermatologically tested for industrial cleaning. It is not only superior solvent, compared to competition but also eco-friendly.
Intelligent Fluids offers a sustainable, efficient and powerful solution for industrial cleaning by utilizing physical effects instead of toxic chemicals, meeting much more than today's standards for eco-friendliness with biodegradable, non-inflammable and pH neutral ingredients.
Benefits of SmartChem ICO
The SmartChem ecosystem is composed of various players such as customers, token stakeholders and ecological projects. Incidentally, all of them can benefit from SMAC utility tokens and its underlying SmartChem platform.
Its customers benefit from zero fees with SMAC token, lower product price and the ability to donate to ecological projects, apart from speed and transparency in trades.
The SMAC token stakeholders gain from the profit growth in the value of the token trade on popular exchanges and the ability to trade the tokens on top exchanges. The SMAC token is the main asset used to fund the platform's economy and compensate all ecosystem participants for their contributions.
Users that pay with fiat money on traditional payment gateways have to deal with other cumbersome factors at the moment. The latter can be eliminated if they trade with SMAC through the Smartchem platform.
When Smartchem customers are using fiat money, they have to pay transaction fees required by other payment gateways, especially for international payments. Due to the higher number of intermediaries involved in such transactions, users can expect more fees. SMAC eliminates the need for such intermediaries.
Besides, SMAC is the first and only all-in-one impact crypto coin. It reduces energy cost as well as carbon dioxide emissions by more than 50% each. Moreover, the industrial replacement of acetone and NMP with SmartChem results in a reduction in carbon dioxide emission by upto 80%.
CO2 certificates are likely to become very expensive and so are energy costs. SmartChem solutions can also help in cleaning material by 10% to 70%. it improves investment yield significantly while helping our planet responsively. Therefore, investments in SMAC also empowers the global growth of green chemistry.
Risk Factors
In terms of risk factors, apart from the general risks associated with all such investments, there are certain risk factors that are unique to the SmartChem project or Intelligent Fluids.
One such factor is competition. Since it is a new and relatively unexplored market with high growth potential, new players are likely to get attracted to it, thereby increasing competition and, possibly, lesser demand for SmartChem products. The latter will still have the early-mover advantage in this aspect, nonetheless.
However, increasing competition can also be a challenge for the company in retaining top talent and any changes in the top management team could have adverse impact on the company's business.
Besides, as the SMAC tokens do not provide any securities, its investors can neither influence the company's strategy or business decisions nor get information or voting rights within the shareholder meeting of the company.
Conclusion
The above risk factors aside, this method of fund-raising offers a high degree of flexibility for customers, liquidity for investors and a unique opportunity to benefit, as early adopter, from attractive discounts on fluid purchases or from a possible appreciating token value. Not to mention, the impressive eco-footprint that comes along with it.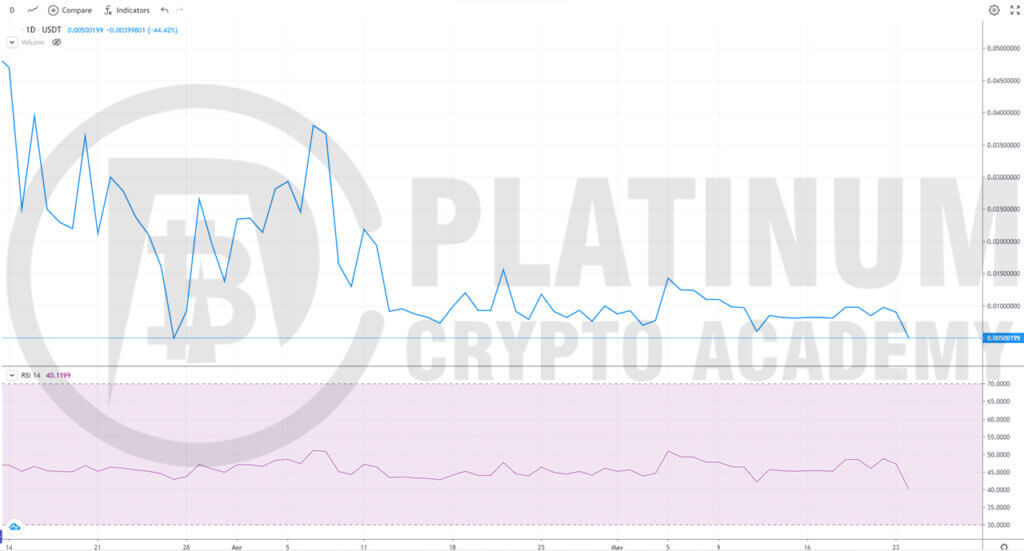 Technical Analysis

The crypto markets have been under pressure for the past week but the SMAC token has held its ground. The SMAC/USD pair has stayed above the strong support of $0.005 for the past several days, indicating that bulls continue to buy on dips.

On the upside, the bears are defending the psychological level of $0.010. This suggests that the sellers are active at higher levels. This has kept the pair range-bound between $0.005 and $0.010 for the past few days.

Usually, tight consolidations are followed by sharp trending moves. The longer the time spent inside the range, the stronger the eventual breakout from it.

In this case, if bulls clear the minor hurdle at $0.010, the pair could pick up momentum and rally toward $0.015. The bears are again expected to defend this level with all their might. If the price turns down from this resistance, the pair could extend its stay inside the $0.005 to $0.015 range for a few days.

Contrary to this assumption, if buyers propel the price above $0.015, it will suggest strong demand at higher levels. That could start a new uptrend which could reach $0.022. This level could act as a minor hurdle but a break and close above it could open the gates for a possible rally to $0.038.

This positive view could invalidate if the bears sink and sustain the price below the critical support at $0.005. If they do that, the selling could pick up momentum and the pair may slide to the next support at $0.0002. The relative strength index is trading in the negative territory, indicating that bears have a slight edge.
Hopefully, you have enjoyed today's article for further coverage please check out our crypto Blog Page. Thanks for reading! Have a fantastic day! Live from the Platinum Crypto Trading Floor.
Earnings Disclaimer: The information you'll find in this article is for educational purpose only. We make no promise or guarantee of income or earnings. You have to do some work, use your best judgement and perform due diligence before using the information in this article. Your success is still up to you. Nothing in this article is intended to be professional, legal, financial and/or accounting advice. Always seek competent advice from professionals in these matters. If you break the city or other local laws, we will not be held liable for any damages you incur.