What is HAPE PRIME NFT?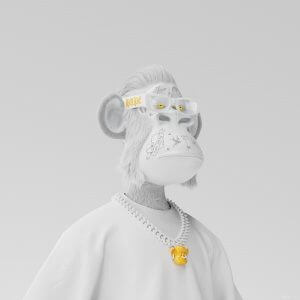 Many of the recent NFT projects are taking the digital fashion landscape to a whole new level and the latest one to hog the limelight is HAPE PRIME NFT, which dubs itself to be a fully 3D high-fashion HAPES project. The HAPE PRIME NFT is a collection by the UK-based art initiative, Digimental, which is currently exploring the possibilities of digital art, fashion, and blockchain technology. It is the brainchild of London-based digital artist Matt Sypien.
The HAPE PRIME Collection is made up of 8,192 unique image-based tokens and is the newest addition to the Ape multiverse. It was supposedly taken from "Hypebeast", a fashion movement that features street fashion and athleisure wear and is believed to be the personification of 90s hip-hop and fashion culture that is trending.
The NFT collection was generated from 21 layers with 806 different attributes, that cumulatively add up to over 700 septillion possible permutations. The collection follows an Ape theme and contains 45 specially made 1/1 variations that are wholly unique. Each Ape NFT is decked with luxurious and attention-grabbing attire.
Built around its community of HAPE owners, the HAPE NFT allows users to switch or change their apparel and generally tweak their appearance. The ultimate goal is to rank in the ecosystem's first-of-its-kind HAPE Fashion Index, which selects the best dressed HAPE of the week.
The HAPES also feature a Hapewalk Runway, which allows owners to show off their collections and become vocal voice or Hapefluencers. This community stands a chance to earn real-world rewards from the HAPES project.
All the Ethereum-based tokens of HAPE PRIME NFT were minted in January and, since then, it has sold out its entire collection and is now only available through secondary sales on Ethereum-based marketplaces such as Opensea.io.
The project's laid-down and luxurious fashion sense have drawn admiration from several Ape collectors. It is worth mentioning here that Ape-facing NFTs are not a recent fad, given the huge success seen by the popular NFT collection Bored Ape Yacht Club (BAYC). Incidentally, Matt Sypien is also an owner of BAYC NFT.
The backstory of HAPE BEAST NFT project goes back to nearly two million years ago when there was a lighting strike. It was massive enough to have fractured the Ape universe and scattered them. Now, the Primal Hape waiting for the entire family to rejoin so that they can plan a bigger and more stylish future together.
Watch this video – HAPE PRIME Teaser
Click here to Get the Latest NFT News & Market Update Straight to Your Inbox
The HAPE NFT that sold out in four hours and why?
The HAPE : EXODUS debut NFT collection has seen a massive influx of fans and it led to the metaphorical exodus of its detractors. It roared up to the top of the charts of NFT marketplace OpenSea. HAPE : EXODUS released their NFT on February 07, 2022 and it was sold out in four hours in organic spending spree from collectors drawn to the collection's distinct Hypebeast flavor.
HAPE:EXODUS is a derivative of HAPE PRIME of HAPEBEAST NFT. The latter was one of the world's most oversubscribed NFT. Hence it should not be too surprising to see HAPE:EXODUS sold out fast as well. The hype for HAPES began to grow in January, as the 3D HAPE images began minting.
At that time, over 8,000 people, including celebrities and sports stars like Neymar and Reece James, paid the initial US $600 for their unique Ape avatar. Since that development, the price of re-sells had been going up and reached the US $22,000, before the images were even released in February.
As a derivative of HAPEBEAST, the HAPE:EXODUS project is not officially associated with the HAPE PRIME project or team but instead based their 2D art and stylings on streetwear and hip-hop culture. There is a lot of basketball culture and HYPEBEAST drip in the collection.
They currently have 7,500 items with just under 4,000 owners. The collection actually shrank due to a unique mechanism where HAPE : EXODUS owners could burn or permanently remove five of their NFT to receive a HAPE : EXODUS ALPHA NFT with different traits.
The HAPE: EXODUS project has created their collection as a derivative of one of the most popular and anticipated NFT collections in the short history of NFT. They are latching on to a new desire to be part of unique online artistic properties, all while creating an avatar community. The plan works due to consistent, high-quality artwork and designs that people resonate with.
While being an extension, HAPE: EXODUS had their philosophies inspired by another popular NFT project, the Azuki collection. Their vision sees them focused on a community inspired by a love of underdog winning and a shared love of art, music and fashion.

How to buy HAPE PRIME NFT?
HAPE PRIME NFT has already finished the mints for their tokens. The primary sale of the HAPE PRIME NFT collections was only restricted to the Hapelisted HAPES and there weren't any public sale. Since it went for exclusivity, when it comes to the availability of the tokens, it was first made available through that exclusive list of buyers.
Although, owners of Ape Genesis were granted the Golden ticket to mint the HAPE PRIME NFT.  Subsequently, the collection was publicly released on the popular NFT trading marketplace OpenSeaand now anyone can buy them through secondary sales on the marketplace.
Incidentally, the team behind the HAPE PRIME NFT project has warned users to beware of the scammers and buy only the official HAPE PRIME NFT.
HAPE PRIME NFT price prediction: Should I go for it?
In order to make a HAPE PRIME NFT price prediction, it could be quite an expensive proposition, especially if you are a first-time NFT investor or investing with a tight budget. However, the bright side is that the hype cools off in the case of most of the NFT projects within a week or two but the HAPE PRIME NFT project is one of the most talked-about NFT projects. The interest in the HAPE PRIME NFT has not dwindled over time.
Besides, the project team of HAPE PRIME NFT is an experienced one with a far-sighted roadmap. The positive thing is that all the over 8,000 NFTs in the collection are distributed within the 6,000-odd HAPE PRIME owners. When an NFT project has so many owners, even at such a higher floor price, it is considered to be a reflection of the confidence of the investors and the legitimacy of the project.
However, we must add a note of caution that the NFT market is volatile and one should never take the figures for granted and continue to do their own research before making fresh investments or even churning their existing investments.
Meanwhile, due to the nature of the NFT collection and the upcoming development of its dynamic trait system, some NFTs may have some differences, as our system will need to re-scan the collection regularly to ensure it is up to date. Please ensure to check any specific NFT you may be interested in, just in case, we're not quite quick enough with our regular updates.
We built NFTMarkets to assist NFT investors and collectors with their decision-making. At the time of inception, there were very few places offering multiple points of analysis for rarity determination. We hope to continue providing fresh insight and analysis to the public to simplify the buying and selling process and help users to identify those potentially hidden gems within a collection.
Click here to Get the Latest NFT News & Market Update Straight to Your Inbox
Conclusion
The HAPE PRIME NFT collection is becoming one of the most popular collections to emerge from the Ape multiverse. As the project's Discord channel continues to onboard more members and the project gains more traction on various social media platforms, the price of the NFT is set to follow an upward trajectory. Of course, like other NFT collections, market trends are likely to influence the price movements of HAPE PRIME NFT to a great extent.
The airdrops by the project provided exposure to NFT enthusiasts and built more adoption. Widespread adoption will result in the trade of more HAPEs and this increase in trade is directly linked to a commensurate increase in its floor price.