Welcome to this week's edition of Cryptonaire Weekly, where we delve into the fascinating intersection of blockchain technology, digital assets, and the wider financial landscape. In a world where innovation never sleeps, the realms of NFTs, digital music, and cryptocurrencies are constantly evolving, offering unprecedented opportunities and challenges. This update aims to provide you with the latest insights and trends, helping you navigate the dynamic and often complex world of digital finance.
From the pioneering ventures of FanDuel's co-founder in the music industry to the latest movements in Bitcoin NFTs, we cover a spectrum of developments that are shaping the future of digital interaction and investment. Whether you're a seasoned investor, an enthusiastic trader, or simply a curious observer, this update is your gateway to understanding the current pulse of the crypto and NFT markets.
Let's dive into the latest trends and highlights that are defining the digital landscape this week.
NFT Market Update
NFT Volume and Market Movements
The NFT market has seen a significant uptick in activity, with trading volume reaching $13 million. This resurgence is marked by the revival of PFPs and the impressive performance of Snowpepen NFTs, which soared to a high of 5.33 ETH.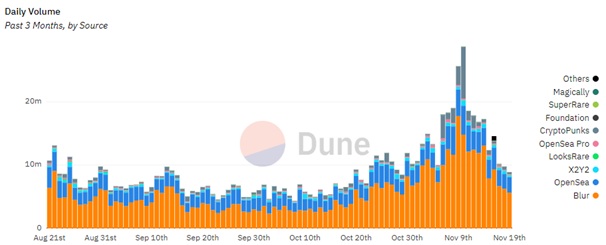 Fantasy Meets Music: The New NFT Wave
Vault Music's Innovative Platform: Spearheaded by FanDuel's co-founder Nigel Eccles, Vault Music introduces a groundbreaking concept where fantasy sports meet the music industry. Players can now manage a virtual record label, signing artists through music NFTs. This unique blend of fantasy gaming and digital music ownership is set to revolutionize fan engagement.
Fantasy Record Label: Now LVE 🤯

💿 Create your own fantasy record label.
💰 Compete for cash prizes and point airdrops.
🤝 Fund musicians' careers.

Built by the co-founders of @FanDuel

Rosters lock TONIGHT at 7pm EST/ 12am UTChttps://t.co/ulDzWvEW0t pic.twitter.com/6xwA8zXyc0

— Vault Music (@vaultmusichq) November 17, 2023
Empowering Artists and Fans: The platform not only offers a new revenue stream for artists but also deepens fan involvement. By owning music NFTs, fans directly contribute to their favourite artists' success, with the added thrill of potential financial rewards as artists climb the popularity charts.
NFT and Crypto Market Highlights
Bitcoin NFTs on the Rise: The emergence of Bitcoin NFTs, especially Taproot Wizards, marks a significant milestone. With a substantial $7.5M seed funding, these NFTs are poised to create a new niche within the crypto space.
HOLD ON TO YOUR WIZARD HATS!

Today we are announcing a $7.5M seed round, led by @standardcrypto, to Make Bitcoin Magical Again

We broke the chain, we danced on stage, we took showers

We heard about bitcoin 10 years ago. And WE'RE HERE TO FIX IT

More in the thread below 🧙‍♂️ pic.twitter.com/xoNho6EKhs

— Taproot Wizards (@TaprootWizards) November 16, 2023
Kreatorhood's Trading Incentives: Kreatorhood's new points system aims to boost trading activity, offering a fresh dynamic to the NFT trading landscape.
Market Fluctuations: The crypto market continues to show its volatile nature, with notable movements such as the dip in $BLUR ahead of its anticipated airdrop.
The Digital Art Scene
Art Sales and Notable Auctions: The digital art market is thriving, with significant sales of pieces by renowned artists like van Arman. Collaborative works, such as those by Trevor Jones and Money Alotta, are also making waves.
NFT Trading Insights: Analysis of the NFT market reveals interesting trends, with collections like Pudgy Penguins and Mad Lads standing out in terms of trading volume and market interest.
Web3 and Technological Advancements
MoonRealm Express Accelerator: This initiative by Animoca Brands, Amazon Web Services, and Polygon Labs is set to fuel innovation in the web3 space, promising exciting developments ahead.
Emerging Platforms and Updates: The market is witnessing the launch of new platforms and updates to existing ones, such as Gondi and Delegate Cash, indicating a vibrant and evolving digital landscape.
Upcoming NFT Events
Exciting NFT Drops Ahead: The market is abuzz with anticipation for upcoming NFT drops, including the much-talked-about $BLUR airdrop, which is expected to draw significant attention from collectors and traders alike.
IT'S TIME TO TAKE BLUR TO THE NEXT LEVEL

Monday Nov 20 at 3PM PST, 6PM EST, 12AM CET, 7AM HKG

Make sure announcements come from our official @BLUR_io account and double check all URLs before clicking. pic.twitter.com/RsBFh9vAxV

— Blur (@blur_io) November 17, 2023
Conclusion
The intersection of fantasy gaming, music, and NFTs is creating new opportunities and experiences for artists, fans, and investors. With the continuous evolution of the crypto market and the emergence of innovative platforms and technologies, the digital landscape remains a dynamic and exciting space. Stay tuned to Cryptonaire Weekly for the latest updates and insights in this ever-changing world of crypto and NFTs.