Nottingham, United Kingdom – October 19, 2023: In an electrifying announcement that promises to redefine the boundaries of online gaming, Haven's Compass has declared its strategic partnership with the SKALE Network.
The world of Haven's Compass, meticulously crafted on Unreal Engine 5, is a beacon for innovation and excitement. Its post-apocalyptic environment is teeming with challenges and tales that pull gamers into an unparalleled narrative journey.
This transformative move will enable the "first Web3 FPS game" to provide a seamless and cost-effective experience for its players, thanks to the advantage of "zero gas fees" provided by SKALE.
SKALE, the blockchain network known for its remarkable speed, is likewise excited about this partnership with Haven's Compass. This collaboration will create new opportunities for both blockchain enthusiasts and gamers alike.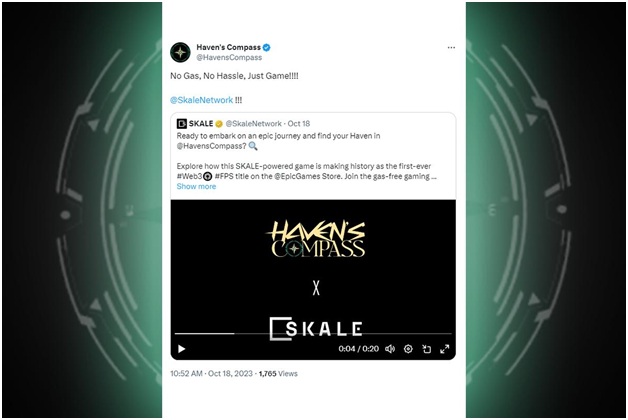 The next chapter for Haven's Compass unfolds with the Open Alpha Part 2 at the end of November 2023. Like the first immensely successful part, this phase promises an enhanced gaming experience and gives players another opportunity to delve deep into this captivating universe.
A key highlight of this new phase is the "full free mint of NFTs while playing the game." This groundbreaking initiative ensures that players are rewarded for their in-game accomplishments, making their gaming journey even more rewarding.
Further, the announcement consisted of the "new skins launch," therefore, players have more options to customise their avatars, while the integration with blockchain offers them rapid and budget-friendly transactions. And now, with the SKALE partnership, players can enjoy these transactions 'without the burden of gas fees,' marking a significant advancement in the Web3 gaming domain.
Let's hear what Haven's Compass says about their announcements, "This partnership with SKALE represents our unwavering commitment to our community. We aim to redefine gaming, not just through impeccable graphics or enthralling stories, but by ensuring a seamless and rewarding experience. Zero gas fees and rewarding NFTs are just the beginning."
Haven's Compass is poised for a stellar future, and the statistics speak for themselves:
Over 20000 downloads in the First Open Alpha on Epic Games.
1500 NFTs sold in just the last month.
Engaged gameplay with over 40000 hours recorded in the previous Open Alpha.
These figures underscore the game's incredible growth trajectory and the community's unwavering faith in its vision.
The upcoming token system in 2024, based on comprehensive feedback, will further empower players, ensuring that they have a substantial say in the game's direction.
With a series of innovations and strategic partnerships, Haven's Compass is shaping the future of Web3 gaming, offering an unparalleled experience that's both immersive and rewarding.
The Haven's Compass team opened the game on the Epic Games Store for more testing and looks forward to the Second Official Open Alpha release by the end of November this year. By doing so, you will also have a chance to receive some exciting rewards.
---
For media inquiries, please contact:
Fares AT
Co-Founder
fares.abutaleb@ghost-ivy.com
About Ghost Ivy:
Ghost Ivy remains a trailblazer in the Web3 gaming arena, seamlessly combining immersive narratives, innovative gameplay, and cutting-edge blockchain technologies. With a mission to connect and elevate the gaming experience for players around the world, Ghost Ivy continuously pushes the envelope to set new industry benchmarks.|
Earnings Disclaimer: The information you'll find in this article is for educational purpose only. We make no promise or guarantee of income or earnings. You have to do some work, use your best judgement and perform due diligence before using the information in this article. Your success is still up to you. Nothing in this article is intended to be professional, legal, financial and/or accounting advice. Always seek competent advice from professionals in these matters. If you break the city or other local laws, we will not be held liable for any damages you incur.