Life without social media? Unthinkable! Especially in the crypto community, which thrives on digital connections and exchanging ideas. Remember the Cypherpunks? Those techno-activists owe their rise to social media platforms, as does the birth of cryptocurrencies and blockchain technology.
It's no wonder that blockchain-based social networks are popping up left and right, ready to reward users with crypto for simply being social butterflies. WUBITS is taking it to the next level, gamifying trading, social networking, and creating a space where traders and crypto enthusiasts can mingle, share ideas, and monetize.
Leaps Ahead: The Demise of Trading Pits and the Emergence of a New Era
Gone are the days of bustling trading pits, where shouting traders and chaotic energy fueled the markets. In one word: pandemonium.
As trading evolved into a digital activity, crypto has given birth to a fresh era of emotions and community, now found on various social media platforms. Twitter and other networks have become hosts to an abundance of sentiment, trading ideas, and passion, reflecting the market's highs and lows.
Yet, this digital age is tainted by the presence of bots, spam, and fake accounts. Creators are left walking on eggshells, cautious of being flagged or banned by big platforms. The evolution from trading pits to the digital era brings new challenges, calling for a solution that maintains the spirit of community while eliminating the pitfalls of current social media platforms.
WUBITS: The Crypto-Social Nexus – Where Web3, Trading, and Networking Collide
WUBITS provides a unique space for users to build meaningful connections with fellow traders and enthusiasts. The platform encourages open dialogue, fostering a sense of camaraderie among its users. Whether it's discussing trading strategies, sharing news about the latest blockchain developments, or celebrating market wins together, WUBITS offers a haven for those who love everything crypto.
No Bots, No Fakes: Just Real People and Quality Engagement
WUBITS was built by crypto fans and traders who recognize the value of genuine interactions among its users. That's why they've implemented measures to ensure that the platform remains free from bots and fake accounts. By prioritizing the user experience, WUBITS has cultivated a community where ideas and insights can be shared freely without the interference of spam and manipulation.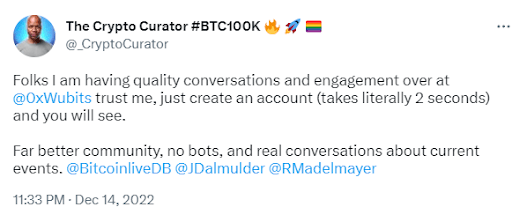 What's more?
A standout feature of WUBITS is the ability for users to earn cryptocurrency as they participate in the platform. They share their best trading strategies, insights, or premium content and watch the digital rewards flow into their crypto wallet. With WUBITS, creators can monetize their knowledge and expertise while helping others on their crypto journey.
New Features That Users Actually Love
WUBITS recently unveiled exciting new features – Trade Ideas and Price Calls – to improve how users interact and share insights on the platform. With Price Calls, users can make precise price predictions on specific assets, comparing their forecasts against actual asset prices by a given date and time. Additionally, they can turn their predictions into premium paid posts.
The "Trade Ideas" feature allows users to share trade setups in a visually structured manner, eliminating the need to type out lengthy explanations. This streamlined approach to sharing insights makes it even easier for WUBITS users to learn and grow together.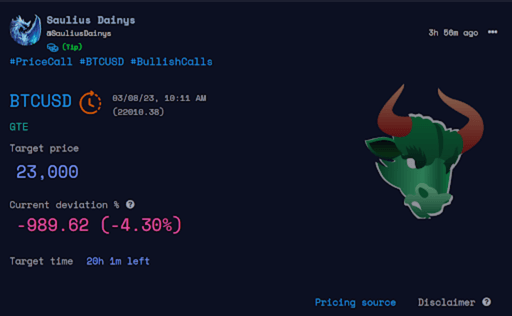 WUBITS is a gift that keeps on giving
WUBITS recently announced its Official Author Program, designed for content creators who love engaging with the community and want to earn crypto rewards for quality contributions.
Members joining the program will enjoy benefits such as increased exposure, featured posts on WUBITS' official social media, and Top Author crypto rewards based on an algorithm and smart contract-driven system.
Whether you're a seasoned trader, a blockchain buff, or just love making new connections, WUBITS and this brave new world of crypto-social networks have got you covered. So bring your best memes and trading tips, and let the good times (and crypto) roll! Try out the WUBITS platform today!
Earnings Disclaimer: The information you'll find in this article is for educational purpose only. We make no promise or guarantee of income or earnings. You have to do some work, use your best judgement and perform due diligence before using the information in this article. Your success is still up to you. Nothing in this article is intended to be professional, legal, financial and/or accounting advice. Always seek competent advice from professionals in these matters. If you break the city or other local laws, we will not be held liable for any damages you incur.