Crypto Copy trading is one of the most commonly used trading techniques in the global trading market. In essence, copy trading is all about learning from your success and ensuring that you do not repeat past mistakes to achieve desired results. However, it can be highly complex for newbies who have little to no idea about the functioning of copy trading systems. Read on to find a comprehensive guide to crypto copy trading.
CRYPTO COPY TRADING DEFINED
Crypto copy trading allows traders to copy trade positions that were opened by an experienced trader or many investors automatically, particularly within the social trading environment. By performing this action, the trader who chooses to copy a trade gets his account linked with the original investor. This ensures that the actions related to the closing or opening of a position get carried out across both.
In most cases, the trader who copies a trade has the option of stopping trades that were copied, as well as manage the same themselves. During this entire process, the original investor whose trade has been copied earns an attractive fee (on a month on a monthly subscription basis) as their compensation.
Many platforms offer crypto copy trading services. They use different logic to facilitate copy trading. Several copy trading portals allow traders/investors to place a stop-loss order on the entire copy trading relationship, which allows them to exercise complete control over their risks. Although crypto copy trading can be highly confusing for beginners, it is only ideal that they choose it to gain extensive insight into the world of trading.
HISTORY OF COPY TRADING
As far as copy trading is concerned, it first began in 2005 when crypto traders started copying specific algorithms that were developed via auto trading. Thus, it was mirror trading that gave birth to copy trading. Developers started sharing their historical data for trading, which allowed other traders to copy the strategies. This led to the formation of a new social trading network. Eventually, all traders started copying trades within their accounts, thereby copying another investor instead of creating their strategy.
HOW COPY TRADING WORKS?
As already mentioned above, copy trading makes auto trading easy. In order to get started, traders need to follow the steps mentioned below: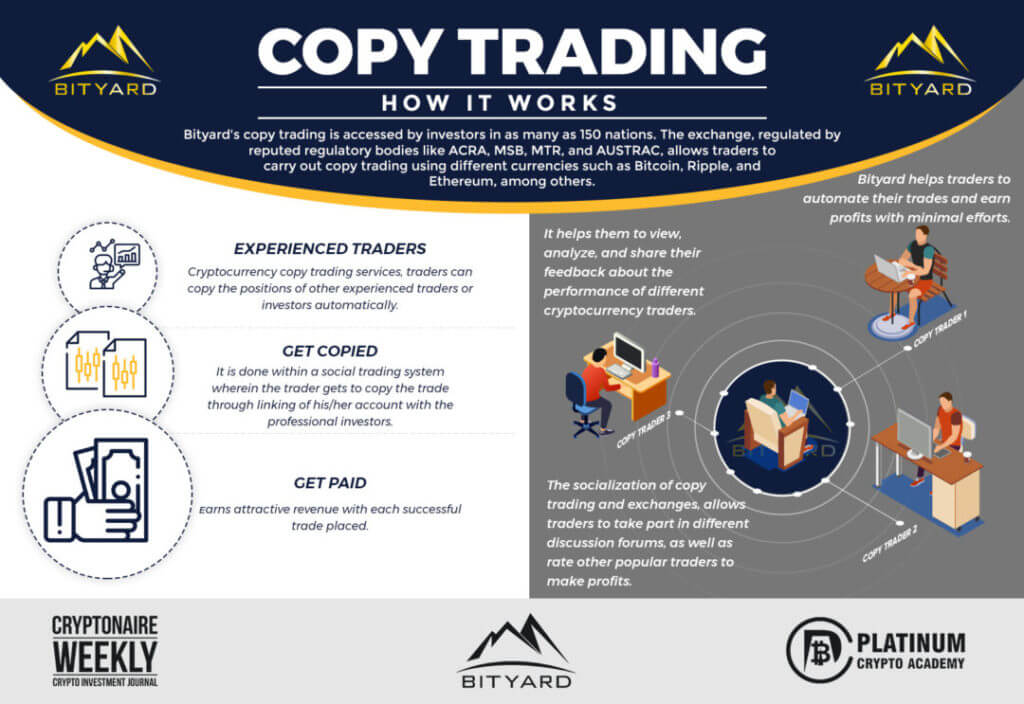 Pick a Trader: The first step to copy trading is to choose a crypto trader who has similar trading goals. This can be done by using multiple tools offered by the trading platform. Once you use the tools, the platform will provide you with all the traders available. Typically, you should look for a trader with many followers and the total funds they are managing or their ROI. Also, check the profitability and risk level of the trader before finalizing one. Remember, it is only ideal that you choose a trader who meets your specific criteria.
Choose Your Investment: Next, you need to choose the investment amount, as well as how you plan to share it with different managers. Make sure you remain balanced and never invest all your money in one trader's account. Thus, you must choose the amount you will allocate into each trader's account if you plan to copy the trades of many traders. After you have done that, the trading platform shall automatically replicate the trades of all the chosen traders' positions with your personal trading account.
Add funds: If you like the way a trader is placing his/her trade, then you can add additional funds to their account. Alternatively, you can reduce the number of funds you may be investing in a trader's account to keep your trading portfolio more diversified. Also, if required, you can easily replace one or more existing traders at any point in time. However, bear in mind that you will have to keep a separate investment account for every trader you choose to follow.
Remember, there is no specialized fee for using copy trading functionality, aside from the payments you make to your strategy manager, as and when they incur a profit. Additionally, any brokerage fee that applies to normal trades will also be applicable to copy trades.
BENEFITS OF COPY TRADING
With copy trading, crypto traders enjoy a host of benefits. In fact, it is the benefits of crypto copy trading that have contributed to its tremendous popularity. It is important to understand that the ultimate goal of copy trading is to find crypto traders who have a soundtrack record, in addition to an efficient trading style which you would like to emulate.
BELOW, ARE SOME OF THE ADVANTAGES OF CRYPTO COPY TRADING :
Accessibility: With crypto copy trading, traders get a reachable and interesting route into the world of trading. Also, major advances made in the field of social trading, as well as multiple crypto social trading systems, implies that copy trading has now become easily and freely accessible.
Enhance Your Trading Knowledge and Skills: Crypto copy trading enables traders to follow all the trading styles, activities, and strategies of the experienced traders. Many of them have in-depth knowledge and experience in the field of crypto trading. As a result, you begin to learn by watching the professional and advanced traders in action, and through replication of their successful strategies. Additionally, you also learn to create your own strategy for crypto trading.
Diversify: With multiple trading strategies available, traders get to allocate their investment portfolio to many providers across multiple assets. Thus, by spreading the risks, traders can offset their losses if a particular trader does not perform well. Also, traders can make profits in different market environments.
Free Time: One of the major benefits of crypto copy trading is that it leaves you with plenty of free time for day trading as traders get to choose another professional trader for monitoring and placing their trades. Also, you can easily spend much of your time devoted to your hobbies.
HOW DOES BITYARD'S COPY TRADE SYSTEM WORK?
As far as Bityard is concerned, it is a cryptocurrency trading exchange that caters to customers across 150 nations with simple, fast, and safe crypto trading services. The platform has been duly recognized by reputed organizations, including MSB, ACRA, AUSTRAC, and MTR. The platform allows traders to trade a wide range of cryptocurrencies, including Ethereum, Bitcoin, and Ripple among others.
During its initial phase, Bityard emphasized cryptocurrency contract trading. However, when Decentralized Finance (Defi) became extremely popular, and when many currencies started appearing, cryptocurrency spot trading gained much prominence.
But Bityard also believes in simplifying crypto trading for all its users. It offers a copy trading system to create a platform that offers an ideal combination of the complex contract yet simple trading. Through its highly innovative crypto copy trading services, Bityard offers a safe, transparent, and simple trading platform to facilitate traders with no crypto trading knowledge and experience.
Using Bityard's crypto copy trading functionality, traders can conveniently copy other experienced investors, and in turn, those advanced traders will acquire extra revenue from every successful trade that they copy. Thus, Bityard crypto copy trading function creates an innovative, interactive as well as mutually beneficial system between the copiers and crypto traders whose trades are copied.
With Bityard's crypto copy trading system, users can search for professional traders as well as copy their trading strategies. When copying these other traders, users are not required to close or open their positions manually.
Earlier, copy trading mostly happened in the form of online investment and crypto-based communities. However, that is also how many crypto scams took place. While some traders have been faking their crypto trading histories as well as records to encourage other investors to follow their strategies, others try to gain many followers in order to manipulate the cryptocurrency market. But in the Bityard crypto copy trading system, all traders are required to submit the trading history information. Also, this data is first viewed by the Bityard platform before crypto traders are listed as well as copied by other traders. Thus, Bityard ensures that all traders within the network are highly qualified and experienced for other traders to follow them and their strategies.
CONCLUSION
To sum up, the crypto copy trading service is ideal for beginner traders who do not have much knowledge about crypto trading. It allows novice traders to pick positions opened by others (more experienced traders). Copy-trading also lets inexperienced crypto traders mitigate their trading risks as well as boost profits in the process. While many platforms claim to offer outstanding crypto copy trading services, Bityard is undoubtedly the best one. It provides crypto traders with a smooth, easy to use and feature-rich crypto copy trading platform for diversifying their portfolio and earning attractive profits.
So, if you intend to earn high profits through crypto copy trading, then make sure you choose the Bityard platform as it provides you with access to numerous successful crypto traders. Also, make sure that you practice copy trading manually to ensure that the returns are highly profitable or as much as they had expected.
Hopefully, you have enjoyed today's article. Thanks for reading! Have a fantastic day! Live from the Platinum Crypto Trading Floor. 
Earnings Disclaimer: The information you'll find in this article is for educational purpose only. We make no promise or guarantee of income or earnings. You have to do some work, use your best judgement and perform due diligence before using the information in this article. Your success is still up to you. Nothing in this article is intended to be professional, legal, financial and/or accounting advice. Always seek competent advice from professionals in these matters. If you break the city or other local laws, we will not be held liable for any damages you incur.