The sale and purchase of precious and base metals have a long history. Metals have been the primary means of value storage throughout human history. As the concept of value storage evolved from barter to paper currency, consequently over the years, the market for bullion and other precious and base metals also advanced. Because of the limited supply, scarcity consistently drives the value of precious metals northwards.
The cardinal rule of precious metals investing is that, in the long run, you'll always be adding value to your capital. That said, the challenge is how to leverage your capital to gain maximum with precious and base metals trading. And that's where strategy and innovative disruptions can be pivotal.
Asia Broadband, Inc. (OTC: AABB) is redefining the conventional approach to precious metal trading by creating a brand-newgold-backed cryptocurrency that has all that's needed to be a game-changer in the multi-billion-dollar market. Leveraging the robust Ethereum network, AABB Gold is poised to become a standard currency of bullion and base metals trading. The newly-minted tokens solve the most pertinent concerns of cryptocurrency investors by providing them with the ultimate crypto alternative that is increasingly immune to market volatility.
A BRIEF OVERVIEW OF ASIA BROADBAND, INC.
AABB is a US-based "resource company" that deals in the supply and sale of base metals to Asian markets. Led by a team that has years of experience in the sale and purchase of base metals, the company's innovative distribution processes ensure a seamless supply of precious metals mined in Mexico to their clients in Asia. What Asia Broadband calls a vertical approach is their strength, which makes them stand out, putting them ahead of their competitors.
WHAT ARE PRECIOUS AND BASE METALS?
All metals are scarce. However, depending on how scarce they are, the metals have been readily classified into two popular groups: Precious and Base metals. Those metals that are a rare find and expensive to mine are considered to be precious metals. Gold, Silver and Platinum are typical examples. Historically, several precious metals have been used as currencies. However, contemporarily, they are more of an investment option and a means of value storage.
On the other hand, base metals or low-grade metals are metals, but not as scarce as precious metals. Zinc, Copper, Iron and Nickel would be typical examples of base metals. When compared with precious metals, base metals are inexpensive. Nevertheless, the production, supply, and sale of base metals are high. They are also traded extensively. In recent years, base metals trading is increasingly becoming a profitable investment choice for investors globally.
IS IT A GOOD IDEA TO INVEST IN PRECIOUS METALS?
Investing in precious metals is a great idea for many different reasons. Throughout human history, precious metals have been the primary source of value storage. For over 2,000 years of recorded history, precious metals have served as a medium of exchange across cultures and geographies. It's only recently that the use of precious metals has been actively replaced by paper currencies as a medium of exchange. Regardless, the charm of precious metals is intact; they are still the most preferred means of value storage. Moreover, precious metals investing is both profitable and one of the most secure ways to add to your capital.
Amongst other precious metals, gold is still the most preferred. It is the top investment choice of investors. Trading data of 2019 reveals that gold had the third-highest average daily trading volume, after US treasuries and S&P 500 stocks. Because the supply of precious metals is limited, their prices are always increasing. The only question is by how much? All of it translates to guaranteed profits on investments. Another benefit of investing in precious metals is they are a strong hedge against inflation.
Coming to the question of profitability, gold has historically outperformed Dow Jones Industrial Average (DJIA). Data for the period between 2005 and 2020, comparing gold prices and DJIA, show that while gold prices jumped by over 330%, during the same period, the DJIA increased by only 153%. It means that an investment in gold in 2005 would have been twice as profitable as investing in DJIA for the same period.
Furthermore, if we are to talk about investment-grade corporate bonds, we see that historically,gold and other precious metals outperform them by a long shot. The average annual rate of return on bonds from 1920 until 2020 has only been 5%. Putting it into perspective, we see that a 5% effective annual rate of return means a 330% return in the past 30 years, which is still below what gold has given back to investors. Also, if we are to compare the return on Bonds versus returns on gold, we see that gold has outperformed corporate bonds.
It should be noted that it is not gold alone, but other precious metals like silver and platinum share a similar history of success. In 2019, silver gave a 15.36% effective rate of return. Analysts forecast silver prices to rise by over 234% in the next 10 years. Data sourced from markets that facilitate the purchase and sale of base metals also demonstrate a similar trend.
While profitability is one of the reasons, the security that comes with precious metal investing is unparalleled. It is a minimum risk investment. If you have a negligible appetite for risk and believe that slow and steady win the race, you must consider investing in precious metals.
HOW DOES ASIA BROADBAND SUPPLY PRECIOUS METALS?
Asia Broadband has its production and supply centres in Mexico. The company leverages its network and connects suppliers with buyers in Asian markets. The company focuses on ethical mining. It is also very committed to a greener and scalable means to procure precious metals. Deploying environmentally-friendly procedures in their mining activities, Asia Broadband supplies clean metals that have the minimum carbon footprint.
Also, the company takes added steps to make sure their goldmines are free from any unethical or child labour. When supplying precious metals in the Asian markets, Asia Broadband regards all regulatory compliances. It also respects the interests of its shareholders and other stakeholders such as workers and contractors. The company is diligently committed to protecting the interest of the local communities, and says it will "continue to improve operations, programs and contributions to provide a net social and economic benefit to all communities impacted by our business."
WHAT BENEFITS DOES ASIA BROADBAND PROVIDE TO ITS INVESTORS?
Asia Broadband provides a host of opportunities to its investors. It brings to them a unique way to invest in precious and base metals. The company, through its innovative disruptions, makes it seamless for investors of all shapes and sizes to get into base metal trading and start their precious metals investing journey. Asia Broadband's key focus is on protecting the interest of their investors through equitable sharing of profits.
Earlier in the year, Asia Broadband launched a new project, intending to create a disruptive solution that would make investing in cryptocurrency and precious metals accessible to both retail and institutional investors. With its new AABBG cryptocurrency, which is a pioneer token backed by gold, Asia Broadband provides investors with an opportunity to trade in precious metals like never before.
ASIA BROADBAND'S GOLD-BACKED CRYPTO TOKEN EXPLAINED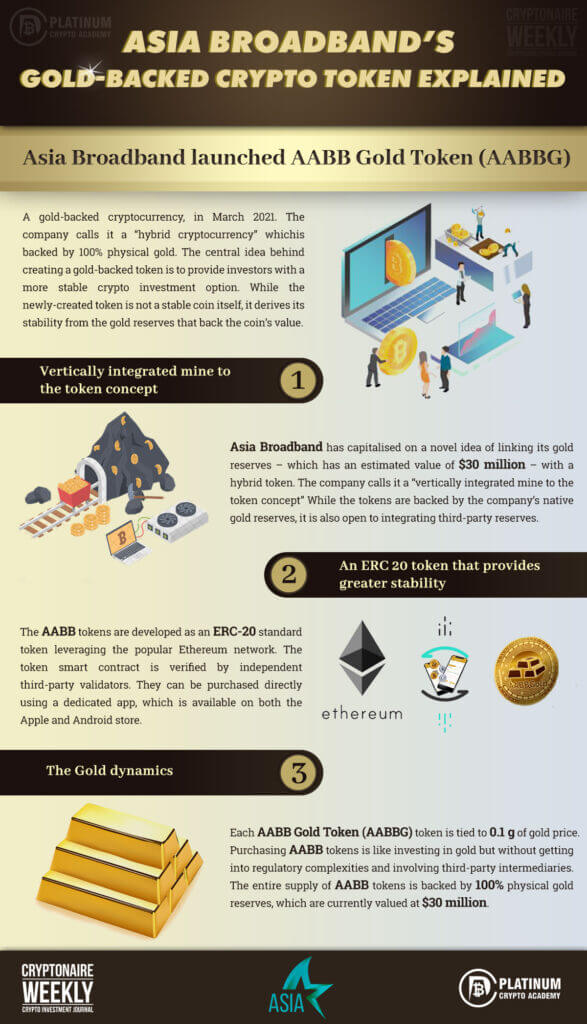 Adding a new dimension to how gold is traded, Asia Broadband launched AABB Gold Token (AABBG), a gold-backed cryptocurrency, in March 2021. The company calls it a "hybrid cryptocurrency",which is backed by 100% physical gold. The central idea behind creating a gold-backed token is to provide investors with a more stable crypto investment option. While the newly-created token is not a stable coin itself, it derives its stability from the gold reserves that back the coin's value.
– Vertically integrated mine to the token concept
Asia Broadband has capitalised on a novel idea of linking its gold reserves – which has an estimated value of $30 million – with a hybrid token. The company calls it a "vertically integrated mine to the token concept". While the tokens are backed by the company's native gold reserves, it is also open to integrating third-party reserves.
– An ERC 20 token that provides greater stability
One of the key concerns of cryptocurrency investors is the extreme market volatility. Recent research shows that even for the top 30 tokens by market cap, a price fluctuation of up to 50% is a normal occurrence. However, for retail and individual investors, it is particularly risky.
The AABB Gold Token (AABBG), is designed as a solution where users can gain as the price of gold increases in the international market. Most importantly, because the tokens are fully backed by physical gold reserves, they are highly stable and easily transferable.
The AABB tokens are developed as an ERC-20 standard token leveraging the popular Ethereum network. The token smart contract is verified by independent third-party validators. They can be purchased directly using a dedicated app, which is available on both the Apple and Android store.
– The Gold dynamics
Each AABB Gold Token (AABBG) token is tied to 0.1 g of gold price. Purchasing AABB tokens is like investing in gold but without getting into regulatory complexities and involving third-party intermediaries. The entire supply of AABB tokens is backed by 100% physical gold reserves, which are currently valued at $30 million.
Apart from being a fairly stable crypto asset, AABBG tokens can also be your gateway to start benefiting from rising gold prices.
CATCHING THE PULSE
The AABBG token catches the pulse of the investors. It provides them with an investment option that has real value and exemplary growth potential. No wonder that over 1 million tokens were sold just within two weeks of the launch. With a total supply of just 5.4 million tokens, AABB has already sold a significant part of its reserve.
New cryptocurrencies are dime a dozen. Over 90% of them offer no real value to investors. Fred Ehrsam, the co-founder of Coinbase, the world's biggest cryptocurrency exchange, recently took a dig at the mushrooming cryptos, and NFTs and said that in the next 3-5 years, over 90% of them will have no value. It should be a stark reminder of what's ahead.
– Proprietary exchange scheduled to launch in September
To provide a seamless purchase and sale of AABBG tokens, along with other top cryptocurrencies like Bitcoin, Litecoin, and Ethereum, Asia Broadband is also gearing up to launch a proprietary cryptocurrency exchange in September. The company says their investors can benefit from the price rise of the tokens, which will progressively increase in value as the revenue from transactions on the proposed proprietary exchange starts coming in.
CONCLUSION
Asia Broadband brings years of experience and expertise in the sale and supply of precious metals to the world of cryptocurrencies. The AABBG tokens connect the best of both worlds, creating a win-win for investors. It provides them with a unique opportunity to invest in a crypto asset that's highly stable and whose value increases in perpetuity with an increase in international gold prices.
Moreover, by backing the AABBG tokens with a physical gold reserve, Asia Broadband provides users with a cryptocurrency that is secure against market volatility and price manipulations. The company's existing network in the Asian markets and a robust supply chain fed by extensive mining infrastructure back in Mexico ensure that their physical gold reserve will only increase in the future.
The market price of precious metals is expected to grow exponentially. It wouldn't be surprising if we see gold prices doubling in the next couple of years. Moreover, both conventional and typical cryptocurrencies are defenceless against inflation and market volatility. The gold-backed AABBG tokens are highly immune to market volatility. If you imagine a perfect investment opportunity in the crypto world with minimum risk and sustained profits that cater to both individual and retail investors, and even institutional players, AABB should be somewhere on the top of the list.
If you want to know more about the gold-backed, highly stable AABB tokens, please visit their website here: https://aabbgoldtoken.com/aabb-gold-token/.
Hopefully, you have enjoyed today's article. Thanks for reading! Have a fantastic day! Live from the Platinum Crypto Trading Floor.
TOP 10 UK CRYPTOCURRENCY BLOGS, WEBSITES & INFLUENCERS IN 2021
Earnings Disclaimer: The information you'll find in this article is for educational purpose only. We make no promise or guarantee of income or earnings. You have to do some work, use your best judgement and perform due diligence before using the information in this article. Your success is still up to you. Nothing in this article is intended to be professional, legal, financial and/or accounting advice. Always seek competent advice from professionals in these matters. If you break the city or other local laws, we will not be held liable for any damages you incur.