Atani is a crypto trading terminal for cryptocurrency investing born in 2019 between London, Madrid, and Barcelona. It's a trading platform invented to solve some of the major inconveniences faced by serious cryptocurrency traders. These problems include executing trades using multiple exchange terminals and applications, also having to invest a lot of money in different types of trading tools. Before diving deeper into what Atani is all about, it's good to start from the beginning of what made it come to be: the problem.
TRADING CRYPTOCURRENCY CAN BE A DIFFICULT WITHOUT A PROPER CRYPTO TRADING TERMINAL
The lack of appropriate and proper tools when trading can be a massive hurdle for any cryptocurrency trader to handle. It can lead to spending more money than you get from trading. Instead of making profits, you're continuously making losses and more losses rather than gains or profits.
This can lead to bankruptcy, stress, or even having some suicidal thoughts if all goes against you in some rare cases.
Proper cryptocurrency investing tools can help a lot in getting real-time market prices of commodities, manage your risks, make proper orders, and you can even make tons of profits compared to losses.
With Atani, you have your back covered since it unifies everything into one crypto trading terminal. It has over 9,000 cryptocurrency trading pairs across over twenty leading crypto exchanges. You'll delve into this a little later on in this article; for now, check out what a cryptocurrency trading terminal should include.
WHAT SHOULD A CRYPTO TRADING TERMINAL INCLUDE?
For you to know you've chosen the right crypto trading terminal for your cryptocurrency investing, these are the things to look for to feel rest assured you've chosen the right platform.
Responsiveness- Many cryptocurrency traders never pay attention to one of the most crucial aspects in crypto trading, and that's the slippage. For instance, when a crypto trader places a stop-order and the crypto asset experiences high volatility, the result is a gap that could lead to a worse value of what was to be executed.
Because of these orders with high volatility, such orders are hard to execute at the intended price though they will be executed at the next possible price. There will always be unnoticed differences in the prices of the traded crypto.
Trading with a terminal offering responsiveness will not only allow you to stop-order where appropriate but also take-profit order and you can benefit dramatically from this.
Reliability- Subject to what individuals' hardware and software types, a crypto trader may prefer a desktop app or a web-based app. Perceiving what type of terminal fits you best is perilous for cryptocurrency investing.
Something worth noting is that a crypto trader should ensure that the crypto trading terminal they use doesn't freeze or crash frequently, especially during hot global economic events when crypto traders require stability.
User- friendly interface and User-friendly experience- the term user-friendly here in crypto trading terminal implies ease of placing an order or closing a trade at an instant. One-click crypto trading and management of the stop-loss orders, limit orders, and the other types of orders are benefits a cryptocurrency trader may take into account or look for in a crypto trading terminal.
Furthermore, it helps for the full navigation of the crypto trading terminal, making it more user-friendly. If the trading terminal provides supplementary charts and tools, they should be justly easy to access and enhanced for the quick opening of multiple graphs simultaneously.
This point is an important one for aggressive cryptocurrency traders who depend more on the trading terminal than a moderate trader.
Analysis Tools- the key to educating yourself on how operative your crypto trading system is and how to modify it is being able to study your cryptocurrency trades after running their course. It would be hard to earn massive profits consistently without using the analysis tools.
You'll practically be cryptocurrency investing in the dark if you don't use any crypto trading analysis tools.
Automatic trading- Some crypto trading terminals provide algorithms that can be used to give recommendations regarding the crypto investments to make as well as permitting you to key in your algorithms that will automatically place orders. The placement of these orders only takes place when certain preloaded or predefined conditions are met.
You should double-check these algorithms, but once you see their potential to lead to profits, begin allowing the software to make your crypto investments automated and at the amount you outline.
Security of Data- this last point is the most important one. You require to prevent and safeguard your data from getting into the wrong hands. As a crypto trader, you don't want your data compromised by anyone. The trading terminal you choose should provide security for all of your information (including all your trading data).
The trading terminal you select to make your crypto trades should be as secure as possible. You must check the kind of data encryption the trading terminal of your choice uses, and this gives you some understanding of how well your information will be protected as it goes through the web or the internet.
Known and trustworthy trading terminals use firewalls both on their servers and their level of applications. Further, they hire the use of TWO separate synced servers onto which trading information and the trader's data are stored. This allows any lost data from any of the servers to be recovered from the other.
Now that you've known all that's required to spot in a crypto trading terminal before cryptocurrency investing, as earlier stated, it's time to delve into the Atani cryptocurrency trading terminal.
THE ATANI CRYPTO TRADING TERMINAL
As you earlier read, the goal of inventing the Atani trading terminal was to solve the problems faced by most cryptocurrency traders. And that's the inconveniences of executing crypto trades through multiple exchanges, investing time and hard-earned money in multiple trading tools that even don't benefit traders as expected.
Atani comes in the form of a desktop application, and with it comes a range of features with a target of making asset management and cryptocurrency trading more effective.
WHAT ATANI IS
It's a cryptocurrency trading platform with lots of beneficial features created to assist crypto traders to invest in cryptos, manage their portfolios, and manage their tax accounting and reporting by using a unified terminal.
This terminal provides its users with a relatively easy-to-use interface that you can use to effect trades on all of your exchange assets. Atani is also designed in a way that you can always receive real-time data on tax liability and manage your cryptocurrency stashes at the group level.
Atani has built a good name for itself since it is known to be one of the most promising blockchain start-ups in Europe. The firm has earned itself a promotion on TechCrunch, and it made it to the finals round at the Mobile World Congress in 2020. Its success has brought Atani to the map, making it known as a promising investment option in Venture Capital circles.
FEATURES YOU GET FROM USING ATANI
As you already earlier, Atani seems to have solved the problem faced by crypto traders, trading on multiple platforms, by providing a single unified solution (the terminal) where you can conduct all your trades without having to worry about leaving the platform. It offers unique features that make this possible. So without wasting more time, it's time to look at each of them one by one.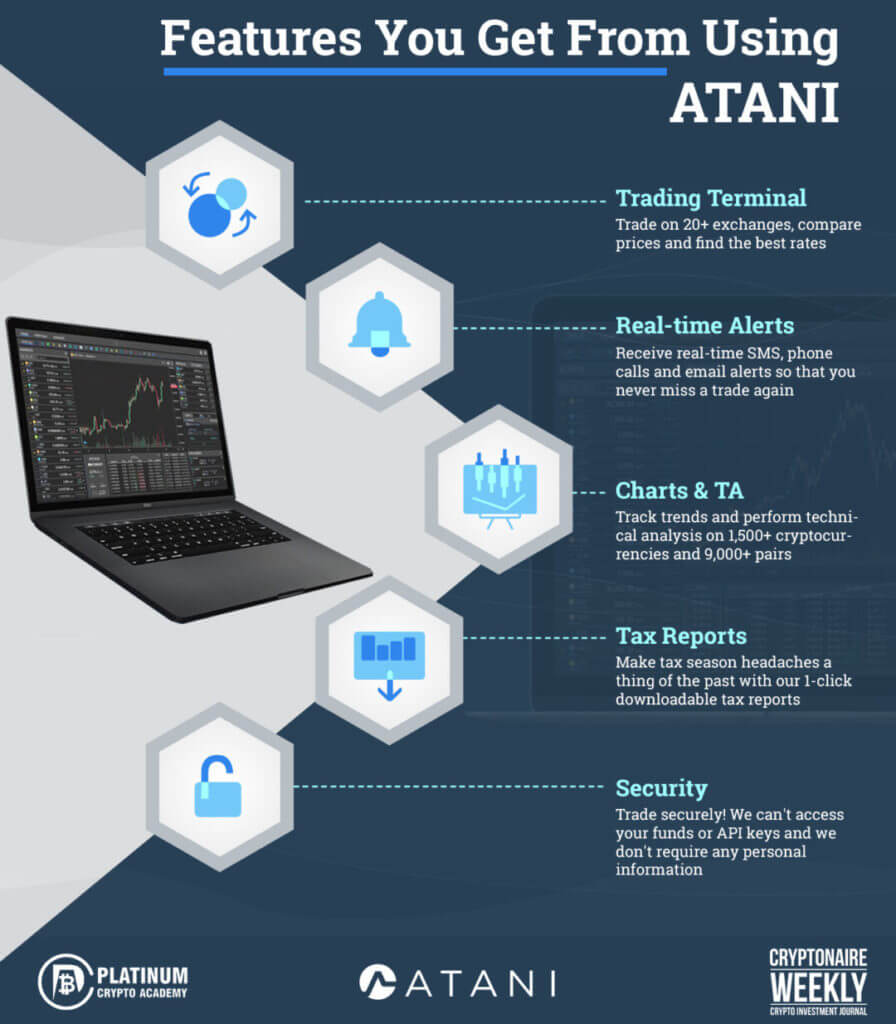 1.IT HAS 9,000 CRYPTOCURRENCY PAIRS ACROSS OVER 20 LEADING EXCHANGE TERMINALS
Atani, as of March 2021, supports trading for more than fifteen hundred cryptocurrencies and nine thousand trading pairs over more than twenty exchange terminals. The well-known exchange terminals currently integrated with its app are OKEx, Binance, Huobi, Bitfinex, Kraken, and Coinbase.
What this means is if you're currently using a combination of any of these exchange terminals, you are now able to trade on all of them using the Atani terminal.
2.REAL-TIME PORTFOLIO ALERTS
The Atani application can also be used to set price alerts for the aforementioned crypto pairs across the different supported exchange terminals. Your portfolio value is available in more than forty currencies. Instant price alerts can be sent to you through emails (up to 1,000), SMS (200 messages), and phone calls (30 calls). All these are allowed per month.
3.CHARTS AND ANALYTICS
The Atani trading terminal has included some of the handiest TradingView implements into the application. A crypto trader can simply distinguish chart types, other metrics, and technical indicators for profound understandings of your portfolio. Atani currently supports more than eighty technical indicators, seven types of charts, and more than fifty charting tools.
4.AUDITED TAX REPORTS
Atani trading terminal can automatically produce tax reports. Currently, it provides tax reports attuned with tax regimes in thirty countries across Europe, Asia, and America.
5.PRIVACY AND SECURITY
Atani allows you and only you to have full access and control over your APIs. In terms of privacy, a KYC or any other document isn't required when registering with the terminal.
ATANI CRYPTO TRADING TERMINAL – CONCLUSION
If indeed you are serious about cryptocurrency investing, then Atani is the best crypto trading terminal for you since its features allow you to trade on multiple exchanges in one platform.
Hopefully, you have enjoyed today's article. Thanks for reading! Have a fantastic day! Live from the Platinum Crypto Trading Floor. 
TOP 10 UK CRYPTOCURRENCY BLOGS, WEBSITES & INFLUENCERS IN 2021 
Earnings Disclaimer: The information you'll find in this article is for educational purpose only. We make no promise or guarantee of income or earnings. You have to do some work, use your best judgement and perform due diligence before using the information in this article. Your success is still up to you. Nothing in this article is intended to be professional, legal, financial and/or accounting advice. Always seek competent advice from professionals in these matters. If you break the city or other local laws, we will not be held liable for any damages you incur.FacebookTwitterEmailLinkedInShare