According to some of the world's prominent financial experts, AuBit Freeway could be the world's next big investing and trading platform. If you're an investor, you'll want to know how the AuBit Freeway platform grows your assets on every trade thanks to their revenue redistribution model called AuBitisation. In traditional finance, when you invest in stocks, bonds, gold, or crypto, you win or lose based on the change in the value of the asset. The gold or Tesla stock you buy either goes up or down in price. With AuBit, however, you earn more gold and more Tesla from ongoing revenue redistributions paid to you in those assets.
In this article, you'll discover how joining the AuBit Freeway platform to enjoy your share of revenue redistribution in the form of your underlying assets is the key to better investment returns.
THE AUBIT DIGITAL ASSET MANAGEMENT PLATFORM
Blockchain for digital asset management has been touted as the future by every expert in the financial industry. Digital asset management, in essence, offers many advantages, such as the removal of high-cost intermediaries and complex manual processes. This reduces business overheads, allowing digital asset management projects to deliver more value to investors. Nowhere is that value greater than with the AuBit Freeway platform.
The spread of blockchain-enabled investing & trading platforms has allowed investors from all walks of life to take part in the financial markets with enhanced execution speed, as well as reduced fees. Since then, asset management platforms such as AuBit have popularised investing further with a range of digital asset classes and tools accessible to traders, allowing them to benefit from online investing with greater total returns at no additional risk.
HOW THE AUBIT FREEWAY PLATFORM DIFFERS FROM TRADITIONAL ASSET MANAGEMENT PLATFORMS
In traditional asset management, only the value of your assets vary — the price of your crypto assets, stocks, bonds, or gold may rise or fall. The volume of assets in your account, however, remains unchanged.
With the Freeway platform, AuBit turns the traditional model on its head by giving you more of the assets you own through ongoing trading revenue redistributions. Specifically, AuBit takes 80% of all fees and product-related revenues and returns them to users in the form of the underlying assets in which they're invested.
For example, if you buy bitcoin on the Freeway platform, the bitcoin in your account grows every time anyone, anywhere in the world buys bitcoin with Freeway. You can begin with 0.01% of a bitcoin and, without ever adding a penny, hypothetically, earn 0.02, or 0.03 bitcoin over time.
So no matter what happens to the price of bitcoin, you minimise your risk and maximise your rewards by holding more of it. Unlike any other investment platform in the world, with AuBit, you get both value growth AND volume growth.
GREATER REWARD WITHOUT GREATER RISK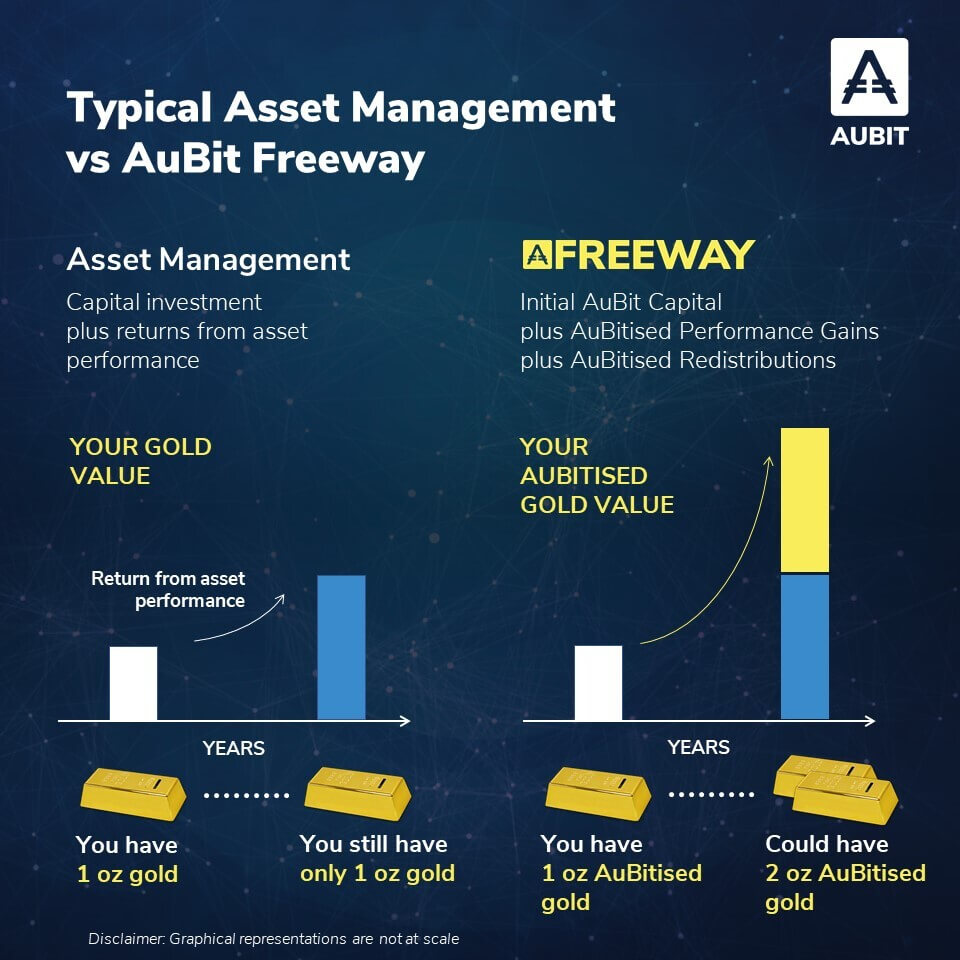 AuBit has successfully managed to bridge the traditional financial world with Defi technologies and digital finance. For many years now, investors were paying a huge amount of fees each year. For example, after the payment of a 2% management fee for over forty years, investors ended up losing 52 percent of their returns over time (on an average).
Hence, they were bearing every risk of the fund managers and left with only half the reward amount in the end. Also, this reward was achievable only if their fund manager was able to keep at par with the market.
While the traditional asset management model offered varied asset prices and the volume of assets in a trader's account remained the same, things were completely different in the case of AuBit. With AuBit, the volume of assets grows on every trade independently of asset price performance.
Whether the price of bitcoin goes up or down, with AuBit, you'll always own more bitcoin from revenue redistributions — increasing your upside potential with no increase to your downside risk.
HOW AUBIT MAKES REVENUE REDISTRIBUTION
POSSIBLE IN FINANCE FOR THE FIRST TIME
It is the combination of AuBit's team and technology that makes their revolutionary new asset management model possible. With its world class execution team that includes executives that have worked at some of the largest financial and technology companies in the world including Goldman Sachs, Fidelity, HSBC, Credit Suisse, Morgan Stanley, IBM, Google and The Prudential, AuBit leverages the awesome power of network effects in finance for the benefit of all investors for the first time in history.
According to NFX, network effects are responsible for 70% of the value of big tech firms like Facebook, Apple, and Google. AuBit has combined the use of network effects with blockchain technology to simplify things for both investors and traders. As a result, when one opts for the AuBit digital asset management platform, their assets grow after every trade. When an investor chooses an AuBit product, every time a person purchases or trades that product anywhere, their holdings grow.
Based on this idea and this team, within just weeks of public launch, as published in Bloomberg, Nasdaq, and Yahoo Finance, Canadian merchant bank Greenabank purchased 400m of AuBit's Freeway Tokens — the native utility token designed to fuel the growth of the AuBit network.
Commenting on the transaction, David Lonsdale CEO of GreenBank said "Here at Greenbank, one of our declared objectives is to invest in and work with companies that can scale globally and have a valuation potential of at least $1bn. We believe AuBit fits those criteria very well indeed".
It's for this reason, plus their revenue redistribution model that is unique in the world of finance that we believe that AuBit Freeway is the next billion-dollar trading platform that both crypto and traditional traders will love.
AuBit Freeway is the only platform in the world to do this.
While a couple of years ago, asset management was restricted to those who were affluent or cash-rich. But, AuBit has changed that concept to a large extent.
HOLDING FREEWAY TOKENS (FWT) GIVES FREEWAY USERS PREFERENTIAL AUBIT REDISTRIBUTIONS & DISCOUNTED FEES
The Freeway Token has incredible utility within the Freeway ecosystem. The more FWT an investor owns, the greater their share of preferential revenue redistributions — meaning they get extra returns from the volume of assets in their account simply for owning FWT.
Investors also receive as much as half-price buy-in fees on most products when paying in FWT. And, perhaps most exciting of all for the more than 100,000 members on the Freeway waiting list is the simulated access to the AuBit Virtual Hedge Fund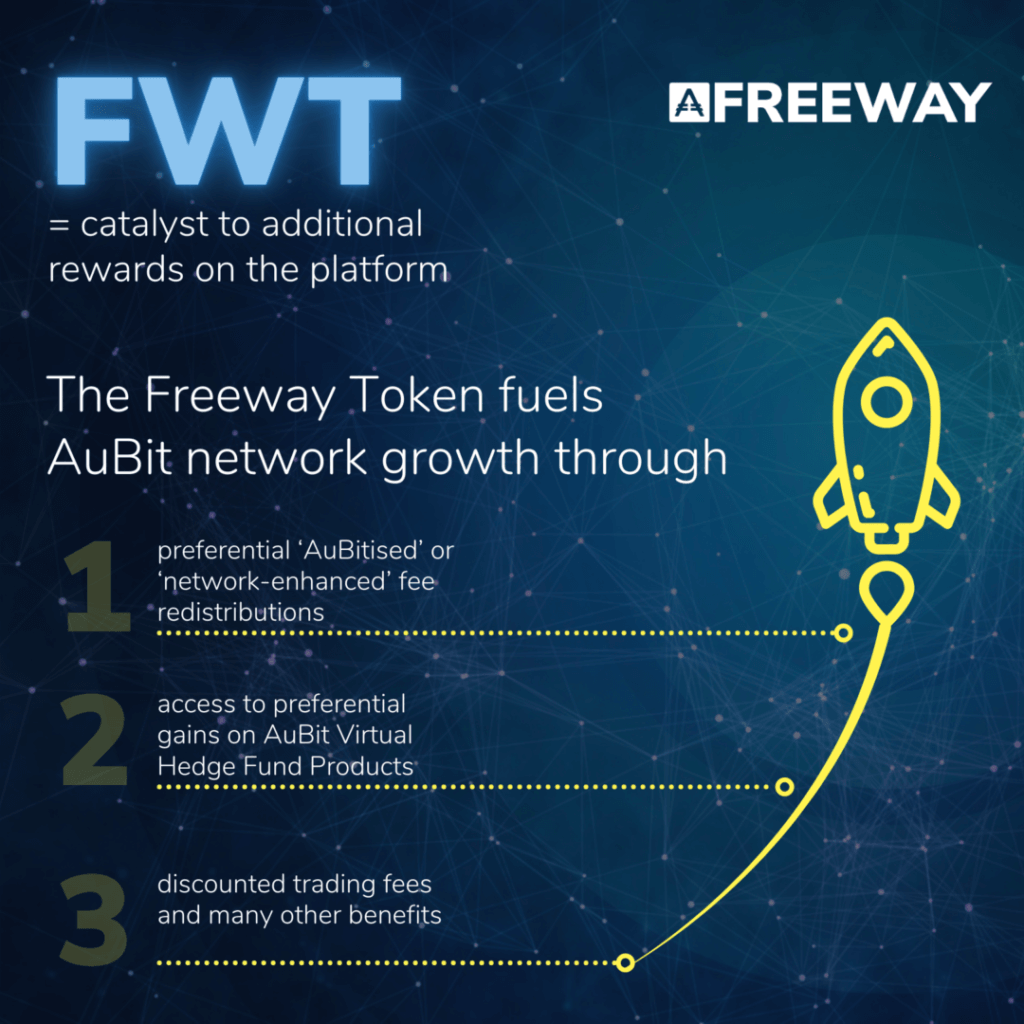 1.Holding FWT gives Freeway users preferential AuBit Redistributions: What makes the freeway trading platform better is higher returns with zero added risk via redistributions. This means when you hold and own FWT within your Freeway trading account, you can supercharge your redistribution share. Hence you get higher investment returns from the asset owned by you from every single trade that anyone makes in any part of the world.
2.FWT Needed for Accessing Preferential Gains from the AuBit Virtual Hedge Fund: The tokens investors own simulate the hedge fund performance and provide AuBitised revenue redistributions on top. Within just 3 days of private launch, the AuBit Virtual Hedge Fund received access requests of more than $25m ofrom both institutional investors and retail investors on the waiting list.
To access the tokenised simulation of the hedge fund, investors match the value of their AuBit Hedge Fund products with at least 25% of the value in FWT, adding to the Freeway token's utility value on the platform as an inevitable rush for access occurs upon launch. For full returns, they'll match the value 1 for 1, meaning as more people access the fund, the greater the demand for FWT.
3.FWT Provides Users With discounted trading fees: On most Freeway products, users pay a small, single one-off buy-in fee. There are no ongoing or annual fees on many of its products. FWT will have future utility in letting users reduce the fees they pay by choosing to pay in FWT instead of fiat currencies.
INDEPENDENTLY-VERIFIED, SIMULATED RETURNS PROJECT 75% ADDITIONAL RETURNS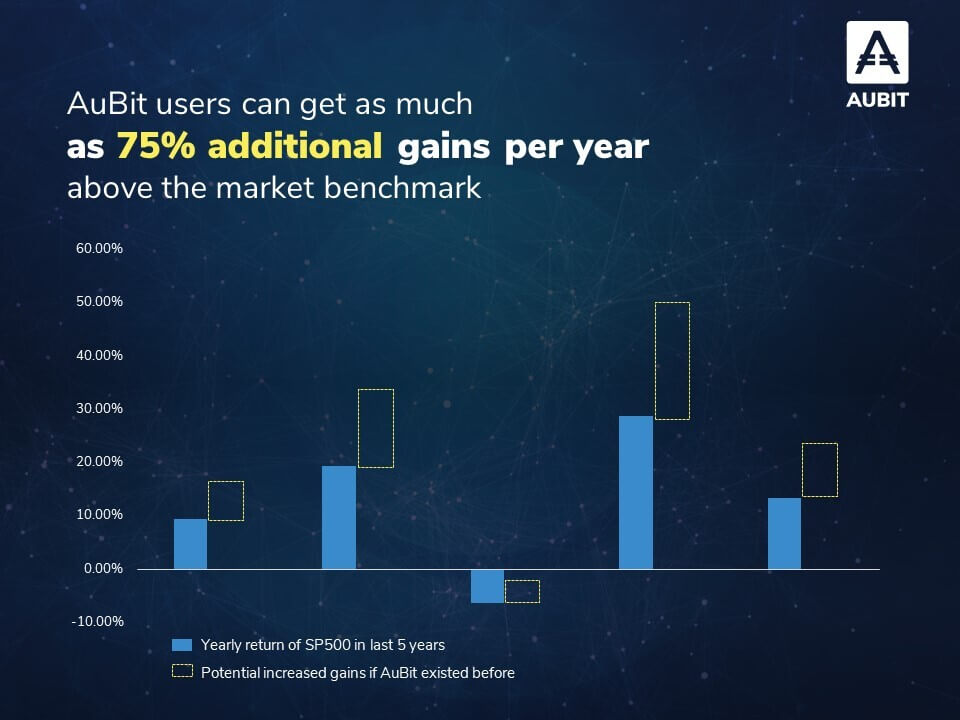 There is no denying that blockchain helps to reduce costs by reducing intermediaries. Simulations that have been verified by the London investment bank 01 Capital states that users of AuBit can get around 75% extra gains every year over and above the benchmark of active products. This implies that when an active product provides 10 percent returns every year on the traditional platform, with AuBit's FWT platform, your returns could be as high as 17.5 percent — an astonishing difference when you account for compounding over time.
On the passive products, where not as much trading takes place, additional investment returns exceed the benchmark by a lesser but still significant 10-20% per year Meaning a 10% S&P 500 index return could be 11%-12% on the Freeway platform — a highly attractive proposition to retail investors and pension funds alike.
AuBit is set to make the platform available in more than 180 countries from day one — which is great news for an investment platform that grows your assets on every trade. The more people that join the platform, the greater the redistributions and the greater your asset growth.
By joining now, you can get access to the 'Freeway Lite' AuBit Virtual Hedge Fund platform and begin earning referral rewards from the $3m pot.
$3M IN REFERRAL REWARDS AND OVER 100,000 VERIFIED FREEWAY WAITLIST USERS
The Freeway platform already has over 100,000 waitlist users who have signed up for their $3m Freeway Forever Rewards Referral Program.
To learn more about AuBit as well as to join the Freeway trading platform waitlist, visit aubit.io. For further queries about the AuBit team, feel free to join the AuBit Telegram group.
For more information about AuBit and to join the Freeway platform waitlist, visit aubit.io.
For any questions of the AuBit team join the AuBit Telegram group.
Hopefully, you have enjoyed today's article. Thanks for reading! Have a fantastic day! Live from the Platinum Crypto Trading Floor. 
TOP 10 UK CRYPTOCURRENCY BLOGS, WEBSITES & INFLUENCERS IN 2021 
Earnings Disclaimer: The information you'll find in this article is for educational purpose only. We make no promise or guarantee of income or earnings. You have to do some work, use your best judgement and perform due diligence before using the information in this article. Your success is still up to you. Nothing in this article is intended to be professional, legal, financial and/or accounting advice. Always seek competent advice from professionals in these matters. If you break the city or other local laws, we will not be held liable for any damages you incur.