As of April 2021, the AuBit Freeway platform has onboarded its first early users who are already enjoying incredible AuBitisation rewards beyond expectations. More than 100,000 people remain on the waiting list and are expected to gain access soon with more than $50m in community requests for the AuBit Virtual Hedge Fund.
Independently-verified simulations show as much as a 75% improvement on current benchmark annual returns, meaning AuBit could be the next big-shot in the finance world.
The AuBit Freeway is the world's first investment platform that gives all investors more of the assets they buy through revenue redistribution. In developing the Freeway network, AuBit has put together a team of leading financial gurus from topmost companies like Google, IBM, Morgan Stanley, Goldman Sachs, Fidelity, Credit Suisse, and HSBC.
AUBIT FREEWAY IS DESIGNED TO GIVE USERS MORE OF WHAT THEY OWN
Many investors are caught in between two worlds: the cryptocurrency world and the traditional world. Investors in the cryptocurrency world have seen wild returns and know that the returns from investing in this niche are real.
Traditional investors increasingly feel they are missing out as rumours abound of a coming decline in economic growth. AuBit uses blockchain technology to combine the best of both worlds.
In the case of traditional investing in asset management, it's only the value of that asset that will vary. This can be the price of cryptocurrency assets, bonds, stocks, futures, or commodities like gold which may rise or fall depending on the market. The volume or quantity of these assets, however, remains the same as they were bought.
With the AuBit Freeway platform, however, users get more of the assets they buy through ongoing revenue redistributions.
This process maximises investor returns without increasing by what's known as AuBitisation. AuBitisation is the process of redistributing revenues for the benefit of all investors of the AuBit Freeway platform in the form of underlying assets.
If you buy AuBitised Tesla shares, you'll receive more Tesla shares through ongoing redistributions — giving you the potential for both value growth AND volume growth. Regardless of asset performance, who doesn't want more at no extra cost?
EARLY AUBIT FREEWAY PLATFORM REWARDS DRIVE DEMAND FOR FWT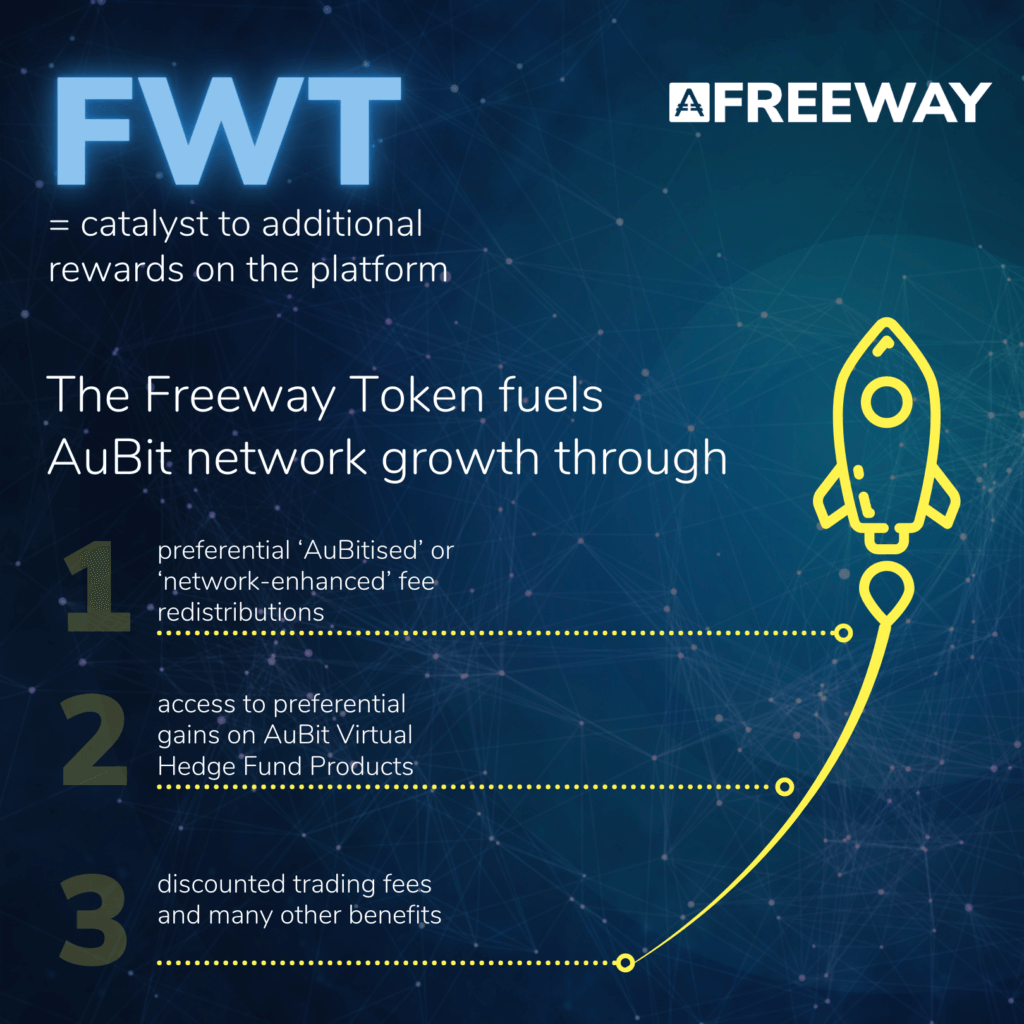 Inevitably, early traction and proof of results has created demand for the Freeway Token as, to gain access to AuBit Virtual Hedge Fund (AVHF) products, users must match their largest AVHF product holdings with FWT on the Freeway Lite platform.
For example, to gain access to $1000 worth of the Bitcoin Accumulator product that simulates quant-based, bitcoin trading strategies designed to accumulate bitcoin at a growth rate of 20-40% per year, one must also hold $1000 worth of Freeway Token in their account.
AUBIT'S BRIDGE BETWEEN BINANCE SMART CHAIN AND ETHEREUM
The Freeway Token is now available on the Binance Smart Chain and Pancake Swap. This means that the Freeway tokens can also be found in the form of BEP tokens instead of just ERC-20. AuBit made this possible to help FWT holders reduce the huge Ethereum gas fees.
FWT is available as an ERC-20 token on Uniswap, Bithumb Global, and AscendEX (formerly BitMax), currently trading on the 6th of August at around 1.4 cents per token, down from its recent 2.2 cent all time high.
Unusually, however, the BEP FWT token is trading at 2.6 cents on the Binance Smart Chain through PancakeSwap. Speculators in the unofficial AuBit Telegram group expect an arbitrage opportunity when a bridge between the two is built.
No one knows when, but AuBit CEO Graham Doggart has been quoted in Telegram AMAs multiple times mentioning the coming bridge between FWT as both an ERC and BEP token.
However, by the end of May 2021, the AuBit platform expects to have brought onboard its first 10,000 users, so it's possible a bridge could be in place before then.
THE BENEFITS & UTILITY OF THE FREEWAY TOKEN
FWT utility is key to unlocking maximum investor returns. And here's where things become quite intriguing, and crypto and traditional finance sync in a way you've never witnessed before.
The Freeway token (FWT) is the basic utility used in the AuBit Freeway terminal. Think of this token as the facilitator to even more rewards on the Freeway platform.
AuBit's Freeway Token runs and fuels its network in the following THREE ways:
Holding Freeway Tokens gives the users preferential AuBit Redistributions known as AuBitisation.
Users need to natively stake Freeway Token (FWT) to gain access to preferential returns from AuBit's Virtual Hedge Fund.
Freeway Tokens offers the Freeway members discounted trading fees upon full public launch of the platform.
The Freeway token's utility is often so high that the publicly listed Canadian merchant bank, Greenbank, purchased four-hundred million Freeway Tokens in a multi-million dollar and an equity deal just weeks following the Freeway Token's public launch in late 2020.
In a press release published on NASDAQ's, Bloomberg's, and Yahoo Finance's websites, David Lonsdale, CEO of Greenbank, said that one of their major goals was to invest in companies that could scale globally and had a potential valuation of at least a billion dollars. Lonsdale continued by saying that he believed AuBit fits the criteria they were looking for perfectly.
Looking at AuBit's current progress to date, Lonsdale's words may turn out prophetic.
100,000+ VERIFIED WAITLIST USERS AND 3 MILLION IN REFERRAL REWARDS BEFORE THE LAUNCH
Behind the scenes, before AuBit's official launch, the platform has relied on an organic approach to market itself. The platform also regularly communicates with its community and loyal fans through Telegram and email.
A swift glance at the team behind a massive idea like AuBit, nevertheless, and it's a little shocking that, despite the refreshing lack of hype, the platform already has over 100,000 waitlist members signed up as a result of their three million Freeway forever rewards referral earning program.
With the launching of beta at hand, scheduled to take place for early April 2021, all the eyeballs are on AuBit and Freeway Token as the terminal arranges their launch in over 180 countries. This is also when serious marketing of the platform will begin — by which time a bridge will be in place to ensure AuBit can buy Freeway Tokens at a fair market discovery price for users buying FWT from the platform.
WHERE TO BUY AUBIT FREEWAY TOKEN (FWT)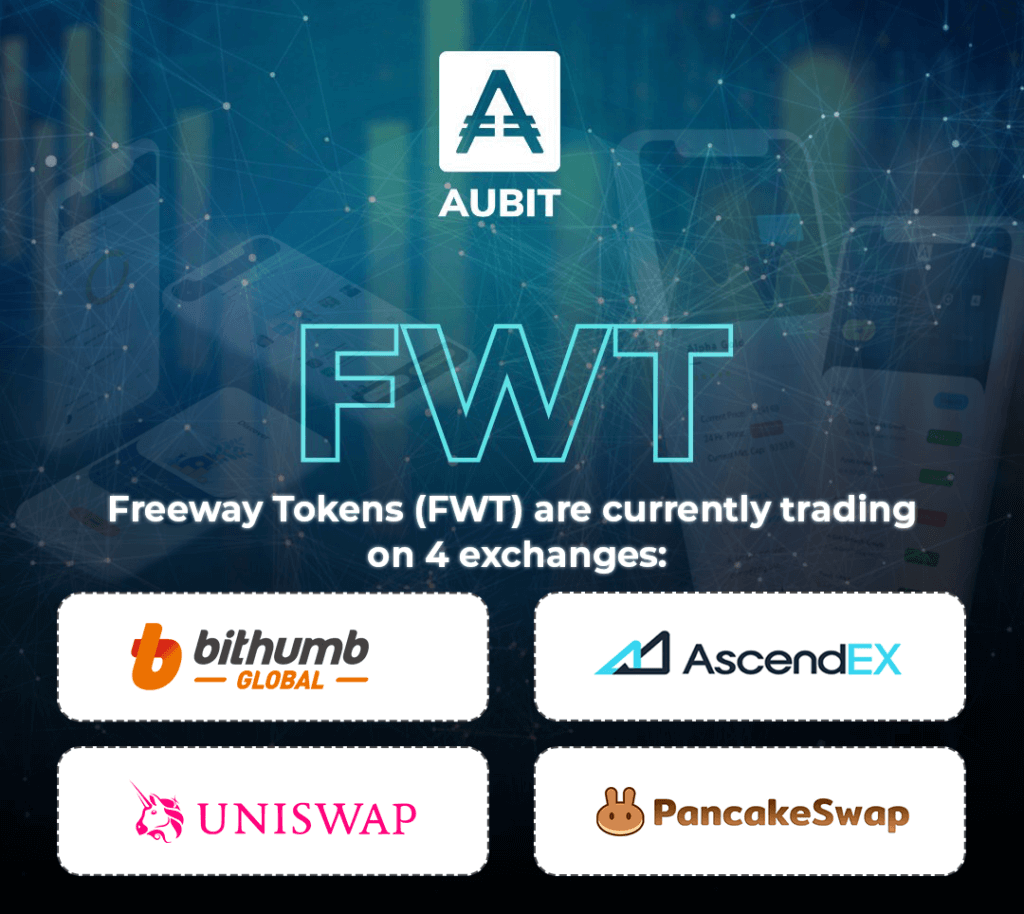 Freeway Tokens will be available to buy directly on the Freeway platform upon launch.
If you wish to buy in advance, you will need to use a third-party exchange.
Here's how…
1) Choose your preferred platform from UniSwap, Pancake Swap, AscendEx (Formerly BitMax), and Bithumb Global.
a. UniSwap is a popular decentralised exchange that requires less onboarding but may charge higher fees.
b. AscendEx & Bithumb Global are centralised exchanges that require a lengthier onboarding process but may require lower fees.
2) On your chosen platform, you'll first need to buy Tether, known by its code USDT — congratulations, now you own cryptocurrency! Tether is valued at the same or almost identical price as the US Dollar.
3) Now you own USDT, all you need to do is visit the Freeway Token (FWT) page on your chosen platform and exchange your USDT for FWT — now you own FWT!
Hopefully, you have enjoyed today's article. Thanks for reading! Have a fantastic day! Live from the Platinum Crypto Trading Floor.
TOP 10 UK CRYPTOCURRENCY BLOGS, WEBSITES & INFLUENCERS IN 2021 
Earnings Disclaimer: The information you'll find in this article is for educational purpose only. We make no promise or guarantee of income or earnings. You have to do some work, use your best judgement and perform due diligence before using the information in this article. Your success is still up to you. Nothing in this article is intended to be professional, legal, financial and/or accounting advice. Always seek competent advice from professionals in these matters. If you break the city or other local laws, we will not be held liable for any damages you incur.