Trading in high-potential DeFi projects will be easy. This follows the launch of Bashoswap on Cardano, plus the on-going plans to include a scalable IDO Launchpad on the same network. Already, a private sale of Bashoswap native token ($BASH) is already in progress.
The launch of Bashoswap is a notable breakthrough in the blockchain space. For one, several DEX platforms have tried integrating their services with Cardano but failed. For instance, Sandaeswap was accused of not being transparent.
Secondly, Bashoswap features unique functionalities that will help solve the age-long challenges related to Cardano-based decentralised exchanges. Those include high gas fees, high-risk investment opportunities, low profits and lengthy, complicated trading procedures like long confirmation.
The project will not just leverage the high demand for DEX services. Users will also be trading without KYC, swapping tokens in a flash at outrageously low gas fees, and earn rewards on holdings.
What Is BASH Token & How You Can Use It?
BASH token is a Cardano Native Token deployed on the Cardano blockchain that will be used across the Bashoswap ecosystem. It will have multiple use cases, as BASH holders will be able to stake their BASH tokens, or provide liquidity on the Bashoswap DEX and use their LP tokens for yield farming other Cardano native currencies and the mainstream ADA native assets.
The initiative is set to allow trading without intermediaries. Furthermore, the Cardano native token will connect all early-stage ADA developers with the early adopters. The innovation will also allow for trading without the need for intermediaries.
Owning the BASH will open a window of opportunities. The community will have the freedom to choose what best suits their needs. When it comes to presales, seed rounds and private sale of projects, BASH holders will be given the first priority.As of the time of writing, Bashoswap Inc Team is giving early adopters a first chance to grab BASH tokens through a flash private sale that would kick off on the 25th of March until the 10th of April, or until the private sale allocation has been expended. In order to participate, investors have to fill forms available on the platform. The whitelist for the private sale is accessible via https://whitelist.bashoswap.finance/.
$BASH Token Information
BASH token can be purchased using ADA
The token price for the private sale is 0.055 ADA for 1 BASH token
Minimum purchase: 20,000 ADA
The lockup period is 3 months
Since the token can be converted to fiat, crypto enthusiasts, influencers and the larger Bashoswap community will find it useful. The crypto market is synonymous with speculation and volatility. In order to protect users against losses, users can employ different hedging techniques on the platform.
Those who'd like to have the token as an asset are also welcome. This category of users can use the utility token to purchase goods and services, or buy and HODL. Furthermore, Bashoswap is a Cardano-based smart contract. Therefore, investors will be able to use $BASH across different launchpads within this network.
The BASH partner program is meant for companies and private entities. As long as they qualify, institutions are free to invest in $BASH and help to reinforce trust. With increased uptake of this service, the price is will most likely rise to the benefit of investing corporations. They can also leverage platform for capital gains. Also, they can opt to trade $BASH for fiat and vice versa and make profits.
How the BASH Token Can be Used in Governance
Aside from farming, staking, and fiat exchanges, the Bashoswap token will be used for governance. That will give the community a voice in crucial matters regarding this AMM DEX on Cardano. Rightly so, developers will be interacting with the Bashoswap community to identify areas of improvement. They also gather crucial input from the community regarding the management of funds and issues pertaining partnerships.
Holders of $BASH tokens will automatically qualify for voting rights. Holding $BASH tokens simply means staking them in the governance pool or storing them in a name wallet. Plus, it'll be possible to vote without removing the stake. The community will have access to proposals and can see them as often as they want to. Nonetheless, not everyone will be allowed to create a proposal. To qualify, users will need to satisfy the below requirements:
Own a BASHG NFT
Stake a specified amount of $BASH token in the governance pool
Notably, creating a proposal is pretty straightforward. Qualify participants will only need to set their proposals start and end date then hit publish. Bashoswap's proposal comprises a series of questions for the community to answer.
Additionally, voting power will be dependent on the amount of tokens held—the higher the amount, the greater the power. The reasoning here is that holding a significant amount of $BASH token indicates greater interest in the project. It makes sense to reward that category of users more voting rights.
Benefits of Bashoswap AMM
The preference for DeFi over CeFi has seen the former take the lead across most major blockchain networks. However, Decentralised Finance has had its share of challenges. Top in list is the absence of liquidity closely followed by an overly long turnaround time when users switch between blockchain networks.
The reason behind the challenges is an overwhelming number of trades for tokens and currencies that rarely compares optimally with the available traders at a specified time. Since DeFi systems feature restricted functionalities, settlements are pretty slow.
Furthermore, many DeFi-enabled platforms feature Uniswap (the largest DEX trading platform) OR Pancake (a Binance AMM DEX) functionalities. These are often associated with outrageous gas fees. In some cases, the cost can surpass the trade, resulting in low profits.
The platform was also deployed on Cardano in order to leverage Cardano's abilities. Bashoswap's IDO Launchpad idea will be the missing link between the community and high-potential DeFi projects. Once it goes live, the community will help solve liquidity challenges for innovative blockchain platforms while helping raise LP fees.
What are the Features of Bashoswap?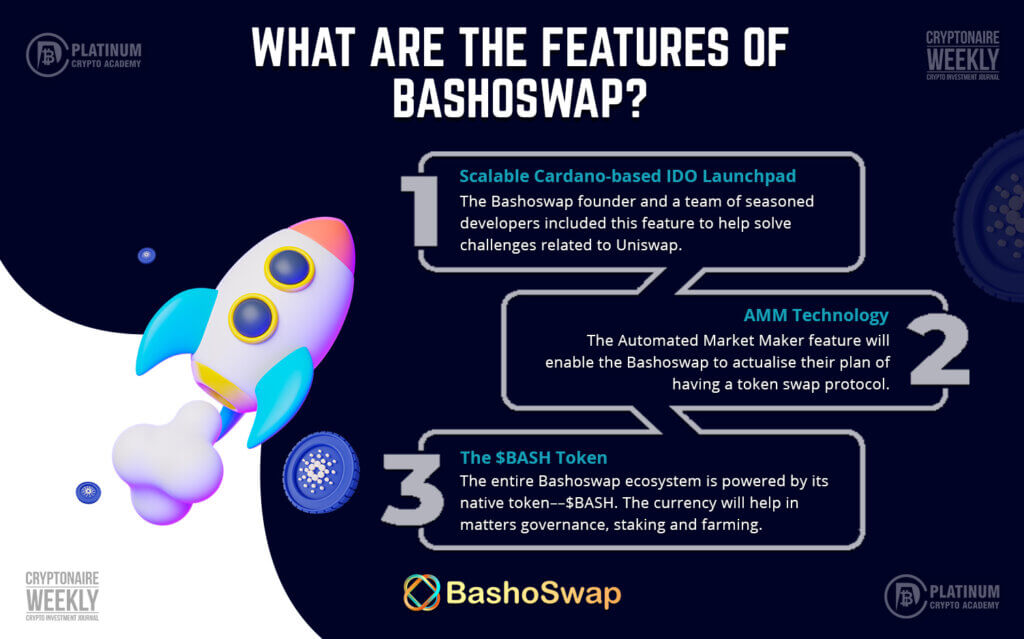 Following its launch on Cardano, Bashoswap is the newest DEX platform on the network. The event marked the beginning of the development of Bashoswap features on Cardano. Already, users are leveraging the opportunities locked within $BASH token since its private auction went live. Bashoswap's ecosystem is set to redefine DeFi and DEX through several innovative features. Here's what investors will be treated to:
Scalable Cardano-based IDO Launchpad
The Bashoswap founder and a team of seasoned developers included this feature to help solve challenges related to Uniswap. Consequently, the Bashoswap community will be able to invest in multiple projects while enjoying pretty low gas fees.
Overlapping will be a non-issue, no matter the number of transactions happening across this AMM DEX. Users will be treated to break-neck speed, regardless of the type of transaction they'll be involved in. In addition, increased liquidity will offer support to up and coming projects within the Bashoswap ecosystem. That's because Bashoswap will help to link promising blockchain projects to the community to help them obtain the much-needed funding.
AMM Technology
The Automated Market Maker feature will enable the Bashoswap to actualise their plan of having a token swap protocol. In order to accomplish this goal, AMM technology will help to combine ADA and Cardano native tokens into a virtual pair. Meanwhile, a liquidity/swapping functionality will enable Liquidity Providers to select the best pool pair to accommodate LP fees.
The $BASH Token
The entire Bashoswap ecosystem is powered by its native token––$BASH. The currency will help in matters governance, staking and farming. So, the Bashoswap community will be involved in decision making. However, users will only qualify to vote if they already own a BASHG NFT, besides staking their $BASH token in the governance pool.
Why Bashoswap is Based on Cardano Blockchain
Cardano is among the top-performing blockchain networks. Its current market cap is about $27.4 billion. The figure is also expected to grow exponentially as more blockchain enthusiasts join the Cardano bandwagon.
Unlike other popular blockchain platforms, Cardano hasn't had a fully-functional, transparent and seamless DEX that investors would want to have. High gas fees, swift settlements and liquidity problems have plagued the giant blockchain network.
The need to deliver way better user-friendly services prompted the creation and launch of Bashoswap on the Cardano network.
Team Behind Bashoswap
A team of blockchain experts are the brains behind this unique AMM DEX platform. Beri Ardas, the founder, has extensive experience in the crypto industry. Plans to expand the team are ongoing and, upon completion, a senior smart contract engineer, chief product designer, a frontend developer and backend engineer will also be onboarded.
Hopefully, you have enjoyed today's article. Thanks for reading! Have a fantastic day! Live from the Platinum Crypto Trading Floor.
Earnings Disclaimer: The information you'll find in this article is for educational purpose only. We make no promise or guarantee of income or earnings. You have to do some work, use your best judgement and perform due diligence before using the information in this article. Your success is still up to you. Nothing in this article is intended to be professional, legal, financial and/or accounting advice. Always seek competent advice from professionals in these matters. If you break the city or other local laws, we will not be held liable for any damages you incur.