Meet Beatbind
Crypto for the music industry is an upcoming concept, and one that is being widely appreciated by those searching for innovative crypto projects. This is where new crypto tokens such as Beatbind come into the picture. Beatbind is essentially an ERC20 utility token that caters to the musical events industry. The platform offers a truly worldwide, trustless and affordable method of payment in the form of the BBND or Beatbind tokens.Listen to this article
All the transactions on the Beatbind platform are performed through the BBND utility token. Beatbind is one of the most innovative crypto projects, which intends to unify the payment processes in musical events. Hence, there is no longer the need to have physical cards, chips, and different traditional currencies for all the parties and festivals. Beatbind understands that there is no way of cashing these back or using them outside of the events. This is one of the prominent reasons why Beatbind is looking to transform the music industry and has planned to introduce a universal payment system through the BBND or Beatbind tokens. Apart from this, Beatbind will also accept fiat payments through the Beatbind platform.
In this Beatbind review, find out how the company is ironing out the music industry's biggest blockers using blockchain.
Understanding The Biggest Blockers In The Music Industry
Beatbind is one of those innovative crypto projects that combines the best of technologies to ensure excellent performance as well as flexibility for its ecosystem. Beatbind plans to implement BBND as the ERC20 token on the ETH blockchain system. Additionally, other smart contracts required for the function of Beatbind shall also be implemented on the ETH network and would further enjoy the security of Beatbind's blockchain.
The Beatbind ecosystem ensures that every transaction on its platform is secure, transparent, and immutable. As a result, every transaction on the Beatbind platform will be browsable, open, as well as verified. This happens via the Beatbind transaction explorer.
As far as the music industry is concerned, it is currently dealing with several problems. For instance, the usual practice in other segments or industries is missing within the musical events industry. Even though the music industry recorded a worldwide revenue figure of $30 billion, it is estimated to grow 10% every year in the days to come. However, despite this popularity and growth, the music events industry has to deal with manual and slow negotiations. The music event organisers often come across forgers and ticket scalpers who steal nearly half the revenue. There is no clarity as far as data is concerned within the music industry. As a result, fans feel ignored, powerless, and less engaged. The artists and venues are restricted in several ways in which they can connect. On the other hand, ticket forgers and scalpers are earning the same amount as the organisers and artists who design the events, resulting in a loss of value amounting to $8 billion every year. Also, the event organisers have no access to any empirical data related to their fans' trends, wishes, and preferences, making the event highly risky. The fans, on the other hand, do not witness any event-driven engagements like socialising, dating, voting, surveying, etc.
In addition to the above problems, several others remain unaddressed, and it is here that Beatbind comes into the picture. Beatbind attempts to streamline and digitalise the music-organising process ever since the nightlife system/culture came into existence. Beatbind aims to connect three main players within the music events industry, including performers, fans, and venue owners. Beatbind's unique solution shall be supported through BBND, which will function as innovative crypto for the music industry.
The music events industry has until now been dealing with haphazardly organised events, as well as limited opportunities. However, with the advent of Beatbind, the entire musical events ecosystem has undergone a massive transformation.
What Are Beatbind's Solutions?
Beatbind is one of those innovative crypto projects that are unique and tailored to meet the needs of the music events industry. For instance, if you are a disc jockey and searching for the best offers for a music events performance, then you will get the option to choose from multiple venues. Thus, DJs can display their portfolio and select when they are available for shows and allow event organisers to outbid one another while they get some of the best offers.
With Beatbind, all the parties within the musical events industry benefit in different ways. While music groups let organisers and venues bid on them, thereby increasing their revenue, the event organisers allow musicians to bid on their opportunity, thereby lowering their expenses. On the other hand, the venue owners can outsource their music event organisation to those passionate about managing them.
As Far As Fans Are Concerned, They Benefit From The Beatbind Platform In The Following Ways: 
– Seamless ticketing option for all Beatbind events.
– Accessing tickets to all Beatbind events directly.
– Transparency in pricing, zero chances of forgery, fraud, and ticket scalping.
– Fans get the option to return event tickets and get a refund.
– Seamless opportunities for crowdfunding for all Beatbind events.
– Fans get to pre-purchase tickets as and when an event is held.
Beatbind's advanced ticketing system supports buying a ticket for all the events being organised currently. This allows organisers to collect initial capital. This innovative seamless crowdfunding provides smaller venues with a way to invite big stars. Besides, all the money gets refunded if the event gets cancelled or doesn't materialise.
A Brief Overview Of Beatbind Products
As already stated above, Beatbind is one of the leading platforms specially curated for the music event industry. Beatbind has designed a multi-level business that helps to tackle the numerous issues prevailing in the music industry.
Following Are The Different Levels Offered By Beatbind: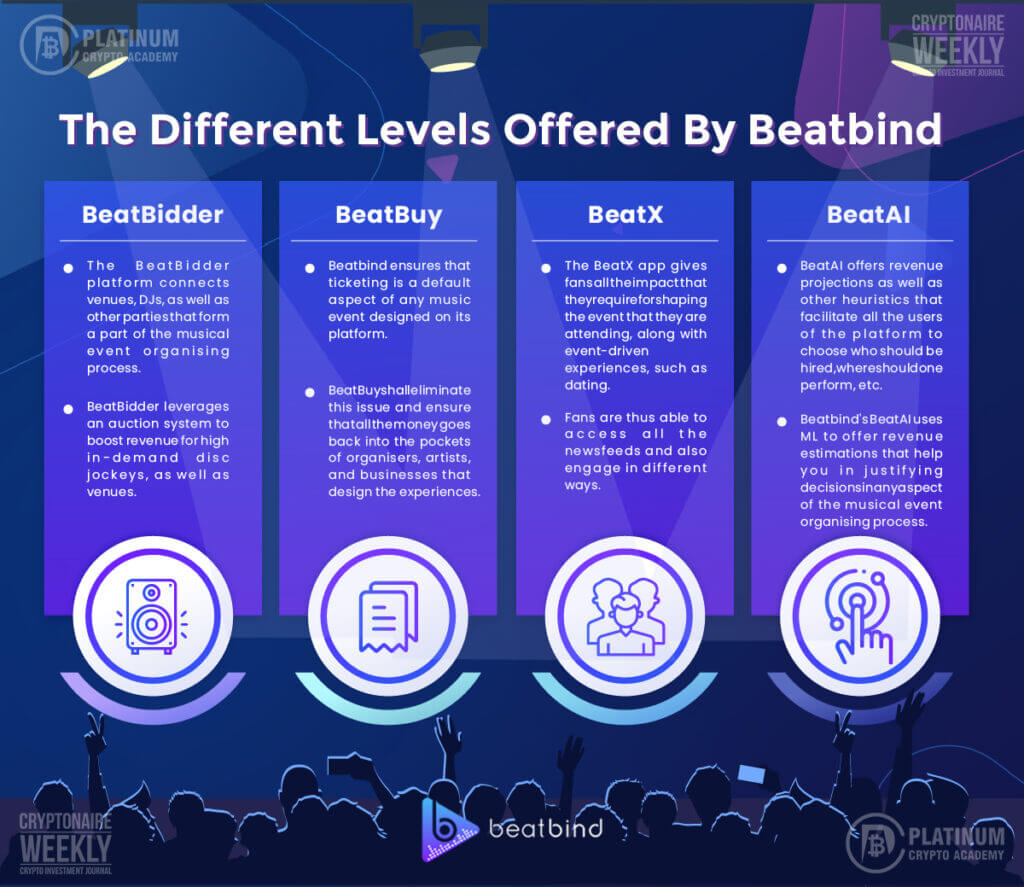 BeatBidder: The BeatBidder platform connects venues, DJs, as well as other parties that form a part of the musical event organising process. The ecosystem connects artists, DJs, venue owners, as well as others involved in the music events organisation process to offer the best opportunities to all. BeatBidder leverages an auction system to boost revenue for high in-demand disc jockeys, as well as venues. On the other hand, the market size reduces costs as well as lowers barriers to entry for everyone participating in the creation of music events. Beatbind also takes sponsorships, event organisation, and promotions outsourcing among those services that can be exchanged on its platform.
BeatBuy: Beatbind ensures that ticketing is a default aspect of any music event designed on its platform. These tickets will be sold directly through BeatBuy and offered to Beatbind's fan base, thereby reducing entry barriers. This helps prevent ticket scalping, instances of forgery, as well as the rising secondary markets that steal nearly $8 billion on an annual basis from the event creators. BeatBuy shall eliminate this issue and ensure that all the money goes back into the pockets of organisers, artists, and businesses that design the experiences.
BeatX: The BeatX app gives fans all the impact that they require for shaping the event that they are attending, along with event-driven experiences, such as dating. Fans are thus able to access all the newsfeeds and also engage in different ways that further help organisers to better design the events that those very fans are planning to attend. To ensure that all transactions are authentic and further safeguard different parties, Beatbind intends to launch an escrow protocol that refunds money when transactions fail or while handling disputes.
BeatAI: BeatAI offers revenue projections as well as other heuristics that facilitate all the users of the platform to choose who should be hired, where should one perform, etc. Beatbind's BeatAI uses ML (Machine Learning) to offer revenue estimations that help you in justifying decisions in any aspect of the musical event organising process. This shall minimise risk as well as spur additional growth.
How You Can Benefit From BBND Tokens? 
Beatbind's ultimate aim is to ensure that Beatbind becomes a universal digital token for the music events organising industry. As a worldwide, trustless, as well as affordable method of payment in comparison to the traditional ones, a crypto token is an absolute necessity within the Beatbind ecosystem. The BBND token serves as a utility-based token as well as a medium of exchange for different transactions that occur within the Beatbind ecosystem. Beatbind tokens are new crypto tokens that will not only unify all the payment systems in the music events industry but will also get rid of physical cards, chips, and other different currencies for several other parties, as well as festivals.
Beatbind will seek partnerships and cooperation to help the industry transition towards one universal, natural payment solution, i.e. the BBND token. Apart from this, Beatbind will also look to list the BBND token on different open exchanges, while providing liquidity outside of its platform.
This will allow users to exchange the BBND token with several other assets like USD and Bitcoin.  Apart from introducing the BBND token, Beatbind also aims to allow fiat currency payment through its platform, which will help make the ecosystem appealing to a vast audience. 
Beatbind's Future In The Music Industry
There is no denying that the future of Beatbind in the music industry is bright and poised towards growth in the long run. Beatbind has introduced a strong model of business that is non-intrusive and flexible that further makes it flexible enough for withstanding market shifts, as well as scalable enough for capturing a good chunk of the value being offered on the Beatbind platform. Any value captured on the platform will help the Beatbind ecosystem grow, while reinforcing the utility and fundamentals of the Beatbind tokens. The platform will grow owing to the fees collected through all the transactions on the BeatBidder, which will also include event organisation, artist performances, venue leasing, etc. Beatbind will also collect fees through the sale of tickets to Beatbind events. Apart from this, the company will also charge fees for the promotion of artists as well as venues in Beatbind platform search results. In addition to this, Beatbind will also collect fees from crowdfunding of Beatbind events (i.e. through pre-selling tickets). The platform will also charge a subscription fee by offering features like dating, memorabilia bidding, live song bidding, etc. through its fan app.
Additionally, the company will also collect fees in the form of live-song bidding and backstage access bidding and revenue through advertising in the Beatbind platform and application feed.
Conclusion
Given the above, the future of Beatbind in the music industry looks promising. The Beatbind ecosystem not only helps connect music event organisers but also connects musicians, fans, and venues, thereby creating some of the most memorable music events. Beatbind understands that organising a music event, irrespective of its size, is a manual and slow process that involves high costs as well as connection barriers. There are also issues like quality venues or performers who are difficult to reach, absence of connections that limits rising music artists, as well as new venues. Apart from this, middlemen and agencies are inflexible and slow, as well as expensive. This is where Beatbind offers solutions like BeatBidder, which allows the platform to pair artists with organisers and venues. Beatbind ensures that every party within the music event organising industry benefits in terms of increased revenue, bidding opportunities, reduced expenses, and outsourcing event organising to some highly passionate managers. Additionally, Beatbind offers new crypto coins like BBND to facilitate fans and music enthusiasts.
The BBND utility token not only powers the Beatbind platform but also functions as a medium of exchange for the entire music events industry. The Ethereum blockchain offers all the security, privacy as well as decentralisation that Beatbind tokens deserve. Beatbind plans to trade BBND tokens on different public exchanges while protecting BBND users from any price volatility during daily use.
Hence, there is no denying that Beatbind is not only reinventing how music events/functions are organised but also addressing some of the biggest issues of the music events organising industry through the use of blockchain. We hope this Beatbind review was helpful!
For more information about the Beatbind platform, visit https://www.beatbind.io/ or https://app.stex.com/en/trading/pair/USDT/BBND/1D!
Hopefully, you have enjoyed today's article. Thanks for reading! Have a fantastic day! Live from the Platinum Crypto Trading Floor.
TOP 10 UK CRYPTOCURRENCY BLOGS, WEBSITES & INFLUENCERS IN 2021
Earnings Disclaimer: The information you'll find in this article is for educational purpose only. We make no promise or guarantee of income or earnings. You have to do some work, use your best judgement and perform due diligence before using the information in this article. Your success is still up to you. Nothing in this article is intended to be professional, legal, financial and/or accounting advice. Always seek competent advice from professionals in these matters. If you break the city or other local laws, we will not be held liable for any damages you incur.