Quick Links
Even with the best product in the market, you need the right marketing strategy for customers to know about your product. Marketing is the backbone of every organisation, which explains why companies are willing to spend a fortune to ensure that marketing activities are in place. The best part about it is that if your marketing is done right, you will get the rewards in your business.
According to a study done by CB Insights, 14% of small businesses fail because of poor marketing skills, and the same fail because of ignoring customer needs. The customer is at the centre of any business, which is why companies are created to solve customer problems. Even when you are confident that you are solving a customer's need, you need the right marketing skills to succeed. Unfortunately, most startups focus on product development and ignore the marketing part as they believe if they have the best product, customers will just trickle in. This has made them have low customer acquisition numbers, which finally makes them shut down. It is easy to do a product-market fit in the marketing procedure, which helps create the perfect product and, eventually, a successful business.
Luckily, there are many advertising and marketing channels; hence, it is easy to reach customers. Most customers find information about products using digital media, and if you optimise on that, the company is set to success. Even with the different opportunities, you have to adapt them to your product and niche market.
bitcci acknowledges this, and that is why it is taking a different approach to marketing services. bitcci is one of the most innovative companies focused on changing the sex industry. The company is working on the challenges facing the sex industry by providing innovative products for sex workers. In addition to that, it has a variety of marketing strategies in its business model to ensure success.
What is bitcci's marketing strategy?
Just like any other organisation, the company is using different marketing strategies to ensure its success. Apart from partnering with the key players in the industry, it is also doing many other things for its success.
bitcci was created to revolutionise the sex industry to make it safer and secure by decentralising it. It has many exciting features that aim to solve challenges faced by the sex industry as a marketing strategy. Its business model aims to improve living standards and increase wealth creation for sex workers.
Most sex workers face problems dealing with frozen accounts. bitcci, as a result, allows users to send and receive bitcci cash tokens, which solves that issue. This will also help sex workers to have a secure and smooth experience in their transactions.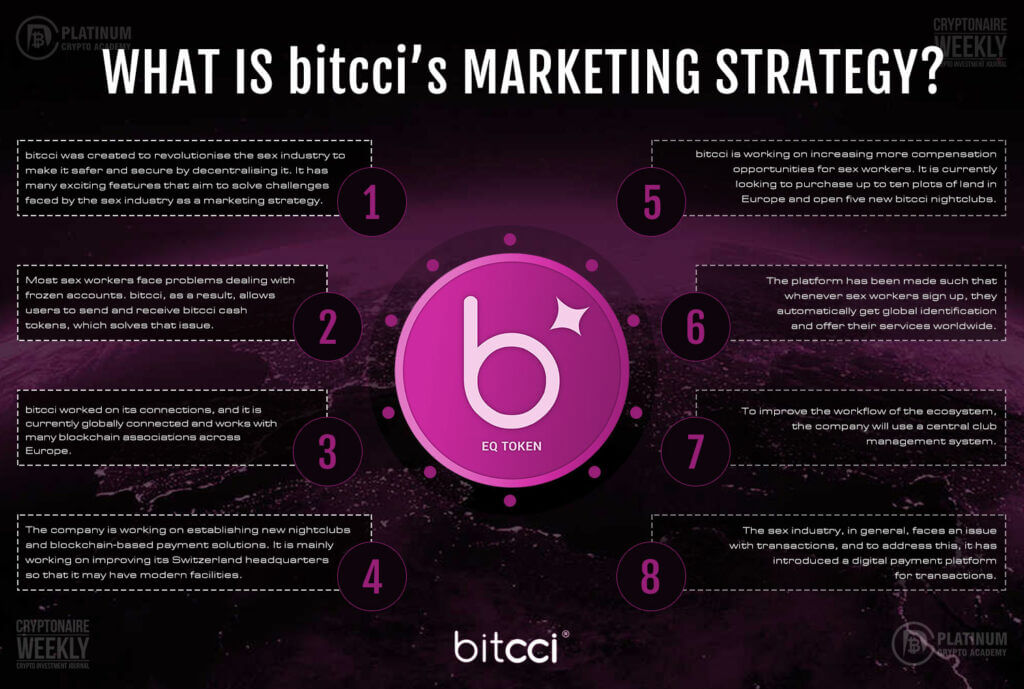 The company is working on establishing new nightclubs and blockchain-based payment solutions. It is mainly working on improving its Switzerland headquarters so that it may have modern facilities. The state-of-the-art equipment will ensure utmost security precautions for personnel and good technical service.
bitcci worked on its connections, and it is currently globally connected and works with many blockchain associations across Europe. It has also partnered with sauna clubs in Switzerland, and now, its club software operates in four sauna clubs.
bitcci is working on increasing more compensation opportunities for sex workers. It is currently looking to purchase up to ten plots of land in Europe and open five new bitcci nightclubs.
The platform has been made such that whenever sex workers sign up, they automatically get global identification and offer their services worldwide. That means it gives them a chance to gain international clients, which is a great marketing strategy.
The platform is liable for its services on the platform as on its ICO, it indicates it does not support any third-party service.
The sex industry, in general, faces an issue with transactions, and to address this, it has introduced a digital payment platform for transactions. The company is also rolling out a regulated chain of nightclubs that use blockchain solutions.
To improve the workflow of the ecosystem, the company will use a central club management system. It will offer various services such as sex worker registration with authorities, POS system, personnel planning, and different online portal administration.
bitcci model focuses on an all-inclusive package for sex workers, which helps meet their needs and requirements. It helps to bridge the discrimination against health services faced by sex workers. With the model, sex workers will be able to access healthcare, including telemedicine facilities. There will also be training if the sex worker needs to improve their skills. The platform uses innovative technology to eliminate the chances for many formalities and language barriers. Once a worker signs up on the platform, they can get professional photographs, which can be used for marketing.
bitcci has an IT platform that will handle all the elements of the ecosystem. The interface will link tax authorities and trade policies to the database. This ensures that all the personal information of the sex worker is registered with bitcci clubs. There is the bitcci.com portal that will do communication and promotion of the sex workers, acting as a global marketplace for sex services and live communication. The portal can be accessed in more than 20 languages, filtering out language barriers. The sex worker can easily create a profile and sell their services through the bitcci.com portal. With the platform, it is easy to promote services digitally to international clients.
The company will partner with fintech partners to develop a bitcci debit card, which includes IBAN account numbers. This opens doors for sex workers to access a variety of financial services, including pensions. In the past, most transactions done by sex workers were in cash, making it hard for the workers to do any record-keeping. With the bitcci debit card, it will be easy to do cash flow management, which helps plan the cash better.
bitcci affiliate program: how does it work?
Affiliate marketing is a game-changer for almost all industries. It is an exciting concept to make the company more visible, and the participants earn passive income.
In the bitcci affiliate program, the participants will refer to the platform and earn annual revenue from it. 20% of the total revenue generated by sex workers through digital services will be distributed to the affiliate participants. This will help the ecosystem spread information about the brand. There is an option of sex workers being recruited by other sex workers or by customers, late nightclubs, or marketing partners. All commissions are paid in real-time to the different wallets in digital currencies. The main goal of the bitcci ecosystem is to get new sex workers and male customers on board.
The sex worker recruiting a fellow sex worker program will officially bne launched in March 2022. In this scenario, sex workers get their recommendation link from their bitcci app, which they forward to their friends or colleagues via messenger with just a click. The link leads them to a landing page where they register and get more information on the platform through a short video. As a result, the sex worker or referrer gets a commission from the turnover generated by the sex workers they brought in.
The bitcci platform is in collaboration with leading online portals in the sex business. The online portals have an option to offer bitcci.com services and get a commission from it.
They can provide the bitcci services on their portals and market them to their sex workers. The portals will earn a commission from the turnover of the sex workers they brought on board from the activity. The company is already using this approach and so far has partnered with two portals in Switzerland that have already integrated bitcci systems into their portals.
bitcci TV: What is it & how does it work?
bitcci TV is an online TV channel where professional female presenters will present all the current news from the ecosystem 2 times a week. The TV will feature programs that address sex workers and male customers to motivate them to register with bitcci.com or. The company has previous experience in setting up an online broadcasting company, hence the chances of success are high.
bitcci TV will help to spread the news about the brand quickly through innovative concepts. Through TV, more people will get the awareness of the quality of the clubs, which will help attract new sex workers. When people sign up at the bitcci.com website, they can get motivation and information on working in bitcci nightclubs.
The feel-good package on the portal will create more referrals within the industry, leading to more applications. So far, the company has tried this approach, and its partner nightclubs are getting good returns. The company is getting regular applications from new sex workers from partner nightclubs every day. 
The bitcci method of acquiring customers
The company has different strategies for acquiring customers. The company can use different measures such as the bitcci cash token when it comes to acquiring online services. When the token is marketed, all the platforms will be promoted as well. The bitcci ICO and the IEOs will act as a marketing campaign for online services for the entire ecosystem.
Banner advertising 
The company plans to do banner advertising on its partner websites. This starts by placing a bitcci.com ad on partner sites and internet sex portals. This is already going on in collaboration with partner clubs in Switzerland.
Affiliate: As mentioned earlier, the company has exciting affiliate programs in place to act as bait for customers. The affiliate runs through the chain, such as it applies to sex workers, customers, clubs, and portals for commissions. This will for sure strengthen brand awareness.
bitcci TV: Through the TV program, there will be a live broadcast several times a week, with a customised message to motivate sex workers and male customers to join the bitcci.com portal.
Marketing campaign: Most companies use viral marketing campaigns to get the attention of customers. bitcci plans to do several marketing campaigns, including a provocative poster campaign, which can be picked up by the Swiss media, online portals, or TV channels. Through prior experience with this method, the company received over 80,000 page views in a day. The company is working on doing more marketing campaigns in short intervals. In addition to that, the bitcci TV editorial team is working on viral clips and branding them with bitcci.com. The clips will be spread across different social media channels.
Through press and public relations: The company plans to work with the top press agencies who will contact press officers to distribute exciting articles to the media regularly.
To acquire nightclub customers, the company is obliged to use different strategies. This includes club advertising on the online portal. The company plans to optimise on bitcci.com portal to win new customers for nightclubs. On the website, there will be banners with interesting headers to get attention. The company will also do poster advertising. And so far, it's in cooperation with the largest poster agency in Switzerland. There are already several poster campaigns that have happened.
Conclusion
The bitcci business model is one of the most innovative models that is purely working on improving the conditions of sex workers for a better quality of life. The bitcci IT platform acts as a communication tool for sex workers to market their services and increase the chances of being selected. The affiliate program is lucrative to encourage everyone to get hooked to it. With bitcci TV, all-inclusive strategy, nightclubs, etc., the system is unlikely to be shaken. The best part about it is optimising decentralised technology that reduces the number of go-betweens/intermediaries, helping sex workers get the highest possible income. There is no doubt that the sex industry will face a turnaround of the carefully-thought-out marketing strategy. With blockchain and innovative features, the industry will soon be snowballing.
Hopefully, you have enjoyed today's article. Thanks for reading! Have a fantastic day! Live from the Platinum Crypto Trading Floor.
Earnings Disclaimer: The information you'll find in this article is for educational purpose only. We make no promise or guarantee of income or earnings. You have to do some work, use your best judgement and perform due diligence before using the information in this article. Your success is still up to you. Nothing in this article is intended to be professional, legal, financial and/or accounting advice. Always seek competent advice from professionals in these matters. If you break the city or other local laws, we will not be held liable for any damages you incur.