Today's article is going to detail how the BitcoinVend App and its respective ecosystem could just be the answer to the question of how to achieve mass adoption. Despite growing awareness surrounding Bitcoin & Cryptocurrency, they have yet to be incorporated into our everyday lives. The following statement may seem strange at such times but the fact of the matter remains that unless Cryptocurrencies are embraced into our lives and economy, growth will be relatively slow.
If crypto doesn't become spendable the whole world is unlikely to ever own it, we often forget that approximately 40% of America live hand-to-mouth not to mention the rest of the world. If crypto remains an investment product then adoption remains a dream. But, if cryptos become currencies, that's a whole different story!
WHAT IS BITCOINVEND?
With crypto attracting so much attention, it´s fair to say that right now is the perfect moment to make it mainstream. Existing solutions provided by the corporate giants don't cut it for most, they are expensive, do not align with the ethos of crypto and leave much to be desired.
However, BitcoinVend is building an App that makes using crypto cheap, gets the community involved, keeps it simple and frankly doesn't leave much to be desired, bringing everything together in one place.
We were given a sneak peek, it's very cool and easier than Revolut!
Here at Platinum Crypto Academy be believe BitcoinVend and the ecosystem it will create is an answer for many of the challenges or frustrations that existing crypto users face and is a truly viable way to bring in the masses. To create a complete crypto-economy requires more than just the typical exchanges and a scattering of companies accepting it, what is needed is a marketplace, payment system and currency exchange. It must be seamless, reliable, safe, easy and inexpensive – this is the vision for BitcoinVend and could usher in the masses.
THE FEATURES AND BENEFITS OF BITCOINVEND
Like a typical wallet, BitcoinVend can be used to send and receive cryptos. However, it is not a wallet per se, the three core features, Marketplace, InstaPay and Exchange, bringing together all the key elements needed to create a full-fledged crypto ecosystem.
In their words, BitcoinVend is "Much more than just an App, it's a whole economy in the palm of your hand".
Firstly, BitcoinVend will have a marketplace where buyers and sellers can list new and used items – accepting payment in numerous cryptos with no reliance on fiat. They describe this as the eBay and Facebook Marketplace of crypto – we see it as somewhat reminiscent of Silkroad (but with nothing dark or illegal about it).
For individuals and businesses wanting to sell goods or services online and take payments with crypto, this is a game-changer. Built-in escrow, CSV uploads, as well as Amazon store APIs, make a vendors life incredibly easy, furthermore, instead of miles of red tape, BitcoinVend vendors will be able to set up ´shop´ in minutes.
Second is their payment processing feature, "InstaPay". Imagine InstaPay as the crypto birthchild of Revolut and PayPal, enabling users to send and request payments with other users and facilitating online or in-store crypto acceptance for businesses. All settlements will be instant and accessory features such as auto-convert enable merchants to protect their crypto revenue (or a percentage of) against volatility with a simple click.
The days of multiple wallets and double-checking addresses when sending crypto to a friend seem to be numbered with this solution and business can say goodbye to crypto payment processing solutions that are laborious to set up with frankly extortionate fees attached.
The third core feature is a hybrid exchange that offers peer-to-peer trading (or swaps if you will), somewhat like LocalBitcoins but highly intuitive and incredibly easy to use, whilst also providing users with the ability to trade directly with BitcoinVend as an exchange.
Not only does this provide total flexibility to users, I.E, people have multiple options in terms of how to trade (locally, globally, crypto for crypto, crypto for cash), but according to our contact at BitcoinVend, both individual and corporate users will have a comprehensive suite of settlement features available to them – all wrapped up into one simple interface.
On the subject of flexibility, BitcoinVend is also integrating third-party wallets and put no restrictions on how users decide to settle. It can be used solely as a platform for listings and a tool for communication.
AND THE BEST BIT, GOLD MEMBERS WILL PAY NO FEES, YES YOU HEARD IT RIGHT, NO FEES.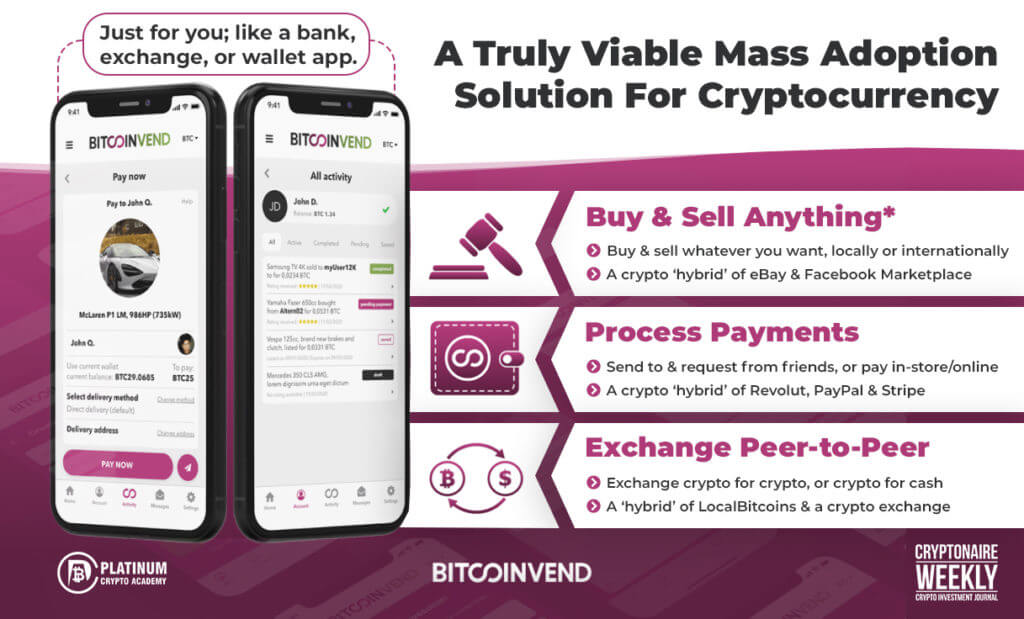 With all that said, a question may be arising in your mind, "How can a simple Smartphone app do all this, and without low or no fees?". Well, we don't know the specifics of how it works behind the beautiful interface but we do know is that BitcoinVend seems to have thought about everything and are die-hard focused on their product – a great sign. To hazard a guess we suspect that it has something to do with the fact that two of their founders have been in crypto since the early days and before this venture were working on OTC settlement, meaning they probably have a few tricks up their sleeves that the average trader doesn't know, only time will tell.
If you have done your homework, you will know that Silkroad despite its shady reputation was undeniably the most powerful kick-start that Bitcoin received but since its demise, the whole industry took a shift away from using crypto, leaning more toward trading and investing – speculating on a potential future use case and treating it like digital gold. BitcoinVend is different though, they are laser-focused on the use case, it feels kind of nostalgic and got us thinking that these guys are onto something. If they pull it off, it could be very interesting, not just as a project but for crypto as a whole.
SOCIAL ECONOMICS & FREE MARKETS
As the name suggests and as you will have gathered, BitcoinVend is all about selling but not just buying and selling crypto, buying and selling with crypto. One of the co-founders Joe Jewson explained to us that their app is an exchange for everything; crypto, cars, computers, houses, foods, "Whatever you want or need, what it will grow into will be based on supply and demand principles – how people chose to use it".
Naturally, there are certain limitations and sensibly, high-risk items and illicit/illegal good are prohibited but the nice part is that BitcoinVend ecosystem is certainly not a totalitarian regime, the community are very much involved. It is a never done before cross over between centralized exchange and community-run ecosystem that feels very grassroots.
On one hand, BitcoinVend provides everything a crypto (and a non-crypto) person needs through a host of useful services, with simplicity, at low cost and wonderfully jargon-free. And on the other hand, how they involve the community is a nice touch. We are talking about a civilized and legal Silkroad with opportunities galore.
Starting with the more standard stuff and leading to the juicy bits, each user builds a trust score based on a variety of factors, a reputation that will provide useful information for those considering trading with them. User with a high trust score can mediate marketplace disputes and have the final say (BitcoinVend won't be getting involved).
And the ecosystem will have bounty hunters who seek out any suspicious activity like private investigators, earning rewards for doing so. This is all made possible in part thanks to BCVTokens (ticker: BCVT), their partner token, for which the use cases are numerous including paying in-app fees, making in-app payments, bagging GOLD membership (the no fee level), various types of rewards (giveaways, referrals etc.) and raising trust score for those who HODL. All in all, there are so many incentives here that bad actors won't get far.
As further testament to their modern yet grassroots approach, BitcoinVend is creating Ambassador NFTs.
With auctions starting in May, an Ambassador NFT enables the owner to open a special account on the App and instead of the standard referrals, Ambassadors are rewarded with a percentage of transaction fees paid by their referrals, with the option to sell their NFT in the future with ongoing rewards attached.
This is potentially highly lucrative for the NFT holders who work it. Some people (and businesses) have done very well with referral systems but this is referrals 2.0 and for a project whose focus is on bringing the masses to crypto… it got us thinking. Their NFT concept is a franchise business crossed with affiliate marketing meets crypto innovation – we haven't seen anything like this before and are curious about how it´s going to pan out.
If you are thinking "How does one get rewards on transaction fees if there are no fees?", let us clarify. To get GOLD membership the user has to hold a certain amount of BCVT which drys up liquidity so commission from fees or not, we see this is a win-win (if the Ambassador is holding their token).
So, with interesting social dynamics, will BitcoinVend be a free market? Well, it depends on how you define free, in our eyes, it´s certainly more flexible and free than any other economy we know of.
There is a lot to take in here and you will hear more about BitcoinVend soon but before we wrap up let's get right back to basics. The majority of society finds crypto tech complicated, many are holding onto misperceptions and trust is still lacking, especially when crypto takes a dive which is loved by savvy traders but breeds fear in the unknowledgeable onlooker or newbie.
And anyway, how are we supposed to use crypto as currency when so few businesses accept crypto payments?
THE BENEFITS OF USING CRYPTO AS A CURRENCY
Whether you see Bitcoin as digital gold, the new reserve currency or just an asset to trade, it was created to be spent, or at least sent. So with central bank issued digital currencies on the horizon are we going to sit around whilst the giants bring their millions of customers into the digital realm or are we going to help cryptos become globally accepted mediums of exchange? Without a doubt, it will be a combination of both, and hopefully more biased toward the latter.
We are not going to explain to you what you already know about the benefits of crypto, talk about hyperinflation, debt-based money systems or anything of the sort. But what we will do is bring up something very simple that BitcoinVend drove home in our conversations, and most of the crypto community seems to be overlooking.
Every time we sell crypto to fiat to pay for our groceries or that new car, we are extracting value from the system. However, every time someone offers something of value (whether it be a product or service) accepting payment in crypto, value is added to the system. It´s a simple equation: More Use Case plus More People = More Adoption.
CONCLUSION
The fact of the matter is that for crypto to become truly mainstream, a solution like BitcoinVend is needed.
Given the features and attributes, one can easily say that BitcoinVend is going to be the most complete, comprehensive and useful app in the crypto market and could be huge. If they can tap into the non-crypto market, it could change the world.
BitcoinVend announced their project publically only a short while ago, they intend to launch the App this quarter and their marketing efforts have hardly begun making this a true hidden gem which we are pleased to be sharing with you at this very early stage.
In a nutshell, if you are looking for an easier way to pay friends, accept crypto at your business, sell items online, swap your cryptos, make it a bigger part of your life, or just the next great opportunity, BitcoinVend is worth a deeper look. Here at Platinum, we are keen to try it out and we are sure you will be too.
To learn more about the project, app, its functions features and benefits, visit:
Hopefully, you have enjoyed today's article. Thanks for reading! Have a fantastic day! Live from the Platinum Crypto Trading Floor.
TOP 10 UK CRYPTOCURRENCY BLOGS, WEBSITES & INFLUENCERS IN 2021 
Earnings Disclaimer: The information you'll find in this article is for educational purpose only. We make no promise or guarantee of income or earnings. You have to do some work, use your best judgement and perform due diligence before using the information in this article. Your success is still up to you. Nothing in this article is intended to be professional, legal, financial and/or accounting advice. Always seek competent advice from professionals in these matters. If you break the city or other local laws, we will not be held liable for any damages you incur.