Cryptocurrency exchanges have gained much popularity in the past couple of years. Today, traders use crypto platforms to buy and sell both digital and fiat currencies. One such popular exchange is Bityard. Based in Singapore, Bityard is a crypto derivatives trading portal that aims to simplify and facilitate leveraged trading with complex contracts and a simple trading approach. Despite being new in the market, Bityard has managed to gain the attention of several crypto traders looking for options trading opportunities.
Bityard offers to trade and cryptocurrency investing in mainstream cryptocurrencies and OTC. The platform is highly advanced, quick, and easy to use, as well as provides a host of features and trading tools.
EVERYTHING YOU NEED TO KNOW ABOUT THE BITYARD CRYPTOCURRENCY EXCHANGE
BITYARD
Established in 2019 (in November), Bityard is a premier cryptocurrency exchange that is easy to access and use. The platform simplifies crypto trading for novice traders and offers a concise and easy to understand user-interface. The Bityard cryptocurrency exchange is regulated by the American Money Services Businesses, the Singaporean Accounting and Corporate Regulatory Authority, The MTR of Estonia in the EU, and AUSTRACE from Australia.
The platform allows investors to trade a wide range of cryptocurrencies, including BTC, DASH, ETH, EOS, LINK, XRP, TRX, USDT, LTC, ETC etc. Bityard also enables investors and traders to indulge in margin trading and enjoy the leverage of up to 100 times.
BITYARD CRYPTOCURRENCY EXCHANGE TRADING PLATFORM
Bityard's trading platform is advanced and easy to use. The platform offers customizable layouts that allow traders to customize their charts to match their specific trading needs. The Bityard cryptocurrency exchange also offers an affiliate program that offers around 5% – 60% commission on different trading fees provided by the exchange. Users can also access a help centre that features a guide for beginners, announcements, FAQs, information, as well as terms of contract section. Additionally, the platform also features a category for videos that further provides users with handy guides for crypto trading.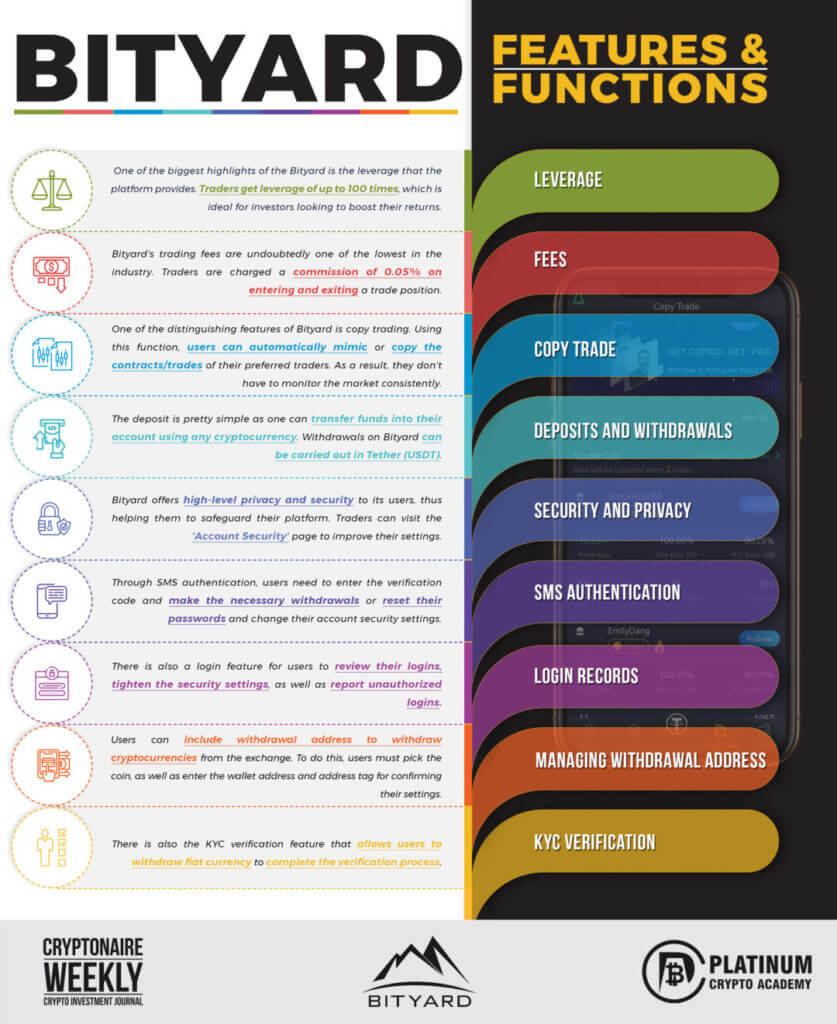 LEVERAGE AND OTHER FEATURES
One of the biggest highlights of the Bityard cryptocurrency exchange is the leverage that the platform provides. Traders get leverage of up to 100 times, which is ideal for investors looking to boost their returns. In addition to leveraged contracts trading's, the platform also offers a mobile trading option to its users. As a result, traders can access their Bityard cryptocurrency exchange accounts on Google Play, Android, as well as the AppStore if they are specifically looking to trade while on the move. The crypto exchange also offers risk management options for mitigating market risk. These include options like stop as well as take profit for orders. Margin trading on Bityard, unlike any other platform, is user-friendly and not complicated. It implies that traders only need to put a fraction of the entire trade amount within a leveraged trade position.
FEES
Bityard's trading fees are undoubtedly one of the lowest in the industry. Traders are charged a commission of 0.05% on entering and exiting a trade position. It is much lower when compared to the industry standards of 0.075%. Thus, the opening, as well as the closing fee (including leverage and margin), is 0.05%. Bityard does not charge any fee on deposit, but for withdrawals, traders must pay an amount of 2 USDT.
COPY TRADE
One of the distinguishing features of the Bityard cryptocurrency exchange is copy trading. Using this function, users can automatically mimic or copy the contracts/trades of their preferred traders. As a result, they don't have to monitor the market consistently. This feature is useful for newbie traders who don't have much knowledge or experience in trading. Traders are categorized as per two levels further, wherein the ordinary ones enjoy 8% copy trading profit, while the star traders get 10%.
Thus, Bityard's copy trading functionality is a highly interactive, innovative, and mutually beneficial system for copiers, as well as cryptocurrency traders whose trade positions get copied. With the help of the copy trading function, users can copy the best strategies of professional traders and earn profits without having to open or close their trades manually.
For Copy Trade Click Here
SPOT TRADING
After November 2020, the bull market led to increasing needs of crypto spot trading from global investors. In order to meet the needs, Bityard, with Binance, one of the top crypto exchanges, as the liquidity provider, has launched its spot trading service. More than 30 crypto spot trading pairs including BTC/USDT and ETH/USDT are available on Bityard. At the same time, Bityard users can find popular coins related to DeFi such as COMP, BAND, LINK, KNC, UNI, YFI and MKR on the trading page, which makes the spot trading service pretty convenient for most traders. With the crypto CFD (contract for difference) and crypto spot trading services on Bityard, the traders are able to gain profits in both bull and bear market by making proper cryptocurrency investing strategies.
For Spot Trading Click Here
DEPOSITS AND WITHDRAWALS
With Bityard, the deposit is pretty simple as one can transfer funds into their account using any cryptocurrency. Once a user has logged in, they need to go to the 'Panel' section and click on 'Deposit', where they can find an overview of where to select the coin. However, if you are planning to transfer funds in Tether (USDT), then you will have 3 distinct options. You can fund ERC20, OMNI, or TRC20. Also, the length of the deposit is based on the crypto coin that you choose to send. Every different digital coin requires a specific amount of confirmation before it gets credited into your account. Users interested in knowing the amount of time it is required for the deposit to be credited can use the Block Explorer feature to keep a track of the same.
Withdrawals on the Bityard cryptocurrency exchange can be carried out in Tether (USDT). However, in addition to the 2 dollar fee, the minimum amount that one can withdraw is $50. Thus, users must have $52 in their accounts to withdraw funds.
Also, withdrawals are as convenient as funding. Traders need to pick the Tether type for withdrawing funds from their accounts. However, users must create the pin address if they haven't already.
SECURITY AND PRIVACY
The Bityard cryptocurrency exchange offers high-level privacy and security to its users, thus helping them to safeguard their platform. Traders can visit the 'Account Security' page to improve their settings. Users must set up a pin for carrying out any deposits and withdrawals through the exchange. There is also an email verification feature that allows users to provide the verification code for making any withdrawals, or reset their passwords, and even change their account security setting.
SMS Authentication: Through SMS authentication, users need to enter the verification code and make the necessary withdrawals or reset their passwords and change their account security settings.
Login Records: There is also a login feature for users to review their logins, tighten the security settings, as well as report unauthorized logins.
Managing Withdrawal Address: Users can include withdrawal address to withdraw cryptocurrencies from the exchange. To do this, users must pick the coin, as well as enter the wallet address and address tag for confirming their settings.
KYC Verification: There is also the KYC verification feature that allows users to withdraw fiat currency to complete the verification process.
CUSTOMER SUPPORT
When it comes to choosing a cryptocurrency exchange, traders must ensure that they pick one that offers excellent customer support. As far as the Bityard crypto exchange is concerned, it allows customers to avail support through different options. Traders can contact the exchange via email or through Telegram. They can also seek online support and chat with a robot or chat with the operator directly.
Bityard has managed to expand its reach to more than 150 nations. The platform can be accessed in eight different languages including Russian, English, Japanese, Traditional Chinese, Korean, Simplified Chinese as well as Indonesian.
For Customer Support Click Here
USING THE BITYARD CRYPTOCURRENCY EXCHANGE
To start using Bityard, users must first create an email address, followed by a valid password, and also enter the necessary Captcha. The platform does not require traders to provide any identity verification details. When you start adding additional details to your trading account and get to know the platform better, Bityard provides you with 'beginner rewards' that are added in the form of coupon credits. Traders can also take advantage of the demo trading account feature that allows them to trade with real volumes and price charts without the need to use the real assets.
IS THE BITYARD EXCHANGE SAFE?
If you are concerned about the safety of your funds, then Bityard is undoubtedly a great exchange for you. The exchange is duly regulated by reputed financial regulators. Thus, these licenses ensure that the platform is both legal and safe to use. Also, Bityard makes use of multiple wallets that are stored in the offline and cold environment which helps to keep your coins protected. Most of the funds are stored in the cold wallet and about a fraction of the same is kept in the hot wallet that ensures that make withdrawals always simple and possible.
In addition to this, Bityard uses full SLL encryption that makes all communication (such as documents, texts, etc.) more safe and secure from hackers. Users can also take advantage of the 2-factor authentication and pin generation option to safeguard their funds further.
BITYARD CRYPTOCURRENCY EXCHANGE – CONCLUSION
To sum up, the Bityard crypto exchange is both safe and simple for users looking to maximize their profits through cryptocurrency trading. The platform is easy to use, fast and efficient, and boasts of some of the best features and tools that simplify trading for investors. Bityard's platform is ideal for novice traders as it does not overwhelm them with complex functionalities and options. The exchange offers a wide range of crypto pairs for trading and is both legit and transparent. If you are new to the cryptocurrency market and need a platform that is secure and user-friendly then Bityard is the right place to begin.
Cryptocurrency Investing Top Tip
It is not a very good idea to place all your eggs in a basket, yes you might be one of the lucky few it works out for, but even the prolific investor Warren Buffett also appears to agree with this idea.
You must ensure that when you spend money in the cryptocurrency world, you do so with a view to not allocating all your disposable wealth into one or two projects.
If you are truly looking for a varied and balanced portfolio you must exercise the process of a varied allocation of assets. Of course, BTC and ETH are the market leaders so many portfolios will reflect this and have sizeable portions allotted but a balanced approach will always provide the best level of exposure long term. Diversification is often better than taking a chance. Hopefully, you have enjoyed today's article. Thanks for reading! Have a fantastic day! Live from the Platinum Crypto Trading Floor. 
Earnings Disclaimer: The information you'll find in this article is for educational purpose only. We make no promise or guarantee of income or earnings. You have to do some work, use your best judgement and perform due diligence before using the information in this article. Your success is still up to you. Nothing in this article is intended to be professional, legal, financial and/or accounting advice. Always seek competent advice from professionals in these matters. If you break the city or other local laws, we will not be held liable for any damages you incur.