Hi Crypto Network,
Fan engagement is experiencing a very intresting shift, events are being experienced in a completely different manner compared to a decade or so ago. It has become critical for teams, managers and sporting Icons to appreciate the value as well as the importance of fan engagement.
Put simply, teams need to tap into the latest digital technologies to enable fan engagement inside stadiums, through social media and even when fans are using multiple devices. In this article, discover how technology, specifically Blockchain for sports is changing sports – fan engagement.
HOW TO BOOST FAN ENGAGEMENT IN MODERN SPORTS?
Sports fans never fail to show their loyalty towards their favorite teams or players. However, they also hope to get rewards for showing such fan loyalty. This is why it is important for sports organizations, teams, clubs and brands to make use of technology for managing fan relationships as well as to ensure that they get maximum benefits.
For instance, community tools such as mobile apps and websites make it convenient for sports fans to receive as well as consume important event related information. This can include any sort of information such as regarding upcoming games, their start times or information about food & beverage within the sporting center or stadium. Apart from this, voice technology and chatbots also play a vital role by assisting or guiding the fans through the site or app as well as addressing their issues/concerns both efficiently and quickly.
Put simply, by leveraging technology, sports team, brands clubs can enhance fan engagement and ensure it is pleasant resulting in improved fan engagement as well as better relationships between teams and fans.
THE BEST WAYS TO ENGAGE WITH FANS
Apart from this, GPS-enabled devices are also an excellent way to provide features like geofencing for offering reward points and even sending targeted as well as exciting offers to fans within specific region. Also, loyalty programs are a great way to reward the passionate sports fans who attend every game or follow teams. Such programs are simple to design & implement and one can easily deploy it via mobile apps or websites.
Interestingly, even social media has a crucial role to play in the sporting industry. Athletes and teams invest a great deal of their time in improving their presence on the internet. They achieve this through creation and promotion of team based data or content to remain connected with their fans during or post an event.
Aside to the above mentioned options, sports organizations and teams are also relying on VR (Virtual Reality) and AR (Augmented Reality) to develop fresh and exciting experiences for their fans, allowing them to enjoy front row seating experience from the comfort of their homes.
Blockchain is another key technology for increasing fan engagement. Blockchain for sports also allows sports organization to collect insightful as well as actionable data regarding their fans to drive increased engagement as well as revenue. It also allows athletes to gather funds for their training through exchange of future income, fan loyalty programs as well as other rewards. Blockchain for sports is being used for incentivizing and rewarding for fan engagement & interaction through creation of improved fan loyalty programs that motivates them to perform some actions or buy specific goods.
WHY MAJOR SPORTING CLUBS ARE SPENDING MORE TIME ON FAN ENGAGEMENT?
In the past couple of years, sporting clubs and organizations have spent more resources and time towards interactions with fans, thus cultivating strong fan relationships. Sporting clubs and teams are investing a lot of funds towards developing and ensuring personalized fan and game experiences. This, in turn allows them to better serve and understand their fanbase.
HOW IQONIQ IS THE PERFECT PARTNER FOR SPORTS AND ENTERTAINMENT BUSINESSES?
While the world, in general, is more connected as compared to before, fans who seek sports & entertainment have little choice, but to gather content they require, through multiple platforms. This however results in one-way communication i.e. from the sport stars to the fans. This is exactly where IQONIQ can help. The platform collects all the relevant content from team's idols and organizations in the sports & entertainment sector and presents the same on a single platform. This provides fans with opportunities to enter into a two-way communication process with sports stars as well as fellow fans.
Fans within the entertainment and sports world are immensely loyal to their teams and idols. With IQONIQ organizations and idols in both sports & entertainment sector can give back to their devoted and loyal followers, by offering them with numerous exclusive benefits. IQONIQ is basically a platform for engaging fans that has the power to revolutionize the sports and entertainment industry. It recognizes the importance and needs of fans and provides them with tangible benefits.
Thus, fans can use the IQONIQ platform to acquire all the necessary information about matches, players, teams, statistics and more through a single platform. On the other hand, sports clubs and idols can connect as well as engage their fans build a strong fanbase. Similarly, IQONIQ offers brands with a highly powerful marketing platform to reach out to their target audience.
Sports organizations across the globe have realized the fact that blockchain technology has immense potential to enhance fan engagement and interaction, streamline operations as well as offer fresh revenue models. Blockchain for sports is widely being relied upon by football crazy continent Europe, NFL as well as baseball league organizers for improving ticket sales, merchandising as well as interactions between sports teams and audience as well as organizations.
HOW THE IQONIQ ECOSYSTEM WORKS – FAN ENGAGEMENT?
With IQONIQ Blockchain for sports, users get access to decentralized network which facilitates transactions in real-time that is further visible on the documents in real-time. As a distributed ledger system, IQONIQ Blockchain for sports makes the process of sharing documents more secure and transparent. Thus given that IQONIQ's motto is to offer a full range of solutions to the sports idols, organizations and fans, the platform has interlinked both token app as well as reward systems to simplify things for each one of them. IQONIQ's tokens essentially grant's access to all the sports fans, the idols as well as the sports clubs.
IQONIQ has come to realize that their fans wish to purchase tickets, game experiences and merchandise as well as feel highly valued for showing loyalty towards their teams or players. Similarly, sports organizations and idols wish to monetize as well as reward their fans that they've managed to cultivate after a great deal of effort. With IQONIQ token, organizations can deliver a better loyalty programs that encourages sports fans to become more involved as well as to earn rewards for their involvement.
WHEN USERS OWN THE IQONIQ (IQQ) TOKENS, THEY GET REWARDS SUCH AS: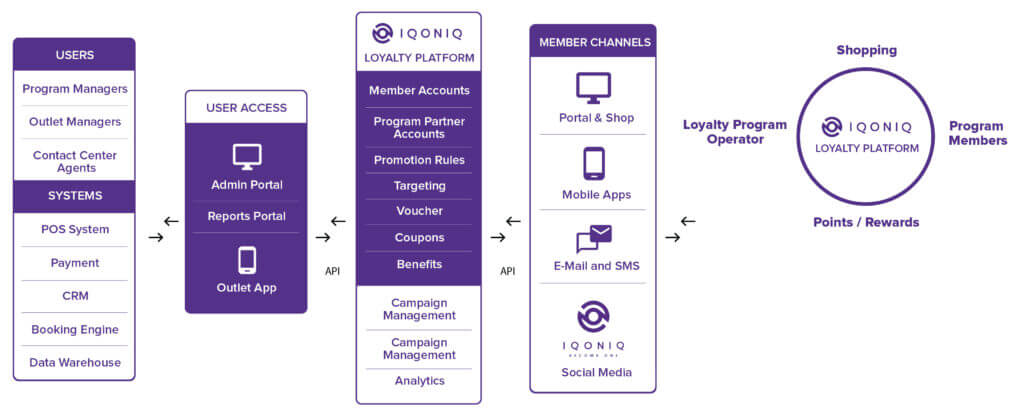 Cashback, which is proportionate to the total number of tokens held as well as the engagement level of their fan.
Membership discounts.
Multiplication of the loyalty points garnered.
OTHER BENEFITS FOR IQQ HOLDERS
The IQQ holders also enjoy other benefits like:
Access to sport club's fresh kit days before its release among the public.
VIP access or pass to entering the sports grounds.
Opportunity for participation in the 'ask the star' chat conversation with their favorite idols.
Specially created video as well as exclusive content.
Access tickets for shows, matches as well as events on a priority basis.
Apart from the above, the IQQ token is also used for measuring loyalty programs. In fact, it serves as the exchange mechanism among all user designed loyalty programs. Put simply, the higher the engagement level from a fan and the total number of IQQ tokens held by him/her will form the basis of earning higher IQONIQ loyalty points. Thus, IQONIQ has enabled fans to get more connected to their idols as well as sports organizations.
IQONIQ also offers additional services to the idols and clubs such as the option to select from multiple products as well as services, including luxury cars and concierge services.
It must be noted that IQONIQ will be creating and distributing as many as 2,500,000,000 IQQ tokens altogether. These tokens would be distributed among contributors, partners, idols & clubs as well as teams and advisors.
FAN ENGAGEMENT RECENT NEWS
With the ongoing COVID-19 global pandemic, fan engagement for sports and ongoing entertainment has been at a low. As everyone has been battling this global crisis one thing is very clear engaging with clubs, entertainment has been at its lowest for generations. with more news of sporting events being completed behind closed doors, it looks like this will be the norm for a while.
Boston's PGA Tour playoff tournament to be played with no fans
PGA Tour Scratches Plans for Fans, Pro-Ams for 2019-20 Season
Fox Sports features artificial crowd noise at MLS Is Back Tournament
IQONIQ AND FAN ENGAGEMENT
Gone are those days when fan engagement was not a popular concept. Today, sports fans are highly inquisitive and passionate and wish to find out more information regarding their favorite players and teams. They wish to gather all that information in no time and that's exactly why it is crucial for sports clubs, organizations and teams to engage them. This can be done through different mechanics and platforms like IQONIQ.
Thus, innovative technologies such as IQONIQ's blockchain for sports allow team to engage in fundraising for recruiting talent, improving stadiums as well as for achieving other goals. It also helps teams and clubs to enhance fan interaction through incentivizing engagement. To achieve the most out of Blockchain and other technologies, sports organizations & teams must partner with trusted providers such as IQONIQ who possess an excellent understanding of both the game as well as the blockchain technologies required for boosting fan engagement.
Hopefully, you have enjoyed today's article. Thanks for reading!
Have a fantastic day!
Live from the Platinum Crypto Trading Floor.
Earnings Disclaimer:
The information you'll find in this article is for educational purpose only. We make no promise or guarantee of income or earnings. You have to do some work, use your best judgement and perform due diligence before using the information in this article. Your success is still up to you. Nothing in this article is intended to be professional, legal, financial and/or accounting advice. Always seek competent advice from professionals in these matters. If you break the city or other local laws, we will not be held liable for any damages you incur.