Online gaming has become a phenomenon that cannot be ignored. There are millions of gamers worldwide, some of whom play professionally, others casually. Despite being a niche industry a year ago, gaming has become the norm for many young people today.
When gamers used to spend the entire day playing games on their computers, they were accused of "wasting their time". Despite the disadvantages of spending endless hours playing games, this hobby has evolved into one of the most lucrative careers in the world. Today, gaming has become a synonym for fun and a way to make some serious money.
Play-To-Earn games are becoming increasingly popular due to players earning real-life rewards for their time and effort. The P2E economy has spawned a whole new world of in-platform assets to create, sell, or exchange for money. Several big industries are emerging in this category, Fork Gaming's Project Chosen Ones being a perfect example of that.
What is Play-To-Earn Gaming?
Play-to-Earn games, as their name implies, offer players a reward for participating. It might seem pretty simple, but it marks a huge departure from how gaming has been made for decades. There are multiple ways to earn NFTs on Play-To-Earn, which can be exchanged for fiat currency or other tokens.
There is nothing more to NFT games than games. You can play them in the same way you would play any other game. However, blockchain technology makes them different from other games. They provide an element of rarity and uniqueness. Apart from simply playing, you can also make good money by playing the game.
Why are P2E Blockchain Games better than Traditional Gaming?
The major monetisation methods used in traditional online gaming are affiliate marketing, in-app purchases, and in-app advertising. Nowadays, gamers spend in-game coins to purchase virtual items. However, these coins have never gained value beyond the game's scope. Blockchain gaming is especially appealing since it allows players to add value to their purchases. Games that use blockchain often store tokens or NFTs, such as in-game products, on a distributed ledger. As a result of the blockchain, game products can be traded for cryptocurrency and then converted into real money.
The in-app purchase system allows players to purchase things directly from the game, like coins, extra lives, custom characters, outfits, accessories, etc. When it comes to blockchain gaming, in-app purchases are carried out through blockchain. On the other hand, in traditional games, game developers typically own stores where players can buy their assets, which is why they are rich rather than the players. Furthermore, players cannot control the game life cycle in traditional games. If the server is turned off, unused virtual properties will be removed from the server, and players will no longer be able to access them. Gaming merchandise belongs solely to the game operators, not to the players.
Modern-day games allow digital ownership without the stakes or values associated with crypto games. Although you can own assets in-game, you cannot sell them to other players. In comparison, the entire concept of blockchain games is drastically different. From ownership of virtual assets through decentralised operations, assets owned by players can be used in a variety of ways beyond the gaming experience.
What makes Chosen Ones an excellent game NFT to add to your collection?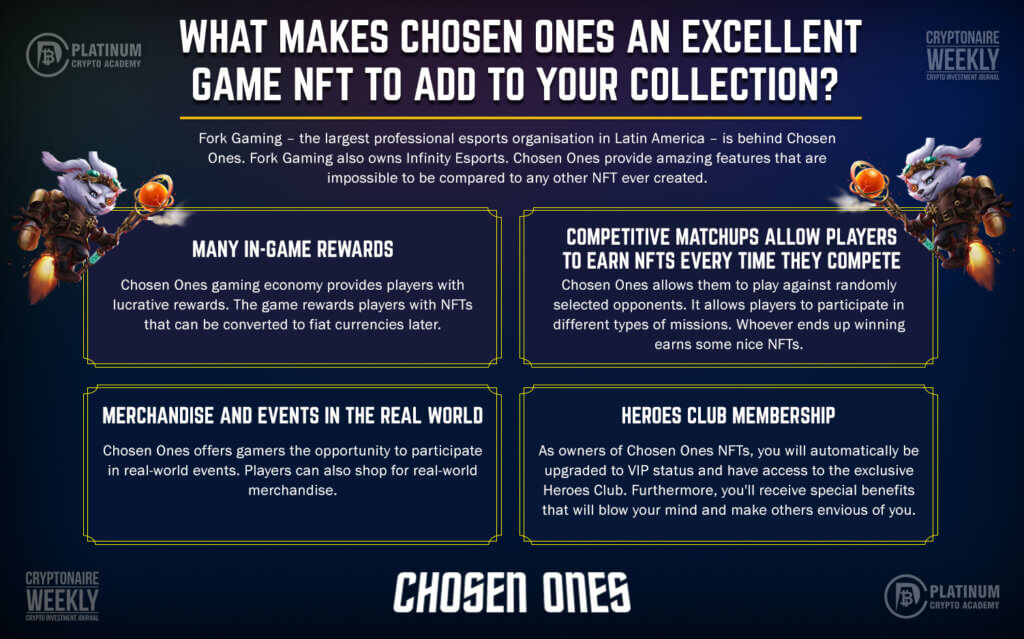 Fork Gaming – the largest professional esports organisation in Latin America – is behind Chosen Ones. Fork Gaming also owns Infinity Esports. Chosen Ones provide amazing features that are impossible to be compared to any other NFT ever created. Chosen Ones NFTs can be used as avatars in the metaverse or as characters in the upcoming Play-to-Earn auto-battler and MOBA games. Some of the exciting features of Chosen Ones NFT game are listed below.
Many in-game rewards
Chosen Ones gaming economy provides players with lucrative rewards. The game rewards players with NFTs that can be converted to fiat currencies later.
Competitive matchups allow players to earn NFTs every time they compete
Chosen Ones allows them to play against randomly selected opponents. It allows players to participate in different types of missions. Whoever ends up winning earns some nice NFTs.
Merchandise and events in the real world
Chosen Ones offers gamers the opportunity to participate in real-world events. Players can also shop for real-world merchandise.
Heroes Club Membership
As owners of Chosen Ones NFTs, you will automatically be upgraded to VIP status and have access to the exclusive Heroes Club. Furthermore, you'll receive special benefits that will blow your mind and make others envious of you. By becoming an early supporter, you'll be rewarded with free airdrops and access to the Chosen Ones membership club in the metaverse, which is a great way to meet and talk to other Heroes.
Chosen Ones is a Fork Gaming Project; therefore, they are already working on making the game smooth. There are over one hundred players and eighty streamers who represent Fork Gaming in League of Legends, CS: GO, and Dota2. Their team, Infinity Esports, is sponsored by top brand names such as BMW, TikTok, Tigo, Logitech, Subway, Office Depot, and Kappa.
Therefore, you can quickly understand the potential of their business; they are creating the best gaming ecosystem. Moreover, they are a more reliable investment platform since they have partnered with Good Gamer Entertainment. The company is in the process of developing a world-class NFT game on Unity.
A guide to buying Chosen Ones NFTs
Chosen Ones marketplace allows you to buy, sell, and trade Chosen Ones NFTs. Currently, Chosen Ones supports about 30 of the most popular crypto wallets. The following process explains how to buy Chosen Ones NFTs (this will only work once the NFTs are available to mint).
To get started, go to https://mint.chosenones.io.
Connect your wallet by clicking on the "Connect Wallet" link.
If you want a reliable transaction experience, we recommend you use MetaMask for your crypto wallet.
When your wallet is connected with Chosen Ones, you can purchase game NFTs.
Once you purchase an NFT, it will be "minted" to the Polygon network on the Ethereum blockchain. After that, it is recorded that you own the NFT. Additionally, it will mention the time, the date, and the price. You will be able to view it on Chosen Ones NFT marketplace. These NFTs can be used as avatars in the metaverse or as Play-to-Earn battlers in the upcoming game.
Play-to-Earn Gaming: What's Next?
Even though Play-to-Earn is a new niche, its influence extends beyond gaming. Despite these changes, people will continue interacting with and perceiving traditional socioeconomic structures like financial institutions, markets, and governments differently. Play-to-Earn games serve as proof of concept for a self-sustaining financial system and ownership structure that lend themselves to different emerging digital environments. The growth of blockchain-based gaming is accelerating, and it has the potential to become the next big thing in gaming. Several factors have contributed to this, including the popularity of mobile gaming, the acceptance of cryptocurrency, and the development of blockchain technology.
The future of P2E games looks bright if they can attract a large audience and if the games can prove they are able to retain customers. Among the main reasons that people engage in Play-to-Earn games is that they are free to play and provide free crypto coins. The graphics in many crypto games are not good, and they are not very engaging. These are serious shortcomings.
Contrary to other NFT games, the developers of Chosen Ones are working hard to provide entertaining and high-quality graphics for a better gaming experience. The beta version of the game will be released next quarter. By partnering with the Good Gamers Team, they'll make sure to release one of the best NFT games.
Conclusion
There's no doubt that blockchain gaming has a bright future for e-gaming, and there are plenty of merits to help support that point of view. With the rise of Play-to-Earn business models, players and developers can monetise their time spent on a hobby they enjoy. Through NFT gaming, players interact with each other's collectibles and digital collectibles. NFTs can now be earned in new ways, thanks to Game-Fi. Nowadays, making money is no longer only about luck and collecting; it's also about playing. When playing P2E games, Chosen Ones can be the best platform for earning money. Having exclusive games will not pose any problems for gamers, as they will release only the best. Investing in Chosen Ones game's NFT will help you smooth your gaming experience and start your journey into NFT gaming.
Hopefully, you have enjoyed today's article. Thanks for reading! Have a fantastic day! Live from the Platinum Crypto Trading Floor.
Earnings Disclaimer: The information you'll find in this article is for educational purpose only. We make no promise or guarantee of income or earnings. You have to do some work, use your best judgement and perform due diligence before using the information in this article. Your success is still up to you. Nothing in this article is intended to be professional, legal, financial and/or accounting advice. Always seek competent advice from professionals in these matters. If you break the city or other local laws, we will not be held liable for any damages you incur.