Over the past year, there has been a major shift in how big investors interact with DeFi protocols. According to the latest figures posted by Coinbase, the world's largest cryptocurrency exchange, more and more institutional investors are now becoming interested in decentralised finance.
The impact is evident as we see the DeFi market cap exploding. Inspired by the increased investor confidence, we see many DeFi projects and tokens coming up to entice investors. However, most self-rewarding DeFi tokens fail to provide adequate protection to retail investors. As such, we haven't seen a market leader yet. While exploring the top DeFi token, we stumbled upon Gain Protocol. It is becoming increasingly popular amongst DeFi investors. Specifically created to provide token owners with consistent rewards while protecting their interests through innovative whale protection protocol, Gain Protocol has been recognised by a few top investors, and that's what draws our further attention to the project. Not to mention that the market is ripe for a secure and performance-driven DeFi project, Gain Protocol is one of the promising contenders to grab the spot in the list of top DeFi projects with all its innovative protocols. In this detailed Gain Protocol review, we will examine what's unique with this DeFi project. We will also check out what exclusive features drive investors towards Gain Protocol. 
A Brief Overview Of Gain Protocol
Gain Protocol is not just another DeFi project. It is designed to eliminate the pertinent problems investors face with typical self-rewarding protocols. The problem with most such autonomous yield liquidity-generating protocols that rewards users for holding the native tokens is they were ill-conceived, and in their bid to capitalise on the exploding DeFi market, they discarded investor interest. Currently, one of the biggest challenges facing DeFi investors is "security". This is where Gain Protocol becomes a game-changer. It is not just about percentage yield and APY, but it focuses more on consistency and secure returns. It provides ultimate investor protection with its 7 innovative and practical protocols that make DeFi investments secure, profitable and fun. 
Gain Protocol provides users with multiple opportunities to increase their crypto wealth. Its whale protection protocol ensures that investors are protected against any irresponsible dumping behaviour from whale investors. The Gain Protocol ecosystem features innovative "Sweepstakes", which comprises seven automated daily sweepstakes, automatically handled by smart contracts. The rewards and fee structure applied by Gain's smart contract on all transactions is also innovative, and unlike traditional self-rewarding DeFi tokens, it is not a flat fee. The free structure is meticulously designed to protect the interest of smaller investors and discourage unhealthy practices. To make DeFi easily accessible, Gain Protocol's effort to make it user-friendly is evident. Their innovative feature, which they call "SwapX", allows users to access the swapping functionality, which is embedded in their website where users can buy and sell GAIN tokens directly from the website. It's a one-point solution. The project is also designed to provide mid-cap investors with a static passive income. Anyone can become a part of the Gain Protocol ecosystem and create a passive income for themselves. Moreover, by becoming a part of the Gain Protocol ecosystem, users also contribute to charities. A certain percentage of the fee applied on transactions by the Gain Protocol smart contract automatically goes to a charity pool. 
What Makes This Protocol Exclusive?
In our bid to explore what's driving investors towards Gain Protocol, we dug deep into the features and functionalities offered by the platform. Interestingly, unlike other DeFi projects, Gain seems to be highly organised. They have seven different protocols, which are designed to make the $GAIN a truly self-rewarding passive income token. Here's a list of features that we found exclusive to Gain Protocol:
A) Innovative Whale Protection Protocol: Many self-rewarding DeFi tokens were designed without much thought, and we have seen the results. Smaller investors and not-so-technically-savvy investors have been at the receiving end. However, Gain Protocol's whale protection protocol is exclusive in this regard as it is designed to protect smaller investors from indiscriminate token dumping by big investors who can play at smaller margins. Gain Protocol applies a fee to any such selling activity to discourage dumping. Most importantly, the additional fee applied on big and spontaneous sellings is redistributed amongst investors to compensate for any tentative price loss. All in all, it shows how carefully Gain Protocol has designed the ecosystem where the interests of private and retail investors are represented. 
B) Automated Sweepstakes: Gain Protocol provides investors with a unique opportunity to earn through sweepstakes. On the Gain platform, the Sweepstakes are held every day and 1.5% to 3.4% of the free is redistributed to investors in addition to the static reward. To make the process highly transparent, the Sweepstakes are automated and not influenced by any group or token holder/s. All $GAIN owners are eligible to participate and are also encouraged to contact the team if they come across any potential fraud or discrepancy. We see that Sweepstakes are great for smaller investors as they always get a chance to win big, regardless of their investment or token-holding size.
C) Toro Round Protocol: Toro Protocol is another interesting addition to the Gain Protocol ecosystem and opens doors to new opportunities for token holders. The Toro Protocol allows users to buy tokens in future token sales, which will be conducted after every milestone achieved – precisely a series of seven different milestones. Gain protocol explains the Toro rounds as "The future launch is a game-changer. The money earned will be used by the Toro smart contract to buy $GAIN tokens, which will increase the price of the tokens significantly. Additionally, all the purchased $GAIN tokens from the meaning of each Toro round will be distributed to token holders."
Many other exclusive features make $GAIN one of the top DeFi tokens in the market.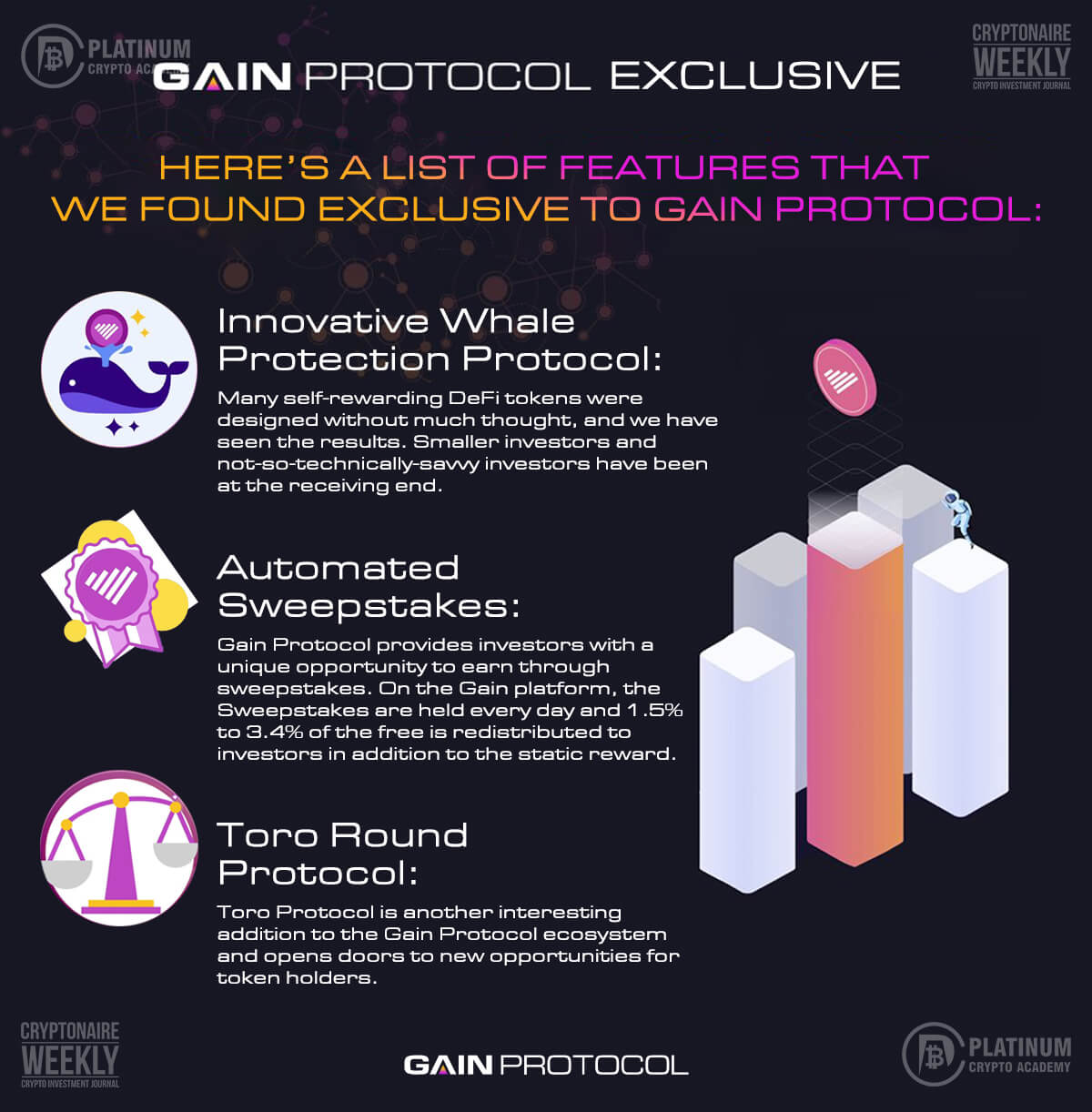 How The Protocol Protects Investors
$GAIN is not a typical cryptocurrency where users purchase it and rely on the performance and market forces to push the prices. Typically, investors purchase cryptocurrency and earn from a potential increase in value. Alternatively, in DeFi, investors leverage their tokens through staking, yield farming or liquidity mining to generate returns. Gain Protocol brings advanced DeFi opportunity to retail investors by allowing them to earn the best possible returns without having to make any extra effort. $GAIN owners receive consistent rewards. Investments are protected by secured returns as the Gain Protocol smart contract applies a fixed fee on all transactions and a certain percentage is automatically redistributed to monthly token owners. Moreover, a certain percentage of the applied fee is collected and locked in liquidity to make sure the supply is consistent. 
On the other hand, Gain Protocol has taken advanced measures to protect the value of investments. It penalises dumping behaviour, which is intended to eventually manipulate the token prices, putting smaller investors at risk. All spontaneously and big-selling activities attract an additional fee, the proceeds of which are redistributed amongst investors. Moreover, Gain Protocol makes for a true passive income as token holders don't have to engage with any third party, like validators or other wallet apps. It is all automated and users continue to earn rewards simply by holding their tokens. The rewards are perpetual and increase as the transactions on the network grow. 
How Gain Protocol IS Different From Other Make-Money-From-Crypto Projects
If you're a retail investor looking to invest in a DeFi project and generate a passive income, Gain Protocol can be one of your best bets. It's not like typical DeFi projects that lack clarity in disposition and are not focused on securing retail not-so-crypto-savvy investors' interests. Technical know-how is undoubtedly amongst one of the biggest roadblocks for newbie investors. Unlike DIY liquidity mining, staking or yield farming, investing in $GAIN and holding them is one of the most secure and hassle-free ways to earn static rewards. A consistent APY is guaranteed, and there are measures to protect the investments as the innovative protocols ensure liquidity, and also push prices upward. 
Typical make-money-from-crypto projects have third-party involvement. They even lack transparency as the majority token owner gets all the say, and they can also manipulate the prices. However, with Gain Protocol, there are reasonable checks for bigger investors. Therefore, while it does not promise APY like some other DeFi projects would, the key is consistency and secure investments. Moreover, $GAIN can be highly beneficial to smaller investors who have many different opportunities to earn rewards from innovative $GAIN protocols like Sweepstakes. Accessibility is also an important factor that retail investors must consider while investing in a DeFi project. Gain Protocol is unlike any other as it allows users to directly purchase or Swap tokens to acquire $GAIN from their website. Users who find the technical interface of decentralised exchanges difficult to navigate need not worry. Gain Protocol provides an easy accessibility tool through the innovative SwapX feature. 
Another major problem facing conventional or first-gen DeFi protocols is the liquidity crunch. Gain Protocol's Dynamic Liquidity Protocol ensures there is consistent liquidity. A certain percentage of the fees applied gets locked in liquidity. It ensures the liquidity floor is always optimum and available for all Gain projects. 
Getting Into DeFi – why should you consider Gain Protocol?
There is no dearth of DeFi projects or self-rewarding tokens in the market. With the success of DeFi and the continuing trends, we are sure that the market will only expand. For retail investors who are looking to get a decent Annual Percentage Yield (APY) and a secured investment opportunity, Gain could be a suitable option. Let's take a quick look from an investor's point of view on why you should consider Gain Protocol:
a) The focus of the project tells a lot: DeFi is not rocket science, and no project can claim to be radically different from the other. As an investor, the most important factor that one must consider while investing is examining the focus of the project. It is important to learn about the efforts the project has made to deliver what they claim. In the case of Gain Protocol, we see clear indicators about how they have designed the project to not just entice investors with big APYs but focuses on the main and challenging areas of concern. Gain Protocol understands the pain points of retail investors and comes with whale protection protocol. It understands the limitations of retail investors and allows them to participate in better income opportunities through innovative features like Sweepstakes. These small nuances speak volumes about the core principles and ideas driving the project. With investor protection being paramount, we can see that Gain Protocol is there for the long haul. 
b) Security and verification: While the protocols and features of Gain Protocol are promising, another important question to be asked is how reliable it is. We have learnt that Gain Protocol's smart contract is audited and verified by reliable, independent, third-party verifier Solidity Finance. It means that the smart contract is bug-free and is created to do as it claims. Effectively, it establishes that Gain Protocol is transparent and secure and the investments enjoy all the protection and features claimed by the Gain Protocol smart contract. 
c) Advanced opportunities: Gain Protocol is in its initial stages and it already hosts some advanced income opportunities that are exclusive to $GAIN owners. The project is already actively researching new ideas and will soon be launching additional features. With investors being attracted, the price of $GAIN could go north as we see from the trends in the DeFi space. Anyone who has been observing the DeFi markets knows that the best time to invest in a promising project to make the best gains is to catch them early. Now is the opportunity, before $GAIN starts kicking. 
ENQUIRE ONLINE