Day Trading Crypto had been on the rise these days particularly the recent bull run of BTC which dominated the digital currency market by about 61.1% with market capitalization running into hundreds of billions of dollars. Due to this recent development, if you are day trading crypto you may have been looking for the right solution with the right tools to help mazimize your profits .
Day Trading Crypto is a term that describes the practice of buying and selling instruments at time intervals shorter than a day. Crypto day traders use a combination of strategies and analysis to forecast market movements and generate profits over periods of hours, minutes, or even seconds by trying to take advantage of arbitrage opportunities, price discrepancies, and news-based volatility.
Intraday trading has always been an integral part of traditional stock and commodity markets. However, while these instruments have fixed trading hours, trading in cryptocurrencies is always possible. This is what makes cryptocurrencies so lucrative for talented day traders. Besides, the crypto instruments can be traded 24 hours a day, 7 days a week
WHAT IS A CRYPTO EXCHANGE AND HOW DOES IT WORK?
Day trading crypto can be exhillorating buying, spending and trading this financial instrument can be however very complicated for beginners and even intermediate traders, but the first and most essential question that always gets asked is "What crypto exchange should I use?" A crypto exchange is a digital trading platform on which cryptocurrencies can be bought, sold, and exchanged. In the sense of the classic exchange, the price of a coin is based on the principle of supply and demand. (https://www.howtotoken.com/explained/the-5-types-of-crypto-exchanges-you-need-to-know-about/)
There are many exchanges, more than 200 currently, and that number is growing as each day passes. All these crypto exchanges are very different at their core; some of them are regulatory-compliant thus they are referred to as CENTRALIZED EXCHANGES, while some of them are decentralized and can't be regulated, thus operating autonomously.
there are majorly 5 types of crypto exchanges that are available which is listed below and please note that we're are not recommending a particular crypto exchange as you need to do your due diligence, check the reviews, the pros, and cons as well as make the best decision that best suits your financial needs. but for educational purposes, below are the listed types of exchanges.
Centralized – more liquidity, easy to use. A centralized operator is responsible for its security, upgrades, functionality, and has representatives to handle public relations on their behalf. They have huge trading volume but can be susceptible to hacks. Examples here are bitfinex and Kraken
Decentralized – all operations are settled on the blockchain, all coins are held by their owners. These exchanges are opposite to their centralized counterpart. There is no single entity controlling them, the whole exchange is a set of smart contracts that allow for the trustless exchange of tokens. The most popular exchanges are Etherdelta and IDEX, which work on Ethereum.
Broker – A legal centralized exchange that is fully compliant with its local regulations. An example here is Coinbase
Instant – an application for exchanging tokens quickly. You don't trade here but you exchange one financial instrument (crypto) for another. example here include Changelly, shapeshift
Hybrid – A mix, combining the security of decentralized networks with the user-friendliness of centralized exchanges. An example here is the popular Binance, Bitstamp.
DAY TRADING CRYPTO WHAT'S THE ROLE OF ATANI IN ALL OF THIS?
The major headache of beginners and expert traders includes the inability of many crypto exchanges to have all the needed tools and education to make this niche profitable for all. Also, you need to invest both time and money to acquire the knowledge as well as the various tools necessary for successful trades.
At this point is where ATANI comes in to be of immense help. Atani, previously known as "Etoshi", is a crypto trading platform that offers inclusive packages and mouth-watering benefits to traders particularly those who are more interested in making a profit within a limited timeframe. the platform is user-friendly, a built-in tax auditing report is made available as well as users can easily have access to multiple crypto exchanges. Atani is a free desktop app that brings along a range of features aimed at making crypto trading and asset management more efficient.
The company's products are the one-stop solutions for crypto trading, tax filing, and asset management requirements which makes it less difficult for traders. Day traders can have more time to focus on what's important such as analysis while Atani does the heavy lifting for them in the background.
HOW WILL ATANI BENEFIT CRYPTO DAY TRADERS?
The name ATANI is inspired by the Japanese expression あた に (pronounced "ata ni"), which can be somehow transliterated as "to you". Our naming reflects our commitment to putting the end-user at the center of every decision that we make. Or, put simply, that ATANI is built by crypto enthusiasts, for crypto enthusiasts. ATANI pride in helping crypto traders navigate through the tough condition of the crypto ecosystem without getting injured.
BELOW ARE SOME OF THE BENEFITS TAILORED JUST FOR DAY TRADING CRYPTO: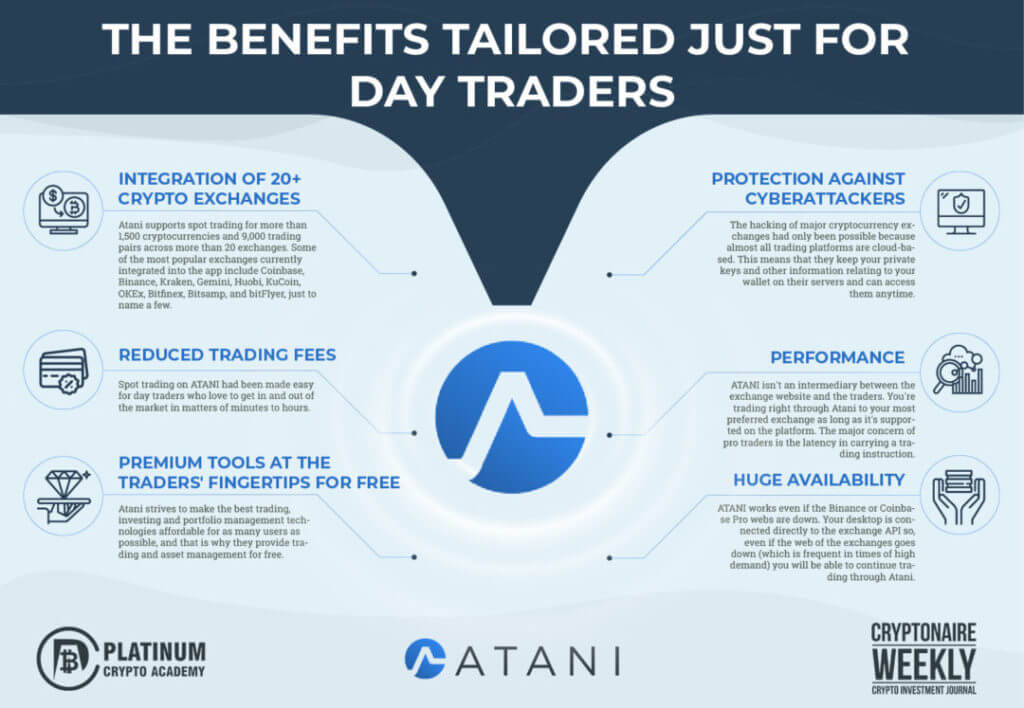 Integration of 20+ crypto exchanges
Currently, Atani supports spot trading for more than 1,500 cryptocurrencies and 9,000 trading pairs across more than 20 exchanges. Some of the most popular exchanges currently integrated into the app include Coinbase, Binance, Kraken, Gemini, Huobi, KuCoin, OKEx, Bitfinex, Bitsamp, and bitFlyer, just to name a few. A mixture of all types of crypto exchanges listed above just so you can make the right financial decision without the hassle of switching from one website to the other.
Reduced Trading Fees
Spot trading on ATANI had been made easy for day trading crypto for those that love to get in and out of the market in matters of minutes to hours. these people can benefit maximally from the reduced trading fee that ATANI provides as it's officially linked to many exchanges. Of course, ATANI does not charge any fees on top.
Premium Tools At The Traders' Fingertips For Free
Atani strives to make the best trading, investing and portfolio management technologies affordable for as many users as possible, and that is why they provide trading and asset management for free. All the products and services in the current product suite (Multi-Exchange Trading Terminal, Portfolio Tracking, Real-time Alerts, Charting, and Technical Analysis, Tax Reports, etc.) are completely free.
Protection Against Cyberattackers
The hacking of major cryptocurrency exchanges had only been possible because almost all trading platforms are cloud-based. This means that they keep your private keys and other information relating to your wallet on their servers and can access them anytime. Even if they are encrypted, your keys are online which makes them susceptible to hacks and attacks by cybercriminals. An example is the Mt. Gox cyber hack in which $460 million was carted away.
But here, Atani provides you with a non-custodial desktop wallet as it is a desktop application launched in 2019. At Atani, we have chosen to build a desktop trading app to ensure that our servers never have access to your API keys or funds (non-custodial app). In the unlikely event that Atani gets hacked, crypto traders' funds are 100% secured.
Performance:
ATANI isn't an intermediary between the exchange website and the traders. You're trading right through Atani to your most preferred exchange as long as it's supported on the platform. The major concern of pro traders is the latency in carrying a trading instruction. Trading crypto which is a highly volatile financial asset could be risky if you're using a high latency. Latency simply means the time intervals it takes between calling trade and executing that trade.
High latency would be dangerous which is why ATANI provides day traders with tick-by-tick order book data in real-time (100ms or less), which is increasingly relevant when trading highly volatile assets
Huge Availability:
ATANI works even if the Binance or Coinbase Pro webs are down. Your desktop is connected directly to the exchange API so, even if the web of the exchanges goes down (which is frequent in times of high demand) you will be able to continue trading through Atani.
Last but not least is the information provided to traders in terms of tutorials on the website page as well as the News features integrated into the system for those who love to trade the news (Fundamental trading).
Traders' choice of using ATANI would give them an edge over others (who don't know about this tool) as the company had achieved a lot of feats in its first 18 months. Some of the awards include:
Top Blockchain Pick at TechCrunch Disrupt, 2019
Top 10 Fintech Start-up at South Summit, 2019
Top 100 European Start-up by Red Herring, 2020
Top 12 Global Start-up at the Mobile World Congress, 2020
Top 3 Start-up at the European Blockchain Convention, Barcelona, 2020
Top 3 Technology Innovation Project by Neotec-CDTI, Spanish Ministry of Science and Innovation, 2020
Supported by the Entrepreneurship Programme of ENISA, Spanish Ministry of Industry and Trade, 2020
Seal of Excellence in Innovation by the Spanish Ministry of Science and Innovation, 2021
In conclusion, when considering the platform to use for cryptocurrency investment as a day trader: 4 elements need to be considered as User Interface, Security, Features, and Cost implication.
The user interface is easy to navigate and has lots of features needed to make a trader successful. it's highly secure in terms of user information as well as funds. Similarly, as at this time, ATANI had no cost implication which makes it the best.
Hopefully, you have enjoyed today's article. Thanks for reading! Have a fantastic day! Live from the Platinum Crypto Trading Floor. 
TOP 10 UK CRYPTOCURRENCY BLOGS, WEBSITES & INFLUENCERS IN 2021 
Earnings Disclaimer: The information you'll find in this article is for educational purpose only. We make no promise or guarantee of income or earnings. You have to do some work, use your best judgement and perform due diligence before using the information in this article. Your success is still up to you. Nothing in this article is intended to be professional, legal, financial and/or accounting advice. Always seek competent advice from professionals in these matters. If you break the city or other local laws, we will not be held liable for any damages you incur.