Quick Links
We are on the verge of a cashless society, which seems like something from science fiction. The shift to cashless transactions has already become commonplace in today's financial practices and transactions, and many companies, financial institutions, and even governments are supporting it. Our daily lives are becoming increasingly dependent on a cashless society as people become more aware of its importance.
Since electronic payment services are so common today, it is reasonable to believe that a cashless society is possible. Currently, many new blockchain projects are emerging due to the mass adoption of one of the most promising technologies: blockchain. DC Pay is a project that employs a digital currency to bring the masses together.
What is DC Pay?
Located in Brisbane, Australia, DC Pay is a Fintech start-up that allows people to buy 'everyday' items with cryptocurrency. In DC Pay, people can use a revolutionary transaction system for digital currencies based on blockchain technology. DC Pay is a digital currency that lets users buy and sell everyday items and borrow money.
The main goal of DC Pay is to develop a functional, rewarding application that meets high-quality standards. Their goal is to develop an eco-system to sustain product expansion and development. The DC Pay system allows users to use digital currencies for everyday transactions, such as paying for a beer in a pub or borrowing money.
The DC Pay application will enable users to purchase, sell, and transfer digital currency. Additionally, merchants can make it easier for customers to pay with digital currencies and to receive better service. There will be the use of QR codes, which will enable fast and simple transactions. In addition, they will offer loans in native Stable digital tokens, for which users can choose repayment options in native DC Pay digital tokens.
At some point, you've probably encountered QR codes in an office or shop. Using barcodes is a fantastic way for businesses to collect and send payments and promote their businesses if they are B2B.
DC Pay is powered by QR code technology, which is a very secure payment system. The DC Pay QR code will provide a unique QR code identifier to each user, whether a consumer or a business. DC Pay QR codes will transfer all relevant information about the payer and payee when scanned, ensuring transfers are made to the appropriate end-user. The following methods of payment will be available with DC Pay.
1. Person to Business. An individual can pay a business by scanning the DC Pay QR code during this process.
2. Business to Business. This process allows businesses to pay each other by scanning DC Pay Merchant QR Codes.
3. Bill Pay. Users can pay their bills with DC Pay through the bill pay option.
4. Transfer Person to Person. Transferring money from one person to another is easy and quick with DC Pay QR scanning.
The DC Pay app is available for download on Android and iOS platforms. The real-time view of transactions will be available to all businesses and organisations. Technology infrastructure is designed to be scalable. Using cloud services for hosting will reduce initial costs and increase capacity as growth takes place. A QR code's ability to track QR code scans allows users to understand how their QR marketing campaign is performing.
As a result, they gain a comprehensive insight into the behaviour of their target audience and can unlock powerful data statistics to improve their marketing and profits!
Benefits of DC Pay QR Code Payments
Several benefits come with the DC Pay QR Code that can help you reach all your potential clients. Here are some examples.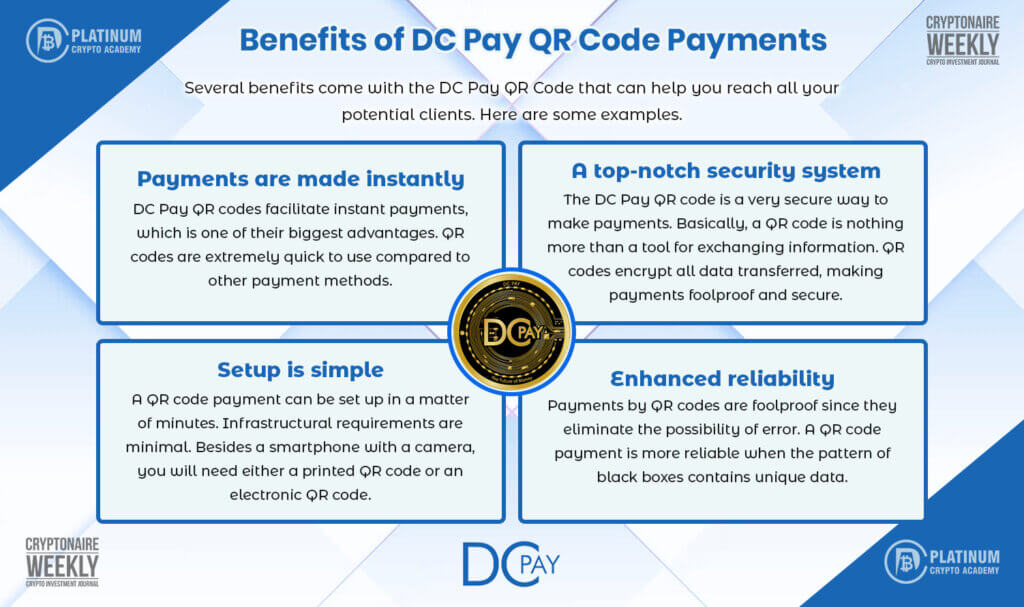 Payments are made instantly
DC Pay QR codes facilitate instant payments, which is one of their biggest advantages. QR codes are extremely quick to use compared to other payment methods. To process a payment, a user simply needs to open the QR code scanner app, scan the QR code, and confirm. The payments are made within a few seconds.
A top-notch security system
The DC Pay QR code is a very secure way to make payments. Basically, a QR code is nothing more than a tool for exchanging information. QR codes encrypt all data transferred, making payments foolproof and secure.
Setup is simple
A QR code payment can be set up in a matter of minutes. Infrastructural requirements are minimal. Besides a smartphone with a camera, you will need either a printed QR code or an electronic QR code. Payments using QR codes are also possible without special equipment such as a point-of-sale machine.
Enhanced reliability
Payments by QR codes are foolproof since they eliminate the possibility of error. A QR code payment is more reliable when the pattern of black boxes contains unique data.
Token Structure of DC Pay
DC Pay tokens can be purchased by those interested in participating in the project. When making transactions through DC Pay, users will incur transaction fees, also known as gas, which are covered by DC Pay tokens. It will enable them to purchase goods and services from merchants.
The Binance Smart Chain platform will release tokens in the BEP20 standard during the pre-ICO and ICC processes. Once the DC Pay blockchain is launched, DC Pay tokens can be transferred to the DC Pay blockchain. As a result, DC Pay will qualify as a currency exchangeable for fiat currency, a token for interacting between blockchain participants, and an indicator of the project's success.
The market will be flooded with 210,000,000,000 DC Pay tokens. Each batch of 21 billion tokens will be released in batches of 10 when a new country is established. As part of the pre-ICO and ICC stages, 50% of the total first batch token supply will be distributed to the community in six phases.
The pre-ICO and the IOO are the only times when tokens are not transferable. For future investors and the development of additional products and features, 25% of the 21,000,000,000 released tokens will be reserved. Team members will report on the work done throughout the project execution, including the results and cost of the project. At regular intervals, DC Pay will post this information on its website for investors.
The team behind the development of DC Pay
DC Pay was founded by Andrew Clifford, an experienced leader with a track record of achieving goals and objectives. The marketing guru at their company is Pete Carseldine, who has experience in the marketing and media fields. Phil Charlton is a KYC/Anti-Money Laundering expert with strong expertise in administrative functions, who is very proactive and resourceful. The final member of this team is Quinton Stols, who has worked in fast-paced, demanding environments for several years.
Over a few beers with friends, DC Pay came about while discussing complicated Australian capital gains tax rules and puzzlement about why they could not use cryptocurrencies. DC Pay was created as a result of solving the dilemma and enjoying a cold beverage.
Team members are also working on new ways to make the project more functional. As part of the future functionality of the application, businesses will be able to offer DC Pay special deals via push notifications.
In the future, the company plans to start rewarding users as they use the app more frequently by moving them up levels and giving them better special offers from brands.
Conclusion
When it comes to digital currency, we're currently at a crossroads. There is still a large amount of physical cash circulating, and governments and banks have not yet adopted a central bank digital currency. In the meantime, more and more people are embracing cashless lifestyles, and cryptocurrencies are booming. In this way, digital currencies are being scrutinised more than ever as governments, financial institutions, corporations, and banks consider them viable options for the future.
Crypto/digital currencies are becoming more accepted, giving DC Pay a competitive advantage in encouraging mass adoption through simplified payment systems. With its help, secure and robust mobile payment applications can be built. You can access your holdings instantly as long as you have your phone. During the next few years, DC Pay will continue to develop its capabilities and innovate in the space of blockchains and digital currencies. Payments should be made with a digital currency like DC Pay for ease and security.
Hopefully, you have enjoyed today's article. Thanks for reading! Have a fantastic day! Live from the Platinum Crypto Trading Floor.
Earnings Disclaimer: The information you'll find in this article is for educational purpose only. We make no promise or guarantee of income or earnings. You have to do some work, use your best judgement and perform due diligence before using the information in this article. Your success is still up to you. Nothing in this article is intended to be professional, legal, financial and/or accounting advice. Always seek competent advice from professionals in these matters. If you break the city or other local laws, we will not be held liable for any damages you incur.