Quick Links
The overview of the Defi industry
Banking and financial services are not yet accessible by people in many countries around the globe. On the other hand, the total number of people using mobile phones today has grown manifold. Today, over 5 billion people globally own as well as use mobile phones, and this network of users has zero access to the global financial ecosystem. As per the latest World Bank Global report, 1.7 billion adults around the globe do not have any access to financial services. This prompts people to search for alternative ways, and this is where cryptocurrencies come into the picture.
However, cryptocurrencies have made financial services accessible to one and all. With the advent of Defi (Decentralised Finance) projects, a world of opportunities has opened before the digital asset users. Defi helps resolve several issues existing in our modern world. It makes it more accessible and democratic for people, thereby making financial services easily accessible to many individuals who earlier could not access these services.
The current economic crisis has revealed the underlying issues that exist within the fiat system. The drop in production capacities of many countries, combined with shutting down of enterprises as well as lost jobs, and massive amounts of cash being injected by the government agencies along with anti-crisis steps, have led to increased inflation. On the flip side, people are dealing with decreased incomes.
This inability of the current government authorities and failure to do anything to control the financial crisis has forced people to search for alternatives such as investing capital without involving the authorities. This is where Defi can play a vital role.
The Defi system provides people with an opportunity to earn extra income and solve their existing financial issues. It also brings them together on the grounds of equality, interaction, and democracy. Dune Analytics, the data collector of the cryptocurrency market, the number of Defi users currently stands at 3,210,000. Cryptos have made financial services accessible to all those individuals who have internet and phone access today. There is no denying that countries currently dealing with difficult economic situations have more people using cryptos as opposed to those not facing any such crisis. In many developing countries, the only way people can send some money to their relatives is through cryptocurrency. This is because traditional financial services aren't available for them.
However, Defi projects are much dependent on blockchain. Since they are located on the 3rd party blockchain, crypto traders have no option but to pay double the commission amount (i.e., a commission when an exchange goes to liquidity pool as well as a commission that goes towards the payment of the blockchain). Apart from this, the speed at which Defi transactions are conducted is dependent on that of the blockchain. The absence of legal regulations deters many investors and traders from trading via Defi platforms.
This is where DeGeThal comes into the picture.
DeGeThal aims to design a unique Defi product to enable crypto investors to use cryptos for their daily requirements. It also intends to provide users with an opportunity to carry out daily payments through the combing of fiat and cryptos. DeGeThal has acquired an e-banking license that will further help the platform connect banking cards with wallets and make payments via bank accounts.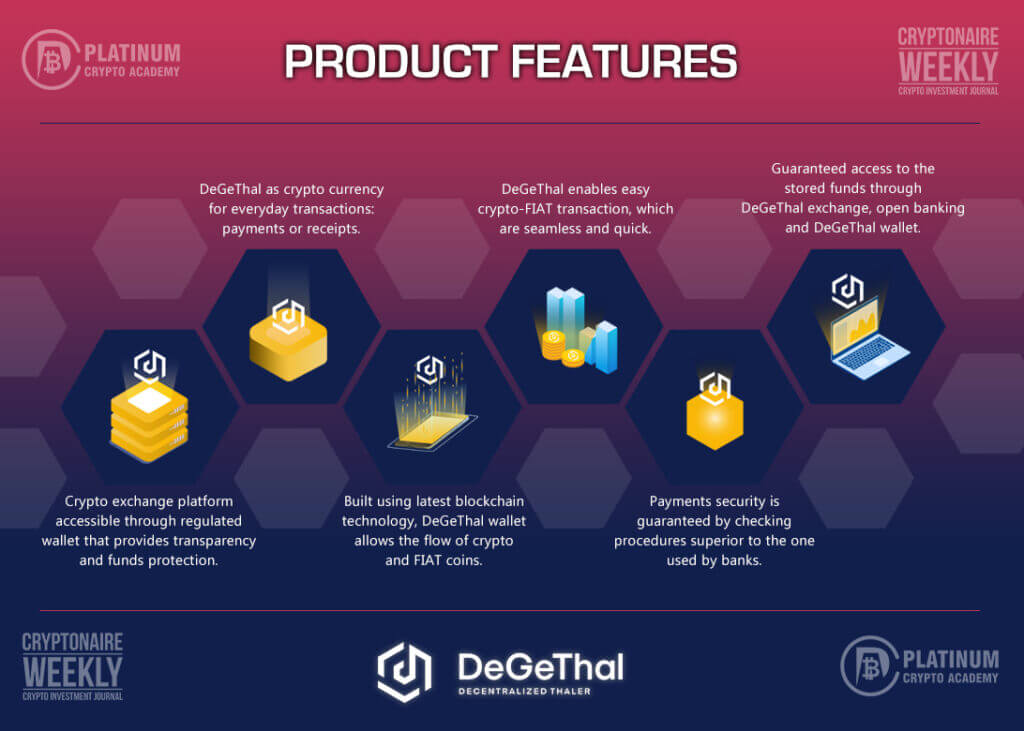 As a result, users will be able to deposit both cryptos and fiat money in this wallet, whereas assets can easily be exchanged within the wallet.
Continue reading to find out how DeGeThal is solving the problems of the existing crypto market.
The existing problems of the fiat system
In the existing monetary system, commercial banks happen to be the primary source of liquidity within the economy. They help to create money every time they buy securities, in particular, when they create loans. Banks purchase these loan contracts and other assets and enter the same assets within their balance sheets while crediting the loan amount.
Thus, the fiat system or money provides central banking entities greater or more control over the economic situation of the country where they are located. Central banks can also control the amount of money that gets printed. Hence, one of the dangers of fiat currency is that governments can print excessive money and thus cause hyperinflation.
Another issue with the fiat system is that is fiat money can cause property and wealth to be accrued to those who have the privilege of creating fiat currency. This results in wealth concentration in society further. Remember, extreme wealth concentration can be economically and eventually politically destabilising.
How are cryptocurrencies solving the problems?
Cryptocurrencies have the requisite features and potential that can help solve the above problems to a large extent. One of the most significant benefits of cryptos is that they do not require any intermediary for the verification of transactions. This reduces the complexity of the global system of payment while also making it cheaper and efficient.
Another benefit of the cryptosystem is that it ensures a higher speed of settlement. Transactions are verified in just ten minutes and get saved in a fresh block. After an hour, they get stored within the blockchain, as opposed to settlement after a couple of days that happen in the case of the conventional technologies.
The crypto ecosystem is also more resilient as there isn't any single point where failure can happen. On the other hand, a single failure point can happen at a central bank or other banks within the conventional central systems.
Apart from this, smart contracts allow money to be programmed. Programmed money facilitates payments when certain conditions are fulfilled. Smart contracts offer excellent efficiency gains when business processes are highly automated.
The DeGethal Vision
As far as DeGeThal is concerned, it creates an ideal environment for safe & secure payments in cryptos as well as fiat money. It also facilitates the trading of digital and fiat assets, accepting payments, making banking and financial services available to one and all irrespective of their citizenship, location or residence, education as well as income or wealth.
DeGeThal aims at simplifying and making financial services more accessible by blending a range of financial and banking products in a single platform. It connects fiat and cryptocurrency, offering comfortable gateways for payment acceptance for several users.
The project, which came into existence in 2021, is trying to solve all the issues of the existing financial system by offering hybrid fiat/crypto solutions for organisations and retail use. The DeGeThal project can be accessed by anyone globally. Given that the fiat money system is inaccessible for many individuals, DeGeThal has introduced the concept of digital assets to design a parallel economic system, thus solving global issues.
The core of the project is the multi-currency digital wallet that offers transparent and speedy transactions. The digital wallet allows DeGeThal to provide its users with increased opportunities for creating a banking account, making transfers, as well as converting the fiat currencies of countries around the world.
Using the DeGeThal application, one can connect and use MasterCard/VISA cards for making payments and creating virtual cards. The app offers a crypto wallet that will be integrated within a CEX (Centralised Exchange) in the future. The application enables users to purchase, sell, send, convert as well as receive cryptos.
DeGeThal will also look to acquire its e-banking license to provide users with a gamut of banking & financial services. The company plans to turn the wallet into an all-encompassing tool for making daily payments, including payroll payments, microtransactions, banking operations, in-store purchases as well as cashback on online payments/stores.
The wallet will also include a module that will ensure quick interaction between different financial systems based on fiat and cryptos. This will make the wallet a secure and reliable means for making payments that also meet the requisite regulatory laws and works with both fiat and cryptos.
DeGeThal also intends to introduce NFT-driven functions and get its token listed on leading exchanges in 2022-23. On the other hand, integration with Mastercard and Visa payment cards will happen in 2023-24. DeGeThal also offers the DTM token, which is the main element of the DeGeThal ecosystem. It is located within the BSC (Binance Smart Chain) from the Binance exchange, the fastest expanding blockchain.
Those holding the DTM tokens get multiple earning opportunities as well advantages when collaborating with the DeGeThal platform. Apart from this, they will also get the opportunity to take part in the voting system to make crucial decisions related to the project.
Given the above scenario, the pricing of DTM tokens will depend on their demand. This future demand, as well as the price of the token, would be based on how developed DeGeThal is and on how many individuals will utilize its products.
DeGethal offers full transparency, security, and automation of payments procedures, eliminating any risks associated with irrational or theft of funds distribution while ensuring that funds get fairly distributed between token holders, blockchain users as well as liquidity providers.
In addition to the above, DeGeThal offers diverse and excellent opportunities to earn, providing numerous incentive programs that aim at attracting several users to ensure that the platform becomes profitable, user-friendly, and stable.
DeGeThal strives to secure a stable position in the decentralised market since it believes this sector will grow and has the potential to solve the current financial problems. DeGeThal also aims to combine modern-day technologies with traditional finance systems to provide its users with increased opportunities for earnings.
This fast-growing Defi market indicates that people require these services. The DeGeThal ecosystem is reliable and safeguarded from database falsification. Inside the digital wallet, users get the opportunity to track the growing DTM project and make payments.
The platform also gives users the option to purchase goods, connect their bank cards, send tokens for staking, participate in liquidity providing, as well as participate in numerous incentive programs. In the DeGeThal ecosystem, users can search for some of the most attractive and unique products as well as conditions that suit them.
Conclusion
To sum up, decentralised finance is one sector that serves as the alternative to our present financial system. Within the traditional financial sector, the opinions of ordinary people do not matter. However, with the Defi project, that scenario completely changes as token holders get the option to change or influence crucial decisions. We have come across several instances in the past, where owing to financial crunch or crisis, people had to deal with reduced incomes, and their need for cash increased significantly. This is where decentralised finance can play a pivotal role. It offers multiple ways to make money for users who participate in the projects. People also find it attractive because it ensures that funds get distributed fairly.
The Defi industry not only unites people but also provides them with the opportunity to support and help each other without the need for any authorities or 3rd parties to intervene. By connecting their wallet to the Defi pool of liquidity, everyone, even the crypto owner, can become liquidity providers as well as earn money. They also get to participate in staking, yield farming and take advantage of NFT and numerous incentive programs.
This is precisely why cryptocurrency investors looking for the next best Defi project should choose the DeGeThal platform. DeGeThal makes banking and financial services accessible to everyone. It also offers users the opportunity to use crypto and fiat currencies for payments, buying, selling, and numerous other purposes.
The highly secure and easy to access DeGeThal exchange will allow users to trade a wide range of financial instruments such as CDFs, future, and long/short positions. Besides, users will also be able to replenish their accounts on the DeGeThal exchange with crypto and fiat currencies. In addition to the above, the platform will continue to innovate and develop, ensuring the best quality services and products are accessible to its users. For more information about DeGeThal ecosystem, visit https://www.degethal.com/.
Hopefully, you have enjoyed today's article. Thanks for reading! Have a fantastic day! Live from the Platinum Crypto Trading Floor.
Earnings Disclaimer: The information you'll find in this article is for educational purpose only. We make no promise or guarantee of income or earnings. You have to do some work, use your best judgement and perform due diligence before using the information in this article. Your success is still up to you. Nothing in this article is intended to be professional, legal, financial and/or accounting advice. Always seek competent advice from professionals in these matters. If you break the city or other local laws, we will not be held liable for any damages you incur.