Quick Links
As people sought a different option to trade assets, NFTs first appeared in 2015 as a way of transferring assets and later on collectables. A major surge in popularity occurred in late 2017 when crypto punks and crypto kitties arose. With each passing minute, NFTs are becoming more popular. Since NFTs are unique and valuable, they have become the latest trademark for the rich to display their wealth and Dirty Token is one such NFT Hentai Token.
Among non-fungible tokens (NFTs), there was a jump in online sales in early 2021. The NFT market also broke a few records, and many investors were interested in investing. Recently, a new type of NFT was introduced – the hentai NFT. Dirty finance stands out as one of the best hentai NFT projects. This article will teach you everything you need to know about dirty finance.
What is Dirty Token?
Dirty finance creates non-fungible tokens based on the hentai genre. The project is Ethereum-based, and its native token is called DIRTY. Dirty finance is a brand new token developed to attract investors by allowing investors to purchase rare NFTs. The Dirty Finance rare NFTs are available for purchase with DirtyCash, which can be earned by farming $DIRTY.
The biggest holders of NFT can get the rarest ones. There are only a few non-fungible hentai tokens, and only large token holders can buy them. These exclusive nude dress NFTs are available to token holders of rank 5. In contrast, the lowest grade is also assigned to NFT characters with full dress.
What is crypto token staking?
Token holders can take advantage of the size of their crypto holdings by staking their crypto. This is one of the best ways to maximise the benefits. The concept of staking is relatively new to investors, and many investors confuse the returns associated with staking coins with the security offered by bank deposits. Earnings for stakes are determined according to the ratio of your stake to that of the network. When your stake is higher than the network, you have a greater chance of mining a block, thus receiving more rewards.
In spite of this, Stakers are responsible for certain aspects of the network. Some stakeholder systems require stakeholder voting on major decisions or that require stakeholder validation of transactions. In the event that you fail to meet these responsibilities, you could lose your coins. Staking through a cryptocurrency exchange or pool makes these requirements automated and pays your rewards. In general, staking some tokens earns you rewards.
What are staking rewards for the dirty token?
Dirty finance rewards its stakers with great rewards. They offer holders the opportunity to earn Dirty cash. Dirty cash can be used on dirty finance as a currency. The stakeholders can earn dirty cash per min, per $DIRTY, or per LP V2 Token. Compared to standard staking, the LP token would offer stakers the fastest and most efficient way to earn DIRTY cash. Token holders will earn more DIRTY cash faster with LP tokens than by doing standard staking. LP staking limits are lower, so once you have staked all of your Dirty, you are better off stake the rest in standard staking. A standard pool using $DIRTY will have a limit of 2 Billion at maximum.
In contrast, the LP Token pool will entail a maximum of 10,000 tokens. The maximum limit per wallet would mean that one whale would not be able to obtain NFT's as rapidly as before. In turn, this will push prices up as investors hold on to their investments longer. Below are the rewards to dirty finance stakeholders.
Rewards for Redistribution
Is it still possible to earn redistribution while staking? This question has an obvious answer, which is yes. Earning more rewards at Dirty is possible for investors. Even if you choose not to stake, you will still receive your 2% redistribution. The users are also eligible to earn 1% of the leaving tax deducted from stakers who leave between stakes.
Rare NFT rewards
Dirty Finance NFT's can only be obtained by staking without having to spend any Dirty or Ether. Currently, minting costs are around $10. Dirty token holders can obtain rare NFTs by holding them for long periods.
Earn Dirty Cash
Using DIRTY tokens or DIRTY LP tokens will earn you Dirty cash. If a wallet enters the staking pool for the first time, it will receive 200 Dirty Cash as a gift. It's possible for a staker to earn a 1-star NFT for less than 200 Dirty cash when making their entry. Furthermore, they can accumulate Dirty cash to take advantage of the rarer, less clothed, higher starred NFTs over time.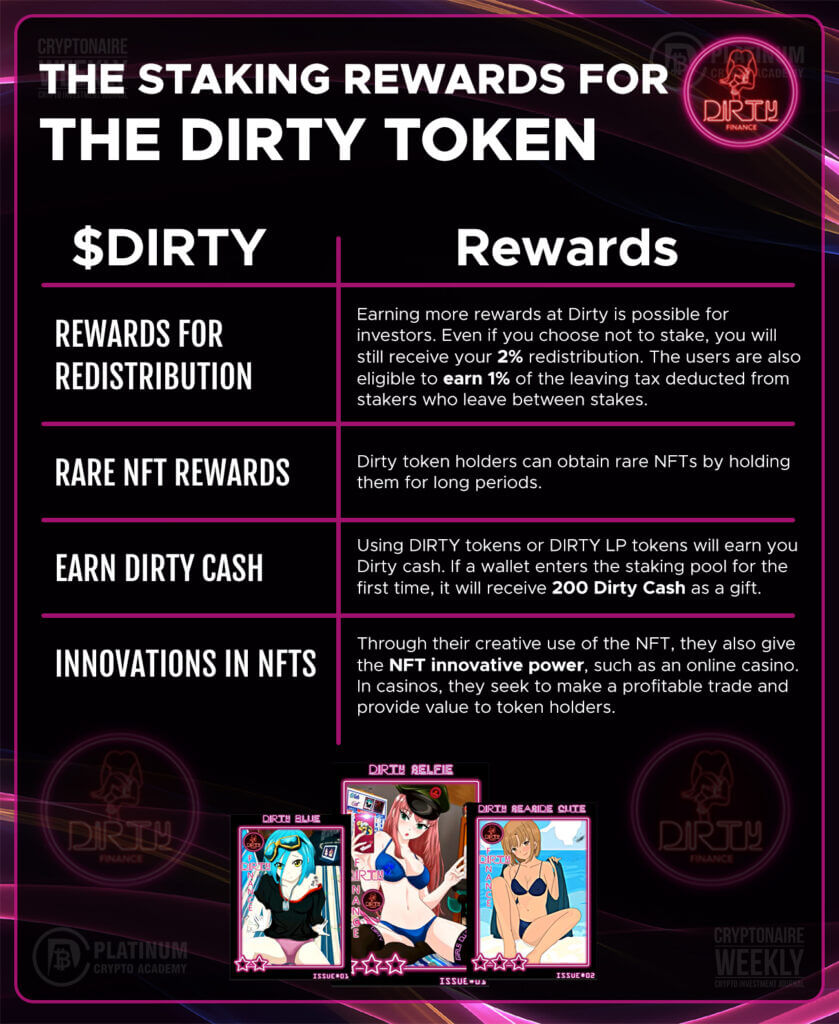 Innovations in NFTs
Through their creative use of the NFT, they also give the NFT innovative power, such as an online casino. In casinos, they seek to make a profitable trade and provide value to token holders.
Conclusion
Parabolic growth has been observed in the market for digital assets since the first NFT venture was announced in 2017. NFT collectables sales surpassed US$2 billion in 2021, resulting from a growth rate of 1785% to 2100% in the first three months of the year alone. The emerging market's value is already $20 billion higher than it was in 2020, which remains highly optimistic for 2021.
Hentai was always an interesting niche, and now that it's easier to access, many people are starting to participate. Several intense bidding wars have resulted in some odd sales, which are interesting to observe. As a Hentai project, Dirty Finance stands out as the best name.
They offer many benefits to holders of dirty tokens. The company has several amazing benefits planned for quarter 3 of 2021, along with numerous benefits. Their goal is to set up tier systems for stakeholders. This way, token holders with large amounts of tokens can use the platform to acquire rare NFTs. Furthermore, they are planning to develop 3D models of the Hentai characters for NFTs. Investing in cryptocurrency through dirty finance is an excellent option for users.
Earnings Disclaimer: The information you'll find in this article is for educational purpose only. We make no promise or guarantee of income or earnings. You have to do some work, use your best judgement and perform due diligence before using the information in this article. Your success is still up to you. Nothing in this article is intended to be professional, legal, financial and/or accounting advice. Always seek competent advice from professionals in these matters. If you break the city or other local laws, we will not be held liable for any damages you incur.