Quick Links
The insurance industry has been in existence since time memorial, but the concept of decentralised insurance is newer to investors. Decentralised insurance comes with benefits for investors range from efficiency, increase in trust, and inclusion of smart contracts. On the other hand, investors have a fear of cyber-attacks, loss of integrity of data, as well as high costs that tend to push away investors. Whereas these challenges are evident, platforms are coming up to counter these concerns so as to secure and protect crypto investments. InsurAce.io is curbing the mentioned challenges, thus disrupting decentralised finance. 
When looking to identify one of the best security platforms for your crypto investments, you need to consider InsurAce. Understanding its functionality as an investment as well as an insurance protocol will help you as the investor to make ideal decisions without the fear of loss, so you do not feel like you are gambling with your finances in the crypto community.
What Is INSURACE.IO?
InsurAce refers to a decentralised protocol that seeks to offer insurance services specific to DeFi investments to provide decentralised finance assets with reliable and secure coverage. The platform is the first of its kind to launch on both Ethereum (ETH) and Binance Smart Chan (BSC). InsurAce serves both as a DeFi as well as an insurance protocol which means that it has two platforms, one for insurance and the other for investment. Combined, they offer benefits that range from low insurance premiums, cross-chain coverage, wallet availability, and higher return on investment. The two platforms work together to ensure that the insurer, the insured, and the investor secure a stable profit. In addition, the participants will benefit from the zero-premium insurance. The zero-premium insurance helps to provide ultra-low premiums that arise from portfolio-based product design, unique pricing models, and sustainable investment returns.
Users on the platform do not require the Know Your Customer (KYC) process, thus ensuring that individuals who wish to remain anonymous do just that. InsurAce key objective is to protect its users from the loss of their investment while ensuring sufficient and convenient product access. The insurance protocol evaluates the possible risks so as to ease the process of managing losses. The platform will develop a series of products to promote diversity as it will be able to cover a wide range of DeFi protocols. Other than reduced coverage costs, insurers' gain access to a wider range of asset pools.
InsurAce success and functionality are seen right from its founders. Those behind the platform include Oliver Xie, founder and CEO, who is a programmer and crypto enthusiast. He has a rich background in digital assets as he is also the former CTO head of digital assets and founding member of APEX, Asia Pacific Exchange. The tech team and product team are also essential in the functionality of the platform. The tech team is led by Sum Wei, whereas the product team is led by Leo FIA. InsurAce has its headquarters in Singapore.
In an interview where Oliver, Founder and CEO of InsurAce, was asked about the protocols they currently cover, he said:
"We have a really fantastic list of protocols that are listed and covered by our insurance services, like Anchor Protocol, Mirror Protocol, mStable, Autofarm and other 40+ protocols. We currently offer users of these protocols insurance against smart contract hacks and bugs in the event of an attack.
They can claim for loss of funds through our app simply by submitting proof of their losses, which is then decided on by our community voting, based on an investigation report from our advisory board." Looking at the above, the platform is diverse and seeks to offer outstanding coverage for crypto investments as well as offer investment opportunities with some of the top DeFi projects.
How INSURACE.IO Protects Crypto Investment
InsurAce, an insurance protocol, just like traditional insurance as we know it, offers insurance coverage and investment opportunities. In an effort to gain more yield in the investment pool, the free capital from the insurance capital pool is placed the investment pool while at the same time ensuring that the investment is secured and protected. This decentralised insurance protocol empowers risk protection for the DeFi community. With portfolio-based insurance products that feature optimised pricing models, the platform has lower and more affordable costs. It also features investment functions accompanied by SCR mining programs that create sustainable returns for users. Lastly, the availability of cross-chain coverage for DeFi projects will benefit the entire ecosystem.
Offering an insurance package means that it protects investments. Below is an outline of the different strategies that InsurAce protects crypto investments.
InsurAce.io spreads the risk to more than 50 protocols on the platform. This means that the premiums made from each protocol, as well as underwriting mining and insurance coverage, seeks to protect investments from attacks from hacks or smart contract vulnerabilities.
The platform also features security measures that aim to provide a secure and resilient protocol. With partnerships from various platforms, including some of the top DeFi projects, it is important to include a third party independent audit company that will always audit InsurAce. The idea of using audits is to identify potential contract vulnerabilities so as to eliminate them, as prevention is better than cure. The process will include rigorous code review and white hat hacking before a protocol launch. The audit reports will be released to the public so that investors can assess and evaluate the safety of their investments.
InsurAce is also implementing the use of state-of-the-art security solutions that monitor the platform activities. This is the reason that investments are safe from hacks. The security measures seek to identify any threat before it is actualised. This way, the idea is not just to make payouts on claims but to invest in the right security solutions to avoid losses and provide surveillance on the platform.
Lastly, a response to possible cyber-attacks is important. As such, in the event a breach is identified, the team behind the security will respond accordingly. For example, the team may choose to suspend or terminate some functions of smart contracts. The team will also look out for suspicious transactions, which they will revert as they identify the root cause.
Looking at the security measures outlined by InsurAce, investors can have peace of mind knowing that their investments are safe. Gone are the days when cyber-attacks and hacks were a worry that prevented investors from grabbing an investment opportunity.
What Makes INSURACE.IO Stand Out From Other DEFI Insurance Protocols?
It is important to note that InsurAce is not the only crypto insurance platform in the market. However, the platform comes with some competitive advantages that make it stand out in the market as well as create greater benefits for participants.
– Broader coverage
InsurAce.io platform allows its users to cover more than one network thanks to its full-spectrum cross-chain product line. Here, investors can cover more than 50 protocols running on Ethereum (ETH), BSC, Terra, Solana, Fantom, Heco, and Polygon. A broader coverage also means that the platform is able to attend to the needs of various projects, thus making it one of the best DeFi investments for individuals as well as large institutions. In addition, the platform also covers the centralised exchange risk and IDO event risk, thus securing events in the crypto community.
The InsurAce CEO, Oliver Xie, mentioned in an interview after being asked some of the benefits of the platform to a user, he mentioned that,
"More insurance products will be offered soon, such as cover for NFT, cross-chain bridge, and stable-coin depeg."
Therefore, the platform will be introducing more benefits over time to better serve its users.
– More affordable costs
The platform offers more affordable costs because its risk assessment-based model is more accurate when pricing the risk for individual protocols as compared to what many other crypto-insurance platforms use, staking-based pricing models used to determine cost.
In addition, InsurAce offers a unique portfolio-based coverage that attracts unique pricing strategies. These strategies are designed to save on premiums as well as on gas fees. With such strategies, users can insure all their DeFi assets under one roof rather than choosing multiple protocols, which lead to multiple transactions that will be costly.
– Easier and more friendly access
InsurAce.io does not require Know Your Customer (KYC) to use the platform services. Instead, the platform participants only need to connect their wallet to the platform dApp. After the wallet is connected, the user can access all the available products and services. The dApp is deployed on ETH and Binance Smart Chain currently, but the platform promises to expand and incorporate more chains over time. This idea seeks to ease access from the wider variety of different chains.
– Protected returns
Overall, the benefit of decentralised insurance would be to protect digital assets not just for individuals, but it also covers large institutions allowing them to participate safely in decentralised finance. The inclusion of large institutions opens up to more revenues as more institutions trust the process as well as increases returns for all participants.
For example, after the partnership between InsurAce and Anchor Protocol, Anchor Protocol covers crypto stablecoins offering a fixed return of about 18% annually. On the other hand, InsurAce offers an insurance cover of about 2.5% for Anchor Protocol.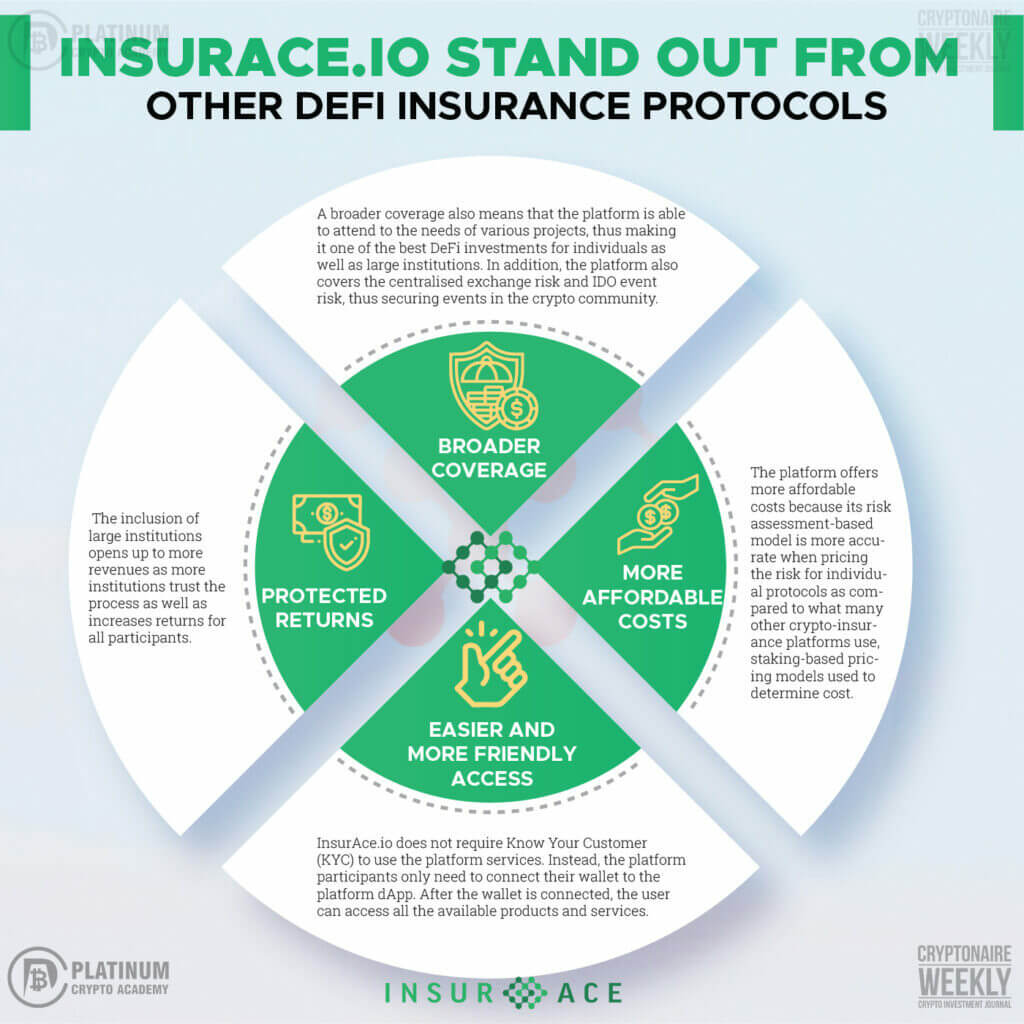 The end-user will have their stablecoin protected from hacks and bugs. Investors can also venture into crypto lending, allowing you to generate a steady passive income with your token. Crypto lending is a form of decentralised finance allowing investors to lend cryptocurrencies in exchange for crypto/token payments commonly referred to as dividends. This is a significant strategy for making returns for a crypto investor.
INSURACE.IO Risk And Claim Assessments Explained
Crypto investments face underlying risks that include claim assessment, product diversity, operation or market risk, as well as security of insurance protocols. These risks contribute towards the challenges faced by current DeFi insurance protocols. InsurAce has evaluated such circumstances and seeks to curb these challenges.
– Pricing model
Many decentralised insurance companies tend to employ blockchain-based insurance relying on the value of stakes on individual protocols. In this, the higher the value staked, the lower the premium. This strategy, has under several circumstances, failed to assess the real risk of each protocol. As such, InsurAce is using an actuary-based pricing model that will price insurance products more fairly. In turn, this pricing strategy will significantly reduce the cost expected. Here, each protocol will have its own risk score instead of combining all available protocols. It is only after the risk is calculated that the premium is quoted.
– Expert assessment
The idea is not to consolidate all protocols and offer a premium, but it is to identify the different protocols. Working with experts offers the best assessment. As such, the InsurAce Advisory Board performs preliminary risk assessments on the available protocols. The expert team is not limited to one aspect of professionalism. InsurAce.io functions with a team of relevant expert fields ranging from code analysis, audit reports, as well as addressing founding team qualifications that ensure sufficient and reliable assessment.
– Community assessment
The assessment process does not close with expert assessment. It also includes community assessment that is conducted by volunteers from the community who will release a risk score. Participants in this process receive reward incentives in the form of $INSURtoken.
Claim Assessment
The claim assessment process relies on both the Advisory Board and the community claim assessors. The platform will use a quantitative method to handle claims. Once a proposal is submitted, it will be submitted to the community, who will accept or reject it through a consensus. If they fail to reach a mutual consensus, the proposal is subjected to $INSURtoken holders. In the event, reaching a consensus still fails, the process will be left for the Advisory Board to provide a final say.
With the final results, InsurAce issues the claim to the applicant, disclosing all information on the website for transparency purposes. This gesture proves to investors that processes are transparent and that their investment is safe.
Prospects And Opportunities With INSURACE.IO
InsurAce comes with several investment opportunities that seek to promote safe and secure investment options. The following are possible crypto investments for users. Keep in mind that you do not have to be an $INSURtoken holder to benefit from the platform. However, it is important to note that it is more beneficial to be an $$INSURholder because they receive more incentives from the different opportunities.
– Staking and mining
Users who stake tokens into the platform receive $INSURas incentives. The platform features both the insurance and investment options allowing participants to stake capital at both sides making it possible to mine the $INSURtoken. Rather than purchasing the token from an exchange, individuals can receive a reward by mining or staking thus bringing out an investment opportunity.
– Cross-chain coverage
In an attempt to lower the cost of premiums, InsurAce features cross-chain covers whereby investors can cover non-Ethereum DeFi projects. The expansion of the DeFi ecosystem means that there are more tokens in the ecosystem. Many covers in the market tend to cover the major tokens allowing users to cover each type of token independently. This is not the case with InsurAce, as the platform allows for cross-chain coverage. This opportunity allows investors to invest more at a lower cost.
The ideology is to generate investment yield for investors on the platform while at the same time minimising on the premium cost. Incorporating some of the top DeFi projects in the ecosystem such as Anchor protocol secures investor investments.
Conclusion
The crypto and blockchain industry has gained popularity over the years, with more investors seeking to venture into it. However, insecurities such as cyber-attacks and online hacks are pushing investors away from investing in this market with the fear of suffering losses. Other challenges in the market include capital inefficiency as well as product limitations. Pushing for a more secure platform will encourage investors and prevent shying away from the industry. As such, the concept of DeFi insurance has come in handy. Even better, crypto insurance has cushioned the fear of many investors, thus expanding the need for crypto investment.
InsurAce, in collaboration with some of the top DeFi projects, is seeking to provide reliable and secure DeFi insurance and investment services. The concept is to guarantee ideal portfolio premiums and sustainable investment returns. Also, InsurAce stands out as an investment protocol because it offers cross-chain benefits allowing investors to combine their investment portfolio and secure it. Individuals can also be rewarded via the InsurAce token through staking, mining, and governance. Investments are safe from hacks, and they also earn incentives for token holders. Backed by the $INSURtoken, investors are adopting one of the best DeFi Investment from InsurAce. The InsurAce community stands out as one of the best DeFi investment community as they benefit institutions and individuals alike.
Hopefully, you have enjoyed today's article. Thanks for reading! Have a fantastic day! Live from the Platinum Crypto Trading Floor.
TOP 10 UK CRYPTOCURRENCY BLOGS, WEBSITES & INFLUENCERS IN 2021
Earnings Disclaimer: The information you'll find in this article is for educational purpose only. We make no promise or guarantee of income or earnings. You have to do some work, use your best judgement and perform due diligence before using the information in this article. Your success is still up to you. Nothing in this article is intended to be professional, legal, financial and/or accounting advice. Always seek competent advice from professionals in these matters. If you break the city or other local laws, we will not be held liable for any damages you incur.