Quick Links
Introduction of Crypto NFTs
Crypto NFTs are digital representations of physical assets built on a blockchain network, and they cannot be duplicated. Non-fungible tokens feature metadata and identification codes that set them apart. The difference in the value of each NFT makes it impossible to exchange or trade them equally. Thus, they are different from cryptocurrencies that can be used for commercial transactions since they are identical and carry an equal worth. These non-fungibles are built in a manner that a single NFT can have several use cases.
Crypto NFTs are extensible, and they can be combined to produce another unique NFT. Like cryptocurrencies, NFTs also have ownership details, making it easy for token holders to transfer and identify. Its owners can add attributes and metadata about the physical asset on the NFTs.
Non-fungible tokens are an evolution of the ERC- 721 standards, and they are beneficial in establishing market efficiency since they streamline several processes and eradicate third parties and agents. This way, artists can connect directly with their audiences without intermediaries. They can also be used for identity management, creating new markets and methods of investment, among others.
If you aim to invest in NFTs, it is important to have crypto stored in a crypto wallet. Also, you can buy crypto NFTs through any of the NFT marketplace, such as Rarible, OpenSea and SuperRare. Notably, non-fungible tokens are secure, but they are not immune from hackers.
How Does Cryptocurrency Influence Comics' Evolution?
Cryptocurrency has greatly impacted the evolution of comics. Comics have evolved tremendously in the past years since they could utilise the blockchain network. For this reason, comics can reach and interact with their consumers without involving third parties or intermediaries. Best comics built on the blockchain system are secure, and it is close to impossible to hack them. Crypto NFTs enable comics to bear a feature of ownership, considering that the owners can include their details on them, which make it easy to track their various processes ranging from their production to marketing.
Digital assets have enabled best comics NFTs to be tradable and exchangeable. Thus, comic artists can trade and exchange their comic artwork for cryptocurrencies like Bitcoin, Solana, or even Ethereum. The comics differ in value, and they cannot replace each other. Cryptocurrency led to the evolution of NFTs, which is the digital representation of artworks and real estate. A comic is one of the assets that non-fungible tokens can represent. Other properties include game items such as digital and non-digital collectables, avatars, domain names and event tickets.
Additionally, Crypto NFTs can democratise investing by fractionalising comics. Digital comics can have several owners, each responsible for a fraction of the comic, thus increasing their worth and revenue. When a comic is represented by crypto NFT, they become irreplaceable since the value of one comic does not equal another.
Crypto has influenced the comic industry by establishing an efficient market where other individuals can interact with them and streamline their entire process.
Ernest in Disguise – What Are Ernest Comics?
Ernest comics are world's best comic NFTs which having animated aliens from space and other galaxies. Ernest comics feature Ernest in disguise, a quirky alien, an extraterrestrial, coming from the Cryzal Galaxy, who is said to have discovered connection and love during his exploration on Earth. Ernest set out to share the exquisite experience with other individuals during the festive season. The Ernest animated comic series is exceptional, and it was designed by the well-known Marvel and DC Comics artist Carlos Dattoli.
Ernest is characterised by intelligence, creativity and curiosity, and has gained a massive following on social media spaces such as Discord and Instagram. This character continues to gain more fans around the world.
Ernest in Disguise released the annual Halloween collection inspired by the best Halloween costumes, characters and movies on 28th November, 2021. The disguises are all one of a kind, with rarest based on the most popular Halloween figures such as Venom, Chucky, and Jason Voorhees.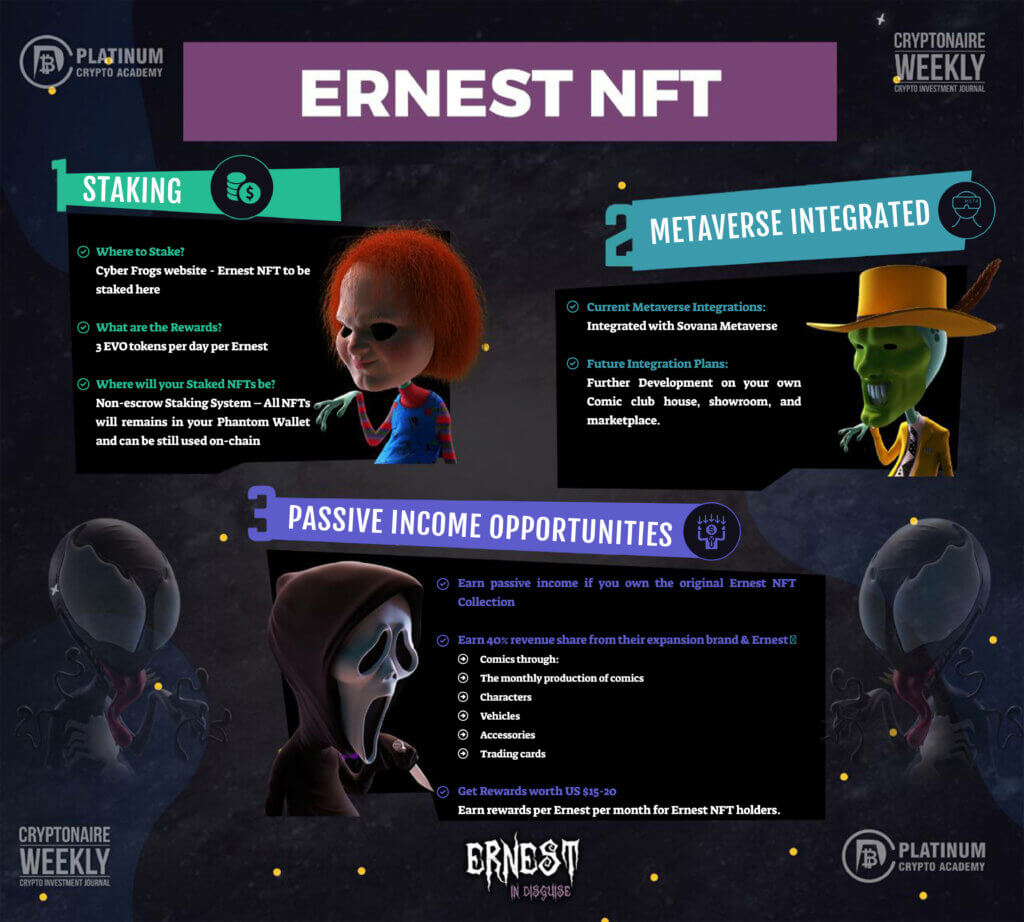 Any Overview on Ernest Comics NFTs
Ernest- The world's best comics NFTs aims to demonstrate the evolution of NFT space to make it community-oriented. It is a collection of NFTs that feature 6,000 unique designs, and they are developed on the Solana blockchain. Its developers chose Solana since it has been one of the fastest-growing blockchains. Also, Sol will be one of the prominent cryptos in the future. Projects leveraging the Solana blockchain find it convenient and affordable since there is virtually no cost of gas fees. The Ernest comics brand has the objective of using non-fungible tokens to link individuals worldwide.
These NFTs will allow holders to own planets, stars and other forms of assets in space.
Ernest investors have a maximised opportunity of minting Legendary Non-Fungible tokens during the season of stealth launch. The revenues from the launch will also benefit the individuals behind the project in several areas, such as receiving community rewards, creating their launchpad, buying and building land in the metaverse, comic, and general marketing efforts to spread the story of Ernest around the globe.
Holding Ernest will enable you to access its future metaverse clubhouse, future mints, free drops, among others. In case you need to know your NFTs, you can view them on your phantom wallet or Magic Eden and Alpha Art.
Additionally, there will be the availability of royalties of 8%. However, 90% of the royalties will be invested back into the Ernest in Disguise projects and the secondary markets for the first three months. This way, individuals will gain profits, and the community will continue to develop.
Ernest comics' mission is to establish community engagement; it aims to create job opportunities for every individual involved in the journey to benefit financially and educationally. For instance, the comics merchandise has been sourced from an individual within the community.
Ernest in Disguise – Ernest Comics Roadmap Explained
The Ernest comics roadmap spreads out over four phases.
The first quarter features stealth launches that are utilised to generate income reinvested in the community's long-term projects. The launch will give the holders a chance to own The Legendary NFTs will come with a 0.5% stake in this collection and their following collections in the future. The Ernest holders will be able to use their NFTs from this point forward, and they may even have a chance to have their own tailored Ernest NFTs included in a complete comic book. The best thing about the Ernest community is that after selling out half of their supply, they will launch a limited-edition merchandise line. The merch line will allow 10% of the minters to gain access to their personalised merchandise. The holders are expecting a mysterious airdrop tasked with delivering a spacecraft at an unannounced point after the mint..The first quarter will also involve developing the storyboard for the comic.
The second quarter is characterized by a public mint and development of a launchpad.THis quarter is where the team intends to have the final launch of Ernest Beyond. . Ernest in Disguise' will commence fitting the space theme, and it will aim to integrate "space launch pad" into its utility and metaverse projects.In this quarter the team will also produce Ernest in Disguise Trading guides and it is when we expect to officially launch Ernst Comics.The project will also initiate Ernest In Disguise staking at this stage.
In the third quarter, Ernest comics will complete its launchpad integration. They will also officially start printing of Ernest Comics at this stage.The team will also be actively involved in releasing multiple Play to earn trading card games,We expect that the P2E trading card games whiltepaper should be drafted and ready at this time.We will also have Ernest in Disguise Season 2 at this time.
The final quarter will entail a Comic- con meetup and possible release of Ernest in Disguise Season 2. Comic-Con experience is among the importance of owning Legendary Non-Fungible Tokens; however, investors should hang tight because more benefits are in the works. In the fourth quarter, all the holders and the Ernest team will come together at the Comic-Con, in which they will have their accommodation taken care of. It's pretty likely the Legendary NFT will play an integral role in the Ernest animated comic series.
Presale and Public Sale
There is an upcoming presale that is scheduled to start on the 16th of April and public sale that will start on the 17th of April. Participants will need to get whitelisted and also have a phantom wallet. Registration for whitelisting is currently going on at ernestcomics.com
Conclusion
Crypto NFTs have established direct engagements between the artists and their audience by eliminating third parties. Cryptocurrency investing has proved secure over the past years since the technology is built on the blockchain network. The crypto NFTs enable individuals to own artwork and real estate. Cryptocurrency investing has created new markets and opportunities where an asset can be partitioned into various sections, and each can have its owner. The crypto community believes that digital assets are the next big thing to benefit its investors. Ernest comics' non-fungible tokens are a digital asset that enables you to own stars, planets, space properties and any other terrestrial object. Holding Ernest comics' NFTs will give you access to future projects such as metaverse clubhouse and airdrops. Additionally, the Ernest comic is community-oriented and aims to integrate community suggestions into their ecosystem.
Hopefully, you have enjoyed today's article. Thanks for reading! Have a fantastic day! Live from the Platinum Crypto Trading Floor.
Earnings Disclaimer: The information you'll find in this article is for educational purpose only. We make no promise or guarantee of income or earnings. You have to do some work, use your best judgement and perform due diligence before using the information in this article. Your success is still up to you. Nothing in this article is intended to be professional, legal, financial and/or accounting advice. Always seek competent advice from professionals in these matters. If you break the city or other local laws, we will not be held liable for any damages you incur.