Quick Links
Decentralised Thaler, DeGeThal, is a platform tasked with creating a "one-stop" ecosystem for various use cases unexplored by traditional financial instruments. 
How Degethal Makes Financial Services Simple & Accessible
The DeGeThal ecosystem is trying to solve the existing problems of the modern financial system with hybrid crypto/fiat solutions for organisations and individuals. DeGeThal aims to make financial services simple and accessible by combining a wide range of banking and financial products in one platform, linking cryptocurrency and fiat, and providing convenient gateways for accepting payments for users around the globe.
The core DeGeThal ecosystem is a "multi-currency" wallet that is designed for transparent and lightning-fast transactions. DeGeThal's e-banking licence allows it to tie up with banks to link cards to their wallet, and make payments from bank accounts. The wallet can be deposited not only with cryptocurrency, but also with fiat, and assets can be exchanged inside the wallet. This can enable transactions and even withdrawal at ATMs.
DeGeThal allows all users across the globe to transfer money to any corner of the globe. Unlike traditional banks, international transfers do not require any special paperwork or knowledge. This can be done directly with one click from the wallet.
A combination of different cryptocurrencies, bank accounts, and bank cards in the wallet can make payments simple and accessible. The DeGeThal Token (DTM) is the basic element of the DeGeThal tokenomics and is easily integrated into all modules of the DeGeThal ecosystem. The token is located in the Binance Smart Chain (BSC) from Binance exchange, which is one of the fastest-growing blockchains.
The Degethal Ecosystem Explained
The DeGeThal ecosystem includes a multi-currency wallet that supports cryptocurrencies and fiat with integrated bank cards and bank transfers, a trading platform, an NFT marketplace, a gateway for accepting payments, a liquidity pool, a staking system, a blockchain that supports smart contracts, and many other useful functions. These features are explained briefly below:
– Wallet
The heart of the DeGeThal platform is a multi-currency wallet that allows users to safely store and transfer cryptocurrencies and fiat. The wallet is integrated with bank cards and bank accounts to ensure the interaction of cryptocurrency with fiat. In the DeGeThal wallet, users can track all the information about their transactions.
Integration with bank cards and bank accounts allows users to make payments from the wallet around the globe, withdraw cash from ATMs, and instantly exchange cryptocurrency and fiat currency. The DeGeThal wallet can be linked to your bank account, from which funds can be added directly when making payments in the first place. It provides a simple drag and drop functionality. If there are not enough funds in the wallet or account, you can make a purchase and the additional amount of money will be debited from the second account, third, and so on.
– Exchange (CEX) with a liquidity pool
DeGeThal has its centralised exchange with a liquidity pool that provides an instant exchange of digital assets inside the wallet. Sending cryptocurrencies listed onto the DeGeThal exchange by username only brings simplicity and ease of use for all the users.
For each cryptocurrency, you must provide a different address, which is a combination of numbers and letters, making it not that easy to work with. In the DeGeThal ecosystem, sending any listed cryptocurrency into the platform can be easily done only by using a username, and the system allocates the asset directly into your account. Only when interacting with external wallets will the full address be required.
– NFT marketplace
DeGeThal plans to have its own NFT marketplace with the ability to create NFTs and promote them. Users can sell and buy NFTs, and this provides additional opportunities of creativity and earning money for the users.
– Staking program and reward system
The staking program is used to support DeGeThal token (DTM) holders. DTM holders have the right to receive a reward for staking their tokens in the wallet. Transaction fees of 3% provide the rewards paid for participating in the staking program.
The distribution of funds in the staking program between users is done automatically, depending on their share of tokens blocked in the wallet. Participants of the staking system have benefits and bonuses when paying fees for wallet, exchange services, and commissions, as well as other platform services including reduced fees for currency exchanges, cashback on card payments, travel insurance, and many more associated with premium accounts.
– Voting system
There are 3 levels of voting in the ecosystem:
1st level – submission of a proposal
2nd level – execution of a proposal
3rd level – confirmation of execution
– Payment gateway and smart contracts
DeGeThal's payment gateway allows users to accept payments in cryptocurrencies around the world. Suppliers of goods and services can connect to the wallet through a payment gateway to accept cryptocurrencies. The presence of smart contracts on the DeGeThal blockchain has made it possible for developers to install any applications.
– Own blockchain
Having your blockchain on the DeGeThal blockchain allows the users to make fast, cheap, and secure payments. The DeGeThal blockchain supports smart contracts, enabling developers to develop and install their applications on our blockchain, and also use the blockchain to accept payments and perform various banking and financial operations.
Payment for the deployment of smart contracts and transfer commissions inside blockchain between different applications will be done by the DTM token.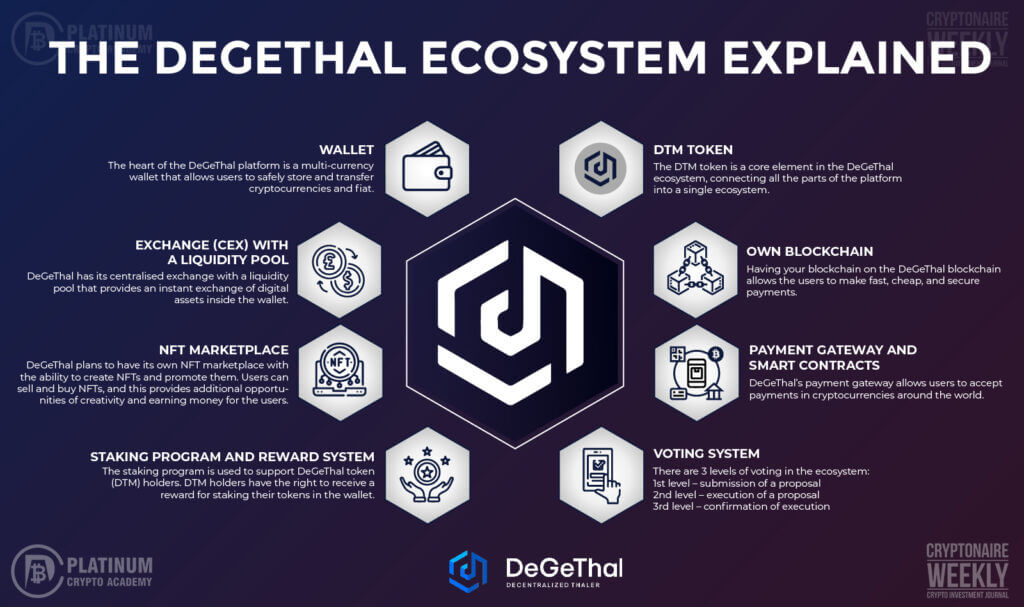 – DTM Token
The DTM token is a core element in the DeGeThal ecosystem, connecting all the parts of the platform into a single ecosystem.
DTM unites the community of users of the DeGeThal platform and serves as an important incentive component that allows users of the platform to make more money through the staking process, liquidity pools, and various other incentive programs. DTM holders can also participate in the voting system.
Degethal Wallet For Crypto & Fiat Currencies
DeGeThal is a multi-currency and multi-cryptocurrency wallet that allows you to store and manage various assets in a single place. The DeGeThal wallet is designed in such a manner that you can use your funds quickly, simply, and conveniently, even without having any specific knowledge.
The DeGeThal wallet is accessible to everyone, and you can manage your assets from anywhere in the world. DeGeThal's e-banking licence integrates the DeGeThal wallet with bank cards, bank accounts, brokers, and cryptocurrency exchanges, allowing you to manage your assets as well as exchange them, and trade both cryptocurrency assets and fiat. The wallet can connect bank cards and accounts to the wallet, and you can replenish the wallet with any fiat funds, as well as cryptocurrency.
The trading interface built into the wallet allows you to trade various assets without unnecessary commissions and the participation of third parties, which significantly reduces the transaction costs of traders and makes trading with them profitable and attractive for traders.
The wallet is also designed to work with organisations and allows connection to the platform of the websites of partner companies so that they can accept cryptocurrency and fiat. The opportunity for accepting money makes the business more liquid and flexible, and gives more opportunities for further development.
The extended functions of DeGeThal are provided due to an e-banking licence and tie ups with various banking and financial structures. Connecting bank cards to a wallet makes it possible not only to make payments in stores around the world but also to withdraw funds from various ATMs.
The wallet offers the users the following features:
– Managing fiat funds inside the wallet: Using the bank cards, the wallet supports 210 fiat currencies, allows you to pay in fiat currencies in outlets around the world, transfer fiat money to users around the world, as well as withdraw cash from ATMs. Inside the wallet, users can view and control their balance and monitor the history of all payments.
– Managing cryptocurrency funds inside the wallet: The DeGeThal wallet is a multi-currency and multi-cryptocurrency wallet that supports various cryptocurrencies. With new cryptocurrency emerging in the market, the number will only grow over time. Users can not only store their cryptocurrencies in the wallet and make transfers to other addresses around the world, but also exchange cryptocurrencies inside the wallet.
The DeGeThal wallet supports tokens of the ERC-20 and BEP-20 standards. DeGeThal has additional security settings to secure the storage of crypto assets on it.
– Trading cryptocurrency and fiat assets: Inside the wallet, you can trade both cryptocurrency and fiat assets.
Degethal Staking & Rewarding Program
Staking is an umbrella term used to denote the act of pledging your crypto-assets to a cryptocurrency protocol to earn rewards. Staking is a great way to maximise your holdings in staking coins and fiat that would otherwise be sitting idle in your digital wallet. Once you have staked your coins and assets, you can earn staking rewards on top of your holdings and grow them further by compounding these future rewards. The more amount of crypto-assets you pledge, the higher the rewards you receive. The rewards are distributed on-chain, which means the process of earning these rewards is completely automatic. All you have to do is to stake them and let your crypto assets earn for you!
In the future stages of the project, DeGeThal plans to launch the staking module. All DTM holders will be invited to advance the security of DeGeThal operations with their stakes. DTM holders will have the right to receive a reward for staking their tokens in the wallet. The distribution of funds in the staking program is done automatically, depending on their share of tokens staked in their wallets.
Participants of the staking program have numerous benefits when paying fees for the system, wallets, exchange services, and commissions. The DeGeThal platform provides reduced fees for currency exchanges, cashback on card payments, travel insurance, and many more associated with premium accounts for staking program users.
Conclusion
The DeGeThal platform supports faster trades, better exchange values, easy wallet management, and helps to make everyday trade a lot more simple and accessible. The crypto exchange platform of DeGeThal is accessible via a regulated wallet, which will provide transparency and protection for the funds. This wallet, being a multi-currency and a multi-cryptocurrency wallet, can be used for a wide variety of everyday transactions. It is built using the new and advanced blockchain technology, enabling the flow of cryptocurrency and FIAT coins. The security system is far superior and advanced to the ones used by centralised banks.
DeGeThal is optimistic that it can create a decentralised crypto platform that will facilitate all user transactions in the ecosystem.
Hopefully, you have enjoyed today's article. Thanks for reading! Have a fantastic day! Live from the Platinum Crypto Trading Floor.
TOP 10 UK CRYPTOCURRENCY BLOGS, WEBSITES & INFLUENCERS IN 2021
Earnings Disclaimer: The information you'll find in this article is for educational purpose only. We make no promise or guarantee of income or earnings. You have to do some work, use your best judgement and perform due diligence before using the information in this article. Your success is still up to you. Nothing in this article is intended to be professional, legal, financial and/or accounting advice. Always seek competent advice from professionals in these matters. If you break the city or other local laws, we will not be held liable for any damages you incur.