Cryptocurrencies have grown into a trillion-dollar business, causing a wave of financial disruption around the world. Cryptocurrencies have a long history of innovation that dates back to the 1980s when cryptography developments were made. Since then, a succession of events has impacted the crypto world, the most notable of which is the first cryptocurrency, Bitcoin. Despite its meteoric rise over the past 12 years, financial services for Bitcoin have been reluctant to emerge, owing to its fundamental lack of stability and adoption.
Because of its substantial price fluctuation, mainstream banks will not accept a Bitcoin loan, making Bitcoin a poor asset for accurately planning any investment.
Things move fast in the crypto world, and decentralised finance (DeFi) is a trend right now. The shift from old, centralised financial institutions to peer-to-peer finance enabled by decentralised technology built on the Ethereum blockchain is known as decentralised finance or DeFi. The Ferrum Network is a project that is working to create a DeFi ecosystem that interacts across chains and eliminates hurdles to mainstream adoption, developed by distributed-systems professionals with industry-leading experience from some of the world's most well-known IT firms.
The Role Of The Ferrum Network In Blockchain Adoption 
The Ferrum Network is a high-speed interoperability network that was intended to address two major issues that have hindered the widespread acceptance of cryptocurrencies and blockchain deployments for real-world financial applications: sluggish transaction speeds and a lack of network interoperability.
A fiat gateway, crypto custody, an integrated wallet, risk-free over-the-counter (OTC) trading, and peer-to-peer payments are all included in the Ferrum product line. Ferrum Network also has a mobile messaging software that allows users to send crypto payments via text message! In the Ferrum Network ecosystem, the native Ferrum Network utility coin (FRM) is extremely important. The FRM token and the linked UniFyre Wallet are becoming a significant part of many people's daily lives as the platform grows in popularity.
What Are The Problems With Token Bridges Today?
Cross-chain technology is gradually becoming a popular topic of conversation, as it is considered the ultimate solution for improving blockchain interoperability. In layman's words, cross-chain technology is a new technology that aims to allow value and information to be transferred between multiple blockchain networks. The cross-chain protocol ensures that blockchains may communicate with one another, allowing for exchanging value and information between them. Combining such protocols with decentralised public chains can develop the foundation for widespread adoption and usage of the blockchain.
Cross-blockchain interoperability enables multiple blockchains to communicate without the use of intermediaries. This means that blockchains with similar networks will be able to trade value with one another. Businesses will no longer have to struggle just with clients on the network on which the business is based while using it in a business ecosystem. Instead, businesses will be able to transact with clients on other blockchains that are compatible. There would be no downtime or high transaction costs during the entire process. Cross blockchain interoperability will provide blockchain networks with an effective mechanism of value transmission, much as it did with the Internet of Value.
People have mostly been unable to reap the full benefits of ledger technology since the chains operate in isolation. People have been unable to fully benefit from blockchain technology because of the incapacity of multiple blockchains to communicate with one another. Cross-chain technology aims to address all of these concerns by providing interoperability between blockchains, allowing them to communicate and share information more easily. Despite these conveniences, presently, there are some problems with Token Bridges. These are:
It Has Restricted Access 
The majority of projects on today's major cross-chain bridges are purely larger-cap projects. As a result, present solutions erect a large barrier to entry for new projects. Their community members are unable to make use of the advantages that cross-chain exchanging provides.
It Is Hard To Use 
Some cross-chain bridge solutions have a lot of space for improvement in terms of user experience. As a user, it can feel like you need to read a whitepaper to figure out how to shift tokens between chains.
Third-Party Involvement 
The present cross-chain bridge solutions on the market are designed in such a way that they bring needless third-party exposure into the token swapping process. Furthermore, in many circumstances, the bridge technology provider manages and controls the liquidity, necessitating projects and community members to place their trust in the bridge technology provider.
How Does The Ferrum Network's Cross-Chain Token Bridge Work?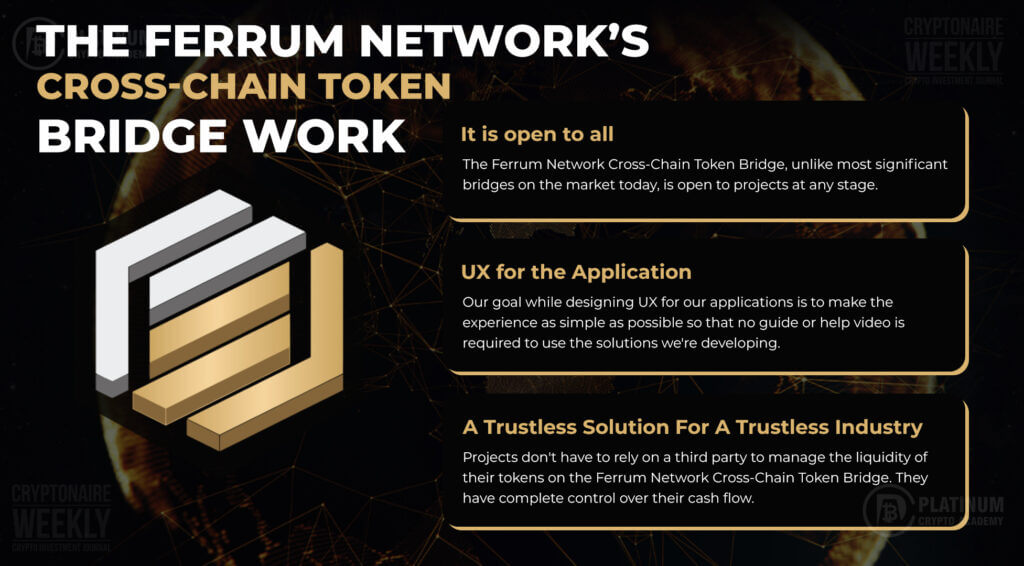 One of the Ferrum Network's key principles is interoperability. The Ferrum Network Token Bridge makes token transfers between Ethereum and Polygon Chain, as well as with Binance Smart Chain, simple and quick. This is also displayed in a simple user interface and is a cost-effective means for transferring assets between ERC-20, MATIC, and BEP-20.
The Ferrum Cross-Chain Token Bridge will offer a white-label solution for any project that wants to make its token cross-chain instantly compatible.
The goal of this project is to lower the hurdles to cryptocurrency adoption. The Ferrum Network Cross-Chain Token Bridge's launch is a big step toward allowing crypto projects to expand their impact across many major crypto ecosystems. Here is the solution that the Ferrum Network's Cross-chain Token Bridge provides:
It Is Open To All
The Ferrum Network Cross-Chain Token Bridge, unlike most significant bridges on the market today, is open to projects at any stage. Furthermore, the Ferrum Premium Token Bridge white-label deployment may be tailored to meet the needs of a wide range of corporate use cases, making it a good fit for both new initiatives and established enterprises.
Ux For The Application 
Our goal while designing UX for our applications is to make the experience as simple as possible so that no guide or help video is required to use the solutions we're developing. We built a simple in-app step-by-step guided process that leads the user through the Ferrum Network Cross-Chain Token Bridge's 5 Steps to trade tokens. This is only the first iteration of our new user experience strategy. We will continue to provide delightful experiences that make interacting with and using any of our applications a lot of fun.
A Trustless Solution For A Trustless Industry
Projects don't have to rely on a third party to manage the liquidity of their tokens on the Ferrum Network Cross-Chain Token Bridge. They have complete control over their cash flow. This is just the first iteration of our Cross-Chain Token Bridge; as the product evolves, we will continue to add more decentralised security protocols to the bridge.
The Ferrum Network's Cross-Chain Token Bridge is a ground-breaking innovation that will allow assets to be transferred between Ethereum, BSC, and Polygon (MATIC) without the need for an intermediary chain. The Ferrum Network Cross-Chain Token Bridge is poised to be the industry's quickest and most secure Cross-Chain Token Bridge. If you wish to exchange your BEP20 tokens for MATIC tokens right now, you'll have to go through a long process. It's as simple as clicking "Swap" on the Ferrum Network-powered Cross-Chain Token Bridge which will be available in the very near future.
What Technology Does Ferrum Use To Accelerate Blockchain Adoption?
Ferrum's objective is to aid in the general adoption of blockchains by assisting other organisations and projects in the development, launch, and operation of blockchains while using it's fast interoperability network to provide multitude of products to benefit the projects and community.
One of the services is Ferrum's Blockchain as a Service (BaaS) offering lies at its core. BaaS providers effectively "host" projects on top of their blockchain and offer services to help support their clients, seeing the underlying need for an easier approach to utilise blockchain technology. This is similar to the services provided by typical web server hosts, but Ferrum goes above and beyond.
One of the most difficult issues for new projects emerging on blockchains is the volatility of their token prices. Once a product is published, prices often climb quickly before plummeting, and investors may lose interest and move on. Ferrum addresses this by providing a Staking as a Service (SaaS) solution to all of their clients. Staking is the process of a token holder "locking" any number of their tokens for a set period of time. These token holders are then rewarded with tokens or other assets, such as NFTs. Staked coins are essential for new projects since they eliminate market liquidity and encourage investors to hold rather than sell. This will frequently provide a project with a pricing floor when there would otherwise be none.
Offering a token to the general public has its own set of challenges. Armies of bots grab tokens from real investors when projects make their initial exchange listing. These bots cause prices to spike frequently by multiples of the initial listing price, denying regular investors the opportunity to participate at a reasonable price. At some point, the bots start selling their coins, causing the price to collapse, leaving investors with tokens they overpaid for and the project with a token that is losing value. Except for the bot operators, no one wins. The idea of Ferrum's solution to this problem is simple: block the bots from trading. Ferrum blacklists addresses that appear to be bot addresses, preventing them from trading on protected tokens.
Ferrum's most recent offering has likewise proven to be popular. With the introduction of cross-chain swapping and trading, projects are discovering that adding liquidity across various blockchains is becoming increasingly vital. Ferrum has developed a white label Token Bridge that allows projects and people to connect their tokens to Ethereum, Binance Smart Chain, and Polygon blockchains (formerly known as Matic).
Ferrum's Token Bridge is already a highly sought-after addition to their line of services as cross-chain adoption continues to gain traction. Ferrum's BaaS operation is now giving this innovative technology to businesses wishing to shift on-chain with simplicity, thanks to the boom of cryptocurrency markets and the widespread adoption of blockchains.
Ferrum White Label Solution Explained 
White Label Solutions boost crypto and traditional projects, making it easier for them to get their products to market. Ferrum's white-label blockchain solutions have become well-known and popular in the market. Ferrum's white-label staking technology is already being used by more than 90 projects totalling more than $30 million in TVL. The Cross-Chain Token Bridge is being added to an already popular service. The white-label deployment of the Ferrum Network Cross-Chain Token Bridge solution will allow projects to rapidly make their tokens swappable between several chains.
The Ferrum Network Cross-Chain Token Bridge can be deployed as a fully-managed solution without contributing to the project's technical debt or delaying development objectives. The Ferrum Network Cross-Chain Token Bridge can also be deployed as a self-hosted solution for enterprise or large-scale deployments.
The bridge's white-label deployment has a built-in deflationary mechanism that allows projects to set "Bridge Fees" in their native token per swap. These fees can be burned, used as community awards, or used to fund the project's expansion and R&D.
Conclusion
Ferrum has taken strategic decisions from the beginning with the goal of finding customers and creating something useful. This may appear obvious to outsiders, but in the crypto industry, there are still many major enterprises that are based completely on promises and do not do anything.
With the rise of DeFi applications, other platforms may face stiff competition from plenty of new initiatives. Ferrum Network, on the other hand, is already well-established and on its way to becoming a major player in the DeFi space.
Hopefully, you have enjoyed today's article. Thanks for reading! Have a fantastic day! Live from the Platinum Crypto Trading Floor.
TOP 10 UK CRYPTOCURRENCY BLOGS, WEBSITES & INFLUENCERS IN 2021
Earnings Disclaimer: The information you'll find in this article is for educational purpose only. We make no promise or guarantee of income or earnings. You have to do some work, use your best judgement and perform due diligence before using the information in this article. Your success is still up to you. Nothing in this article is intended to be professional, legal, financial and/or accounting advice. Always seek competent advice from professionals in these matters. If you break the city or other local laws, we will not be held liable for any damages you incur.