Today's article is a review of the CLIQ token and as we all know there is no dearth of crypto projects that are being launched in the market today. However, when it comes to choosing and investing in one, it is only ideal that you pick the best project. Launched on the 6th of June in 2020, CLIQ is one such popular crypto token project that has earned wide recognition. CLIQ is an Ethereum based ERC20 token crafted for the highly innovative SpottR app ecosystem. Put simply, SpottR serves as an online productivity platform, which also has a presence via mobile applications.
IN THIS ARTICLE, LEARN MORE ABOUT THE CLIQ TOKEN AND THE SPOTTR APP.
The Purpose
As far as the SpottR application is concerned, it enables users to discover the world around them by joining the primary ecosystem. Thus, one can make the most of the opportunities available through the platform, such as business opportunities, goods, and services available for sale, jobs, information, events, as well as other opportunities for creating wealth.
Thus, users constitute those individuals who use the website or the mobile app for evaluating listed services or for the purpose of education. On the other hand, clients of SpottR are those who sign up to list opportunities for other users to consume as well as consume listed opportunities by engaging in one or multiple transactions. The SpottR app is solely designed for people who are at least 18 years of age or older.
HOW DOES IT WORK?
Just like Uber, the SpottR app allows users to interact with products, services and businesses around them using an interactive map on the home screen. To further solve discoverability and to reduce the amount of time it takes to make purchasing decisions, the app combines its geolocation feature with an AI-powered smart search that links demand directly to supply, giving users real results, in the shortest amount of time possible.
But considering the project's primary market, CLIQ is set up to help the consumer complete their transaction journey through its collateral-free loans in a credit market with a credit to GDP ratio of 18%.
The CLIQ group primarily aims to revolutionize the manner in which people grow their wealth or do things. With the launch of CLIQ token and the SpottR app, the company has managed to break the visibility as well as efficiency barriers, thus making everything possible.
As the globe's first borderless and multi-level ecosystem that successfully solves visibility problems and enables users to achieve more, CLIQ has gained a lot of attention among crypto investors.
HERE'S HOW IT WORKS:
Purchase the CLIQ Token: The first step to getting started is to buy the token from an open market.
Join SpottR: Next, you need to become a part of the SpottR app and ecosystem. For this, you must take part in various tasks or fulfill transactions to build positive ratings using easy as well as activity-oriented auto profile switching.
Applying for Loans: You can apply for a loan using your ecosystem credibility or your CLIQ token balance. This means you don't need to sell your CLIQ tokens and can easily access fiat loans amounting to 100 percent of the value of your CLIQ tokens with flexible repayment.
Do More: Next, you can do more as well as payback as per your convenience.
EVERYTHING YOU NEED TO KNOW ABOUT CLIQ TOKEN AND SPOTTR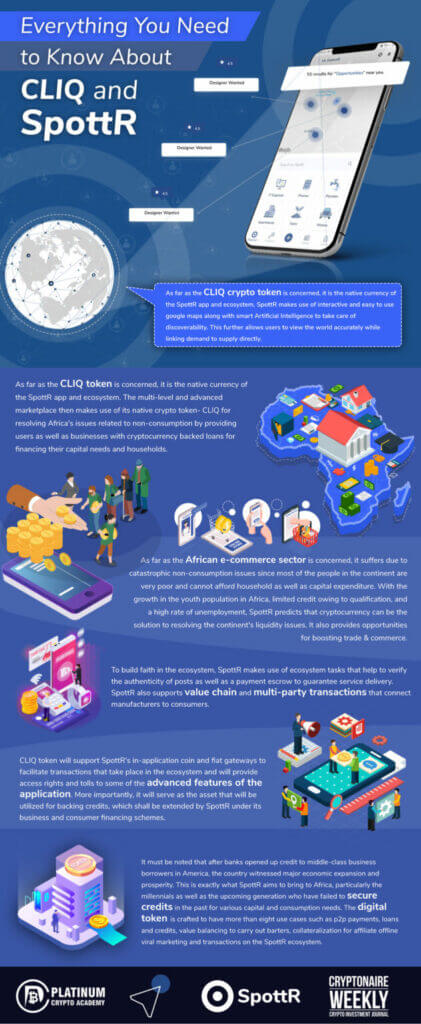 As far as the CLIQ token is concerned, it is the native currency of the SpottR app and ecosystem. The multi-level and advanced marketplace then makes use of its native crypto token- CLIQ for resolving Africa's issues related to non-consumption by providing users as well as businesses with cryptocurrency-backed loans for financing their capital needs and households.
As far as the African e-commerce sector is concerned, it suffers due to catastrophic non-consumption issues since most of the people in the continent are very poor and cannot afford household as well as capital expenditure. With the growth in the youth population in Africa, limited credit owing to qualification, and a high rate of unemployment, SpottR predicts that cryptocurrency can be the solution to resolving the continent's liquidity issues. It also provides opportunities for boosting trade & commerce.
To build faith in the ecosystem, SpottR makes use of ecosystem tasks that help to verify the authenticity of posts as well as a payment escrow to guarantee service delivery. SpottR also supports value chain and multi-party transactions that connect manufacturers to consumers.
CLIQ token will support SpottR's in-application coin and fiat gateways to facilitate transactions that take place in the ecosystem and will provide access rights and tolls to some of the advanced features of the application. More importantly, it will serve as the asset that will be utilized for backing credits, which shall be extended by SpottR under its business and consumer financing schemes.
It must be noted that after banks opened up credit to middle-class business borrowers in America, the country witnessed major economic expansion and prosperity. This is exactly what SpottR aims to bring to Africa, particularly the millennials as well as the upcoming generation who have failed to secure credits in the past for various capital and consumption needs. The digital token is crafted to have more than eight use cases such as p2p payments, loans and credits, value balancing to carry out barters, collateralization for affiliate offline viral marketing and transactions on the SpottR ecosystem.
HOW TO ACCESS CLIQ TOKEN BACKED LOANS?
Download our app and set up your wallet
Request for financing directly from your wallet at 3.5% (the lowest rate around) or you can request directly from the websites of our partner businesses
Make your equity contribution directly into your own wallet
We make the payment, in full to you or the business
HOW TO PURCHASE THE CLIQ TOKEN?
CLIQ digital token can currently be bought only through the CLIQ website using currencies like BTC, LTC, ETH, NGN, USD under the active presale stages. SpottR promises to list CLIQ token in exchanges in March 2021.
HOW MUCH CLIQ TOKENS YOU CAN BUY
CLIQ Yuletide Gifts, in the spirit of the holidays the SpottR team has reduced the purchase threshold of CLIQ tokens up until January end. The purchase threshold has been lowered from $1000 to $100, still at $0.1 per CLIQ. CLIQ Yuletide Gifts, in the spirit of the holidays the SpottR team has reduced the purchase threshold of CLIQ tokens up until January end. The purchase threshold has been lowered from $1000 to $100, still at $0.1 per CLIQ
HOW TO STORE CLIQ TOKEN?
You can easily store your tokens in the Ethereum wallet. However, if you are looking to set up the ERC20 Wallet and purchase CLIQ tokens, then you will have to first download the ERC20 Wallet application (Imtoken or Trust Wallet) from Appstore or Playstore.
Next, you must accept the terms & conditions that Imtoken needs a user to accept before proceeding further. After this step, you can set up a new digital wallet if you don't already have one in any of the apps mentioned above. But, if you already have a wallet, then you just need to import your wallet. Next, you need to create a password and set the hint and pick Multiple-Chains Trust Wallet to auto-create a Multi-Coin digital wallet for yourself. After this, you need to backup your wallet and copy the backup recovery phrase as well as store it in a secure manner.
WHY SPOTTR?
With SpottR, you can search and share excellent opportunities with other users in your community. The SpottR solution is designed to help you search for everyday items like events, vacancies, customers, and suppliers around you with minimal effort. Spotting the plug has become highly frustrating both on social media and online platforms due to relentless spamming. SpottR brings a highly interactive map for finding services, merchants as well as events that are situated closer to you.
Every time you search on the SpottR platform, it will look for the community closest to you to determine who is willing to deliver the service you require as well as return updated results with merchants. Also, with two-way confirmation as well as payment upon delivery, one can only make payments for the services that have been successfully fulfilled.
SpottR also offers users the opportunity to earn and acquire its native CLIQ token. CLIQ provides users with the opportunity to gather wealth and achieve more using them, such as buying their dream house, dream car, setting up a business as well as winning customers.
FINDING AND PARTICIPATING IN TASKS
SpottR offers an opportunity to its users to earn and build the ecosystem using the Task section. Users can easily participate by verifying whether products are authentic or not to create the ultimate trust economy. To find as well as participate in tasks, you need to click the task button/tab to discover available tasks. Every task has a unique goal and reward. After the task has been completed, the SpottR oracle evaluates the submissions to determine the distribution of rewards. So, if you are looking to secure credits and loans, you must participate in tasks to earn easy ecosystem points.
INDEPENDENT TASKS THAT ONE CAN DO WITH CLIQ ARE:
Follow @cliqtoken and @thespottrapp_ on Twitter to discover how to get free CLIQ tokens ahead of their IEO. Remember, the more tokens you have, the more of a bright future you have secured.
CLIQ Token Use Case 1
Tobi is a tech enthusiast and entrepreneur. He finished his higher education at quite a young age and has delved into several businesses to make ends meet so he can complete his education.
Although young in age, he's no child when it comes to businesses. His wealth of experience from the many things he dabbled into has built that skill in him to monetize and profit from whatever he ventures into.
However, he's always had issues with scaling. It's either he doesn't have the necessary reach, or the funds required to get more of his products or service out.
Tobi also has a clique of tech enthusiast friends. It was through them he discovered SpottR. They described it to him as a Fiverr-Uber App because although it helped you sell and buy gigs like Fiverr, he could do more than just render digital services or products – SpottR allowed him to also offer some physical services and products to everyone around him. He's plumbing & electrical house wiring skills could finally earn him more money. Everyone on SpottR's social commerce ecosystem could find that he did this and did that.
What he loved most about SpottR was its credit product. He essentially got credits from SpottR with nothing but his CLIQs -SpottR's own native ERC-20 token and he got it at just 3.5% APR. Neither his age, nor his lack of credit history, or physical collateral caused any problem for him and it was almost instant.
He collected the credits, shipped in those electronic components and resold them via SpottR. He's had many business cycles but he confessed that this was his best. He described his experience to his friends as seamless, He discovered that more people needed his products than he thought and was greatly surprised that SpottR let him choose from a list of 3rd party Logistics companies that plug directly to the app through Oracle powered APIs to make the delivery to the buyer. He was literally running a business from inside his crib and he had all the tools and financing he needed in just one app.
He's been repping ever since!
He's been a SpottR!
Hopefully, you have enjoyed today's article. Thanks for reading! Have a fantastic day! Live from the Platinum Crypto Trading Floor.
Earnings Disclaimer: The information you'll find in this article is for educational purpose only. We make no promise or guarantee of income or earnings. You have to do some work, use your best judgement and perform due diligence before using the information in this article. Your success is still up to you. Nothing in this article is intended to be professional, legal, financial and/or accounting advice. Always seek competent advice from professionals in these matters. If you break the city or other local laws, we will not be held liable for any damages you incur.