The crypto market has witnessed dramatic market capitalization, surpassing the US 3 billion dollar mark. As a result, a growing number of companies and projects have been launched in the crypto space to offer products & services that require people to use cryptocurrencies. This has also encouraged many people to participate in cryptocurrency investing, allowing the crypto companies to build a robust infrastructure for blockchain and Defi applications.
Currently, cryptocurrency exchanges allow users to purchase and sell cryptos as well as other digital assets in exchange for fiat currencies and other cryptos. Besides, they also play a crucial role within the cryptocurrency economy as they provide a perfect market for cryptocurrency investing, trading, liquidity as well as price update. Crypto exchanges rely on blockchain technology to resolve issues of speed and decentralization. They also facilitate payments, data storage as well as fund raising, which is why they have become a prominent part of the lives of many users. On the other hand, with improvements in the crypto ecosystem, specific applications are being explored and expanded. For instance, Defi is another area that is witnessing tremendous growth and expansion with the emergence of blockchain and with more and more people becoming interested in cryptocurrency investing.
This is where platforms such as DefiBids come into the picture.
DefiBids has been created to offer inclusive, secure, transparent, and innovative auction services for cryptocurrencies, as well as Defi enthusiasts. The platform allows users to take advantage of an auction in a manner that is seamless and convenient. DefiBids is a decentralized and fully integrated auction platform that offers digital tokens for Defi staking.
In this article, learn how DefiBids offers a robust solution for auctioning cryptocurrencies and Defi.
WHAT IS DEFI?
In simple terms, Defi or Decentralized Finance is a unique system that allows users to conduct several activities traditionally carried out within the banking sector. With Defi, users can create deposits, borrow and lend and earn interest.
Defi essentially refers to a wide range of applications and projects within the blockchain sector that are geared towards disrupting the world of traditional finance. Drawing inspiration from blockchain tech, Defi applications are financial apps built atop blockchain technologies and typically use smart contracts. Defi includes apps and P2P protocols designed on decentralized and blockchain-supported networks, which require zero access rights when it comes to easy borrowing, lending, and trading of different financial tools. Most of the Defi apps available in the market today are built atop Ethereum but, several alternate public networks have also emerged to deliver superior scalability, speed, as well as lower costs.
Given the expansion of Defi applications, there is an increased demand for building well-planned financial services supported by a decentralized system. The optimism for DeFi's potential is much visible in the increasing values of digital tokens that are native to decentralized finance.
With the growth & expansion of Defi markets, digital financial assets built atop blockchain technology have also gained worldwide prominence. Users can now transparently and efficiently check the holders, issuers, transaction details, and execution results of digital assets.
Thus, Defi has created a unique market via which transactions are easy to implement by cryptocurrency investing enthusiasts and financial service offering companies in different parts of the globe.
HOW IS DEFIBIDS LEVERAGING BLOCKCHAIN AND DEFI TO BECOME THE BEST CRYPTO AUCTION SITE?
Until the launch of DefiBids, people interested in cryptocurrency investing never gave a thought to the concept of purchasing digital tokens or Defi staking through auction. With the increased availability of numerous crypto exchanges globally, users may not want to venture into the space of online auction. But, this is where there is a need for cryptocurrency investing enthusiasts to reconsider their stance. There are many benefits of participating in online auctions, especially because several exchanges today face hacking.
One of the benefits of purchasing ERC-20 tokens through an online auction is present in the form of savings. When a user bids on the auction package, he/she can save a lot on their next purchase. With DefiBids, one can place multiple bids on different auctions simultaneously. As a result, they can create increased opportunities for winning the auction.
In addition to Defi, cryptocurrency staking is another area that has gained a lot of popularity. It has become a popular way of earning high returns on the capital amount. Users in a few protocols and networks can easily lock their digital tokens. Their role is crucial in offering consensus on the distributed network. Even though it is much different from the decentralized finance system, crypto staking is another activity that has recorded exceptional growth in the past couple of years. There is more than 10 billion USD locked in Defi staking on the Tezos, Cosmos, as well as Polkadot protocols.
Thus, DefiBids makes purchasing cryptos and Defi staking both profitable and pleasurable for those interested in cryptocurrency investing and trading. This revolutionary and innovative Defi-based online auction allows cryptocurrency investing enthusiasts to bid on different ERC-20 token packages as well as NFTs at discounted rates in comparison to the market value. The decentralized finance market has witnessed massive growth, which has made DeFi a prominent market in the world of blockchain. With DefiBids, users inclined towards cryptocurrency investing can bid on several DeFis.
The platform operates the lowest possible bid auction, allowing every bidder to win, despite their low bids. The platform aims to place unique low bids by the time the online auction comes to an end. Users can take part in these online auctions by buying credits with TRX or ETH.
As the first crypto auction site in the world, DefiBids enables you to engage in Defi staking and earn exciting rewards. As a result, stakers get rewards on their auction transactions, whereas auction buyers can lay their hands on exciting deals on digital token packages. Apart from this, cryptocurrency investing enthusiasts benefit due to increased value, as well as the adoption of bidding tokens.
THE ADVANTAGES OF USING THE DEFIBIDS PLATFORM.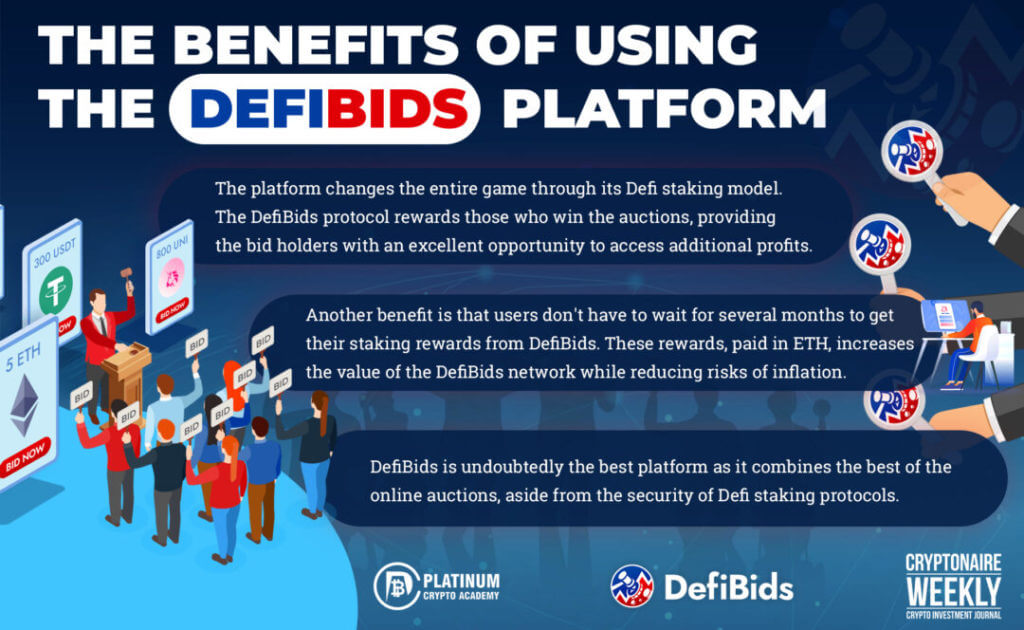 Built atop the Ethereum network, DefiBids is essentially a decentralized platform for auctioning cryptos and Defi staking. The DefiBids portal enables users interested in cryptocurrency investing to bid different cryptocurrency tokens as well as Defis. The person who bids the lowest automatically wins every auction. To bid, one must have few credits, and every credit costs around $1. The platform exceptionally presents the auctions to assist users to save on their next bid.
BELOW TAKE A LOOK AT SOME OF THE BENEFITS OF USING THE DEFIBIDS PLATFORM:
Certain features make DefiBids a unique option when compared to other Defi staking and crypto auctioning platforms available in the market today. The platform changes the entire game through its Defi staking model. The DefiBids protocol rewards those who win the auctions, providing the bid holders with an excellent opportunity to access additional profits.
In other words, 1percent of the entire fees collected during auctions gets distributed between people who engage in Defi staking via the side pool. Another benefit is that users don't have to wait for several months to get their staking rewards from DefiBids. That's because the rewards get distributed in terms of ETH after every twenty-four hours at 00:00 UTC. These rewards, paid in ETH, increases the value of the DefiBids network while reducing risks of inflation.
Of late, Defi-based platforms have been dealing with inflationary issues simply because rewards get distributed in the native tokens. But as a user of the DefiBids platform, you won't have to bother about this, and you will be able to save both money and time since the rewards arrive directly in ETH. DefiBids is undoubtedly the best platform as it combines the best of the online auctions, aside from the security of Defi staking protocols.
THE DEFIBIDS TOKENOMICS EXPLAINED.
If you are interested in cryptocurrency investing, online crypto auctions, and Defi staking, then you must understand DefiBids tokenomics. As far as the Bid tokens are concerned, a 2percent fee shall be applicable on all bidding transactions (reinvesting, staking, un-staking, withdrawing, and selling). One percent of the entire fee will go into the Defi staking rewards pool, whereas 1 percent gets burned forever.
On the other hand, the DefiBids staking portal distributes rewards among users in both ETH and $BID. Also, one percent of every transaction shall be distributed among the stakers of the token. This distribution shall be based upon the total bid tokens that every user stakes. Again, these rewards will get paid in $BID tokens. Users can either reinvest their tokens or withdraw the rewards any time they wish to.
Apart from this, when an individual participates in the DefiBids auctions, a small part of the Ethereum used during the auction gets distributed among all the $BID stakers evenly.
CONCLUSION
With the emergence of cryptocurrencies, the world witnessed a major transformation in the way commercial and social transactions are carried out. With more and more blockchain projects now offering unique platforms, and innovative decentralized apps, there is no denying that these technologies have immense potential. Given the pace at which this space is fast-evolving, DefiBids certainly offers a robust solution for anyone interested in crypto auctioning and Defi staking. Users can not only bid but also place big wins on the DefiBids auctions.
To learn more about the DefiBids platform, visit https://defibids.com/!
Hopefully, you have enjoyed today's article. Thanks for reading! Have a fantastic day! Live from the Platinum Crypto Trading Floor. 
TOP 10 UK CRYPTOCURRENCY BLOGS, WEBSITES & INFLUENCERS IN 2021 
Earnings Disclaimer: The information you'll find in this article is for educational purpose only. We make no promise or guarantee of income or earnings. You have to do some work, use your best judgement and perform due diligence before using the information in this article. Your success is still up to you. Nothing in this article is intended to be professional, legal, financial and/or accounting advice. Always seek competent advice from professionals in these matters. If you break the city or other local laws, we will not be held liable for any damages you incur.