To understand Ledger Nano X, it is important that we understand what a Virtual currency is? A virtual currency (cryptographic asset) is a currency that does not have an entity such as banknotes or coins like a general currency and is traded through the Internet. Fiat currencies are managed by the central banks of each country, but virtual currencies do not have a centralised organisation to manage them. Therefore, transaction information is managed between users using a technology called the blockchain.
Today, there are many virtual currencies, and it is said that there are more than 1,000 types. Bitcoin is a typical example, but other virtual currencies such as Ethereum and Ripple are also known.
After purchasing cryptocurrency, you may feel the need to keep it safe. However, it is not easy to navigate, as the range of possibilities is wide. Some people often talk about trading platforms, wallets, hardware wallets, and software wallets, but this does not seem clearer.
Following the surge in cryptocurrency prices in 2017, the theft of Bitcoin and other digital coins has escalated. Leaving your cryptocurrencies on a centralised online service such as Coinbase or Binance is probably not the best solution to protect yourself from thieves. Indeed, even the largest cryptocurrency exchanges are sometimes victims of hacking, as evidenced by the recent hack perpetrated on the latter.
The best solution today is arguably the use of a physical crypto wallet or hardware wallet. And in this area of activity, France has one of the most fashionable startups in the crypto ecosystem, Ledger.
In this tutorial, we will go over the different methods to hold cryptocurrency. Then we will focus on the medium that is generally considered to be the safest: the hardware wallet. In particular, we will see how to configure and use the Ledger Nano X, one of the world's most recognised hardware wallets.
CRYPTOCURRENCIES AND THE NEED TO KEEP THEM SECURE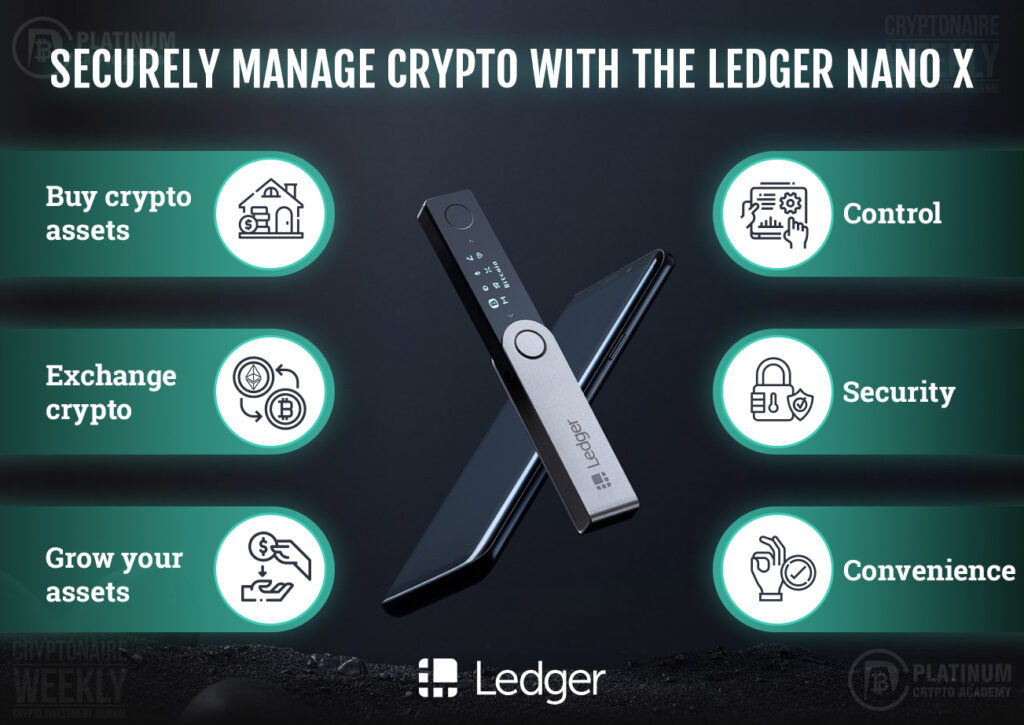 Cryptocurrencies are a very special type of currency for thousands of people around the world today. Your purchase is ideal for those who want to invest, and therefore, it is important to know how to do it.
For some time now, cryptocurrencies promise to become one of the most important currencies in the international market. Their growth is undeniable, and for many, the possibility of cryptocurrency investing in them is becoming an increasingly attractive idea. There are many risks associated with trading, investing, and owning virtual currencies. That's why Ledger decided to fix these problems.
Invest in cryptocurrencies with Ledger
Cryptocurrencies still scare some, but they enchant many others. The truth is that in recent years, this currency has become very relevant, especially for investors from all over the world, and for the online market. That is why more and more people are beginning to contemplate the idea of cryptocurrency investing of a bet that can pay off significantly if a series of tips are taken into account.
First of all, it is essential to know your budget very well and what are the possibilities that it allows; investing beyond what you can is too great a risk, even for experienced investors. If you are starting, the most appropriate thing is to know which cryptocurrency may be more convenient. In this sense, indeed, Bitcoin is not the only cryptocurrency that exists, and although there are a few types available, it is best to start with a stable and known option.
That is why there are applications such as Bitcoin Era, a software that allows its users to earn income every day by investing easily, thanks to a robot designed for the task. This robot takes care of identifying the best deals and giving users the possibility of a successful investment. For many, this platform is highly effective, since it allows them to have a clearer idea about how the market works and thus develop their investment strategies.
You can even buy portions of cryptocurrencies – that is, parts of a Bitcoin and not a complete Bitcoin – an alternative to start more safely, or for those who still do not have the money to buy a complete one. This is where Ledger comes in. Ledger, one of the most recognised crypto companies in the industry, has created Ledger Nano X, a hardware wallet combined with the Ledger Live application. This is the most advanced and secure way to invest in cryptocurrencies. The Ledger Nano X hardware wallet offers the best security for your crypto: your assets always remain safe. And the Ledger Live app allows you to buy your crypto and access key services: exchange or grow your assets. Securely thanks to your hardware wallet.
You can buy more than 13 crypto (BTC, ETH, DOT, LTC, LINK, DOGE,…) directly through Ledger via bank transfer or payment card.
Bitcoin storage with Ledger Nano X
Once you have bought your bitcoins, you have to think about how to keep them safe. But, if Elon Musk buys 1.25 billion in Bitcoins, it is because there are places where it is possible to keep the coins safe. Today, there are so-called cryptocurrency wallets available, designed to allow the storage of different types of cryptocurrencies.
A good example of a secure wallet is a Ledger Nano X, a hardware wallet that can be used offline, and therefore makes it more difficult for the system to be circumvented. It is important to bear in mind that cryptocurrencies are a great attraction for criminals in the cyber market, so it is essential to take as much precaution as possible and keep your cryptocurrencies in really safe places. Also, be wary of the arrival of mysterious links or similar things, as they could be traps to steal your cryptocurrencies.
Another thing you should know is that there are 'hot wallets' and 'cold wallets'. Few cryptocurrencies are stored in hot wallets, so if they were Bitcoins, the value that is saved is not too high, in the same way that you would not carry all your money saved in your wallet to go out to buy bread. In the cold purse, on the contrary, the largest amount of money is stored; that which you want to keep for something in particular, or simply until you decide how to invest it, but that you want to keep as safe as possible. The cold wallet is rarely used and works with a high-security system that prevents theft or intrusion of cybercriminals.
Best practices when using a hardware wallet from Ledger
To keep your cryptocurrencies safe, a hardware wallet is the best option, and Ledger Nano X has everything you need to secure your cryptocurrency. Let's understand why the hardware wallet is much more secure than an online wallet.
– What is a hardware wallet?
A hardware wallet is a physical wallet. They come in all different shapes and sizes; the Ledger Nano X, for example, looks a lot like a USB stick.
A hardware wallet is one of the safest methods of storing your cryptocurrencies. When using a hardware wallet, access to your coins is encrypted by the device. This makes it more secure than an online wallet, for example.
When using an online wallet, access to your wallet is stored online. If a website like btc.com is hacked, there is a risk that you will lose your coins. That risk is not there when you use a hardware wallet from Ledger, as you use offline storage.
Additionally, hardware wallets are protected against unauthorised use with an additional PIN. If your hardware wallet is stolen or lost, no one will be able to access your coins without the PIN. With your recovery words, you will have access to your cryptocurrencies again. We will explain later how to use recovery words.
HOW LEDGER NANO X CAN PUT YOU IN CONTROL OF YOUR CRYPTOS
Compatibility with over 1,800 digital coins along with program updates makes this product usable with virtually any existing cryptocurrency. Also, you can install up to 100 coin applications in Ledger, but you can secure much more than 100 different digital coins. So you can use one application for many coins at the same time. For example, the Ethereum coin application allows you to secure and manage ETH and all ERC20 tokens running on the Ethereum blockchain.
Each cryptocurrency we want to add must be chosen by the Ledger Live app. After logging in, we will look for it in the catalogue of digital coins and select it to download its code on our Nano X. At this point, the device is ready to keep that cryptocurrency date, after entering the access keys.
– How to securely manage crypto with the Ledger Nano X
Keeping funds on a cryptocurrency exchange isn't exactly the safest way to hold money. Crypto platforms and even active wallets can be attacked and hacked. This could have a negative impact on your portfolio if the stock market or platform no longer works.
With Ledger Nano X, you can be sure that you are always protected. Ledger has the highest security standards. All of its products include a certified secure chip and a customised operating system to ensure maximum security.
With Ledger Nano X, you will be able to select a wide range of virtual coins to store. At the same time, with the Ledger Live application, you can manage your funds in a very simple way.
Keep in mind that Ledger is the first and only certified hardware wallet on the market for its security. The French Information Security Agency (ANSSI) has certified Ledger products. Additionally, Ledger wallets are the only hardware wallets that have their custom operating system (BOLOS) to protect devices from malicious attacks.
You can also perform an authenticity check to make sure your Ledger device is genuine. You can also make sure it hasn't been modified or compromised by third parties.
Latest features that add the value: equity, swaps, earn and lend cryptocurrency.
– Mortgage and making money
Ledger Live allows betting on Polkadot ($DOT), Tezos ($XTZ), Tron ($TRX), Cosmos ($ATOM), and Algorand ($ALGO). Users can lock these cryptocurrencies to protect their respective networks, and in return, they will receive interest. This feature expands Ledger to not only store cryptocurrency in a safe place, but can even help you develop digital assets.
The mortgage of digital assets can be completed in 3 simple steps. First, freeze assets by logging in to Ledger Live, select the relevant account of the assets to be mortgaged, and then click "earn rewards". Then a pop-up window will appear. There, you can choose the amount in the wallet to freeze. Second, vote for validators who will make blocks on your network, and redistribute the cryptocurrency obtained by making these blocks to voters. Finally, claim your reward by clicking "declare" in the relevant account.
– Exchange
Ledger has released the Ledger Swap feature, which allows users to exchange their cryptocurrencies through its partner, Changelly. The working principle is to send cryptocurrency from the device to Changelly, and then Changelly will send the exchanged cryptocurrency back to you.
Ledger has recently integrated ParaSwap in the Ledger Live App. It's a DEX aggregator that allows you to exchange Ethereum tokens at the best rate by comparing the price of different DEXs like Uniswap, Sushiwhap or Bancor. And by using ParaSwap through the Ledger Live app, you have the best security as you are using you Nano.
To use this feature, you will need: Ledger device, the Ledger Live app and finally, an exchange application to install on your Ledger device.
– Borrow
Ledger is working with Compound ($COM) to allow users to lend out DAI, USDT, and USDC through a compound decentralised finance (DeFi) protocol. The purpose of this is to enable lenders to earn annual interest rates.
In addition, there are many benefits of using Ledger for lending:
– Control
You have the right to control and prove that the cryptocurrency you lent and generates interest belongs to you. This is because the lending on Ledger is done through Compound. When you borrow on the platform, you will get "cTokens" in return. These cTokens represent proof of your ownership of the loaned cryptocurrency and the interest generated. These cTokens are stored by you until you want to lend out assets and interest; in this case, all you have to do is send the cTokens back to the smart contract.
– Security
cTokens are stored in your Ledger hardware wallet.
– Convenience
You can directly use Compound's loan function through Ledger Live.
Using Compound and Ledger Live for lending and encryption only requires 3 simple steps. First, on Ledger Live's Manager, install the app for the cryptocurrency you want to lend and create an account. Second, enable your account to authorise Compound's smart contract to interact with your account. Finally, select the amount of cryptocurrency you want to lend, then issue a transaction to Compound, verify and approve the transaction on your device.
BENEFITS OF USING THE LEDGER NANO X WALLET
The Ledger Nano X is designed as a mobile device that you can take with you wherever you go. It connects wirelessly to the Ledger Live app on your smartphone, so you can easily conduct secure transactions anywhere.
The Ledger Nano S is the device that you can use if you have a few different cryptocurrencies to store, and you do not make many transactions because, unlike the Ledger Nano X, you will need it connected to your computer. It can also serve as a backup device for those using a Ledger Nano X, and if something happens to your primary device, you could use the backup device to gain secure access to your cryptocurrencies.
The benefits of the Ledger Nano X:
– Storage capacity: Install up to 100 applications on your Ledger Nano X in the application list, including Bitcoin, Ethereum, and more, which is 5 times more than its predecessor. A huge advantage, given the number of cryptocurrencies available on the market today.
– Send and receive 28 coins and more than 1,250 ERC20 tokens directly with the Ledger Live app.
– Earn rewards in the Ledger Live app.
– Connect your Ledger Nano X via Bluetooth with the Ledger Live app to set up and manage your ledger wallet.
– Advanced Security: The Nano X is built on the same system as the Nano S, which recently obtained a First Level certificate (CSPN) from ANSSI. While the device is sold as tamper-proof, however, it is not indestructible or waterproof. It will therefore have to be handled with care.
– Structure of the Ledger Nano X wallet
– Exterior: includes 1 screen and two physical buttons.
– Inside: CC EAL5 + certified security chip, BOLOS proprietary operating system.
– Mobility: The Ledger Nano X connects securely to your smartphone via Bluetooth. The Ledger Live app on your smartphone lets you install apps, add accounts, and send secure transactions wherever you are. The battery allows continuous use for up to 8 hours or 3 months when inactive.
– Larger Capacity: The Ledger Nano X has 5 times the storage capacity of the Ledger Nano S. This allows you to install many more apps at the same time.
– Large screen: The screen of a ledger wallet is essential for viewing all transaction details so that they can be easily verified before confirming them. Ledger Nano X was designed with a larger screen than the Ledger Nano S to improve the visibility and readability of transaction details and to facilitate the use of the device as a whole.
– Improved hardware architecture: The architecture of the Ledger Nano X is an evolution of that of the Ledger Nano S, thanks to its ST33 Secure Element chip. In addition to having more memory, this secure chip is directly connected to the screen and buttons, resulting in superior hardware architecture.
– Control Centre: The Ledger Nano X has a Control Centre available at all times to lock the device, check battery status, access settings, and more. You can access the Control Centre at any time by pressing and holding both buttons. The Ledger Nano S must be connected to a computer to have access to the functions of the Ledger Nano X Control Centre.
CONCLUSION
There are many reasons that could make Ledger Nano X the wallet for you. Top-notch hardware, combined with the exceptional Ledger Live app, protects and allows you to buy, trade and better manage your cryptocurrencies. It is a product designed following the highest security standards and ensuring full compatibility with more than 1,800 tokens. The ease of use then is extreme: a convenient display and just two buttons to quickly check and confirm all your operations.
Hopefully, you have enjoyed today's article. Thanks for reading! Have a fantastic day! Live from the Platinum Crypto Trading Floor.
TOP 10 UK CRYPTOCURRENCY BLOGS, WEBSITES & INFLUENCERS IN 2021
Earnings Disclaimer: The information you'll find in this article is for educational purpose only. We make no promise or guarantee of income or earnings. You have to do some work, use your best judgement and perform due diligence before using the information in this article. Your success is still up to you. Nothing in this article is intended to be professional, legal, financial and/or accounting advice. Always seek competent advice from professionals in these matters. If you break the city or other local laws, we will not be held liable for any damages you incur.