Hi Traders,
Coming off the back of a phenomenal week in the crypto world. I wanted to spend some time discussing how to trade altcoin, EOS and Tron, two of the biggest % gains of last week.
SO WHAT IS GOING ON WITH EOS AND TRON?
EOS is currently selling for $18.83, which puts the altcoin up 62% in the past 7 days. EOS is currently sitting at $15.5 Billion and number 5 in market capitalisation.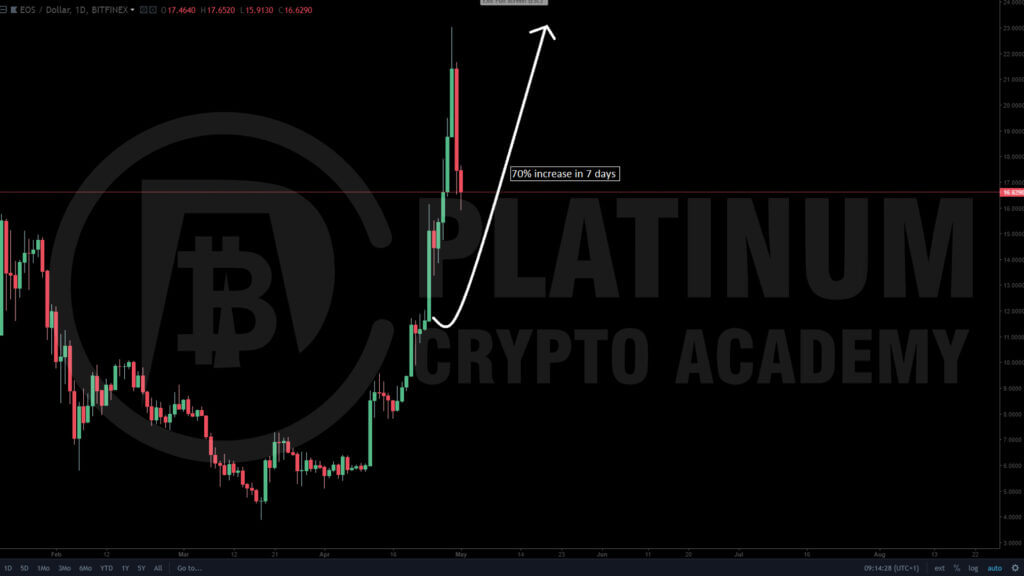 EOS has been ramping up since the second week of April, with EOSIO Dawn 3.0 launching and further preparations moving us towards EOSIO 1.0. Unlike last time, EOS looks to be maintaining its 5th place ranking over Litecoin (LTC). EOS currently has a market cap of $15.5 billion USD.
Monday last week EOS was added to the eToro trading platform. eToro has 9 million users, all of whom now have access to EOS.
EOS PROJECT
EOS is the third coin that was developed by Mr Dan Larimer. He is responsible not only for the development of the Steem blockchain, but also Bitshares which can be described simply as a blockchain exchange.
Without question, the most important aspect of EOS is the fact that like Steem, Bitshares and Peerplays, it utilizes a technology known as graphene. Graphene is thirty magnitudes of ten, faster than Ethereum. This throughput allows for real-world scaling like we have not yet seen in terms of applicability.
EOS can be written in any programing language. This is unlike Ethereum which requires its own (and untested) language. EOS allows anyone to be able to innovate on the blockchain in a reasonable way, where they can use the resources they have already developed within themselves, as a means of achieving a world-changing altcoin. EOS is looking like the one coin that could rule them all.